Christmas in Germany: Food & Traditions
This post may contain affiliate links. Read my disclaimer policy.
Have you ever wondered what Christmas is like in Germany? This article gives you the highlights of the cultural traditions and delicious food that make Christmas in Germany one of the most magical seasons of the year!
The holiday season in Germany is truly one of the best. There's so much to love! Twinkling lights, beautiful decorations, bustling Christmas markets, spending time with family and friends, and of course, delicious Christmas food and desserts.
Whether you're spending the festive season in Germany or you're simply interested in learning about German food culture, this article is for you.
In this guide we give you the best German Christmas highlights – from cultural traditions to popular dishes, favorite desserts, sweets, and drinks to famous Christmas markets. And even some German Christmas recipes you can prepare at home!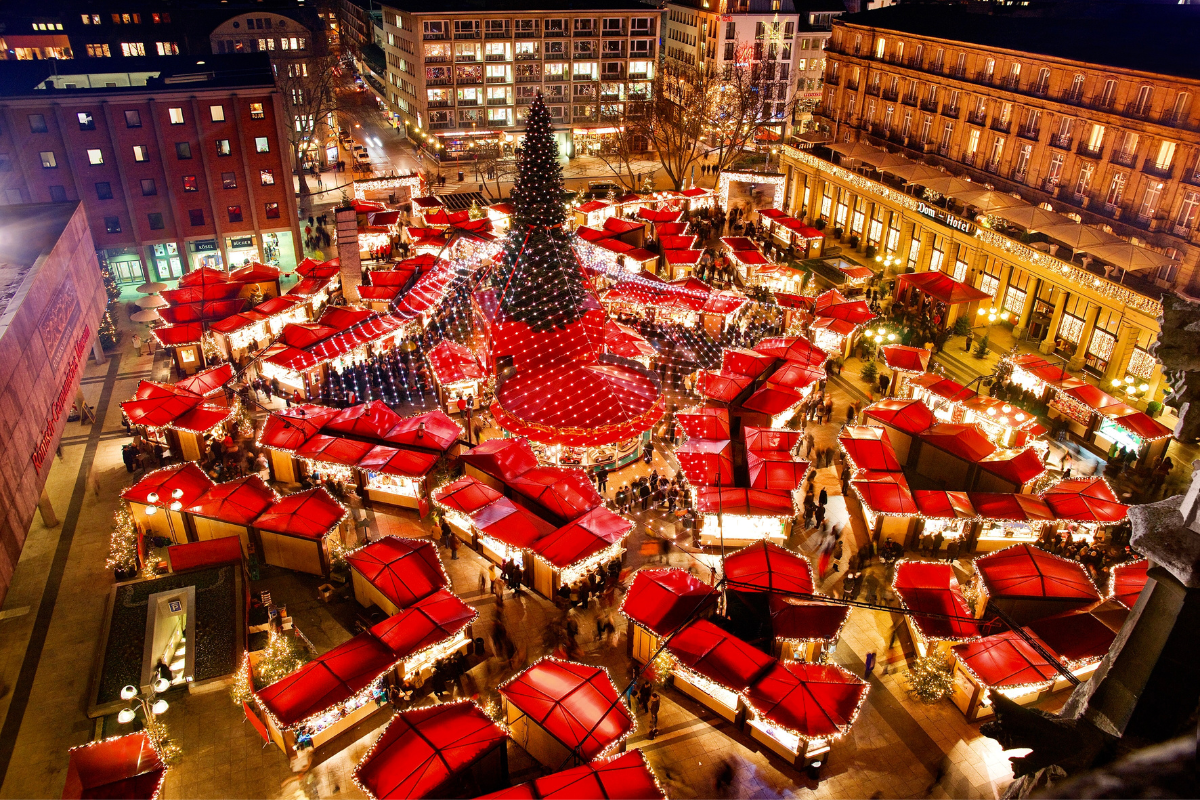 How Germans Celebrate Christmas
The first thing you should know are the 3 dates when Germany celebrates Christmas. Yes, 3 days! Like in the US and many other countries, Christmastime begins on December 24th. But unlike in the US, celebrations go on until December 26th.
Christmas Eve is typically a busy day, with some Germans working a half-day and shops being open until noon if December 24 falls on a work day. Everyone is preparing for the evening's big celebration.
Traditionally, the German Christmas tree isn't set up or decorated until Christmas Eve. My German parents told me that's how it was when they were kids – the adults would decorate the tree and then there'd be a big reveal for the kids on Christmas Eve. But nowadays, each family has their own traditions and many set up and decorate their tree before Christmas Eve.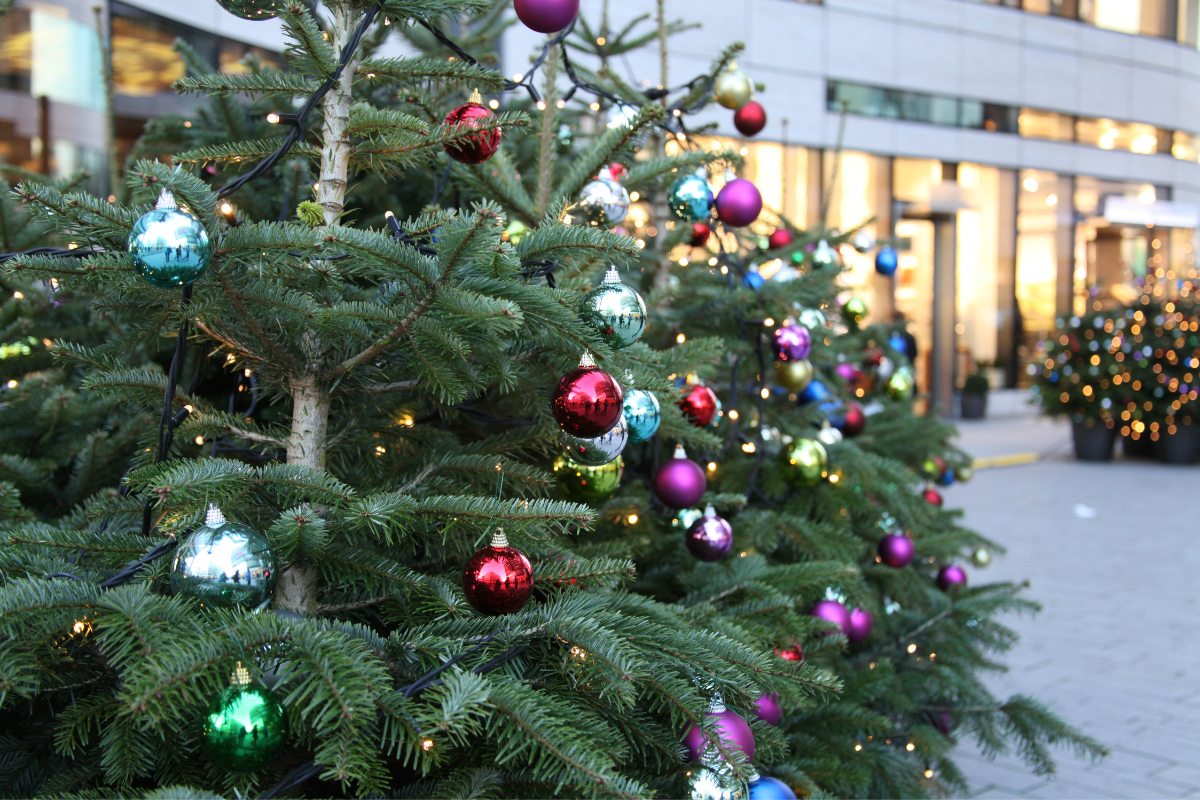 Speaking of traditions, even though many people from all over the world celebrate Christmas as a Christian holiday, many German families don't necessarily celebrate it as such since Germany isn't especially religious. But religious Germans often go to a midnight mass or an evening church service on the evening of the 24th.
As the sun sets, the Christmas festivities typically begin with a simple traditional dinner — for many that's sausages and potato salad. Yes, that's a traditional Christmas Eve dinner!
Why? Because there's so much going on on Christmas Eve and it's an easy dinner to make. That's what my German mom served when I lived with them and celebrated my first Christmas in Germany. She made the best potato salad – northern German style (omg, so good).
Of course, not everyone serves this meal on Christmas Eve. When Aaron and I spent Christmas with a good friend of ours and his family, his mom served an amazing 3-course dinner. But sausages and potato salad is still pretty common and beloved by lots of people.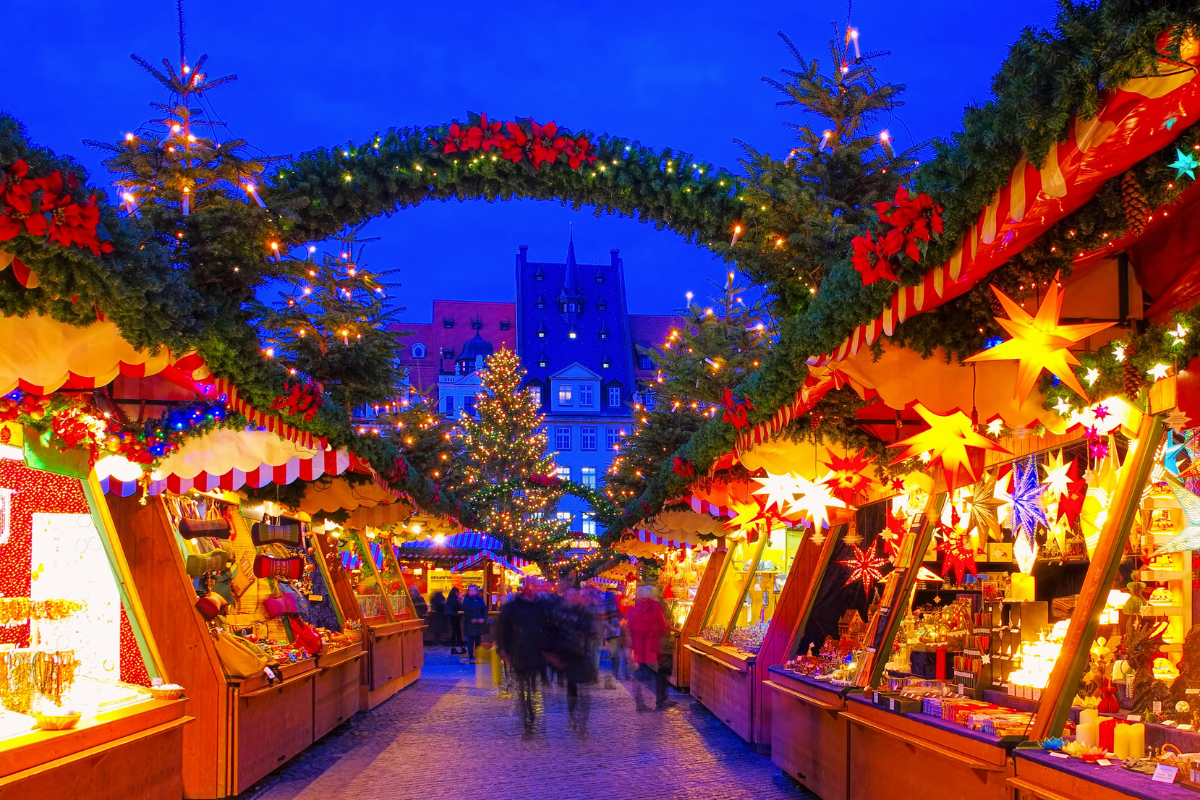 After the evening meal, everyone gathers around the tree to open up Christmas presents with family. Yes, presents are opened on Christmas Eve, not Christmas Day! That's how we did it in my immediate US family so that didn't seem out of the ordinary when I moved to Germany.
I love it because it's so gemütlich (cozy) to hang out together, after stuffing yourself with delicious sausages and potato salad, opening presents with Christmas tree lights twinkling, maybe a fire crackling, and Christmas music playing in the background.
Christmas Day is usually spent with extended family, enjoying a more formal meal (my German family made goose), perhaps taking a long walk, and wishing each other a Frohe Weihnachten or Fröhliche Weihnachten (Merry Christmas.)
December 26 or the Third Day of Christmas (der dritte Weihnachtstag) is like Boxing Day in the UK, a more relaxed and laid back day to spend time with friends or family.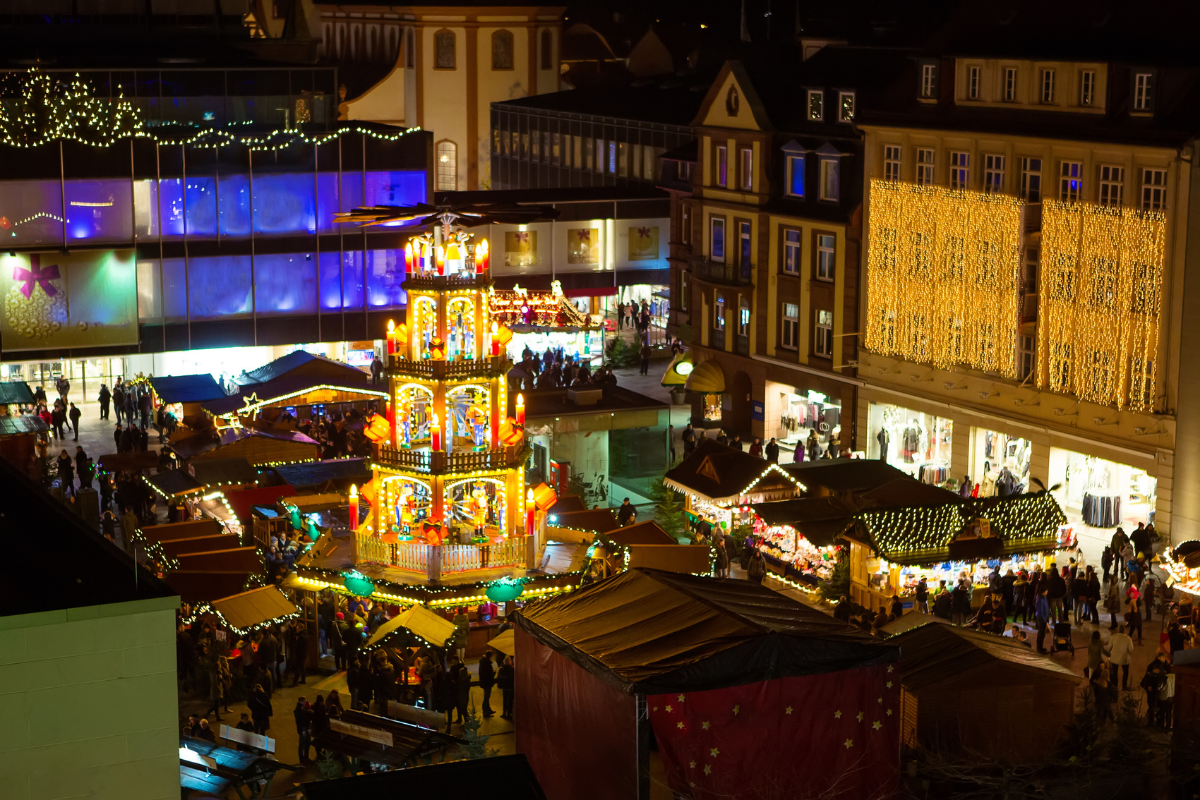 Christmas Markets & Decorations
Although those are the official days for celebrating Christmas, one could say that the Christmas season actually begins much earlier. Advent begins on the 4th Sunday before Christmas and it's also usually when Christmas markets begin opening.
If you're thinking about visiting a Christmas market, be sure to check out our guide to the Stuttgart Christmas market, one of the best in Germany! You'll also want to take a look at our guide to 23 of the best Christmas markets in Germany.
Also in early December, kids celebrate St. Nicholas Day by leaving their shoes or boots by the front door and waking up them filled with small gifts and treats on December 6th. If you're interested in learning more about this fun tradition, read our guide here on how to celebrate Saint Nicholas Day like a German.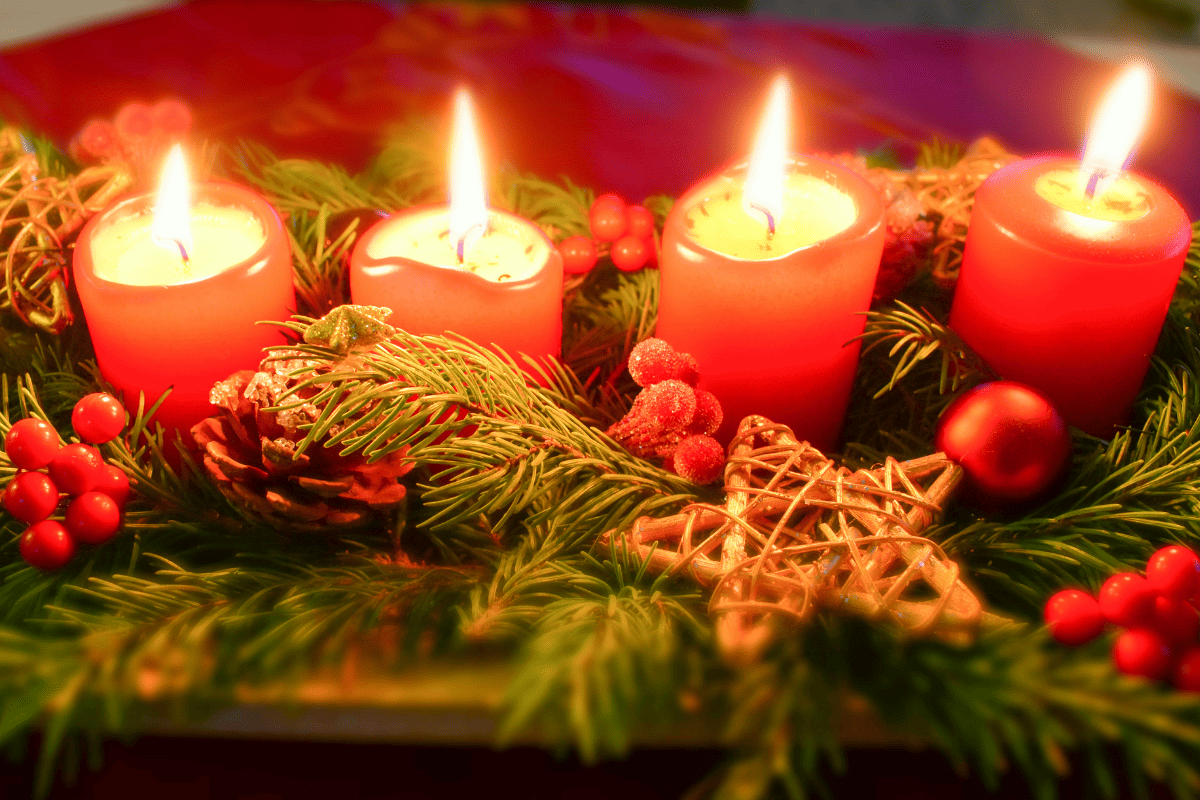 Another important part of German Christmas traditions are decorations. The Advent wreath is a staple in many German homes. The wreaths, which are usually placed on the dining table or living room coffee table, have four large candles and decorations like pinecones, leaves or berries.
Advent calendars – whether homemade or store-bought (and filled with delicious German chocolate) -are also a fun way to mark the start of the season and countdown to Christmas.
Christmas pyramids are another fun decoration. You've probably seen them – wooden pyramids with candles at the bottom of the pyramid and when you light them up, the smoke spins the fan at the top. Not only are these beloved decorations in German homes, you'll often find huge pyramids at Christmas markets!
And of course, aside from Christmas trees, wreaths, and pyramids, you'll also find that some homes put up nativity scenes. As you can tell, Christmas time in Germany is rich with traditions.
There's no way to summarize them all since everyone celebrates it differently but if you want more in-depth information on German traditions read our full article here!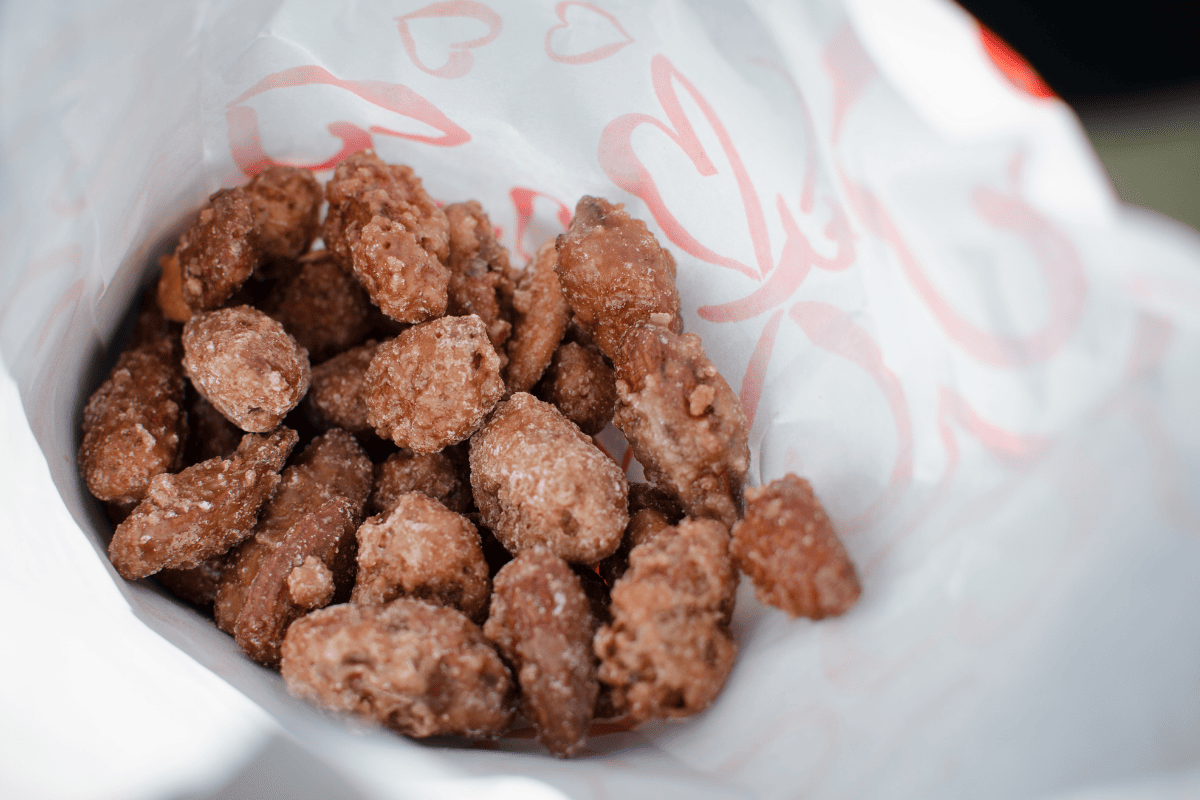 German Christmas Market Food
Now on to one of the best parts of Christmas in Germany – German Christmas market food!
Christmas markets are filled with stalls selling all kinds of traditional German snacks, hot drinks, savory dishes, delectable desserts, and even international classics. Here are some of the best Christmas market foods you must try!
Kartoffelpuffer mit Apfelmus or fried potato pancakes with applesauce is a popular German food you'll find in most markets. Very similar in taste to hashbrowns but crispier!
They're usually served with applesauce but you can pair it with a range of sweet or savory sauces. Another variant of this is Bratkartoffeln, thinly sliced potatoes fried with garlic and bacon. A healthier version of these fried snacks are sautéed Champignons – whole roasted mushrooms served with garlic sauce (one of my favorites)!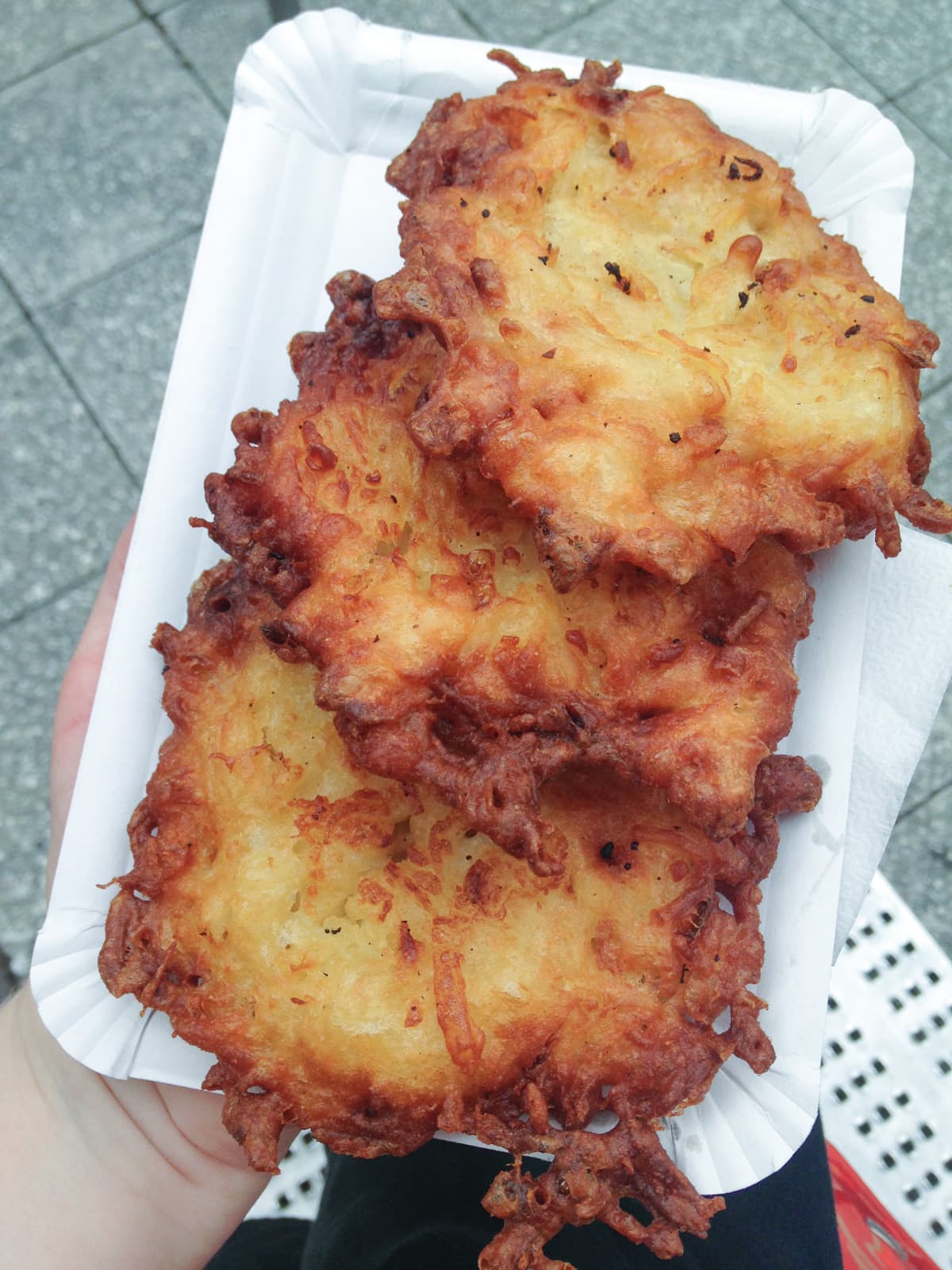 You can't talk about traditional German food without mentioning sausages. As you wander through the Christmas market stalls, you'll easily find people eating different varieties like Bratwurst and Currywurst. You'll also sometimes find stall selling other types of grilled or smoked meat or even fish.
Lebkuchen is a beloved Christmas staple! German Lebkuchen cookies are similar to gingerbread cookies in the US but not as sweet. They're made with festive spices like cinnamon, cloves, anise, cardamom, and more and are often either covered in chocolate or glazed with sugar. Sometimes they're topped with almonds.
There are a few different kinds of Lebkuchen and one is even made without flour (Elisenlebkuchen). If you want to try your hand at making Lebkuchen cookies at home, you can try our recipe here!
When you walk through a Christmas market, you won't be able to resist the delicious smell of Gebrannte Mandeln or roasted almonds coated in crunchy cinnamon sugar. They're also easy to make at home following our simple recipe.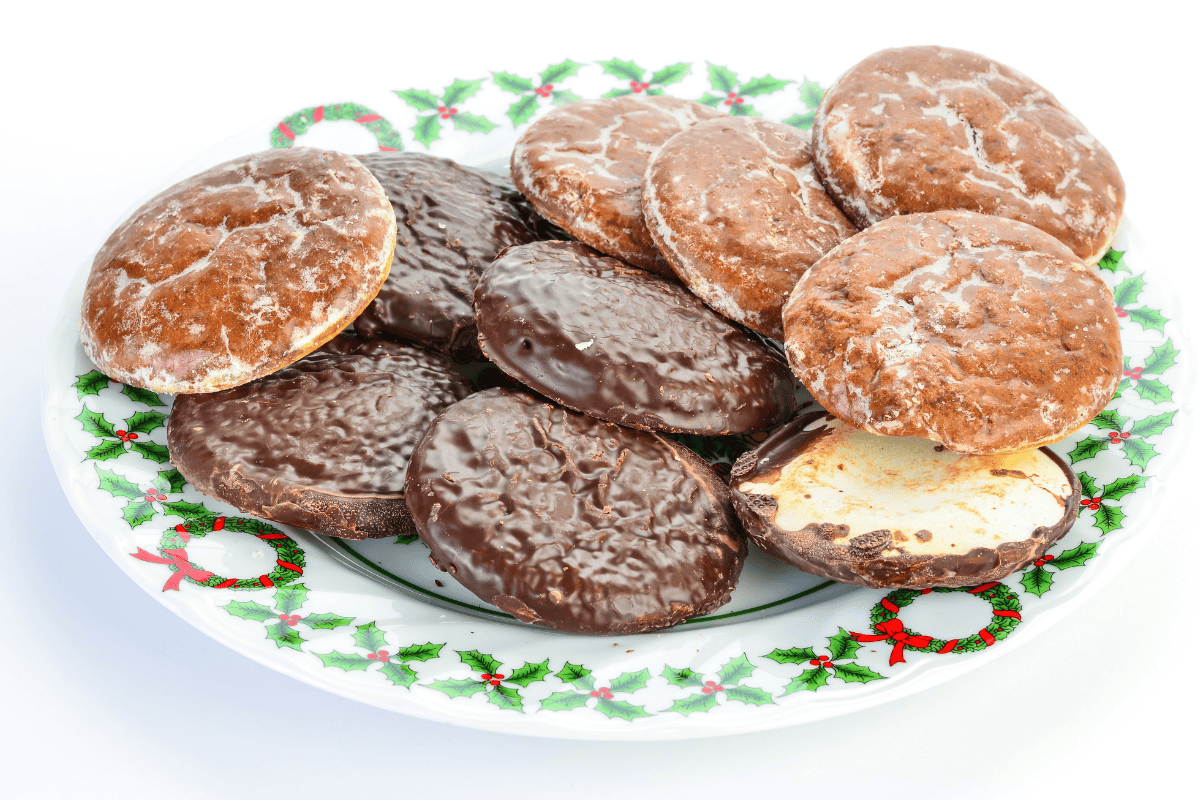 One of the most common desserts associated with Christmas is Stollen. It's a yummy buttery bread (some call it a cake or a tea cake) with nuts, raisins, and sometimes marzipan topped with powdered sugar. Our recipe shows you how to make a homemade version you'll love.
Speaking of marzipan, that's another Christmas classic. It's basically ground almonds turned into a thick, moldable paste that's covered in chocolate or formed into various cute holiday shapes.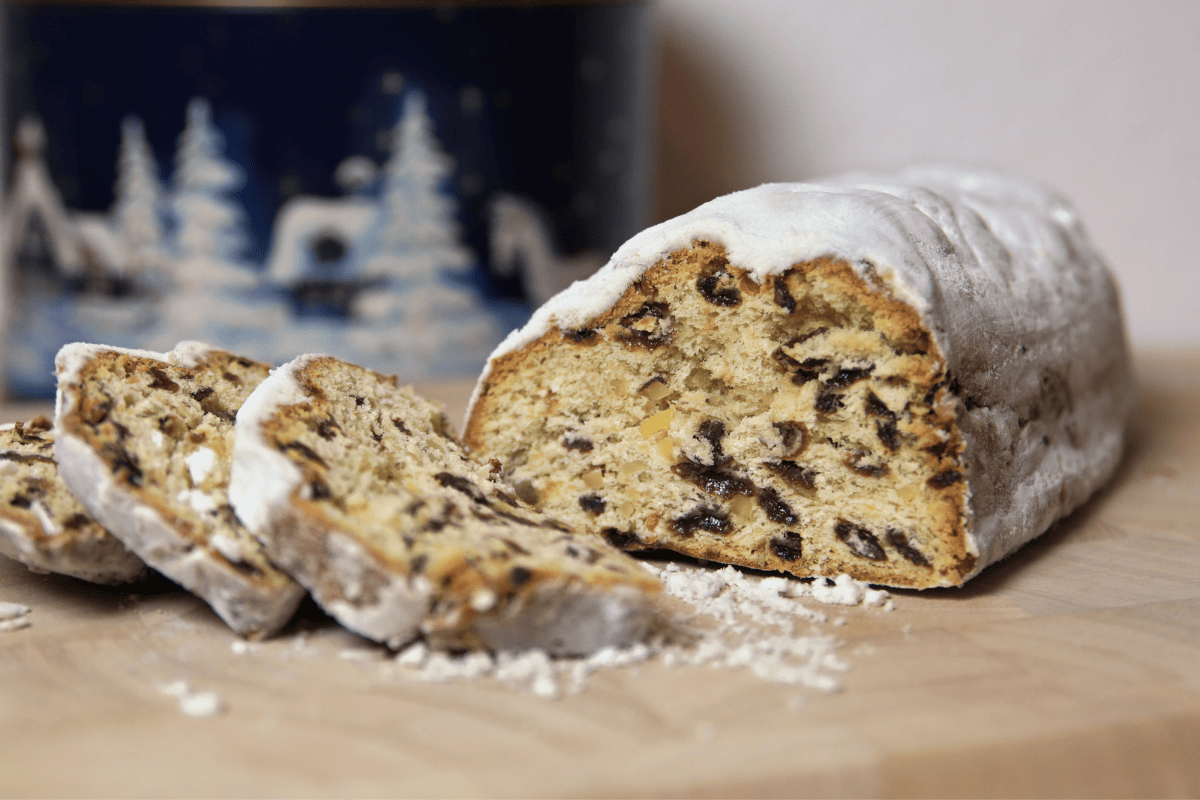 The most popular drink to enjoy when visiting a Christmas market is without a doubt Glühwein or mulled red wine. It's the perfect hot drink to sip on to stay warm and cozy on a cold night out!
Glühwein is served in a cute commemorative mug that's unique to each market. If you don't return the deposit you paid, you can actually keep it as a souvenir! At one time I had an extensive Christmas market mug collection featuring mugs from all over Germany.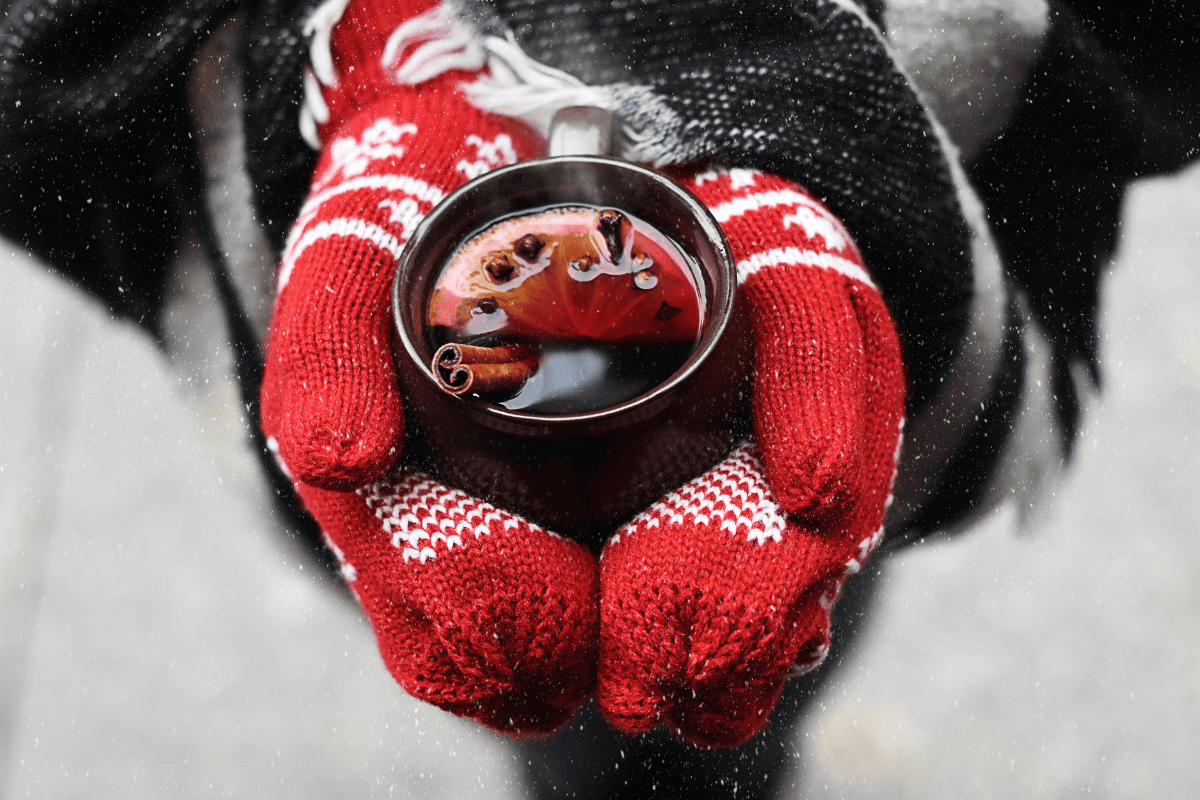 If you're not a fan of alcoholic drinks, you can always get Heiße Schokolade (hot chocolate) or Kinderpunsch, which is a hot fruit juice and tea drink.
Glühwein is the perfect drink to serve at parties or for cozy nights in. Learn how to make Gluhwein at home using our easy recipe.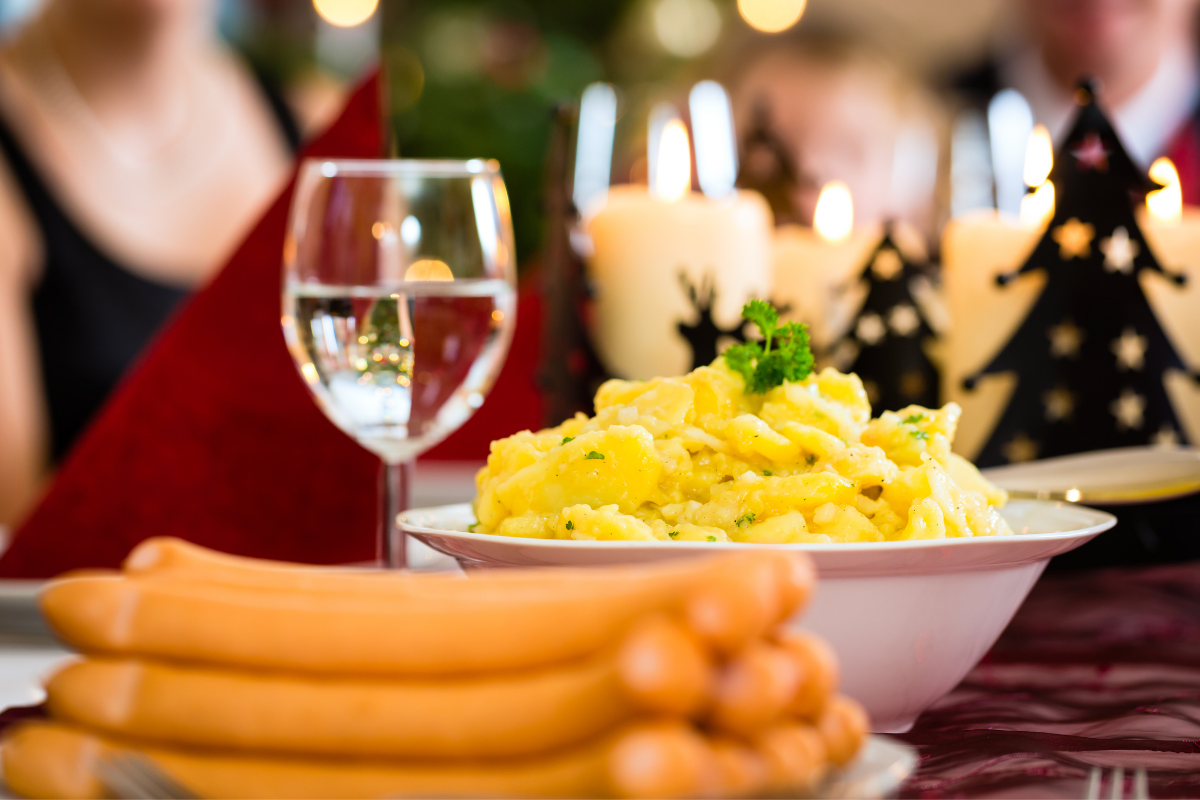 German Christmas Eve Meal
As previously mentioned, the Christmas Eve meal is often made up of simple dishes since the day is quite busy and the main dinner is enjoyed on Christmas Day.
A popular Christmas Eve meal is the classic Kartoffelsalat mit Würstchen or potato salad with sausages because it's a lighter meal that's easy to prepare. Every family has their own favorite version of preparing potato salad and can tell you why theirs is the most authentic potato salad!
Of course, though it's a popular choice, not all families eat this meal and might have other favorite dishes.
Some German families might also create a Bunter Teller (literally translated at "colorful plate"). Basically, it's an assortment of Christmas cookies, chocolates, and candy that families arrange on a plate for other family member or guests. Colorful decorative plates used to be sold just for this purpose, and some families reused them each year.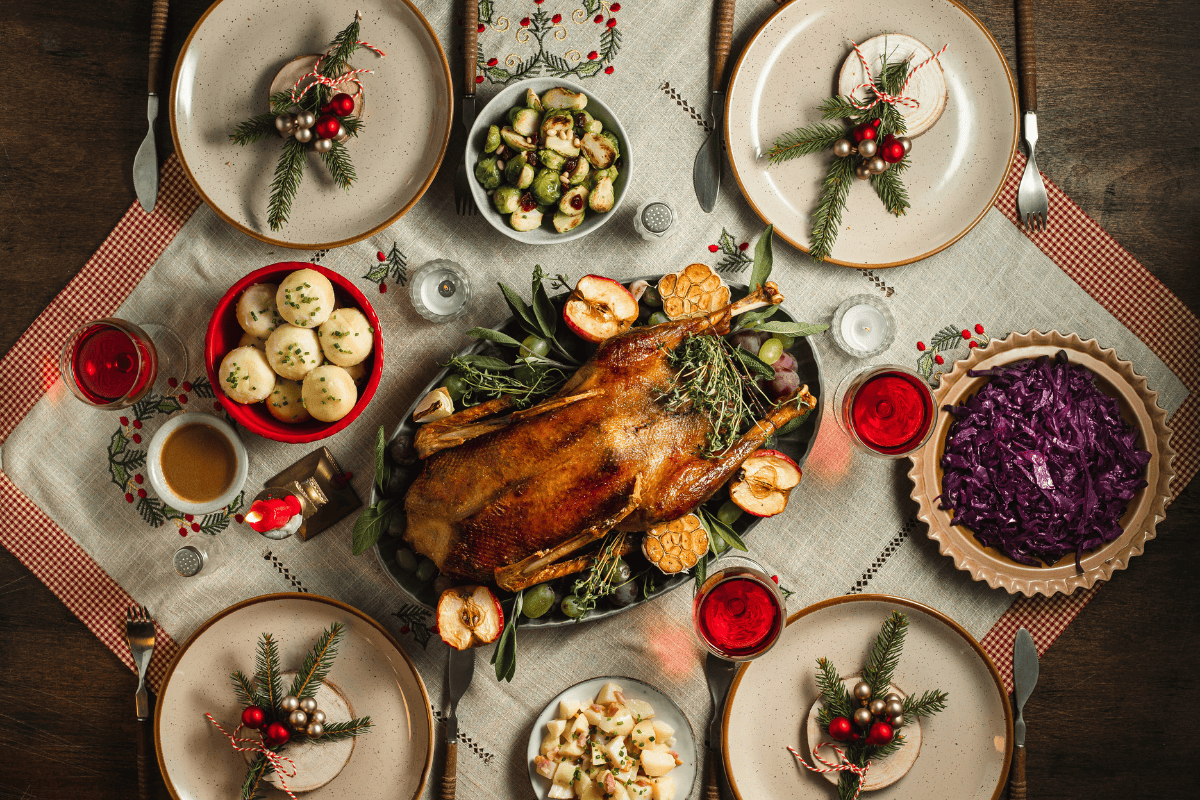 Christmas Day Dinner
A German classic Christmas Day dinner is usually much more of a special occasion, calling for a more elaborate dinner enjoyed by family and guests.
The traditional main dish is Christmas goose or roast goose (that's what my German mom made for us). But other popular main courses are roasted duck, turkey, wild boar, venison, pork Schnitzel or even Maultaschen.
Those are commonly accompanied with traditional sides like potato dumplings or red cabbage. Other popular side dishes include bread dumplings, Spätzle, salad, Brussels sprouts, or potatoes.
Of course, there are a lot of vegetarians and vegans in Germany, so not everyone loads their Christmas plate with heavy meat dishes! These days you'll find a wide variety of modern family favorites, as well as the nostalgic classics.