45+ Perfect Holiday Gifts For The Germany Traveler
This post may contain affiliate links. Read my disclaimer policy.
Looking for holiday gifts that the Germany traveler on your list will absolutely love? We've got you covered.
Our holiday gift guide includes 45 of the most useful travel items that we love and use or have been recommended by our travel community. These gifts make travel easier and more comfortable and will be used over and over.
For those who celebrate Christmas but can't be in Germany this December, we've also included a few fun German Christmas decorations and ornaments (scroll to the very bottom of this guide for those).
By the way…you can also gift our Germany Travel Planner! It's perfect for travelers planning a trip in the coming year (they'll love our city cheatsheets, city orientation videos, and trip planning how-to guides) and those who live in Germany and want to explore the country (they'll love our interactive planning map showing the best sights in cities all over Germany).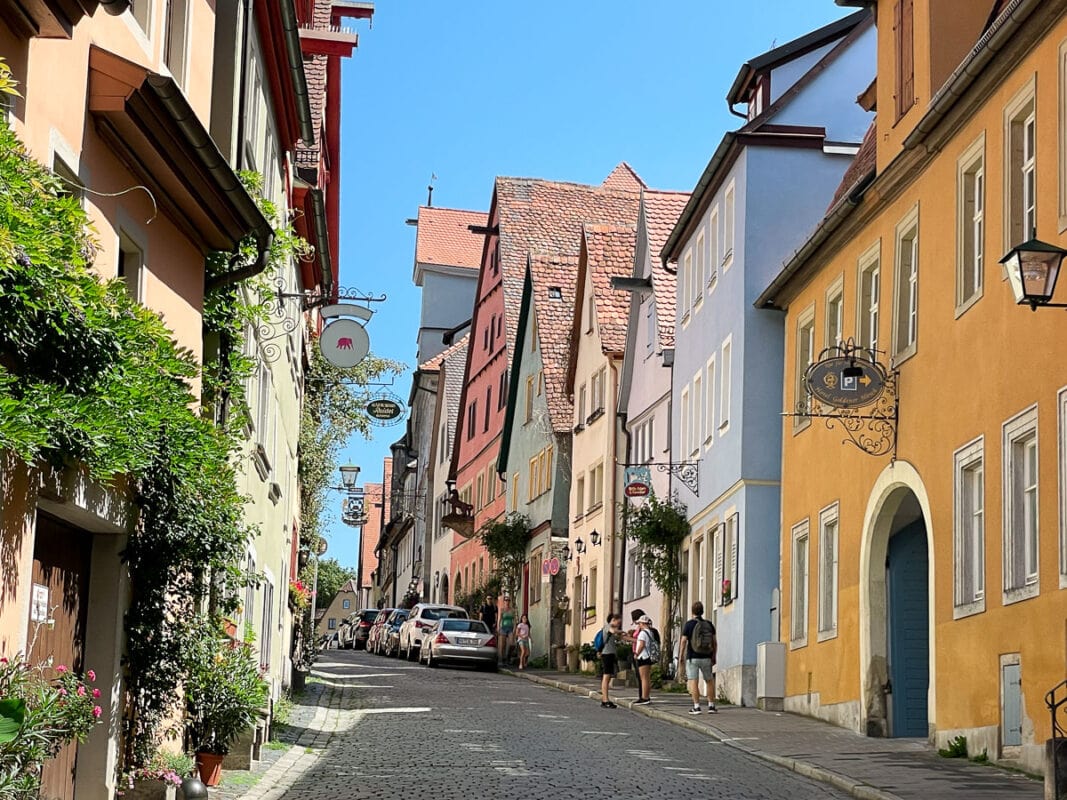 Perfect Travel Gifts Around $10 (Stocking Stuffers!)
Steripod Toothbrush Protector
These clip on protectors keep your toothbrush clean and fresh while traveling. Since Aaron and I often have very similar looking toothbrushes, I like that they help us be able to quickly see which one is ours while keeping them protected. Check out these sterile toothbrush protectors.
Refillable Pouches for Shampoo and Liquids
We love these! They're easy to fill, and because they're flat, it's easy to pack them in my TSA-approved liquids bag. I like that to you can lay these pouches flat or stand them up and you can write on each pouch so there's no mixing up your shampoo and conditioner. Both Aaron and I use these pouches now and are very happy with them. Click here to get these refillable pouches.
Set of Lightweight Travel Organizational Bags
I bought a set of these inexpensive, multicolored mesh toiletry bags last summer and use them to keep my make-up, personal products, and lots of other little things organized. They're lightweight, have held up well, and I love that it's easy to see exactly what's in each of them. Check out this set of mesh toiletry and organization bags.
Small Luggage Scale
Prevent surprises and unexpected fees at the airport by using this small luggage scale to weigh your bags to make sure you meet airline weight restrictions and avoid extra fees. Click here to shop this luggage scale.
Invisibobble Hair Ties
These spiral hair ties are way more comfortable than the traditional kind. I always have 1 or 2 of them in toiletries kit when I travel. Check out these great hair ties.
Makeup Remover Towel
Don't chance ruining white towels when taking off your make-up! Pack 1 or 2 of these little make-up removing clothes instead. Click here to shop make-up remover towels.
Exfoliating Face & Body Wash Cloths
German hotels and apartments don't typically provide wash cloths. This set of exfoliating wash clothes take up next to no space in your luggage, have an attached loop for quick and easy drying, and come in different colors so everyone in your travel party can easily find theirs. Check out these exfoliating wash cloths.
Burt's Bees Travel Towelettes & Lip Balm
These Burt's Bees face and body towelettes come in so handy on long flights and train rides (a life-saver when your deodorant stops performing but you still haven't reached your final destination). I love Burts Bees lip balm, too, and always have it my travel day bag. Click here to check out these towelettes and here for this awesome lip balm.
Dr. Bronners Liquid Soap Or Sink Suds
Doing a little sink wash while traveling is an easy way to keep your wardrobe fresh when taking carry-on only. I like to bring a travel size Dr. Bronner's for doing sink laundry. If you don't want to take liquid, try Sink Suds individual packets.
Travel Straw
Want to reduce single-use plastic? Don't like using paper straws (which is what you'll find in Germany most of the time)? Check out this travel straw set.
Travel Snack Bags
These little reusable snack bags make eating healthier or accommodating special diets while traveling so much easier. We often bring nuts, crackers, trail mix, fruit or veggies with us to snack on throughout the day. Click here to shop these snack sized reusable bags.
If you or your travel companions use a cell phone while traveling, a wrist strap is so helpful in preventing dropping or theft. I use this wrist strap that works with my favorite phone case, and Aaron uses this one that attaches to this phone case. We also each have a pop-socket on our phones, which makes taking photos and videos easier.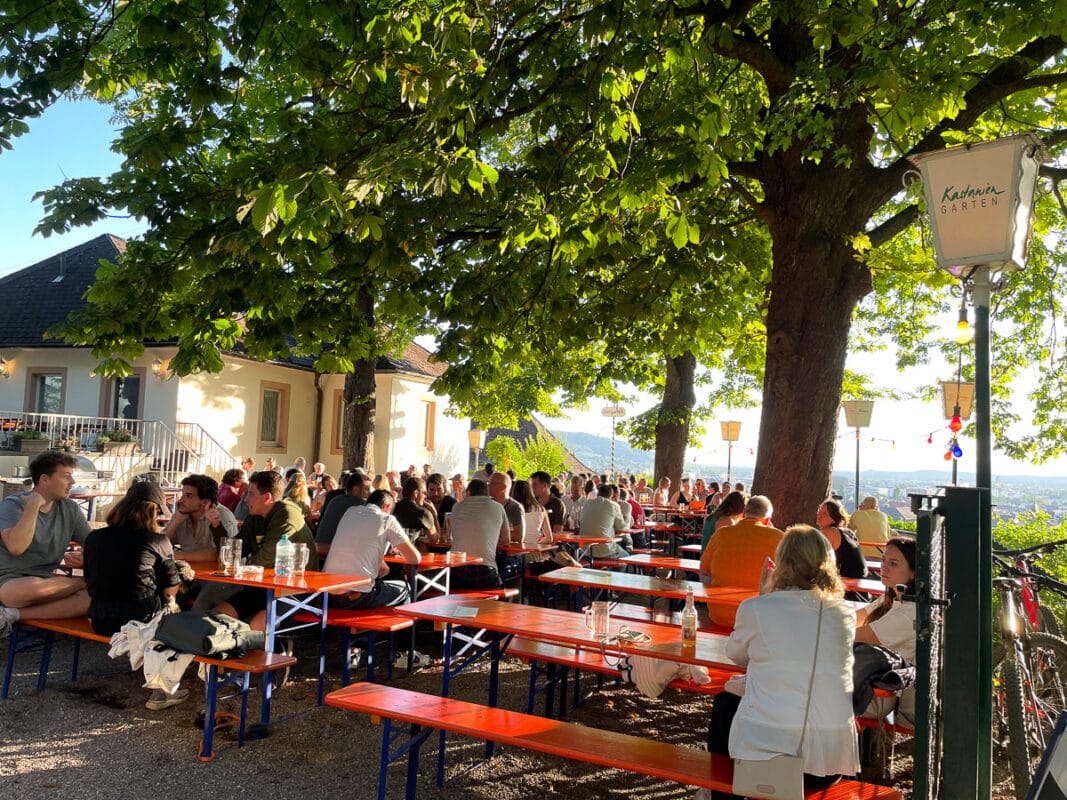 Perfect Travel Gifts Around $25
Guided Tour in Germany
Surprise your travel companion(s) with a fun guided tour or day trip! Click here to choose your tour.
Travel White Noise Machine
Hotels and Airbnbs can be louder than you're used to, especially in cities or if you like to keep the window open. Get better sleep by using a travel sized white noise machine. Click here to shop this travel white noise machine.
European Plug Adapter
Germany uses different voltage and outlet plugs, so this is a very practical gift for travelers. We use this European plug adapter because it's compact and lightweight, comes with adapters for multiple countries that you can slide on and off the base. Check out our favorite European plug adapter here.
Travel Fan
Many hotels and apartments do not have A/C in Germany. And even those that do aren't as cool as travelers expect. Travers in our community have said having a travel fan ensured comfortable sleep! Click here to shop this travel fan.
Personal Fan
Have a travel companion that wilts in hot weather? This hand-held personal fan will help them stay cool in Germany, where A/C isn't as common as in other countries. Click here to shop this personal fan.
Travel Flatware
We always travel with a set of flatware so we can easily enjoy healthier snacks and breakfast, lunch or snacks on the go (we often pick up yogurt, fruit cups, and salads from Rewe). Click here to shop this simple, lightweight set, and here for a sturdy stainless steel set from Hydroflask or here for this 4-in-1 multitool utinsils set.
Portable Coffee Pour-over
Having good coffee in the morning is a must-have for Aaron, so he got this collapsable coffee pour-over filter. It's small but will make a nice big cup of coffee (he'll buy ground coffee once we're back in Germany) in hotel rooms or Airbnbs. If you're not sure whether you'll be able to heat water in your hotel room, you can also take a portable water kettle.
Organic Fairtrade Single Serve Instant Coffee Packets
Aaron bought a box of this highly rated instant coffee on our most recent trip for travel coffee emergencies. The packets are single serve so you can take just a couple or enough for coffee every day.
TSA-Approved Toiletries Bag Set
I love this toiletries bag set! The large bag is perfect for any 3oz liquids you need to take on the plane because it's TSA approved. Durable, too. You actually get a set of 3 bags and the other 2 are handy for organizing smaller items (we use one bag for our travel first aid kit, for example). You can get the set in several designs and colors. Click here to shop ChicoBags TSA-Approved toiletries bag sets.
Flat Back Stainless Steel Stud Earrings
These surgical stainless steel stud earrings have a flat backs for comfortable sleeping, which is so handy when traveling. I've been wearing different sets of these earrings for the past year and have been very happy with them. Click here to check out these cute stud earrings.
Shoe Protector Bag
Keep clean clothes clean by packing shoes in shoe protectors! Check out these reusable shoe bags.
Travel Sleep Mask
Once I started wearing a sleep mask on flights I was finally able to sleep. A comfortable eye mask also comes in handy on trains, in airports, and in summer months when the sun doesn't set until late in the evening. Click here to check out this travel sleep mask.
Travel Umbrella
You never know when it's going to rain in Germany so we've gotten a lot of use out of this travel umbrella. It's lightweight enough that I don't mind carrying it with me and it dries quickly. Click here to shop our favorite travel umbrella.
Foldable Shopping Bag
We have 2 of these reusable shopping bags and take them on every trip. I bought ours about 14 years ago and they're still going strong. We use them for groceries, souvenirs, laundry, taking snacks on trains, and luggage overflow. Ours roll up very small and are lightweight and durable. We highly recommend bringing one or two of these – they are invaluable!
Travel Wallet
A year ago I started using a small and lightweight wallet for travel that I can keep secure in a zippered pocket in my favorite crossbody day bag. I've used it for several months of travel and love it. Click here to shop this small travel wallet.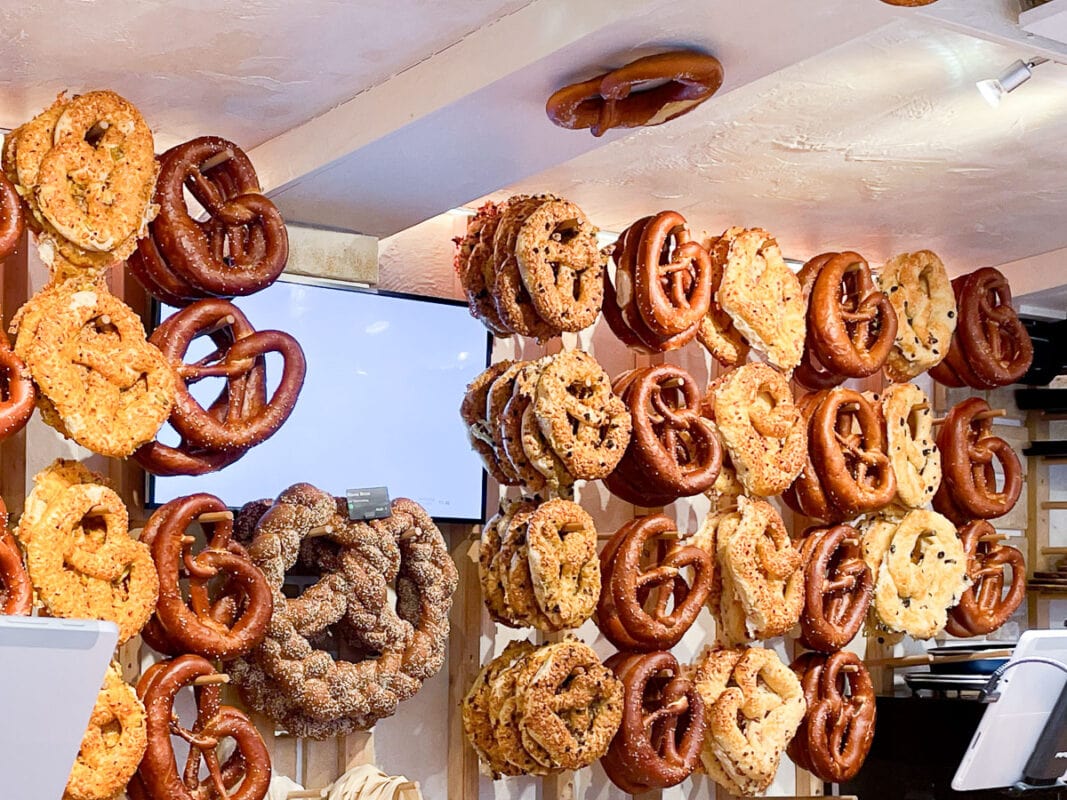 Travel Gifts Under $50
Water Bottle That Actually Keeps Water Cold
One way to stay cool while traveling in Germany in the summer is by drinking cold water. We love these water bottles because they keep beverages truly cold all day! Click here to check out this lightweight water bottle.
Germany Driving Tutorial
Gift this fantastic driving tutorial to the person who will be driving in Germany on your trip. It's geared towards travelers who are used to driving in the US and will be driving in Germany on a trip, which means they tell you just what you need to know to feel comfortable from day 1. After we went through this tutorial we wished we'd had it years ago! Click here to gift this fantastic Germany driving tutorial.
Portable Phone Charger
If you take photos or videos with your phone, this portable charger (power bank) is a must because your phone WILL run out of battery half way through the day. We have this one and use it every single day to keep both of our phones (and my Air Pods) charged. Click here to get this Anker portable charger.
No Show Compression Socks
Aaron has started using these no show compression fit socks and he's been very happy with the fit (they don't slide down!) and durability. They come in a wide variety of colors and sizes for all feet. Click here to shop these no show compression fit socks.
Lightweight Scarf or Hidden Pocket Scarf
I've used this lightweight scarf in the spring/summer as a light wrap, and in the fall/winter as a cozy scarf with my jacket or coat. It packs very small so it's easy to carry (I keep mine in a small Ziplock bag so it doesn't get snagged on anything) and it works well as an accessory and to stay warm in cooler weather. It comes in several colors. Click here to shop this this lightweight scarf.
A hidden pocket scarf is a great alternative for keeping valuables secure when you don't want to carry a day pack, bag or purse. This hidden phone scarf has a pocket just for your phone and this convertible hidden pocket scarf easily tranforms from an infinity scarf to a wrap!
Comfortable Day Pack
If you're looking for the perfect pack for daily sightseeing, hiking, and carrying on the plane, check out this 19 liter Osprey and this slightly larger 23 liter Fjallraven. Aaron has used both for several months of travel (he's found the Fjallravel a bit more comfortable for his tall frame).
Crossbody Travel Purse
Having a comfortable travel purse or bag is essential to enjoying your trip. Click here to check out our guide to the best purses and bags for travel in Germany and beyond.
Sunscreen
A must-have in every season! We use this one for face and this one for body.
I often pack an inflatable travel pillow for sleeping on planes and in trains and cars. It's not quite as comfortable as my memory foam travel pillow but it packs down much smaller.
Packing Cubes
Packing cubes not only keep clothes organized, they make packing and unpacking quick and easy – super helpful if you're changing hotels frequently. I like that they keep my clothes protected, too. We've used an older version of these classic packing cubes and this lightweight set for years and years. Click here to shop these classic packing cubes and these lightweight packing cubes.
Lightweight Gear Bags
These lightweight travel bags are great for keeping clothes and other miscellaneous travel items organized. We've used our set for years! Click here to shop this set of lightweight travel gear bags.
Turkish Towel
Turkish towels are lightweight, super absorbent, dry quickly, and have a nicer feel than microfiber towels, so they're great for travel. Perfect for picnics, too. And there's no reason you can't also use them at home! Click here to shop Turkish towels.
Insoles For Comfortable Walking
We typically walk 20,000+ steps a day when we travel and our feet were much happier when we started adding high quality insoles to our walking shoes! Aaron uses these insoles and I use these insoles.
Audable Subscription
Perfect for long travel days, unwinding in the evenings and solo travel. Click here to gift an Audable subscription.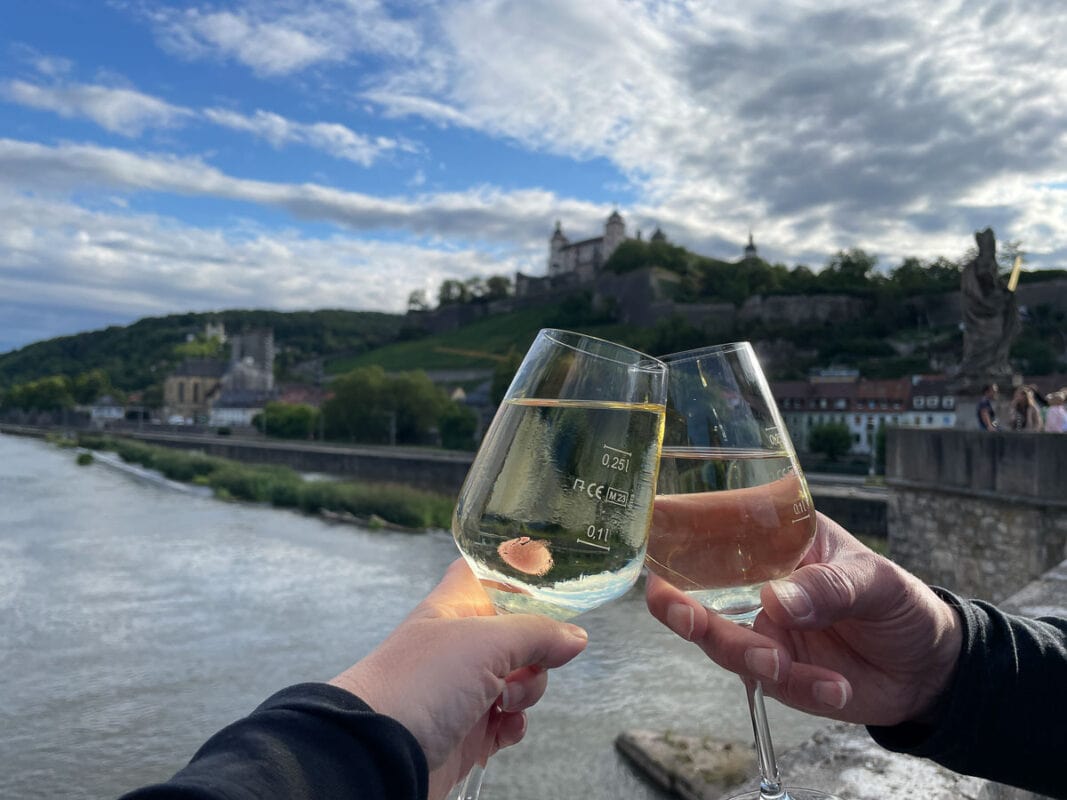 Perfect Gifts Under $100
Apple Air Tags
Highly recommended by our travel community! Pop one in your luggage so you can keep track of it. Also nice for train travel when the luggage racks aren't right next to your seat. Click here to shop Apple Air tags.
Portable Solid State Hard Drive
Perfect for travelers who take a lot of photos or videos while traveling! We found backing up our photos and videos to the cloud while we were on hotel and Airbnb wifi frustratingly slow but it's quick and easy to with this lightweight portable solid state hard drive. We have a 2 TB hard drive and a 4 TB hard drive, as well as this carrying case to keep the hard drive safe and secure.
Spinner Carry-on Suitcase
Once I started using a hard-sided carry-on sized spinner suitcase, I never looked back. I've used my spinner for years on everything from 2-week trips to 6 months of constant travel on lots of cobblestone streets. The one I have used for several years is no longer available but this highly rated carry-on spinner suitcase is similar and I have a travel bag I love from this brand.
German Christmas Ornaments And Decorations
Wish you could be in Germany for the Christmas season? Why not bring German Christmas to you and your loved ones with these decorating favorites!
Traditional German Christmas Ornaments Set
We were gifted a set of traditional Bride's Christmas ornaments over 20 years ago and we hang them on our tree every year! This is the perfect gift for newlyweds or anyone who would love to decorate their tree with beautiful glass ornaments. Check out this set of traditional Bride's Christmas ornaments.
Wooden German Christmas Ornaments
This set of wooden ornaments is just like what you'll find at Christmas markets in Germany. We have collected a lot of these over the years and love hanging them on our tree. Shop wooden ornaments now.
Germany Christmas Tree Ornaments
Surprise your travel companions with a memento that will get everyone excited about your upcoming trip to Germany! Check out this map of Germany ornament and this Bavarian beer stein.
German Wooden Pyramid
A classic German Christmas decorating favorite you'll use for years to come. Click here to check out this German Wooden Pyramid.