Best Electric Travel Tea Kettle in 2023
This post may contain affiliate links. Read my disclaimer policy.
Travel kettles are the perfect travel companion for avid coffee and tea drinkers. What better way to start your day than by having your favorite morning coffee or cup of tea? They're a must for days when you have a packed itinerary!
Here's our list of the best travel tea kettles to bring on your trip to Germany (and beyond).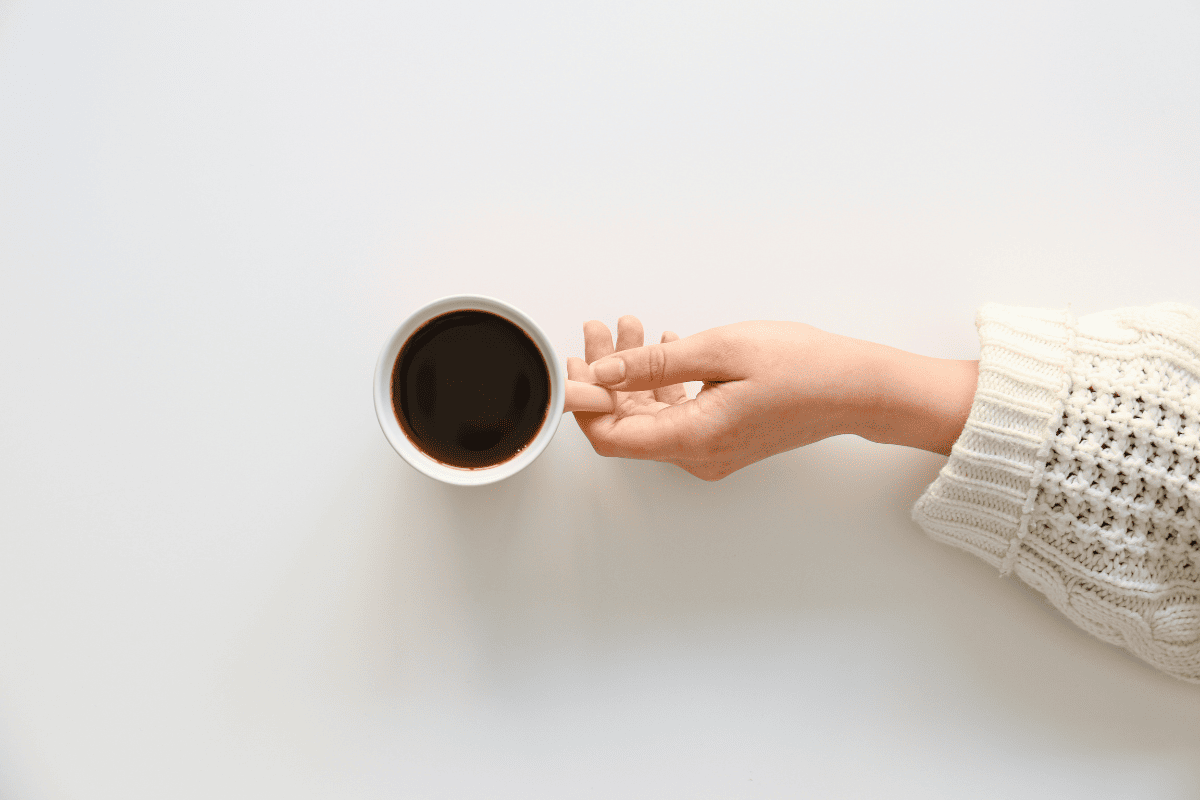 Why Take a Travel Tea Kettle to Germany?
Tea kettles aren't as commonplace in hotels in Germany as they are in countries like Ireland (where we had one in every room we stayed in). You might have better luck with Airbnbs but you're not guaranteed to have good kettles. I've stayed in nice Airbnbs where the kettle was surprisingly old, rusty or otherwise not appealing.
Also, during these Covid times, some hotels don't have kettles available anymore (or they're only available upon request) as a safety measure. Speaking of safety measures, while we can all hope that these kettles are frequently sanitized and cleaned, you just never know! So it's better to be safe and bring your own.
Plus, these revolutionary appliances can also do more than just heat water! They obviously come in handy for coffee or your morning cup of tea. But they can also make warm meals or snacks like eggs and instant noodles – a pro tip for saving money if you're traveling on a budget. They're also essential for RVs and camping. Overall, they're a great investment regardless of where you travel because you can use them again and again.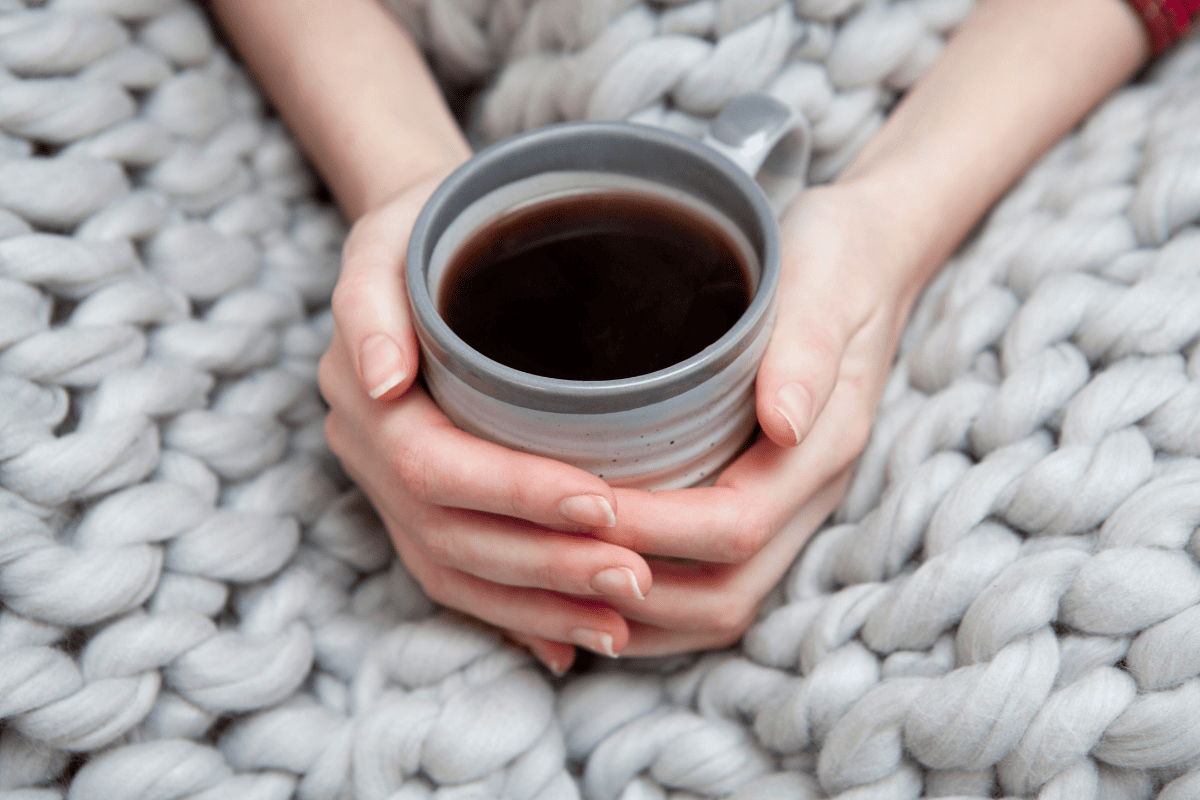 What To Look For In A Travel Tea Kettle
Size and Portability
Since you'll be packing it in your suitcase, you don't want a bulky kettle that will take up valuable space. A lightweight, small size portable electric kettle is ideal. Look out for collapsible or foldable kettles too because they're compact and great for a more minimal packing approach.
Dual Voltage
If you're traveling abroad, make sure that the kettle is dual voltage. If not, you won't be able to use countries where the voltage is different unless you buy a special converter. With dual voltage kettles, you can switch to the right voltage depending where you are.
Quality
Choose a kettle made of good quality material that'll last you a long time. You don't want your kettle to break in the middle of your trip! You can never go wrong with stainless steel for its durability. Avoid plastic since they are not always BPA-free and can affect taste.
Boiling Time
The last thing you want to do while traveling is waste time waiting for your kettle to boil. Look for kettles that have a speed boil feature to boil water extra fast for when you're in a rush. Controlling temperature settings through a variable temperature control feature can also help in quickly getting the perfect temperature.
Safety Features
Safety features like boil-dry protection, which switches off the heat when there is no water inside, and automatic auto-shut off are handy features that can prevent any safety issues.
Best Travel Tea Kettles
Travel Tea Kettle Comparison Chart
| Image / Name | Stars | Price | Check Availability |
| --- | --- | --- | --- |
| | | | |
| | | | |
| | | | |
| | | | |
| | | | |
| | | | |
| | | | |
| Best for Using in the Car | | | |
| Best Stainless Steel Kettle | | | |
| | | | |
Top 10 Dual-Voltage Travel Tea Kettles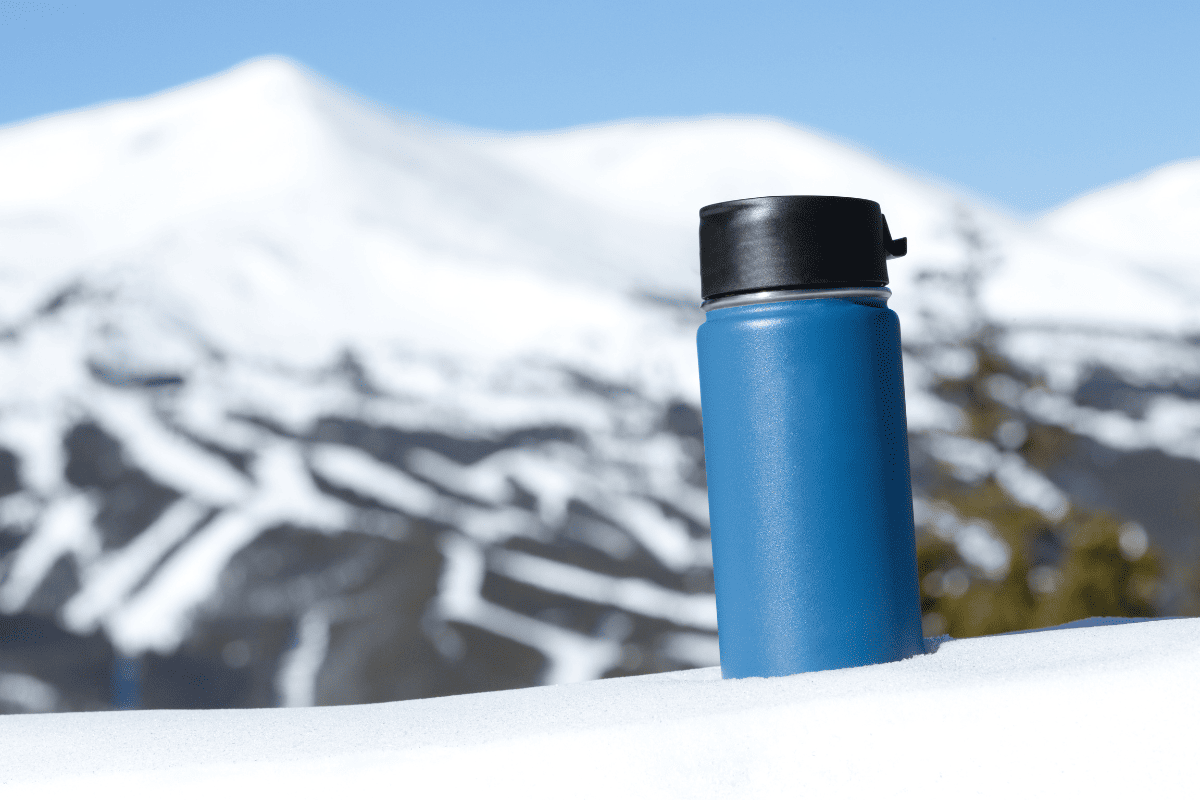 Best for Families
We earn a commission if you make a purchase, at no additional cost to you.
This universal hot water kettle has a capacity of 1L (34oz) and can serve up to 4 people all at once. It's a good choice for those traveling with family or a group since its capacity is large compared to other small electric kettles.
It also has an increased wattage of 800W meaning it heats up fairly quickly. Don't be put off by the size – this kettle is foldable and lightweight! Once it's folded it only takes up around 3 inches.
Click here to buy this large capacity kettle for your family's next trip.
The Plazala small travel kettle holds 350ml (12oz) making it the perfect kettle for solo travelers! This mini travel kettle is about the size of a coffee grinder or a thermos so you can tuck it in your luggage without worrying about it taking too much space.
It has a one-button switch and auto-shut off so it's easy and straightforward to operate. It also has double-layer heat insulation that keeps the inside hot while keeping the outside cool.
Click here to buy this mini travel kettle for your solo travels.
Best Value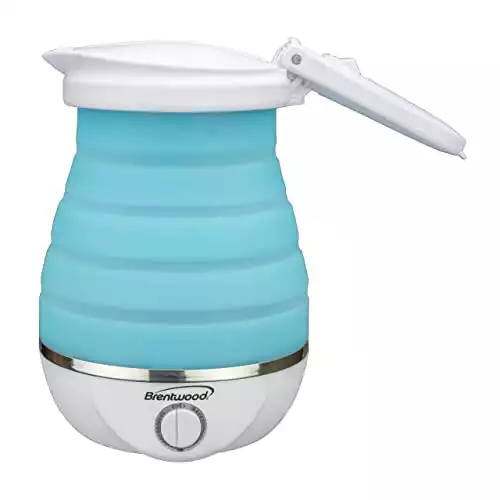 We earn a commission if you make a purchase, at no additional cost to you.
The Brentwood dual-voltage travel kettle has a collapsible design that can heat up to 850ml or over 3 cups of water. It's made of durable materials with a food grade stainless steel base that is corrosion resistant. This collapsible kettle has useful features like automatically keeping the water warm if you leave it switched on.
For its capacity and features, it has a really affordable price. It's a good electric kettle to purchase as a starter kettle before splurging on more expensive ones.
Click here to buy this affordable and efficient foldable kettle.
Best for Coffee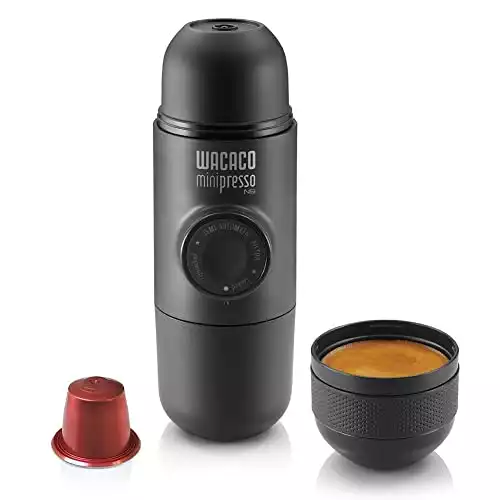 We earn a commission if you make a purchase, at no additional cost to you.
The Wacaco Minipresso is the perfect travel kettle for coffee lovers! It has unique features like a filter basket where you can add your coffee grounds or a Nespresso capsule. It claims to grind and measure with high precision, making the process quick and mess-free.
The best part is that it's a completely portable kettle since it's hand operated! You won't have to worry about power cords or batteries. Simply add hot water, pump it a few times and you'll have your cup of coffee in no time.
Click here to buy the best travel kettle specifically designed for coffee.
Best Collapsible Kettle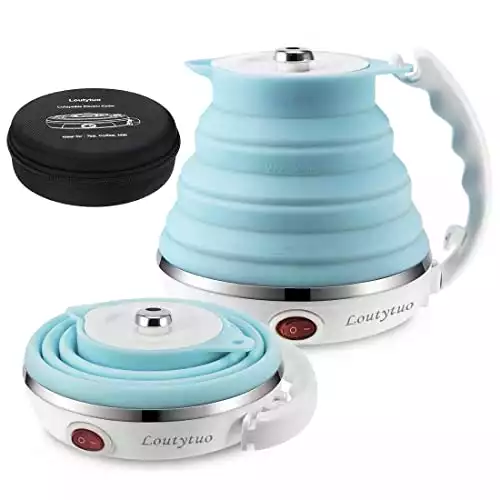 We earn a commission if you make a purchase, at no additional cost to you.
This collapsible kettle compacts down into a disc that takes up very little space. It has an ultrathin design with a foldable handle and a detachable power cord. It even comes with a zipper storage bag for easy packing.
The electric tea kettle is made of food grade silicon with a stainless steel heating base. It also comes with boil-dry protection and automatic switch off for double protection.
Click here to buy an ultrathin, collapsible kettle that will save you a lot of space while packing.
Best for Tea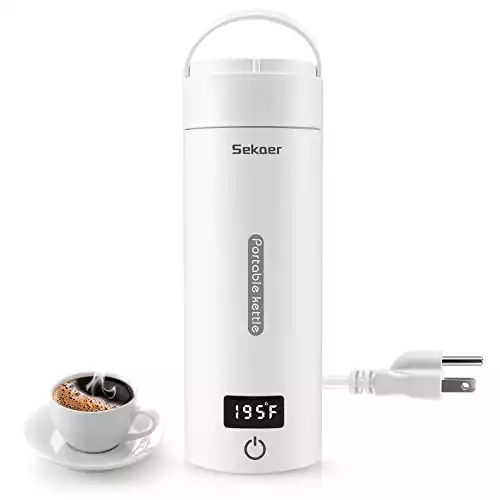 We earn a commission if you make a purchase, at no additional cost to you.
The Seakaer portable travel kettle is a great choice for tea lovers. It comes with four preset water temperatures for making different teas like oolong, green tea, fruit tea, black tea, and many more. There's even an LCD display showing the real temperature and safety features that'll make sure the small kettle will turn off once it reaches your preferred temperature.
It's about the size of a water bottle so it's very compact. It's the best kettle for making a good cup of tea in between traveling!
Click here to buy this convenient tea kettle that makes preparing tea easy and hassle-free.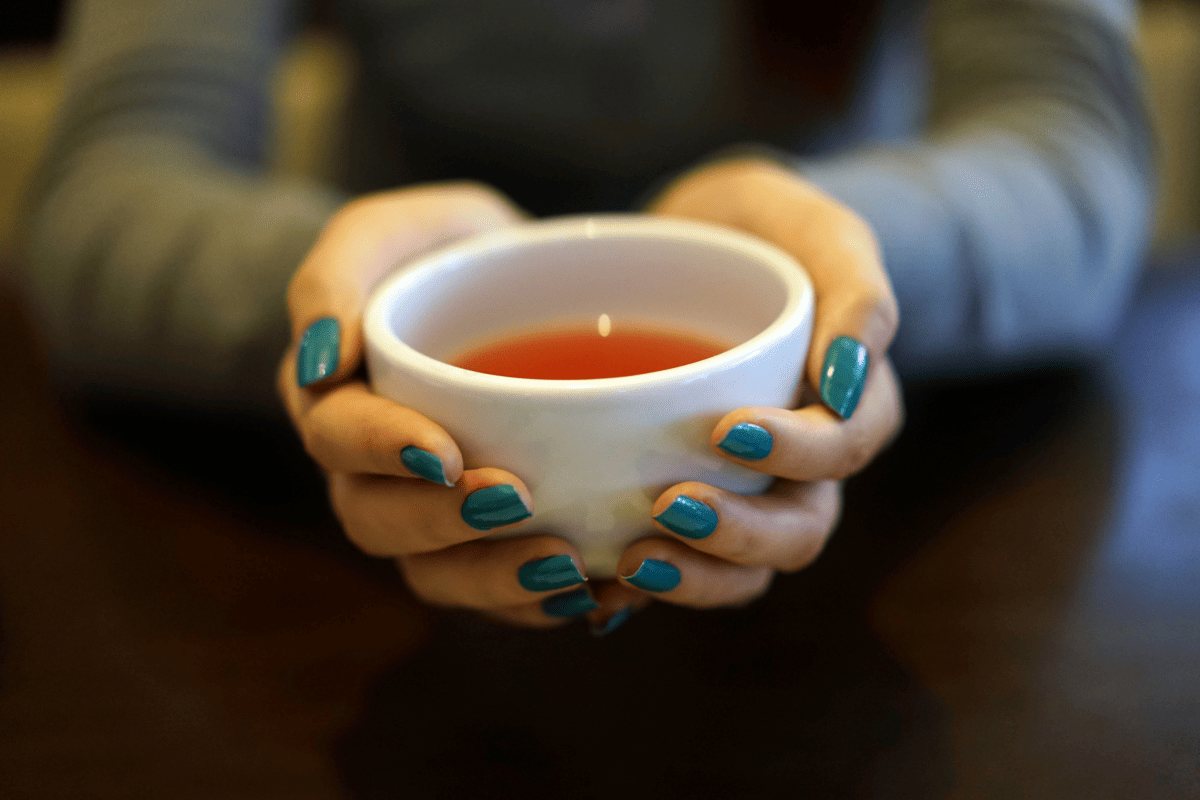 Best for Making Food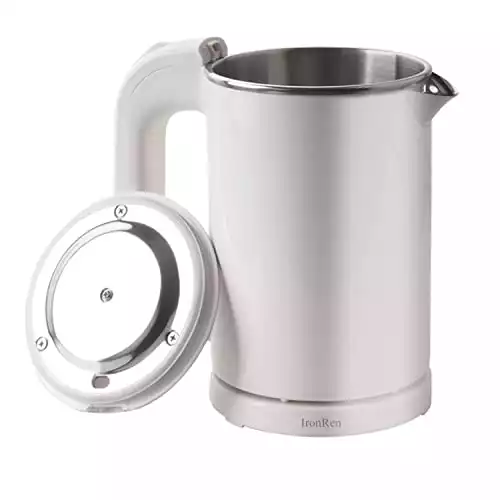 We earn a commission if you make a purchase, at no additional cost to you.
Did you know you can actually use kettles for more than water? With this kettle, boil eggs or vegetables, heat soup and even cook instant noodles. Of course, you can still use it to heat water like a normal kettle. But if you're in a pinch while traveling, then this kettle's food grade stainless steel interior and wide opening is ideal for preparing simple food.
Click here to buy this kettle that can also be used for preparing food.
Best for Using in the Car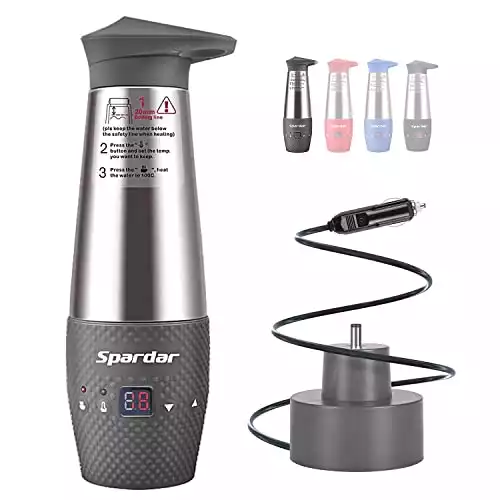 We earn a commission if you make a purchase, at no additional cost to you.
This small electric kettle by Spardar is ideal for those who are camping, traveling with a rental car or going on road trips! It comes with a 12V cigarette lighter that you can plug in to your car. It's made of stainless steel with double insulation and has a sealing rubber ring design meaning it won't move around and overflow while you're driving.
Click here to buy a travel kettle you can use you cars for your next road trip.
Best Stainless Steel Kettle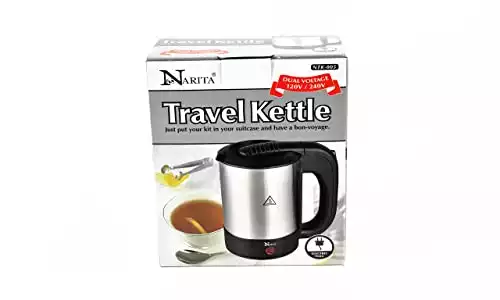 We earn a commission if you make a purchase, at no additional cost to you.
You can never go wrong with stainless steel. It's the most durable, sturdy material plus it's less likely to leave that silicon or plastic taste behind that other kettles can. This no-fuss Narita stainless steel travel kettle has a simple, classic build that is sure to get the job done and last you a long time.
Click here to buy this durable stainless steel kettle that's made to last.
Fastest Boiling Time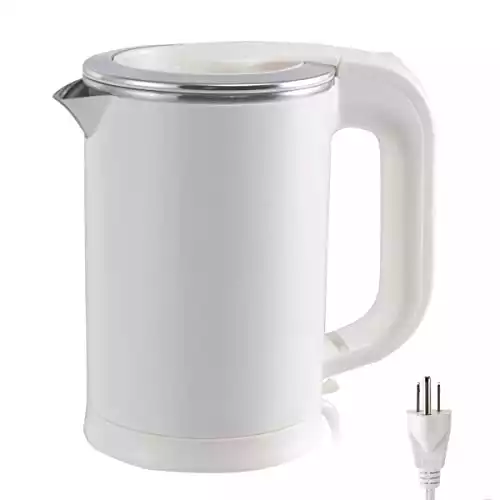 We earn a commission if you make a purchase, at no additional cost to you.
This is the best electric kettle for busy mornings. It has a fast boiling feature that cuts down time to about 4 minutes. Its capacity is 0.5L which is good for two servings. The interior is 100% stainless steel while the outside is plastic, meaning it's cool to the touch and will prevent scalding.
Click here to buy this kettle with a fast boiling feature to cut down on your waiting time.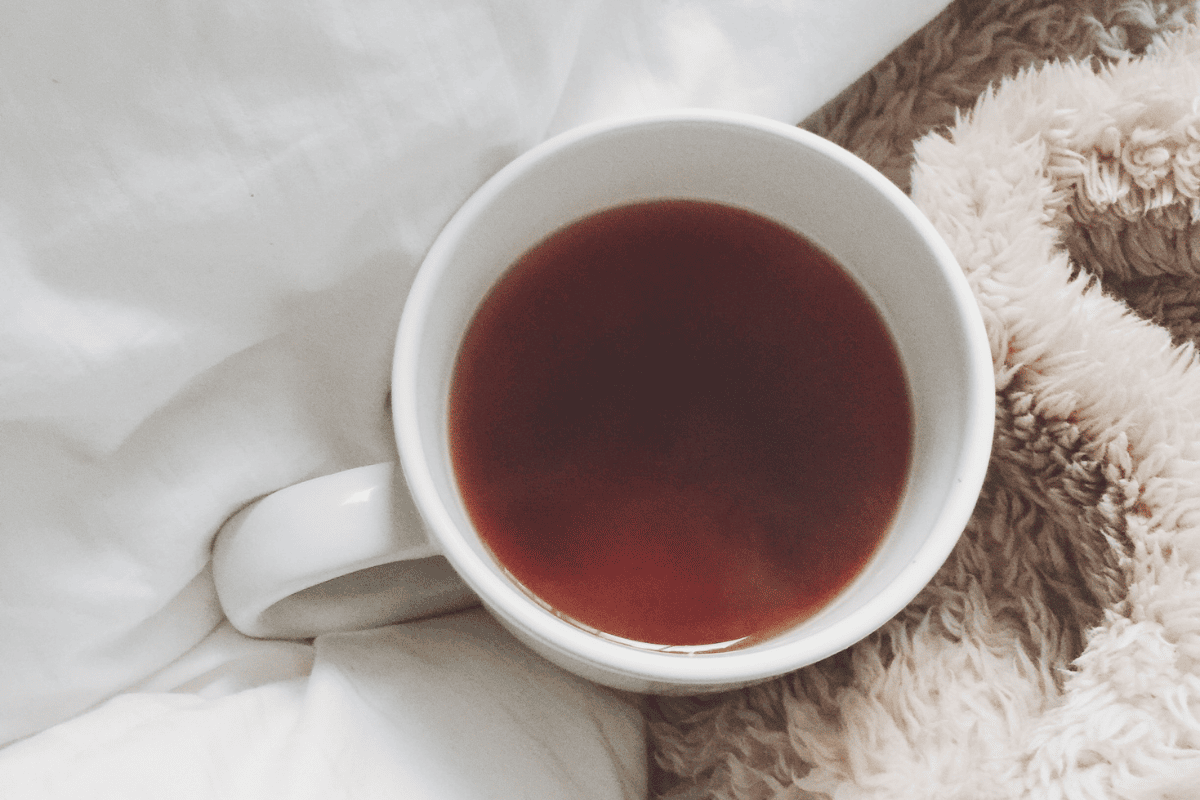 Another Option: An Immersion Heater
An alternative to travel kettles are immersion heaters. They take much less space than standard kettles and weigh significantly less. Generally, they're also cheaper and faster. The downside to immersion heaters is that you can't just plug them and do other things while waiting. You always have to keep an eye on it just to be safe!
Here are some recommended immersion heaters for travel:
This is a dual voltage immersion heater that will boil your water for coffee and tea in just minutes. It has burn guards to protect your mugs and cups. It's sleek and portable, measuring only around 5 inches which is way less than your typical kettle.
Very similar to the Nopro immersion heater, though slightly more affordable. It's also dual voltage and incredibly lightweight and handy. The coils also have burn guards to make sure it doesn't touch the sides of your container. Perfect for camping and traveling!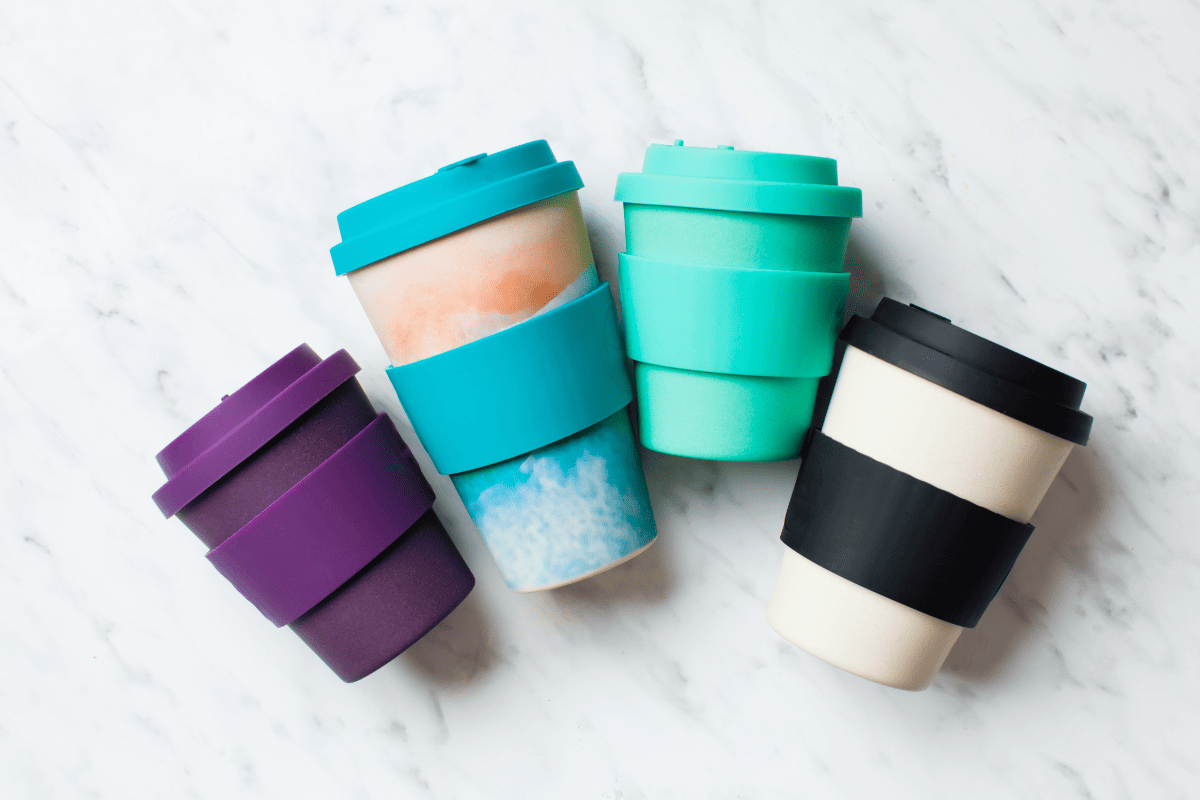 What Else You Need
A Voltage Converter or Adapter
Since the voltage in Germany is different from the United States, you'll need to bring a converter or an adapter so you can use your travel kettle all over Europe!
Travel Mug
Don't limit yourself to drinking your beverage in your hotel room or out of a paper cup. Bring it with you while sightseeing or ride the train!
Hydro Flask has a wide range of stainless steel and insulated tumblers that protect your drink's temperature for hours. Hydro Flasks are excellent at keeping hot liquids hot and cold liquids cold!
This mug by Contigo with an autoseal lid and double-wall vacuum insulation is a great sturdy option.
If you're looking for a smaller one that you can carry in your purse, this travel mug holds 350ml (12oz) and has a leak proof lid. It's good for coffee, tea and even beer (perfect for Germany)! For a more heavy-duty option that'd also be great for camping, check out the YETI Rambler 12oz bottle.
A Spoon
Better to be safe than sorry and bring your own spoon to mix your drink. A small spoon or even a set of portable travel utensils will work well and won't take up much space in your luggage.
Tea, Coffee, Sweetener
Germany has tons of different kinds of teas and coffees you can buy and try out! But if you have a particular brand you can't imagine not drinking for a day, then bring some tea bags or coffee grounds with you. Same with sweetener. Pack some extra packets in case it's not readily available at your destination.