Ultimate Minimalist Packing List For Travel to Germany & Europe (2-Week Packing List)
This post may contain affiliate links. Read my disclaimer policy.
Wondering if carry-on only packing is for you? Not sure how much is too much to take on your trip to Germany? Here are some tips and tricks on how to pack light for your next trip.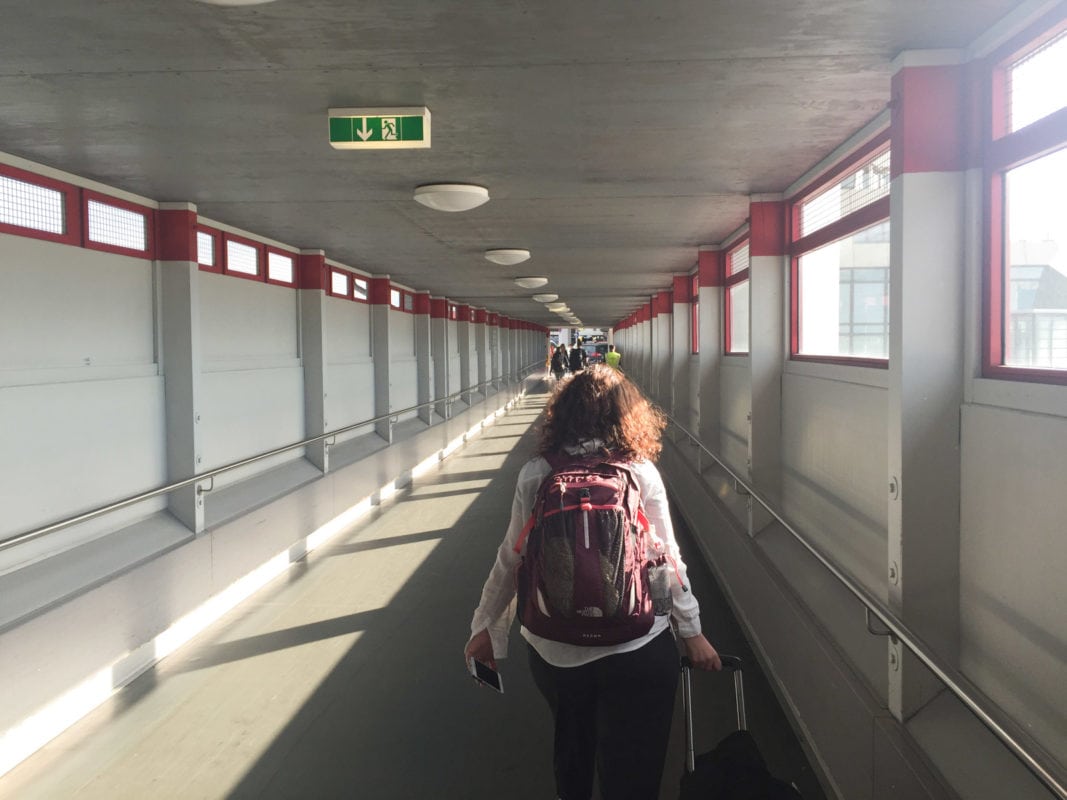 As you're planning your first or next vacation to Germany or different countries around Europe, you've probably already thought: what should I pack? How much luggage should I bring? Carry-on or checked luggage? Suitcase or backpack?
It's easy to get carried away and list aaaaaaall of the clothes you just have to bring or all the "just in case" back-up items you're convinced you'll need, whether on a 10-day vacation or during long-term travel of weeks or even months.
But how much do you really need to bring?
The short answer? Much less than you think!
We're here to present an alternative travel style with tons of benefits in the long run: minimalist packing.
After completely overpacking (and quickly regretting it) when I was first traveling around Germany and Europe in my teens, I quickly converted to being a minimalist packer.
Aaron is too, and so in the 25+ years that he and I have been traveling together, we nearly always travel carry-on only. On some trips we've added a small carry-on sized suitcase so we can check liquids or bring specific items home in but we even try to avoid that, if possible!

You might already be familiar with the minimalist packing approach with the rise in popularity of digital nomads traveling the world who often travel with just a backpack or a carry-on sized suitcase, but it's something that any type of traveler or vacationer can achieve – and benefit from.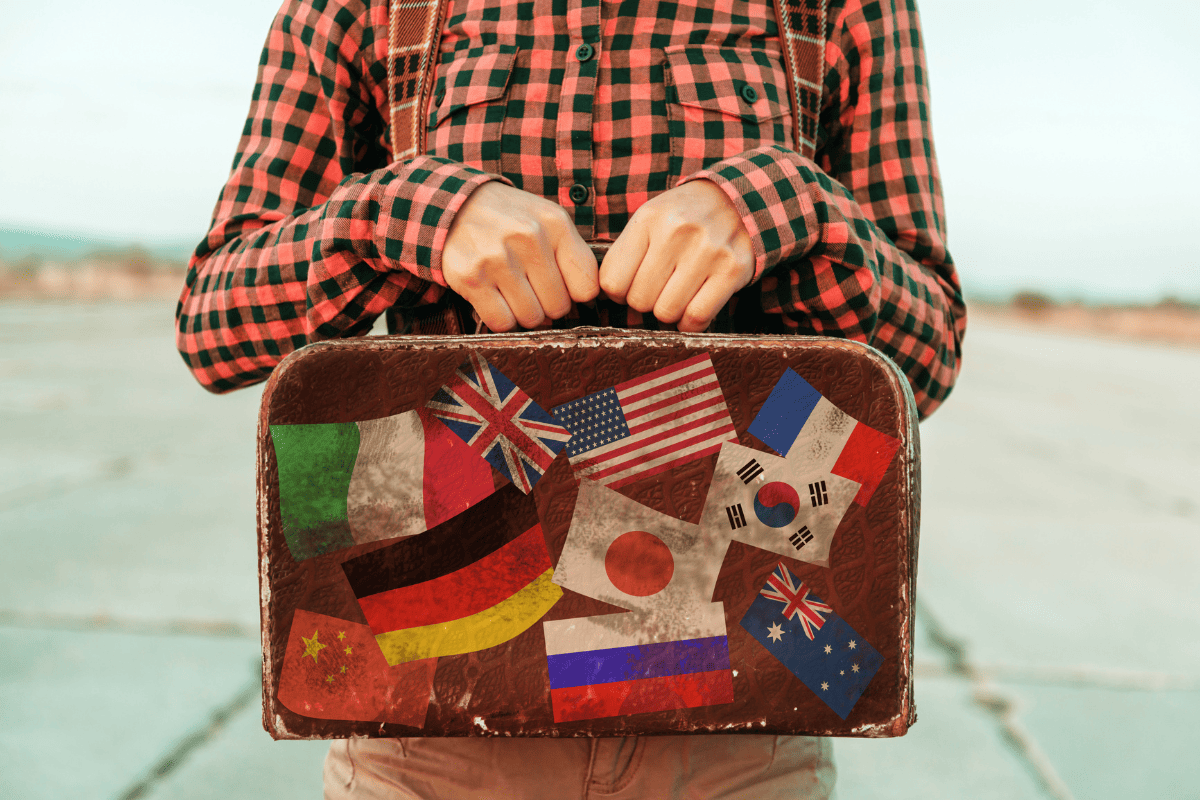 The first step in becoming a minimalist traveler is all about learning and understanding the mindset behind the approach — and all the advantages. We'll get to that in just a bit.
Then comes the fun part of deciding what bag to bring, what items go on your packing list, and to leave behind.
While it seems like a lot of preparation goes into minimalist packing, it pays off 10-fold once your trip starts. And if you think of it like a puzzle, it's actually a fun process!
(For inspiration, check out our Germany packing guide, where I show you in more detail the gear and specific items we take on our trips around the world (we don't always take everything on that list on every trip). And we include a packing list in our Germany Trip Planner that you can use.)
From what kind of bag will suit you most to putting together your ultimate minimalist travel packing list, this article will show you everything you need to know about minimalist packing!
What is Minimalist Packing for Travel?
Minimalism has taken the world by storm over the past few years. Many people are seeing the value of owning less and realizing how excessive consumption can actually bring unnecessary stress into your life. Trends like extreme decluttering and even moving to tiny homes have been adopted by all sorts of people looking for a lifestyle change.
Minimalism has made its way to travel too. When it comes to traveling, the minimalist approach is all about packing thoughtfully and efficiently.
Just to be clear we're not talking about ultralight travel and bringing less stuff just to leave a lot of space in your suitcase. Minimalist packing is more about being intentional with the things you pack. It's about making sure that every item you bring has purpose and brings value to your trip.
And YOU are the one who decides what minimalist packing looks like for you.
Minimalist packing has the end goal of making travel less stressful. If you learn how to pack light you can spend less time worrying about baggage fees, lugging heavy suitcases over cobblestone streets, dragging heavy bags up and down stairs, and worrying about losing your items — which makes it easier to actually enjoy your vacation!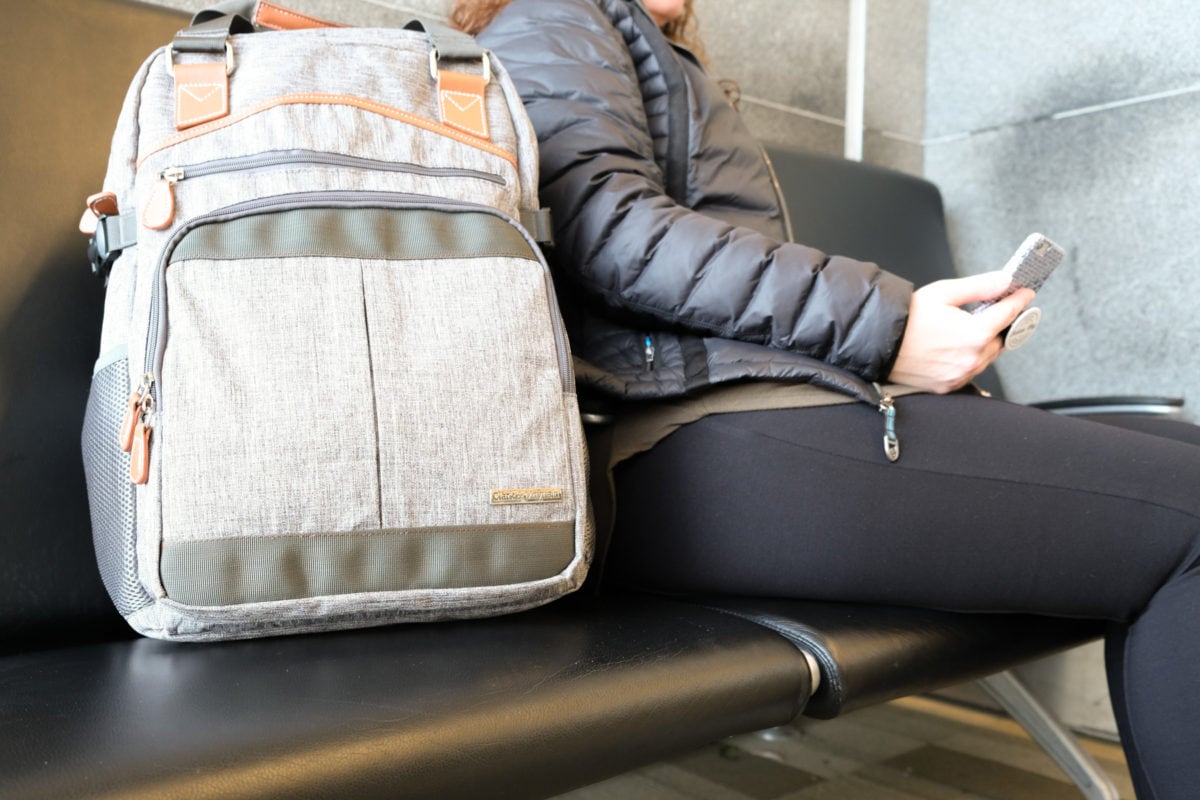 Why Take a Minimalist Approach For Vacation Travel?
There are so many reasons to adopt the habits of a minimalist packer.
To start off, when checking in for your flight, going through airport security, and then boarding your flight, you won't have to worry about exceeding the baggage weight or size limit. We all know how those extra luggage fees can add up, especially if you're traveling with multiple suitcases or multiple family members.
Years ago we used to be able to check a bag a little (or a lot) over the weight limit with minimal concern but things have gotten much stricter and much more expensive if you do go over. And having big, heavy bags can also mean having a hard time finding overhead space on the plane, adding unnecessary stress to your long flights.
If you pack minimally and go carry-on only, going through check-in and TSA is a breeze since you're less likely to experience any delays or long lines waiting to check your bags.
The same will be true while moving around cities after arriving in Germany. You'll be able to walk longer distances with more ease and less discomfort (like from the train station to your hotel) and hop on any type of public transportation without scrambling for all of your belongings or mowing people down when you board a bus.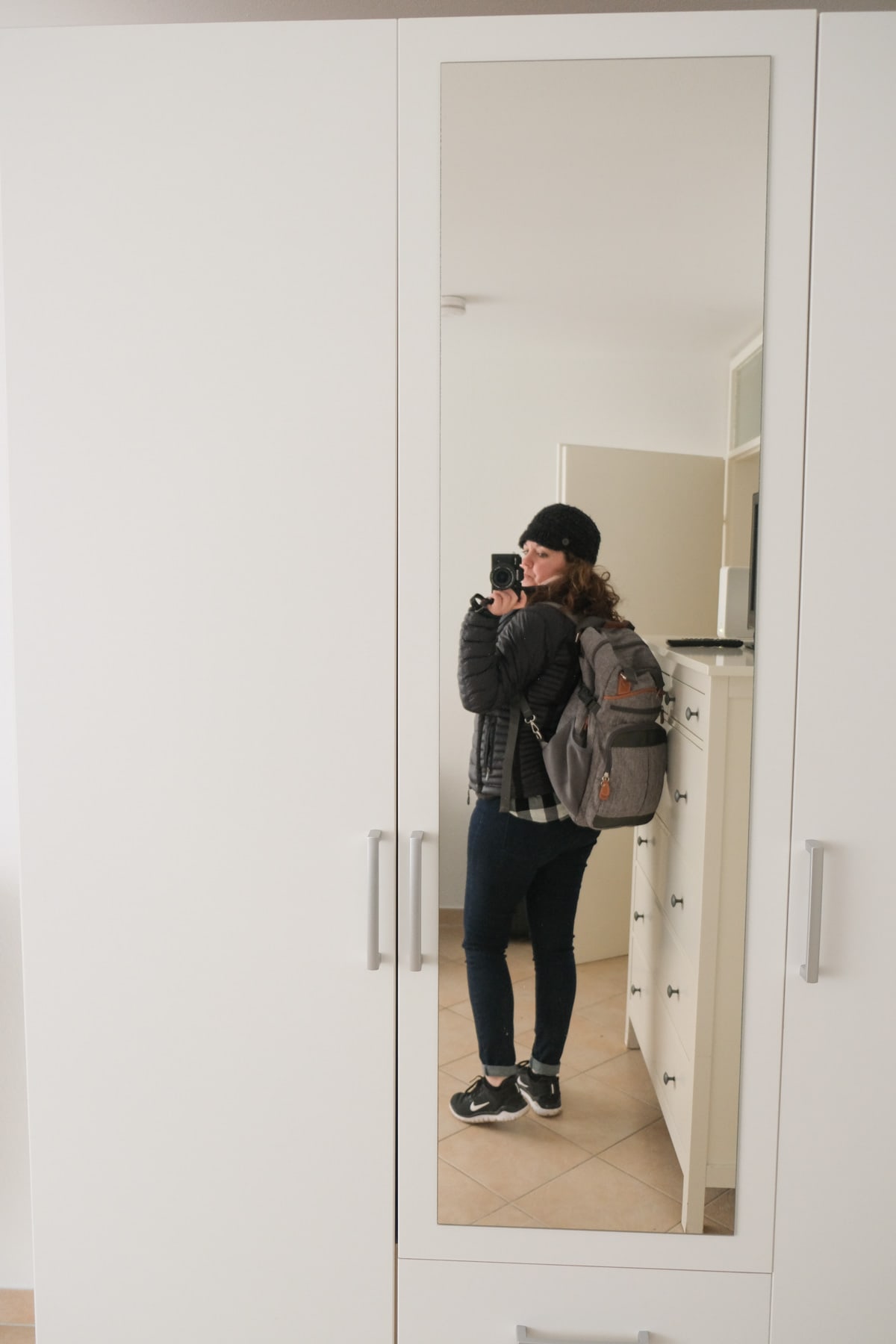 Being able to maneuver easily with your luggage is one of the best things you can do as a traveler, especially in touristy destinations. Moving around with bulky bags can make it harder for you to keep track of all your items and it's uncomfortable for you and annoying for locals. It can also draw unwanted attention to pickpockets and thieves who target unaware tourists.
Keep in mind that if you're visiting multiple cities in Germany or are traveling elsewhere in Europe, you'll likely take a lot of public transportation. And it's you who will be carrying your luggage everywhere you go, not anyone else!
Even if you rent a car and only need to carry your luggage from the car to your hotel and back, if you bring too much luggage, you might not be able to fit it all in the rental car!
Picture yourself boarding trains, getting on a bus, climbing up stairs or escalators at a metro station, making your way through cobblestone streets, and then up a couple flights of stairs to your hotel or AirBnB. Do you want to be doing all of that with a heavy backpack or multiple big suitcases? I'm sure the answer is no!
Besides the benefit of ease of movement, packing light ensures that you bring only what you actually need and will wear. You won't wasted valuable time each day digging around your backpack or suitcase full of clothes (many of which you never end up wearing) just to find that one thing you swore you packed.
By taking a more minimal approach, you'll have a clear inventory of everything you've brought so you can dress quickly each morning, stay organized, and avoid misplacing and losing things along your trip.
Doesn't this all sound great? Well, then keep reading to get started on the minimalist approach to packing for travel to Germany!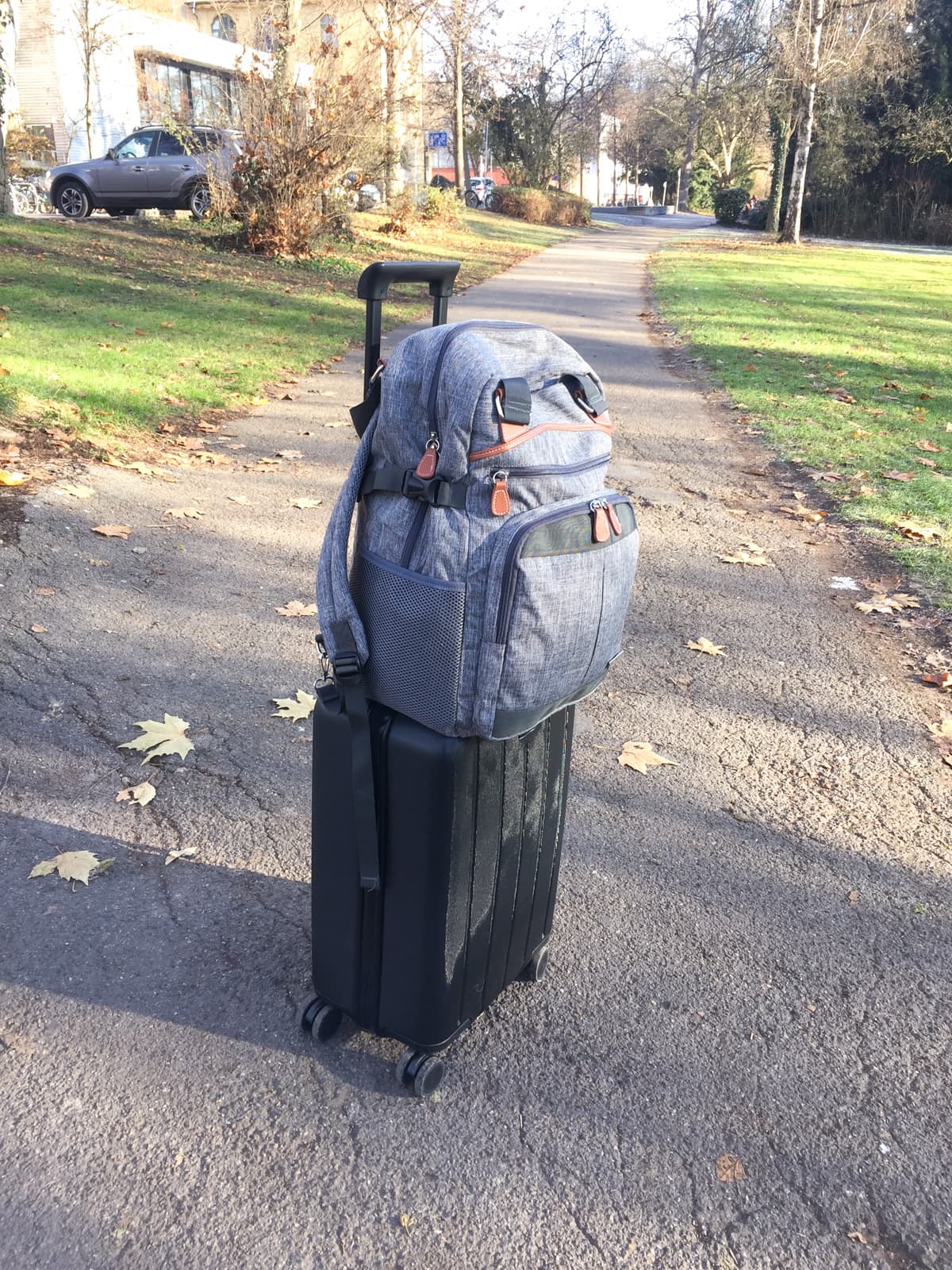 Minimalist Packing: Suitcase or a Backpack?
One of the first things to consider is what kind of travel bag will be a good fit for your personal preferences and travel destinations. There are many kinds of carry-on bags to choose from but we recommend considering a carry-on size suitcase or a travel backpack.
Suitcase: Pros & Cons
Most people immediately assume they'll bring a suitcase. If that's you, we highly recommend a carry-on sized spinner type 4-wheeled suitcase. You can't really go wrong with this classic choice, especially if you'll be staying in hotels with elevators or just a few flights of stairs.
A spinner suitcase is a good option if you won't need to do a huge amount of walking with your suitcase outside of the airport. If you plan to take mostly taxis to and from the airport or between the train station and your hotel, a rolling suitcase can be a great choice.
The downside to suitcases is that they can be difficult to maneuver over cobblestoned streets and up and down stairs in metro stations and hotels. They also require that one hand be occupied at all times and the bigger and heavier they are, the more uncomfortable (or even painful) they can be to drag behind you.
We have a carry-on spinner suitcase (see photos above) — and we love it! I use it more than Aaron does, most often in the US when I'm just pulling it through the airport to a car. That said, I have used it on 2 recent trips to Germany — one where we rented a car and one where I spent 2 weeks in just 2 cities and only took 1 train with the suitcase. So I didn't need to pull it over blocks of cobblestoned streets or carry it up and down many flights of stairs or on and off a bunch of trains.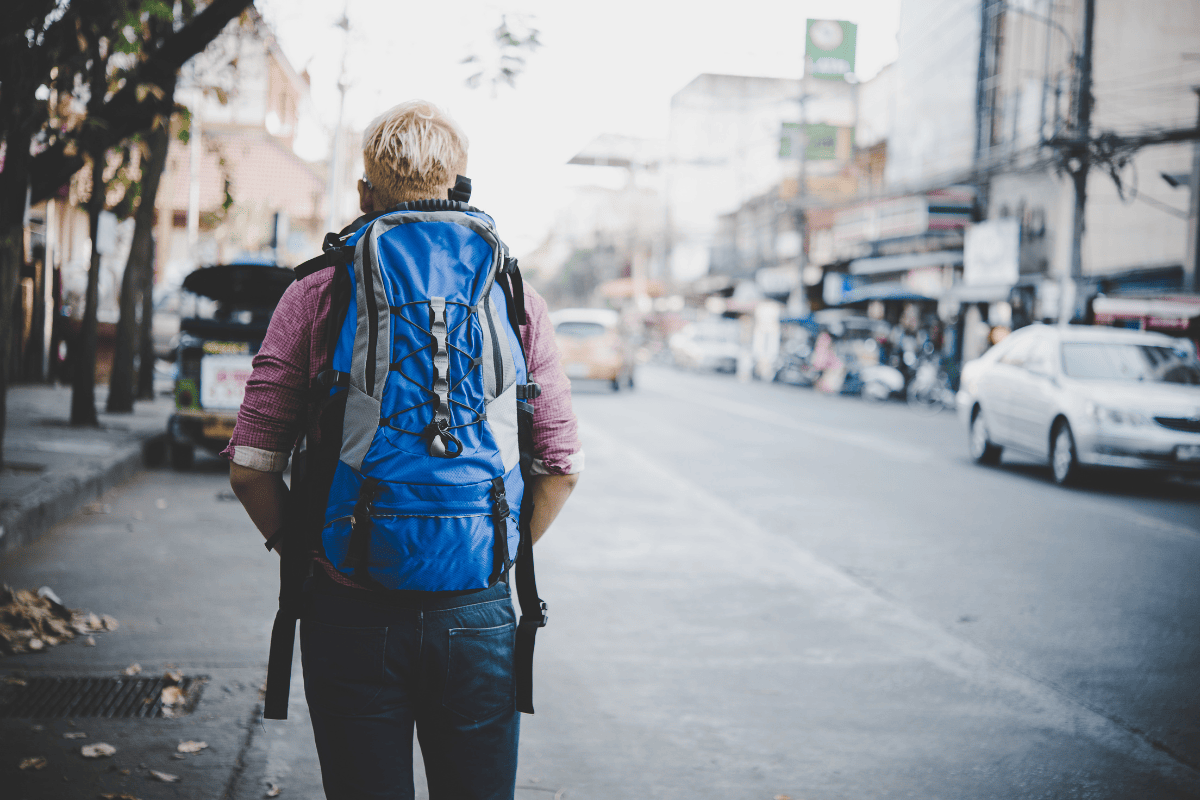 Travel Backpacks: Pros & Cons
We also each have a carry-on size travel backpack that we use frequently on trips abroad. Backpacks are ideal if you like to have your hands free and just like being more nimble. They're also great for any trips in nature, where sidewalks or paved roads may not be as ubiquitous since it'll be hard to lug a wheeled suitcase around in that situation.
Even if you're traveling around cities, backpacks are great because they give you more ease of movement. One of the best travel backpacks I've ever had is from the brand Eagle Creek. They are highly-praised for their comfort and quality. I STILL use my nearly 15-year old Eagle Creek backpack! Osprey also makes excellent travel backpacks.
When I get a new travel backpack I'll most likely get an Osprey because I like how well they integrate the removable day pack using a zipper and compression straps. We've been looking at them a lot lately and I've heard so many excellent reviews from friends about their packs.
While I love using my travel backpack, there are a few downsides to consider. One is that you always have to carry it, and if you end up standing for long periods of time (like waiting to go through airport security or for a train or bus) it can be uncomfortable wearing a pack the whole time.
Likewise, when it's hot outside, wearing a backpack will make your back very sweaty and uncomfortable.
And, if you don't pack it well, it can be uncomfortable to wear. For us, however, the benefits outweigh the downsides (most of the time).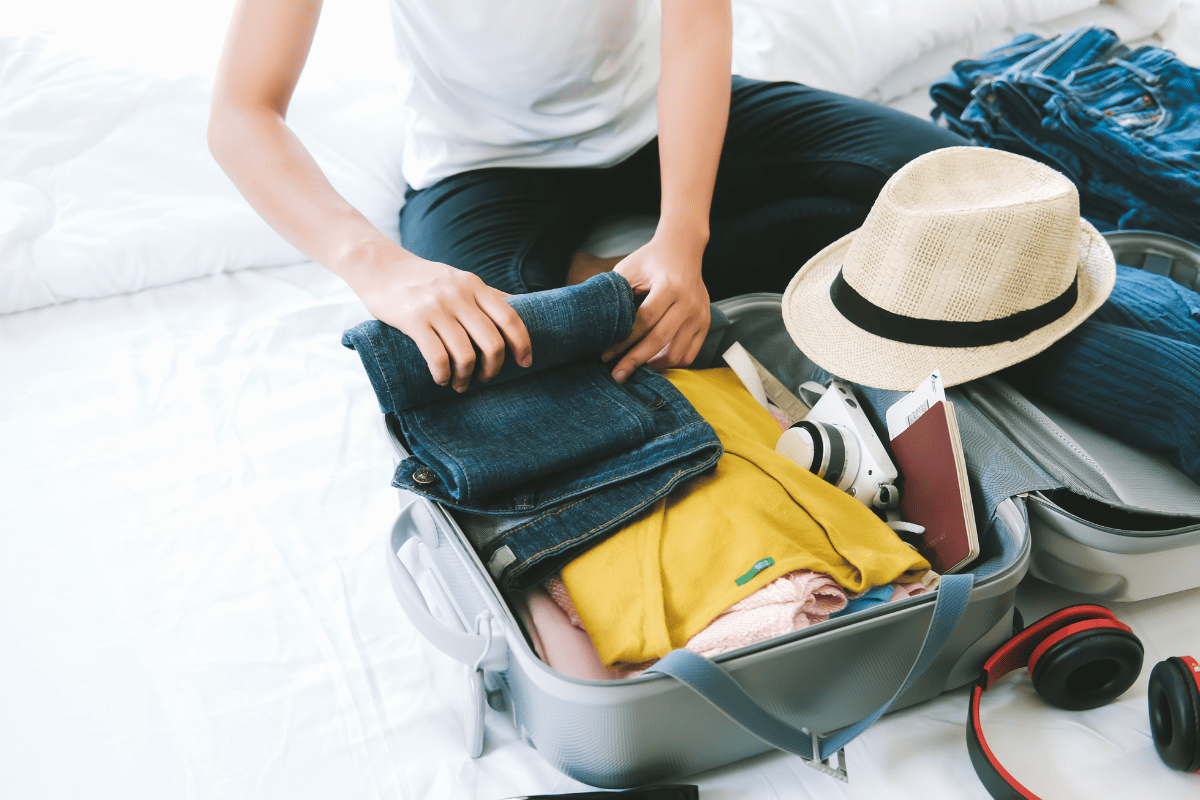 What to Pack In Your Main Bag For 2 Weeks
Before you get carried away and pack clothes for each day of your trip, we suggest putting together a capsule wardrobe. A capsule wardrobe is essentially a small collection of pieces of clothing that you can mix and match with one another to create lots of different outfits.
There isn't really a set number or style of clothing items that should be part of your capsule wardrobe. But remember the point of having a minimalist travel wardrobe is that you'll only bring clothing that you love wearing and that are versatile enough for different occasions.
In general, think 4-6 casual t-shirts, 1-2 formal shirts or blouses, 2-4 pairs of pants, skirts or dresses that can be easily dressed up or down, and outerwear depending on your destination's climate.
Don't forget the essentials like a set of pajamas, 6-7 pairs of underwear, and 6-7 pairs of socks (or 2-3 if not for everyday wear). You can pack more or less depending on how much time you'll be traveling and how often you'll be able to (or want to) do laundry – but don't overpack! We typically pack the same amount of clothing for a 1 week trip as for a 6+ weeks.
For footwear, stick to bringing 2 pairs of shoes at most. One pair should be for walking and everyday wear, like comfortable sneakers. The other can be something dressier like flats, loafers or sandals.
Winter & Summer Packing
If you're going to Germany during the winter, then your capsule wardrobe might look different. For example, a high-quality jacket or coat and boots are a must. Other accessories like tights or a pair of leggings, scarf, gloves, and beanies are also something you'll probably want to add.
On the other hand if you're traveling during summer, then lighter clothes like tank tops, shorts, a pair of flip flops, a sun hat, and a bathing suit are must-haves.
As you can see, you can customize your capsule wardrobe as much as you want. To help you put together a list, keep in mind different factors like your personal style, your favorite colors to wear, the climate at your destination, the activities you'll be doing on your trip, what packs, wears and washes well, and what can be layered and easily mixed and matched.
What About Toiletries?
For toiletries, we recommend limiting them to only essential items like a toothbrush, toothpaste, deodorant, shampoo, body wash, a hairbrush, basic make-up, etc. As much as possible, bring miniatures or travel sized toiletries that can fit in one TSA-approved pouch for easy organization. Remember, if you need more, you can always buy what you need in Germany.
What Kind of Day Bag to Use
In addition to your main bag, we recommend also having a small bag as your personal item for the plane and that you can use as a day bag while in Germany. This could be a small backpack, a cross-body bag, or travel purse.
Aaron typically uses a small backpack and I use either a small backpack, a cross-body bag or purse. Whatever you choose, try it out before you leave so you're sure it's comfortable to carry with you all day!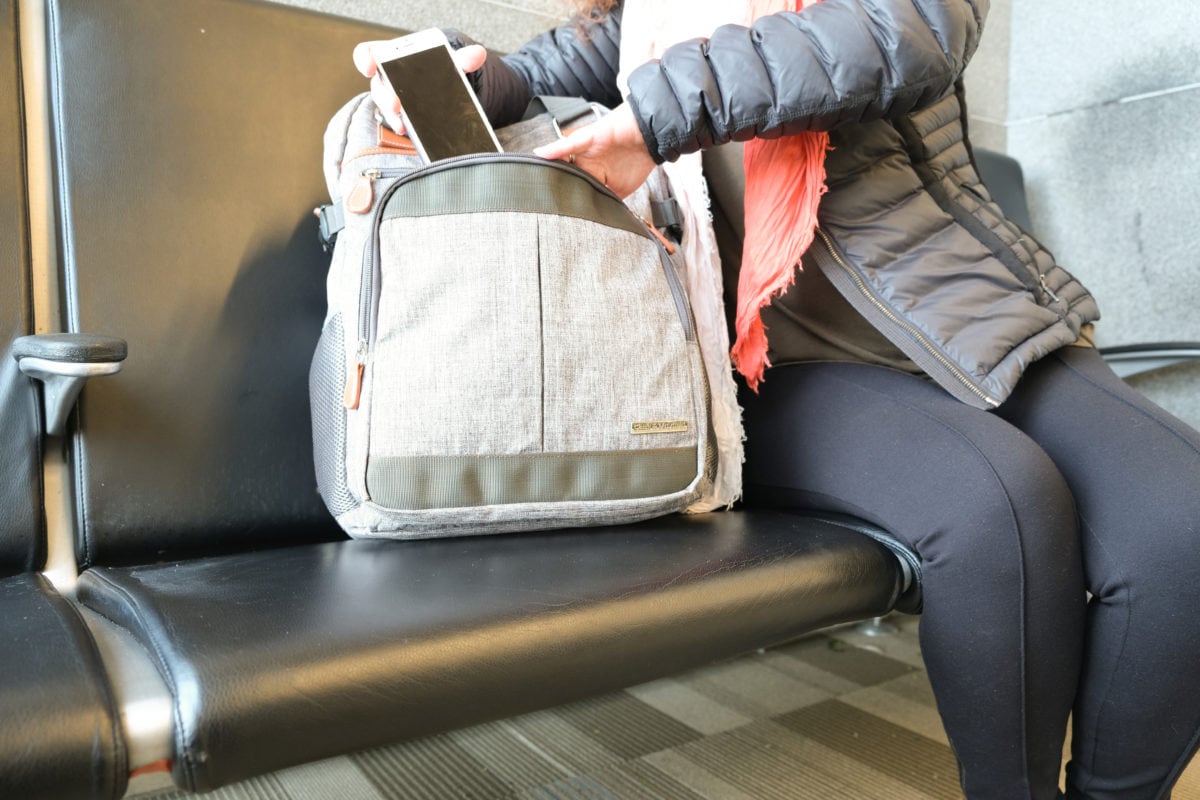 What to Pack In Your Day Bag
Whether you use a backpack, cross-body bag or purse, it's crucial that you find one that's the perfect size for your needs and that you love wearing. After all, you'll be carrying this with you everywhere you go every day of your trip! If you're in search for the perfect travel purse, check out my article here reviewing some of the best ones in the market.
After finding your day bag comes the question of what to pack. Your day bag is for travel essentials that you need to keep secure while having easy access to while out and about. Keeping in line with minimalist packing, we recommend sticking with a smaller bag to avoid overpacking and carting around items you never actually end up using (been there, done that).
Here's a list of some travel essentials you should keep in your day bag:
Passport and other travel documents
Small wallet with credit card/debit card
Spare cash in local currency
Phone (with local sim card if not using your home cell service)
Power bank and/or chargers
Other optional electronics (earphones, electronic reader, tablet, camera, etc.)
Medications and other health-related items
Water bottle
Snacks
Seasonal accessories (sunglasses, sweater, hat, gloves, etc.)
Small pouch with make-up or toiletries (sunscreen, lip balm, etc.)
Pocket journal and pen
Keys
Since you'll be carrying your day bag at all times, it'll give you more of a reason to pack light! There's nothing more annoying than carrying a bulky purse or having it constantly slide down your shoulders as you're out and about exploring the city. Pro tip: pack your day bag a few weeks before you leave and wear it while you run errands.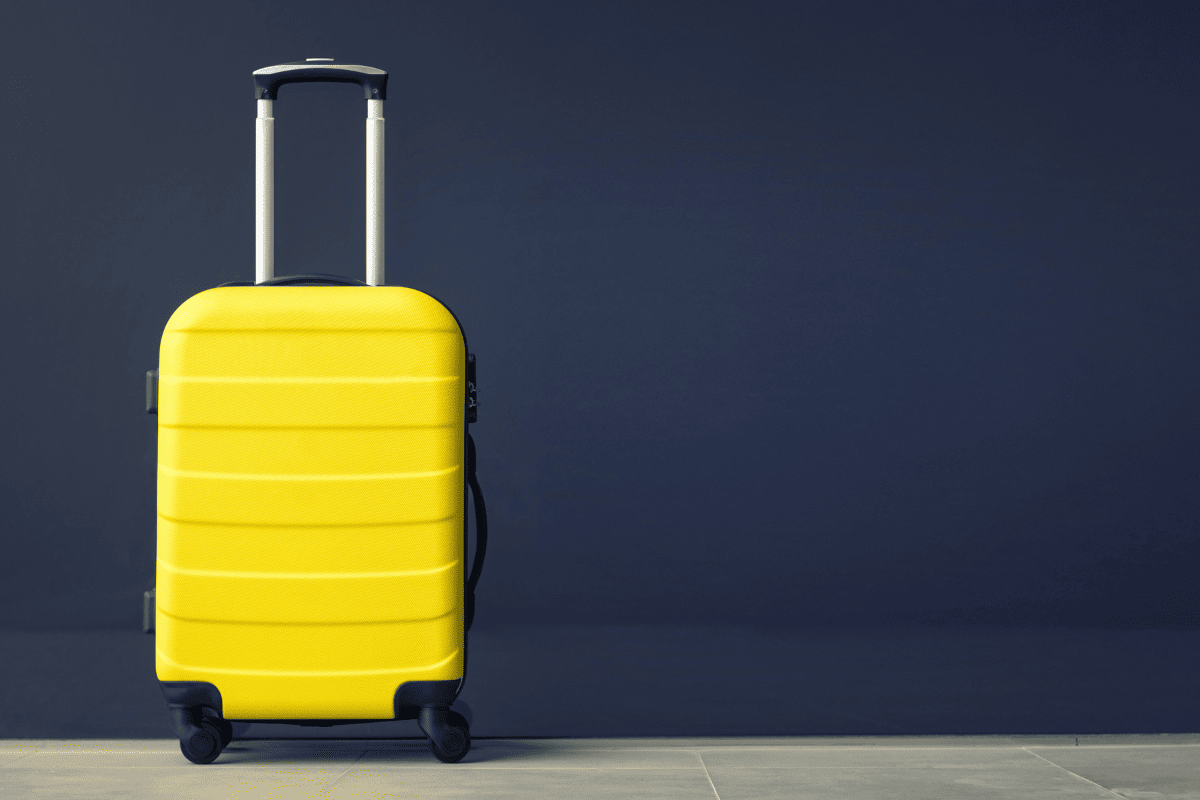 What to Leave at Home
Now that we've covered what to bring, let's talk about what to leave at home.
We're all a little bit guilty of overthinking while packing. We start imagining all kinds of unlikely scenarios and end up bringing unnecessary items that we might need "just in case" — but never end up using.
For example, if you know you won't really have time to exercise, then skip the workout gear. The same goes for unrealistic plans. As much as you might want to go hiking, if it's not 100% part of your itinerary, don't bring hiking boots. Always remember that if you change your mind, you can probably borrow gear for any spontaneous activities.
Another thing to limit yourself on is toiletries. Save yourself space and time at security checks by leaving excessive products like creams, gels, or perfumes at home. Stick to your essentials and take advantage of the free items you can get at your hotel or buy what you need once in Germany.
If you're used to a long and complicated hair or skin care routine at home, consider a month or two before you leave how you can pare it down for travel.
The same goes for makeup. Don't take your entire makeup bag with you. Instead, bring only products you use on a daily basis like powder, concealer, and one or two lip colors. You can also look into travel-size palettes that have multi-use products.
When it comes to electronics, leave behind hair styling tools like a curling iron, straightener, or hair dryer if at all possible. Not only do they take up so much space in your luggage, but you also have to make sure they're compatible with the local outlets and voltage. If not, you have to then bring an adaptor and sometimes even a converter. Also, most hotel rooms already come with a hair dryer or even other styling tools upon request.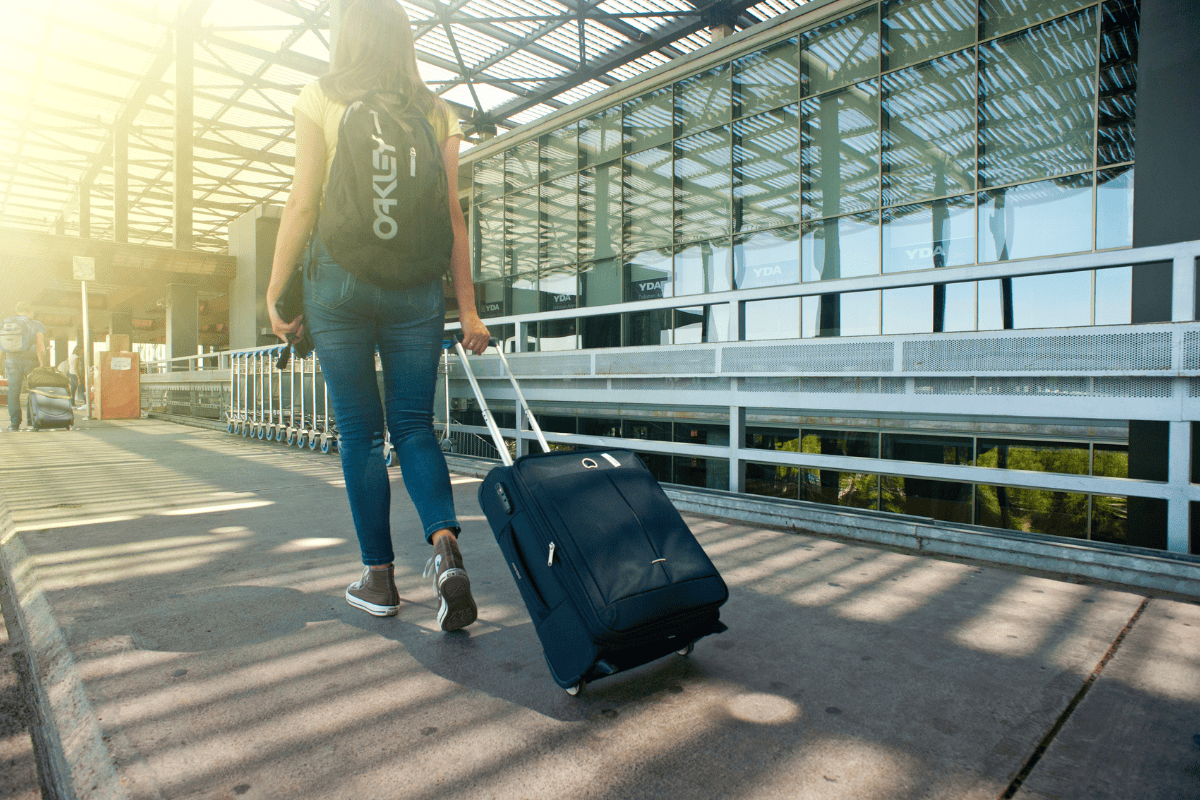 Minimalist Packing Tips
Here are some more minimalist packing tips:
1. Pack Less & Do Laundry
If you're traveling for more than a week, built a couple hours once a week or so into your itinerary to do laundry so you'll have clean clothes. You can use your hotel's laundry services or do it yourself if you're staying in accommodations with a washing machine.
In Germany, it'll also be fairly easy to find a laundromat. Setting aside a couple of hours to do your laundry can even be a good way to have some downtime in between all the sightseeing. Us that time to edit your photos, write in your travel journal or just relax.
When all else fails, you can always buy a tube of "REI in der Tube" at the local grocery store in Germany and do laundry by hand in your sink.
2. Use Packing Cubes
Packing cubes are the ultimate minimalist travel gear. They let you organize your clothing in the most efficient way since you can separate items in different packings cube. This way you can easily see and everything you have. It also makes packing and unpacking faster, and staying organized so much easier.
3. Wear Layers
The weather is important factor to keep in mind when choosing what clothes to bring. Layers are a must. Having an assortment of short and long sleeved shirts, light jackets, cardigans, fleece or sweaters, and leggings and skirts in your capsule wardrobe will give you tons of possibilities for layering depending on the weather.
It's also a good idea to look into buying tops made of merino wool. Merino wool is great for traveling because of how versatile it is –the fabric will keep you warm on cold days and cool on warm days and it doesn't absorb odors!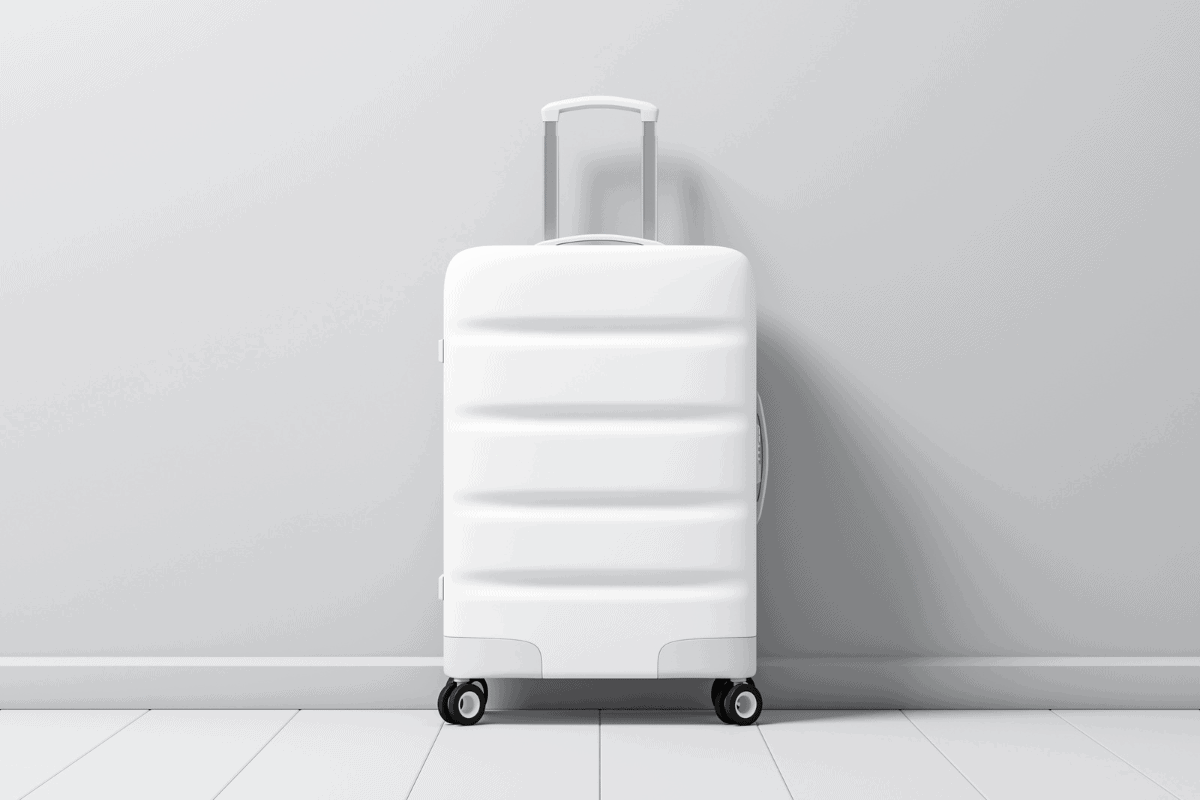 4. Wear Neutral Colors
Another tip for when you're putting together your capsule wardrobe: stick to mostly neutral colors! Colors like black, white, gray, navy blue, brown, and beige are colors that go with everything and are great for all seasons.
Having a capsule wardrobe full of neutrals with one or two other colors or patterns makes it easier to mix and match pieces. It ensures that all your tops will coordinate with all of your bottoms, since the colors go together and won't clash with one another.
Stick to solid colors and simple patterns like stripes, instead of loud, busy patterns or statement pieces. While there's nothing wrong with having one or two statement pieces, make sure to consider if you'll be able to wear it more than once.
5. Pack Multi-purpose Products
As we mentioned, the goal of minimalist packing is to ensure that every item in your suitcase serves a purpose. But it's even better if they serve multiple purposes at once!
This is especially true for clothing. For example, you can wear a plain white t-shirt or tank top on its own while you're out on tours. But then you can also use it as a layering piece under a dressier blouse or cardigan for nights out. A long-sleeved button down can be used for when it gets chilly at night but can also serve as a light cover-up during day time or at the beach.
There's also a lot of toiletries and cosmetics that have multiple functions. Try to look for products like moisturizers that already come with SPF. This way you can protect yourself from UV rays while also keeping your skin hydrated. If you wear makeup, you can take it even further and buy tinted moisturizer with SPF, which provides light coverage to hide any blemishes.