10 Simple Tips for Taking Great Food Photos While Traveling in Germany
This post may contain affiliate links. Read my disclaimer policy.
For many travelers, eating delicious meals is of utmost important while traveling. If you're someone who wants to capture those food-filled moments to remember later, these simple tips will help you take even better pictures when you're on the road.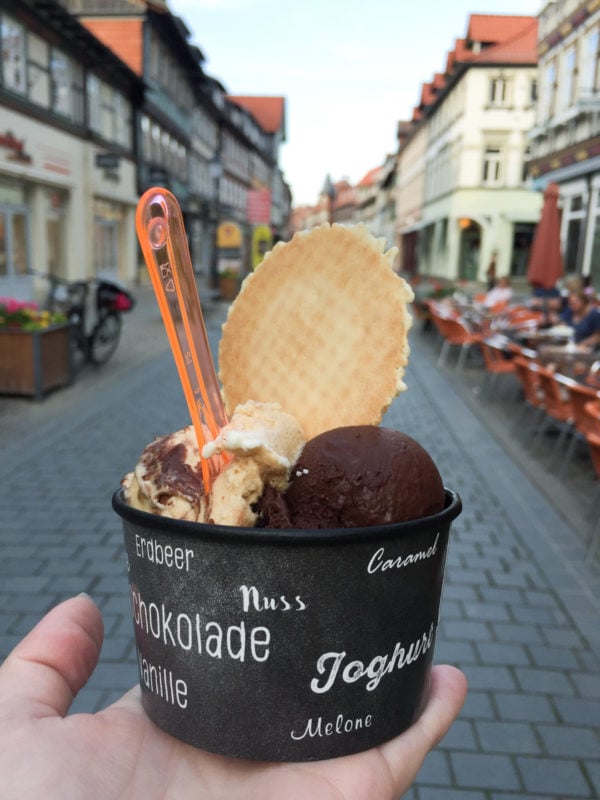 I'm the food photographer (Cate here, by the way) in our family and love snapping photos of what we eat while traveling so we can remember those tasty moments later.
But while I enjoy spending an hour getting a shot just right when I'm at home working on my international food blog, I want my photo-taking to be as quick, easy, and unobtrusive as possible while traveling.
My goal isn't so much to have the most spectacularly beautiful photos but rather to simply have a memory of the delicious dishes, desserts, and snacks we enjoy. My goal is to balance documenting our meals with staying in the moment.
Many times, I take photos to jog my memory about our trip. The photo of me holding a cup of fresh watermelon in Freiburg (scroll down a bit to see it) isn't super noteworthy but it does immediately spark my memory of how incredibly hot it was that day and how refreshing that cold watermelon was!
My opinion is that it's just as important to enjoy your food as it is to get a photo of it. Seeing that photo months or years later will evoke your memory of eating it – so it's important to pair a good photo with actually enjoying the dish and the people you're with!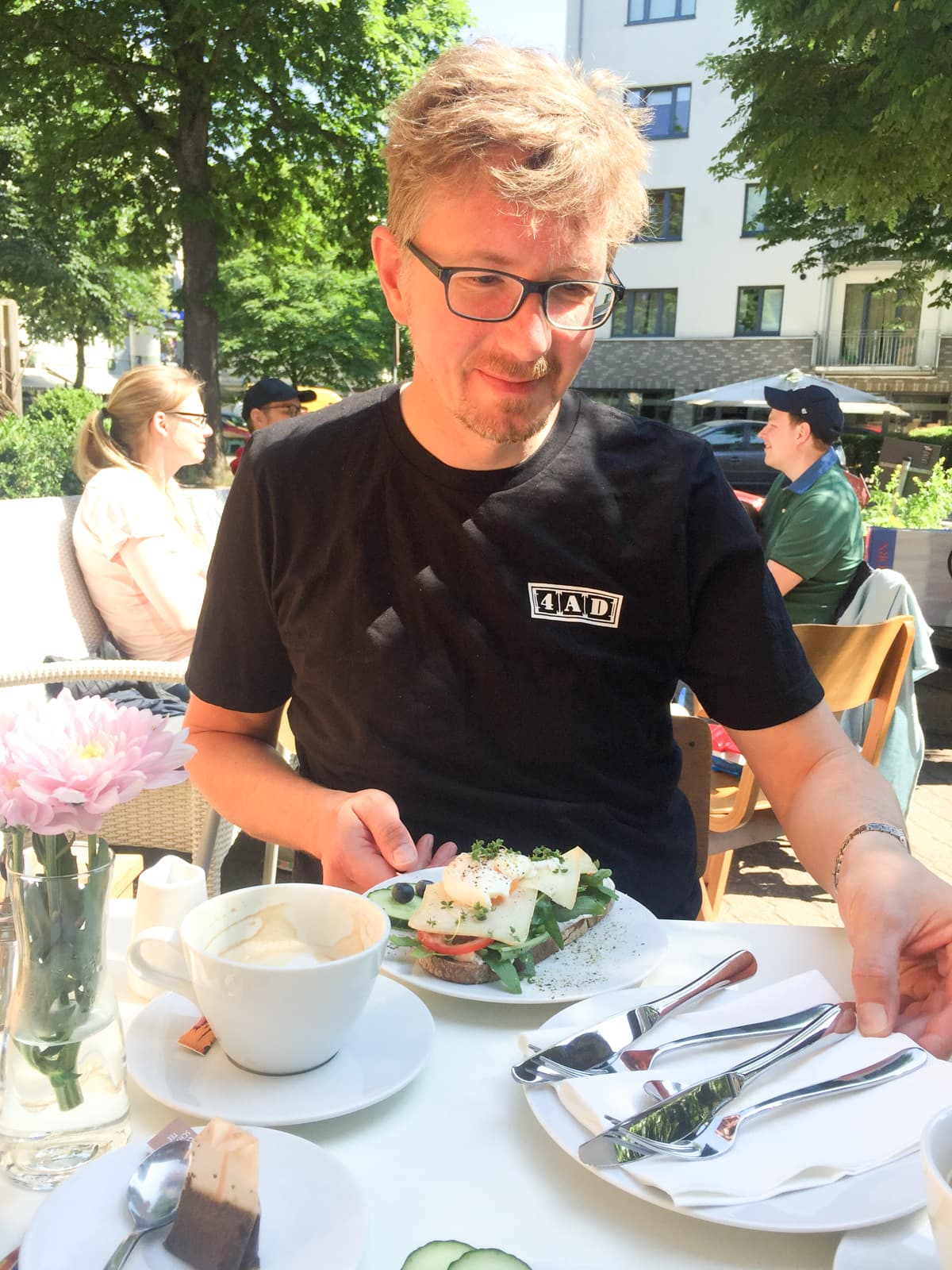 I'm not a professional or expert by any means, but I've learned a few things along the way. Here are 10 tips for taking better food photos while traveling.
1. Use the Right Camera and Gear
You might be surprised to learn you don't need a large, fancy camera to take good quality pictures! In fact, unless you're photographing for publication, most of today's cell phones have enough technology in the camera to take impressive images.
Even though I have a 35mm camera, I often use my iPhone for food photos while traveling. It's quick and easy to pull it out of my bag or pocket, unobtrusive when we're in a restaurant, and takes great photos.
When we travel, I make sure my phone has a case and a PopSocket. I LOVE the PopSocket because it makes holding my phone while taking photos so much easier and prevents me from dropping it. Plus, they last for years.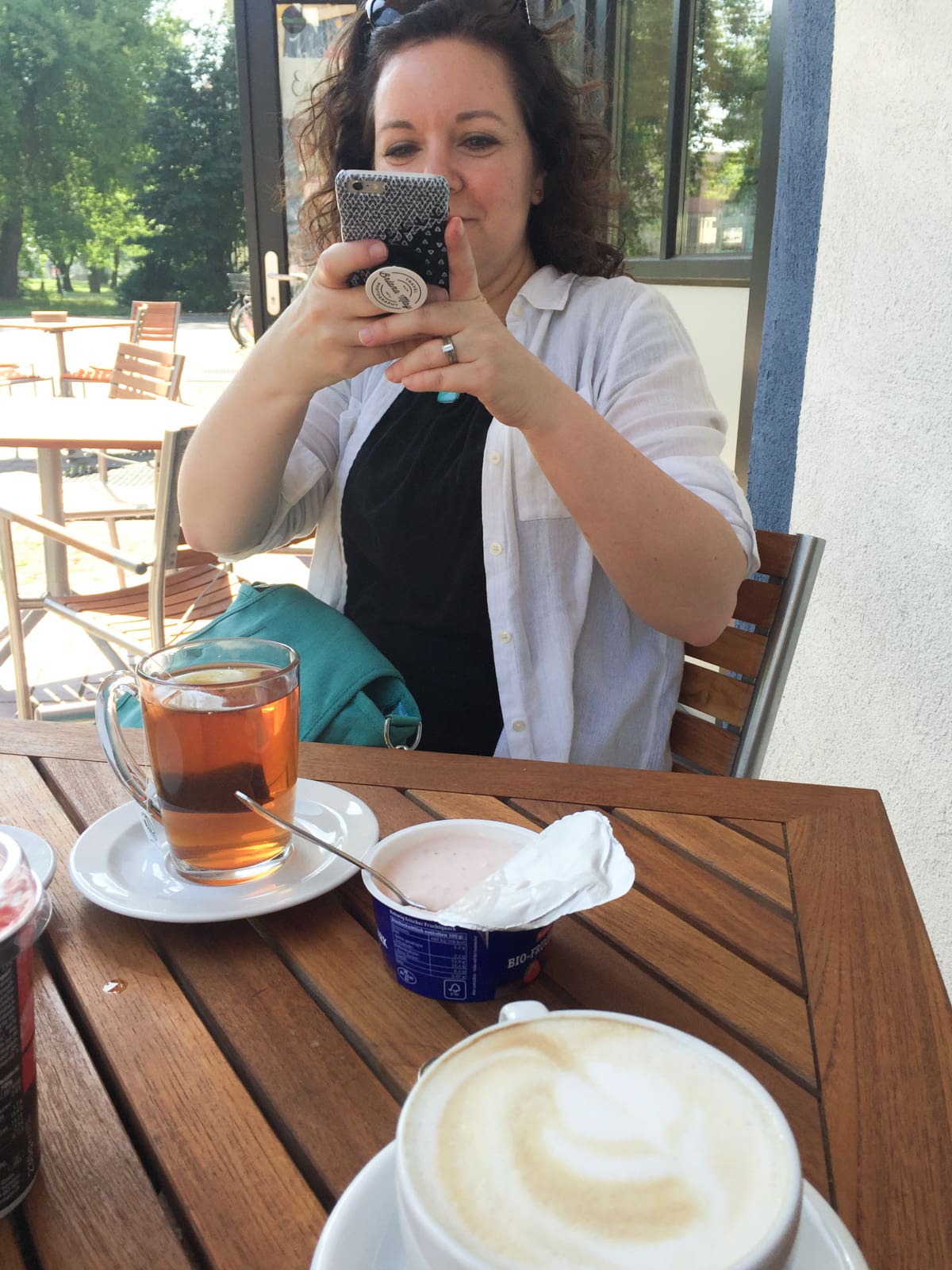 We also bring at least one portable battery charger so we can charge out phones throughout the day. When we're traveling, our phones never stay charged all day so a battery charger is a life-saver!
Something I've thought about experimenting with are these little pop-on cell phone lenses. If you want to get creative with your phone, give them a try!
I do bring my 35mm camera but only use it for food photos where I have more time and space to do a little photo shoot – which is not often while we're traveling. I'm not an expert photographer so I bring minimal gear – a case, a detachable wrist strap, and extra batteries.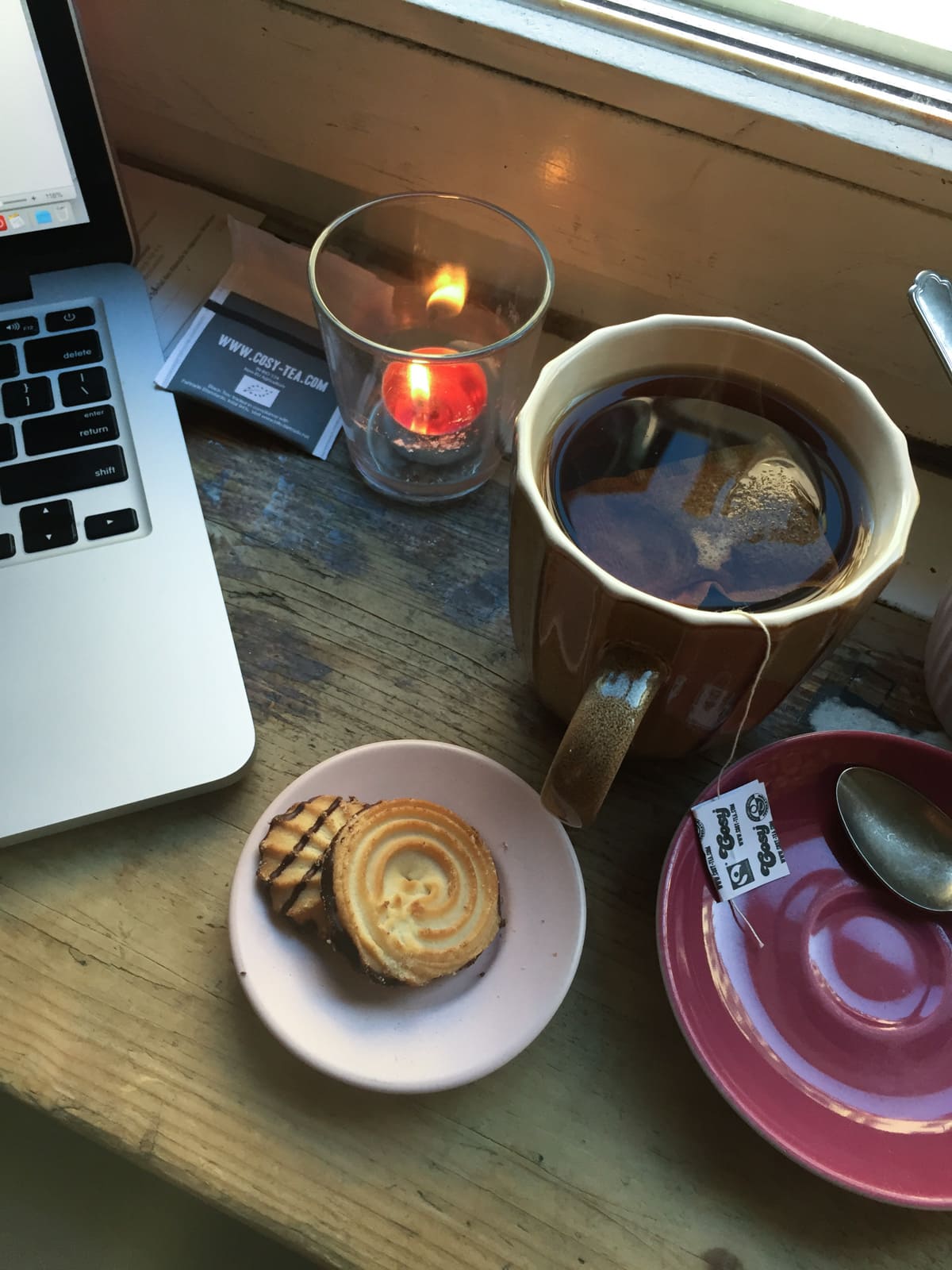 2. Practice Before You Go
Before you head out on your trip, get to know your camera and practice.
Having a good understanding of your camera and how it works is so helpful, especially if you're using a new camera, have upgraded to something more complex than you're used to or want to improve the quality of your photos. That way, you can easily take beautiful food photos without stress while still enjoying your meal.
A few years ago I brought my brand new 35mm camera on our trip to Germany. I was so excited to use it but neither of us had much time to practice using it. The result? Finding out later that we'd inadvertently changed a setting, resulting in weird looking photos! Don't make the same mistake!
You can find loads of free tutorials for your phone or camera online that get into how to use the manual settings on your camera or make simple adjustments on your phone. Take a few hours to watch and learn them, and then practice snapping a couple photos each time you sit down to eat at home or while out and about.
That way, by the time you're in Germany you'll know exactly what kind of food photos you want to take and how to take them.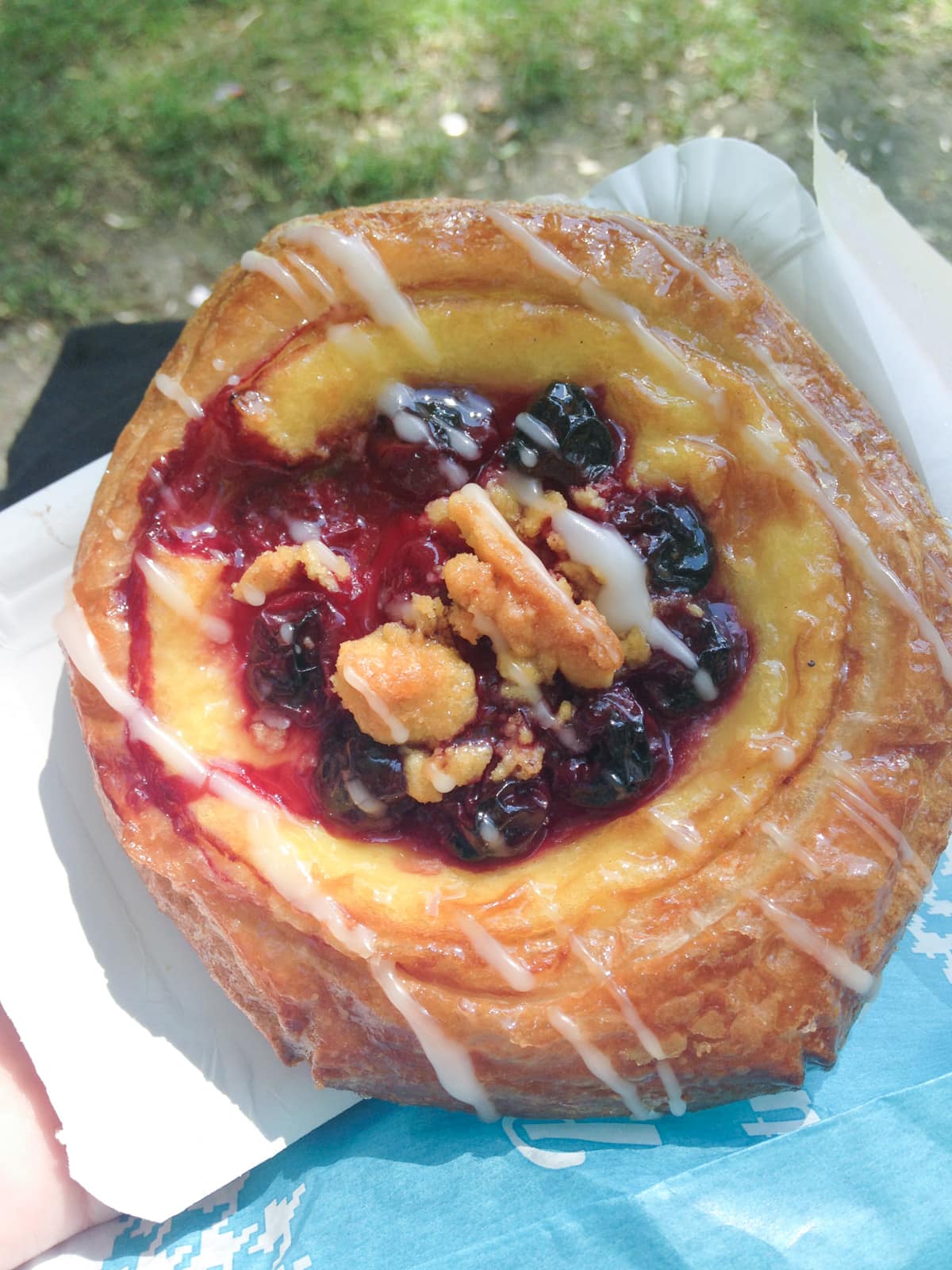 3. Get Close – and Back Up
Having a range of fields for your photos can make a big difference. Try getting a close-up shot of what's on the plate, as well as what's around it to really give the viewer the full experience of the dish. If every image tells a story, aim to give as much context as possible.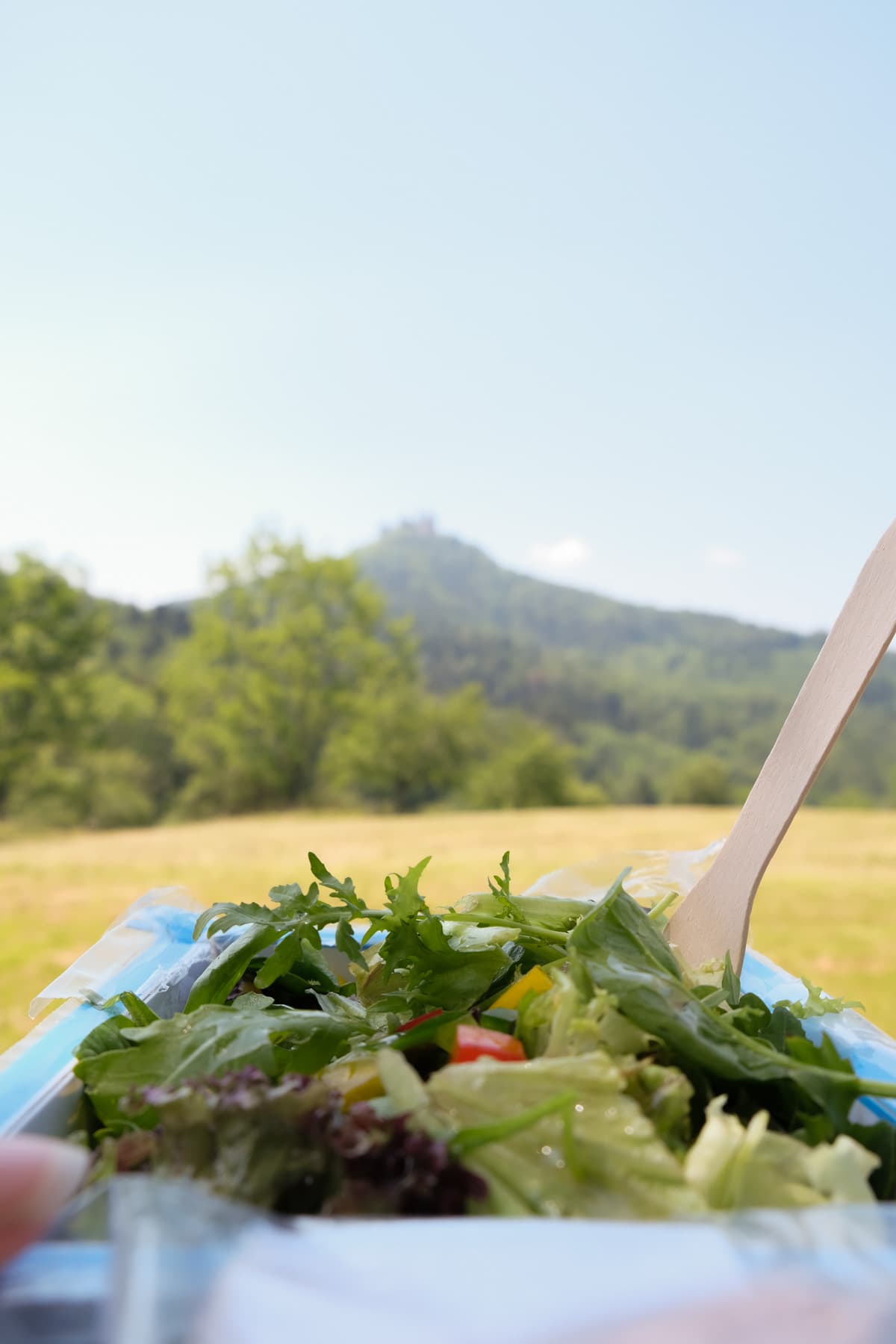 Imagine an image of a piece of German Kuchen (cake). It might look great on its own but what if your image included the table setting and a food market in the background or your smiling travel companion? You've taken it from a piece of cake that could be anywhere to really telling the story of where it was eaten.
I like to take close-up photos so I can see the texture and details, as well as photos that include some cultural or geographical context.
If you've practiced taking food photos ahead of your trip, you'll be able to snap a few different shots quickly and easily.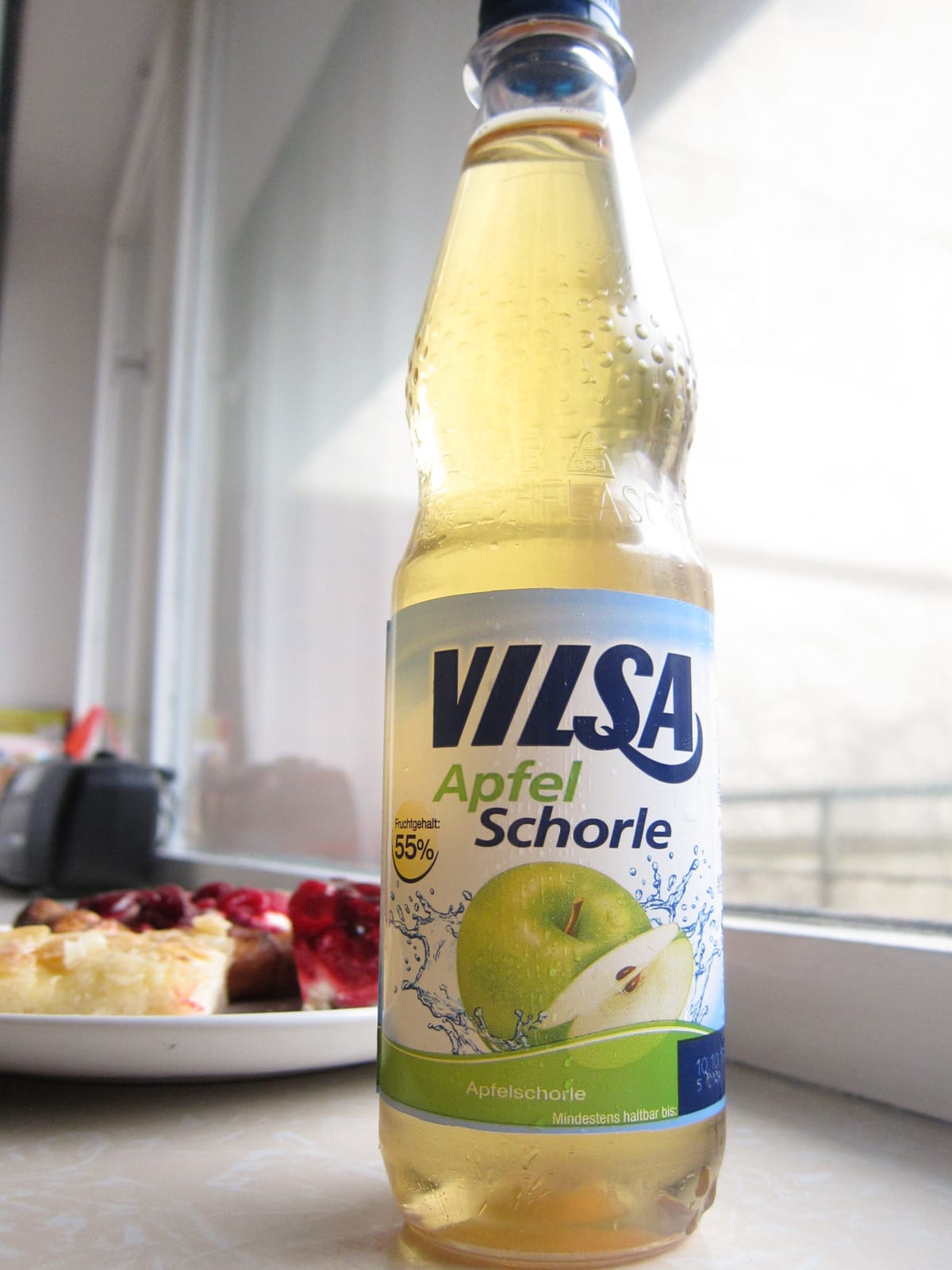 4. Use Natural Light as Often as Possible
Even if you have no training in photography, using natural light is one of the easiest things you can do to make sure you're getting a good quality picture. Inside a restaurant, try sitting near a window where light is coming in. Having shadows and contrast due to natural light is what brings your image to life.
Need to add a bit more light to your picture? A simple piece of white paper can reflect incoming light to illuminate your setting. You can easily keep one folded in your day bag.
You can also adjust the settings on your camera to allow for more light. This is where my camera does do a little better than my phone – it's amazing how I can still get good photos in low light when using my camera. Another good reason to get to know your camera before your trip. Practicing ahead of time will enable you to get better low-light photos.
And if your food photo is on the darker side? Don't worry about it! You'll still have a memory of your meal, and that's what's important.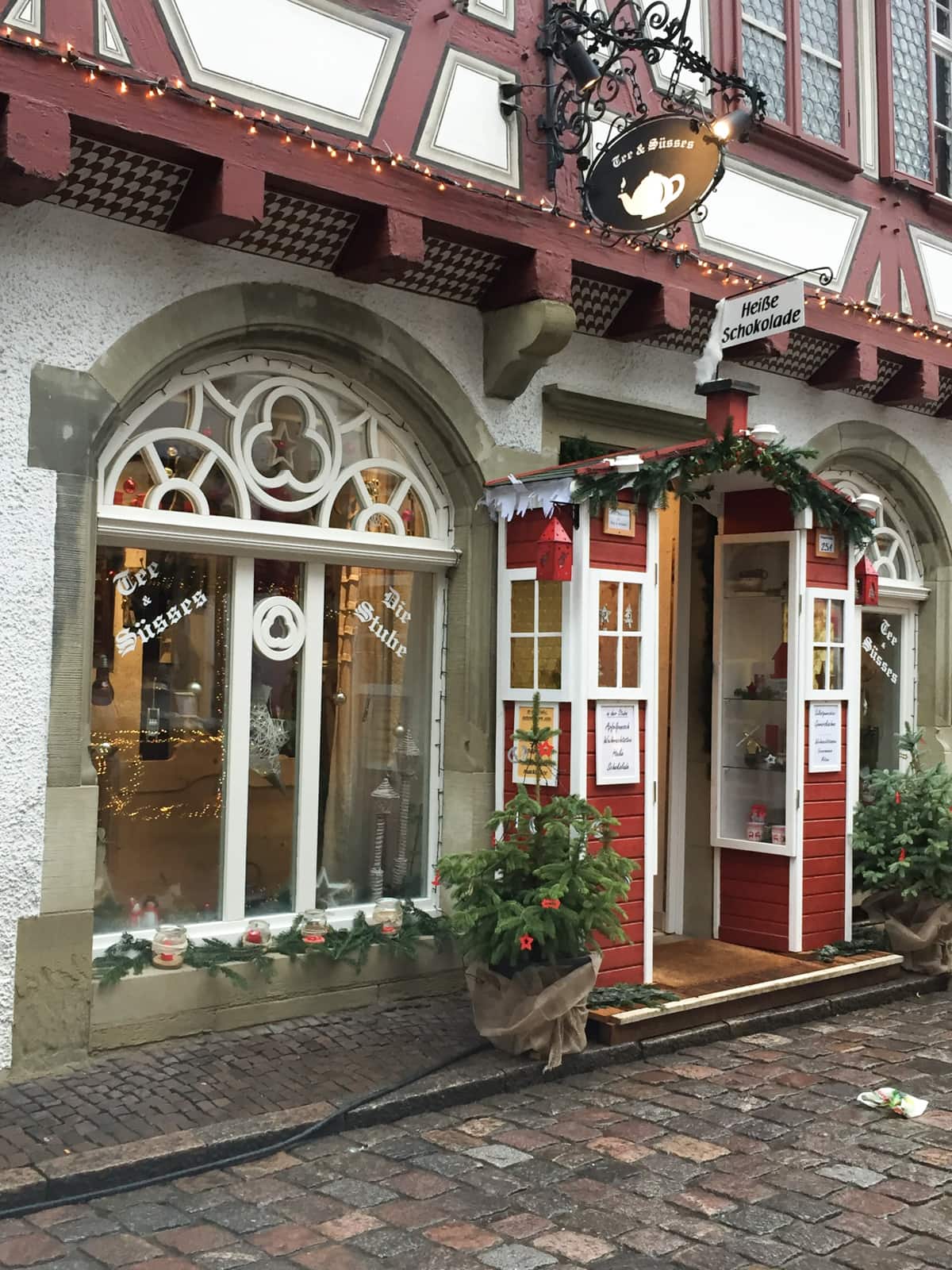 5. Take a Photo of Where You Eat (Not Just What You Eat)
Don't forget to document the restaurant (or bar, cafe, ice cream shop, Imbiss) where you eat! It's so easy to forget the name of that cute little cafe (or even the city) where you had the most amazing cup of hot chocolate…but if you snap a photo of the restaurant before or after your meal, you'll always remember. This comes in very handy when sharing recommendations with friends later!
(That seriously amazing cup of hot chocolate in the photo above is from Tee & Süsses in Bad Wimpfen, by the way.)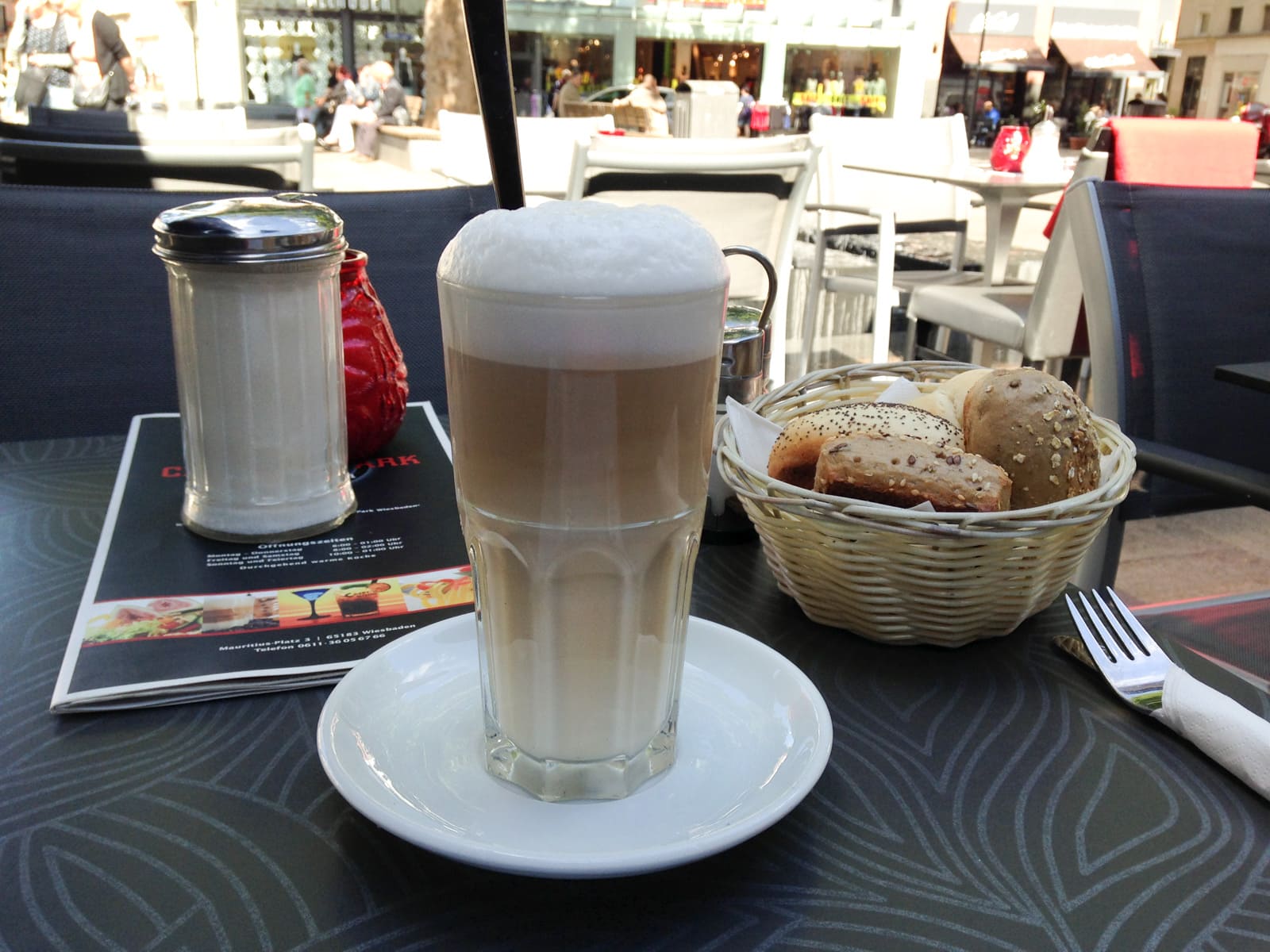 6. Take More Than 1 Photo (But Don't Take Too Many)
One of the best things about digital cameras is that you can take several shots in order to get one you like. So don't hesitate to take several in order to get 1 or 2 you like. That said, don't take too many or it'll be a pain to sort through them later. If possible, review your shots shortly after taking them so you can flag your favorite(s) and delete the rest.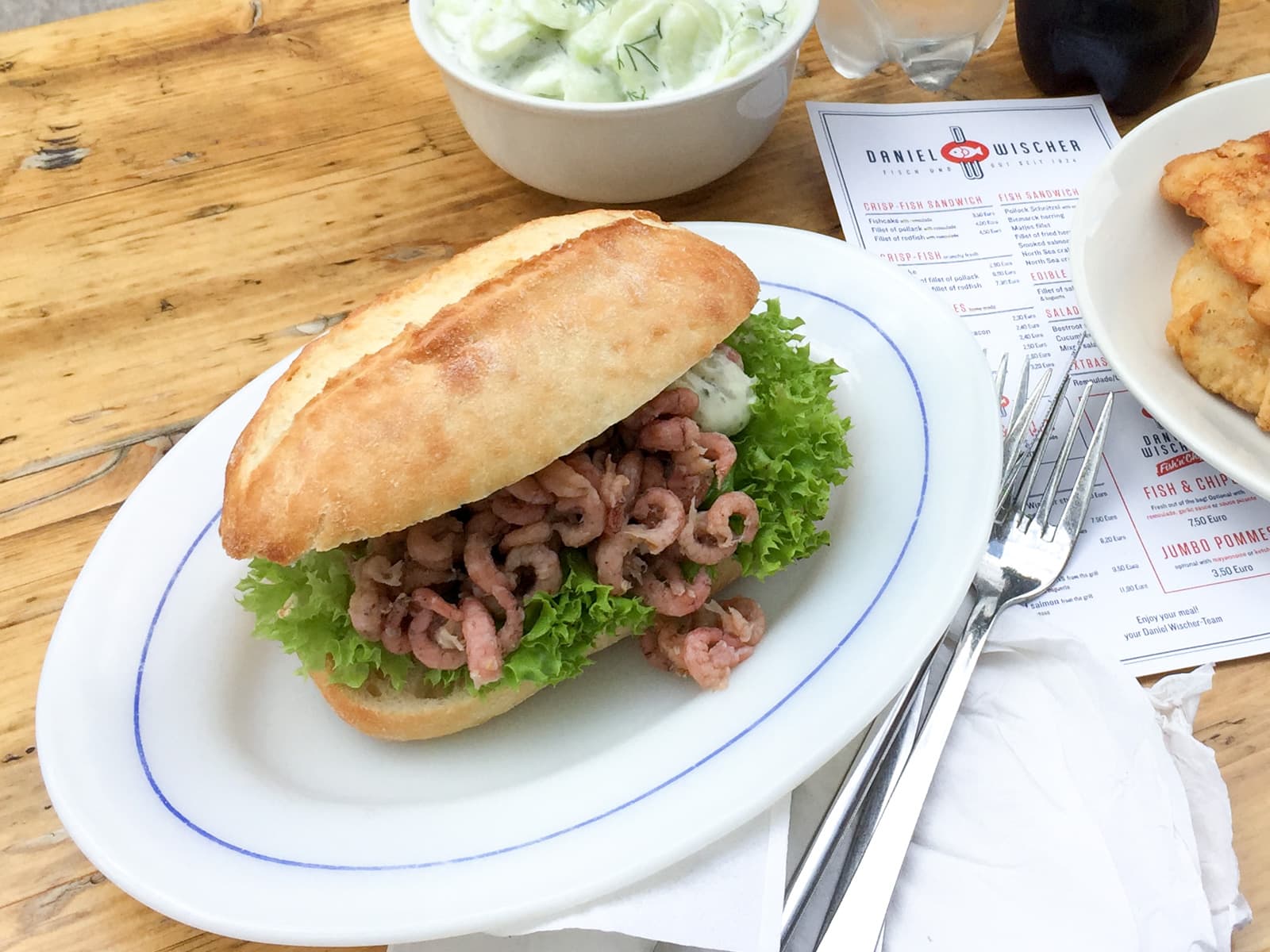 7. Be Respectful
Whether you're in your hometown or miles away, it's always important to respect the people around you. This means other diners, the people preparing your food or fellow shoppers in a marketplace.
While you can take photos nearly everywhere in Germany, keep strangers and kids out of the photo (in public places just keep them in the background). It's a good idea to ask permission to take photos of vendors and their products. Stores, bakeries, butcher shops and the like may have rules against taking photos in their shop. Some might not mind. If in doubt, just ask.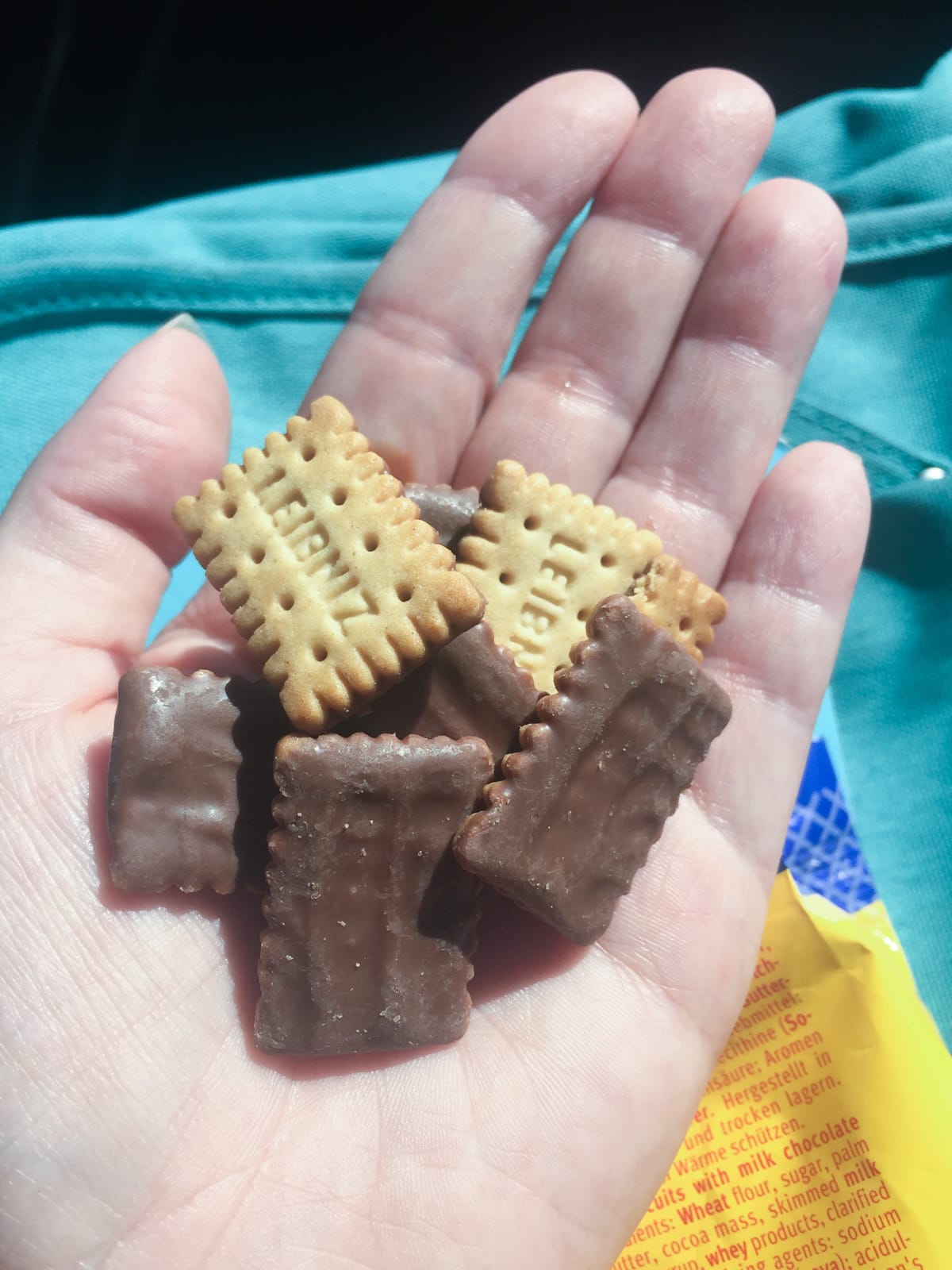 8. Add Visual and Cultural Interest
If you've just picked up a pastry from a bakery, take a photo of it on the bag it came in. Snap a photo of the receipt so you can remember how much it cost. Show both sides of chocolate-covered cookies. Show the inside of a delicious treat (even if it's melting, like my Spaghettieis in the photo above).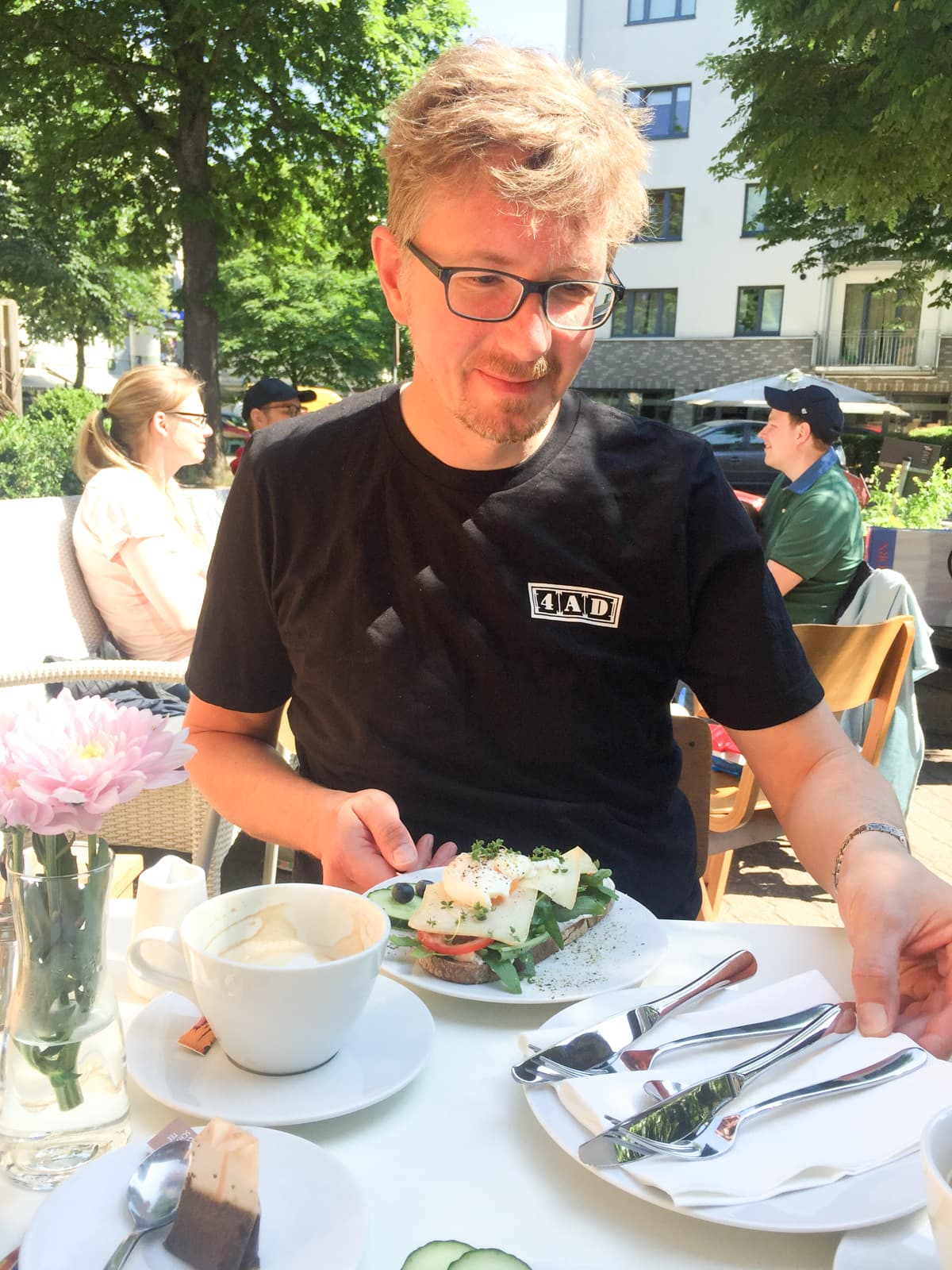 9. Add a Human Element
Make your food photos more interesting by taking a shot with a travel companion in them. For those who don't want to be photographed while eating, including a hand reaching for a cup of coffee, holding a pastry or a fork full of food can add interest to the photo. Even photographing something with a bite taken out of it adds a human touch.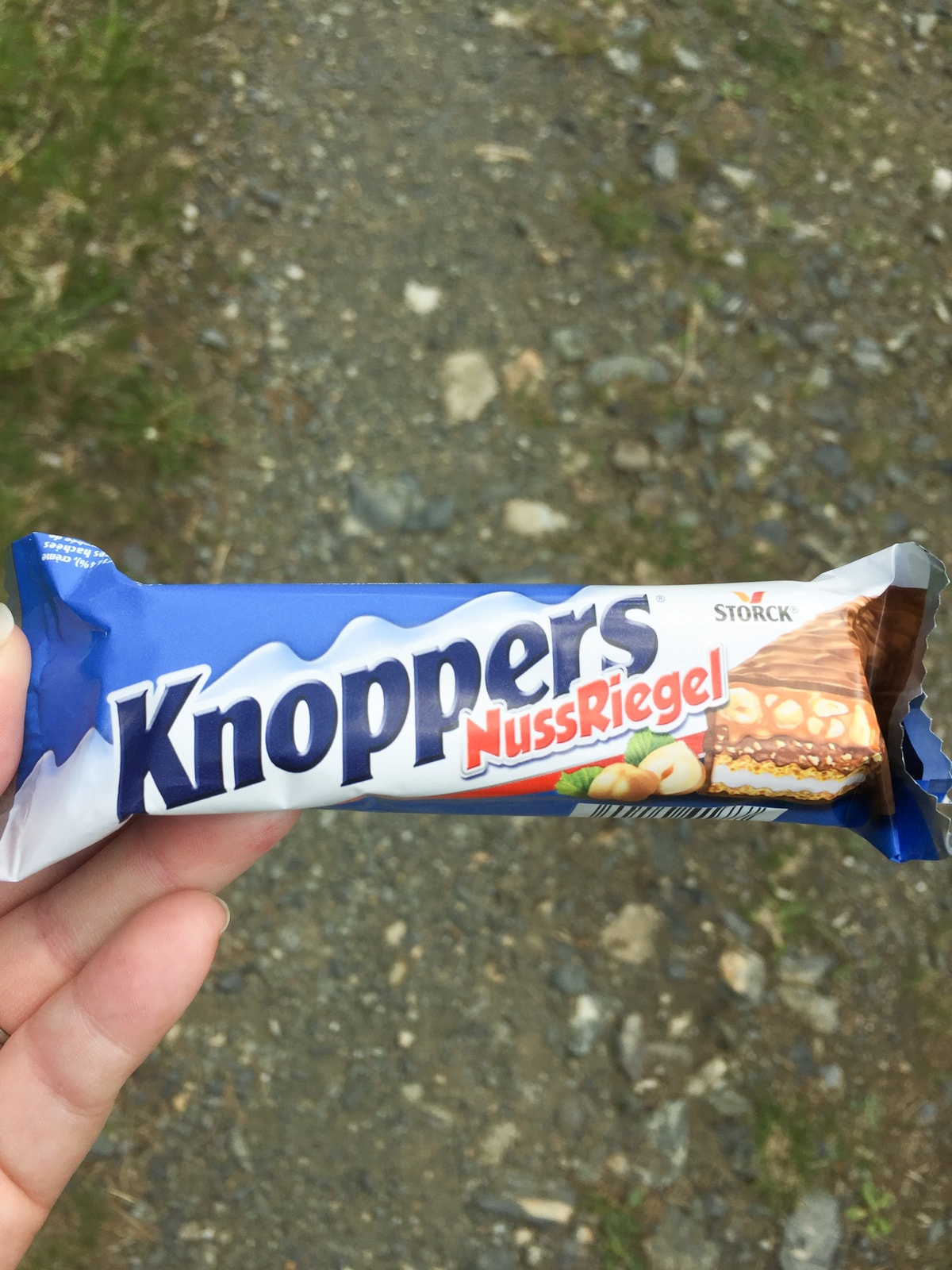 10. Edit Your Photos During or After Your Trip
I use Lightroom to sort and edit my photos so the final product looks just a bit better. I adjust the white balance, lighten things up a bit, and crop as needed. It's amazing how much a few simple edits can improve a photo!
I like Lightroom but here are many photo editing options. If I'm planning to share a photo on social media, I'll edit the photo on my phone (using the Lightroom app). If not, I'll wait until I'm back home.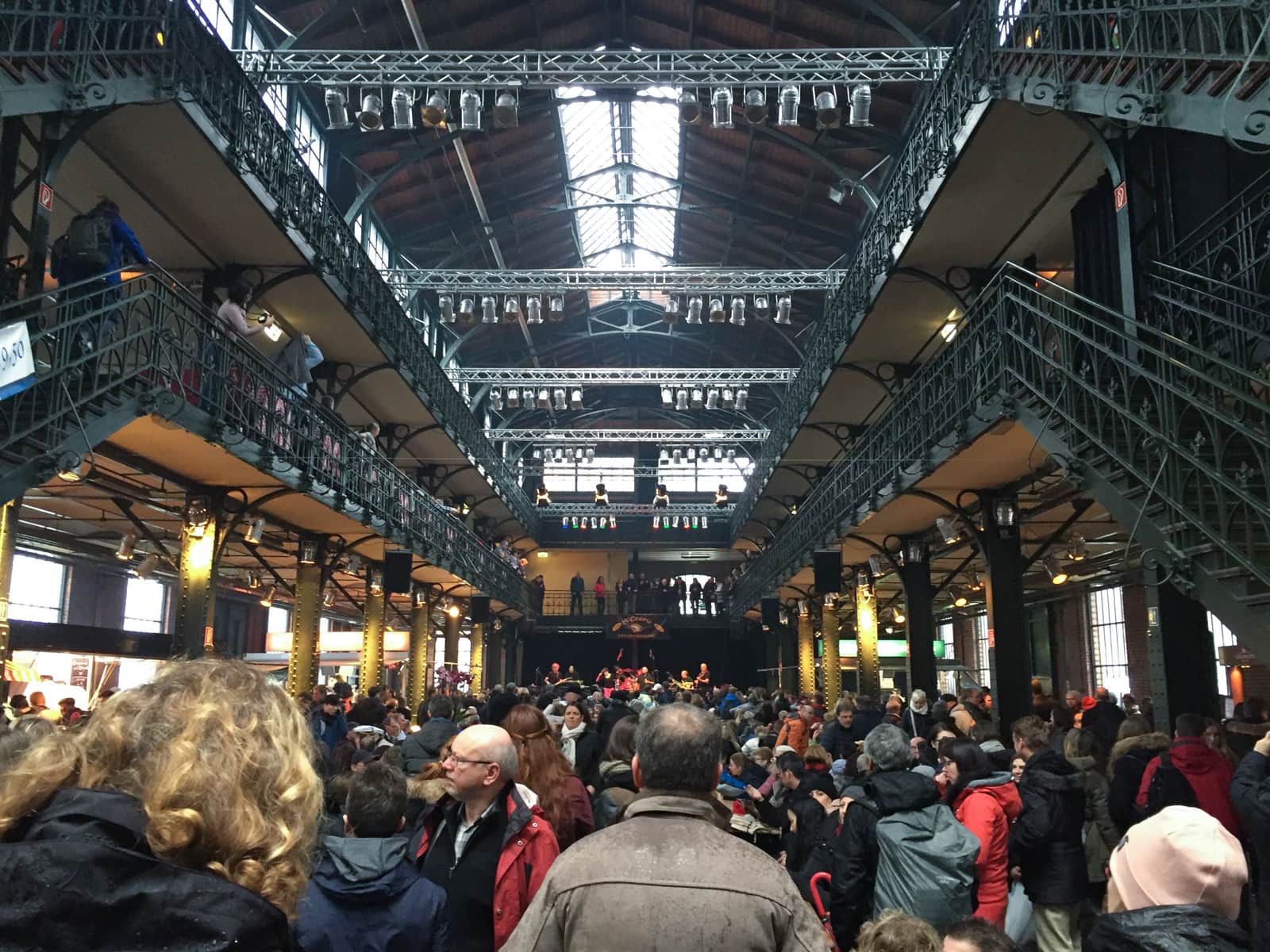 BONUS: Where to Get Different Types of Food Photographs
In addition to photos of your restaurant meals, bakery snacks, and coffees, how can you get more unique and varied images that also highlight interesting aspects of your trip? Here are a few ideas for expanding your food photography:
Farms. Yes, really! This is an especially good idea if you're where a specific type of produce or product is well known. A tea plantation, banana field or where a certain type of cheese is made are some examples. Don't just stick to the farmland itself but try to shoot multiple parts of the process and the people involved. Often times farms advertise tours but if not, reach out to some and see what is possible.
Street Food. One of the easiest types of food to photograph is street food. It's not meant to be particularly "fancy" looking and you can easily take pictures in public. Not only will you get the food in the picture but also a good sense of place when photographing the whole scene.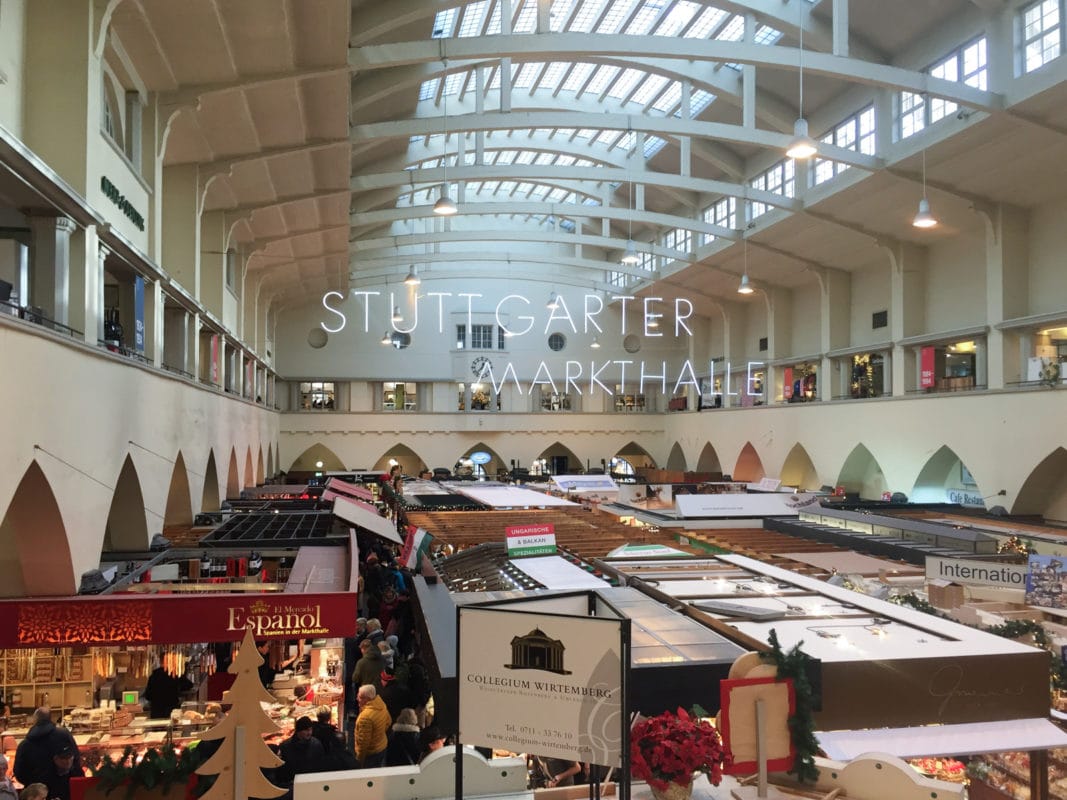 Indoor or Outdoor Markets. Markets provide a wide range of photographic experiences (like the Markthalle in Stuttgart). You may want to go early in the morning or near closing to avoid huge crowds unless you are aiming to get these types of pictures.
Food Festivals. Thanks to so many food lovers, food festivals are ubiquitous. They're also a good way to find a wide range of foods that can be photographed. Make your way around, choose the items you'd like and set up your own mini-photo shoot at a table!
Restaurants and Cafes. It might be obvious, but if you had a great meal at a restaurant or cafe, why not reach out and ask if you could come back at an off-peak time to take some more photographs?
Factories/Production Sites. A good example of this might be if you are visiting a chocolate factory or coffee roastery. These will give you not only an end product to photograph but a full story.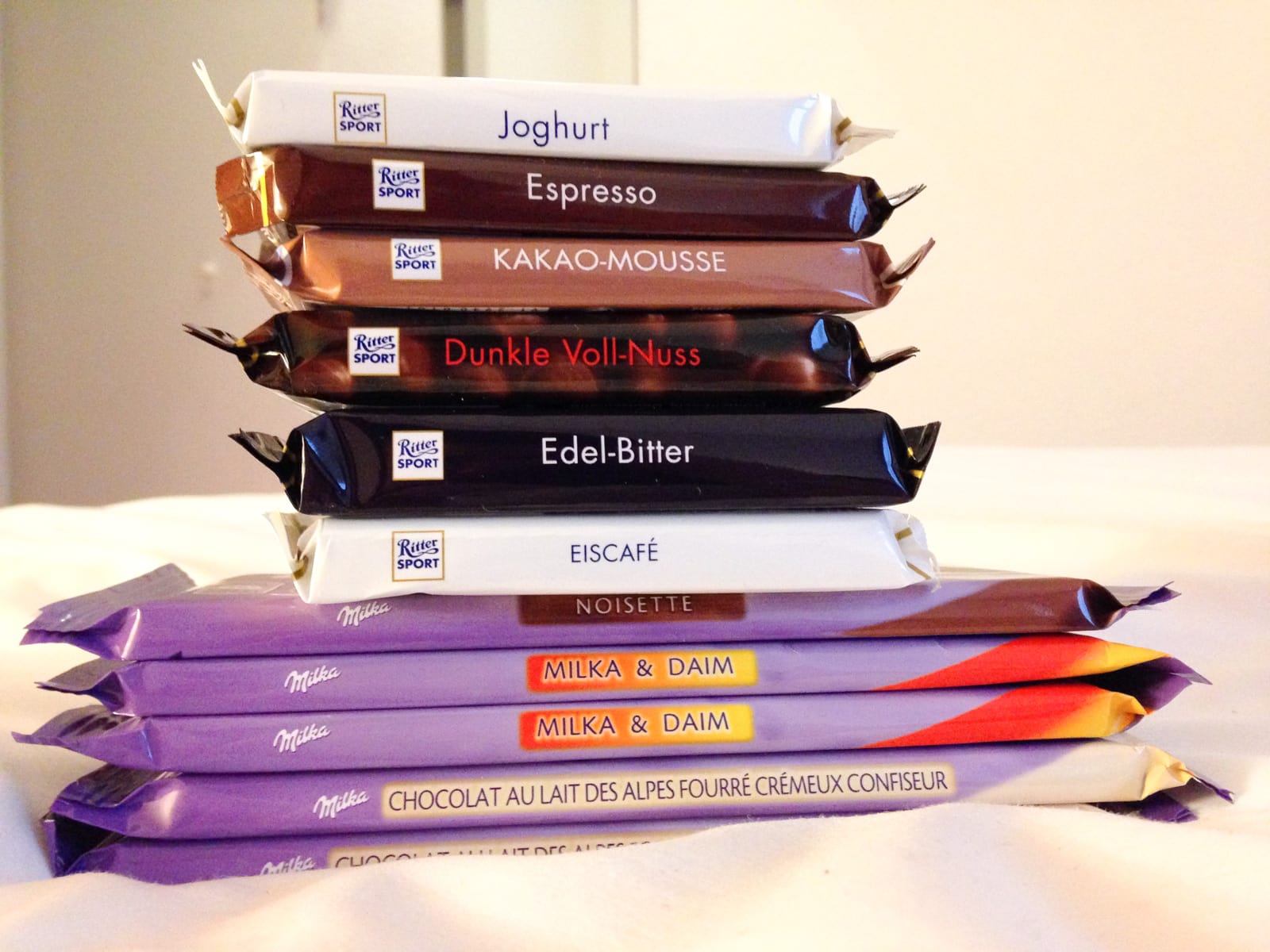 One Last Tip…
Just have fun! The photos above aren't great photos and they likely won't mean anything to anyone but me and Aaron.
That's ok! When I see these photos I think of how much I savored those chocolate bars after returning from a trip to Germany, how thrilled we were to find an iced Americano to go at a gas station rest stop during a heat wave, and the happiness I felt during our first breakfast in Magdeburg (right) because I was finally able to show Aaron around the city where I once lived, and the cold Bitburger beer we enjoyed at our AirBnB on our last night in Stuttgart.
Those memories and feelings are what matter most!