Top 35 German Foods To Try in Germany
This post may contain affiliate links. Read my disclaimer policy.
If you're wondering what kind of food you can look forward to enjoying in Germany, this guide is for you!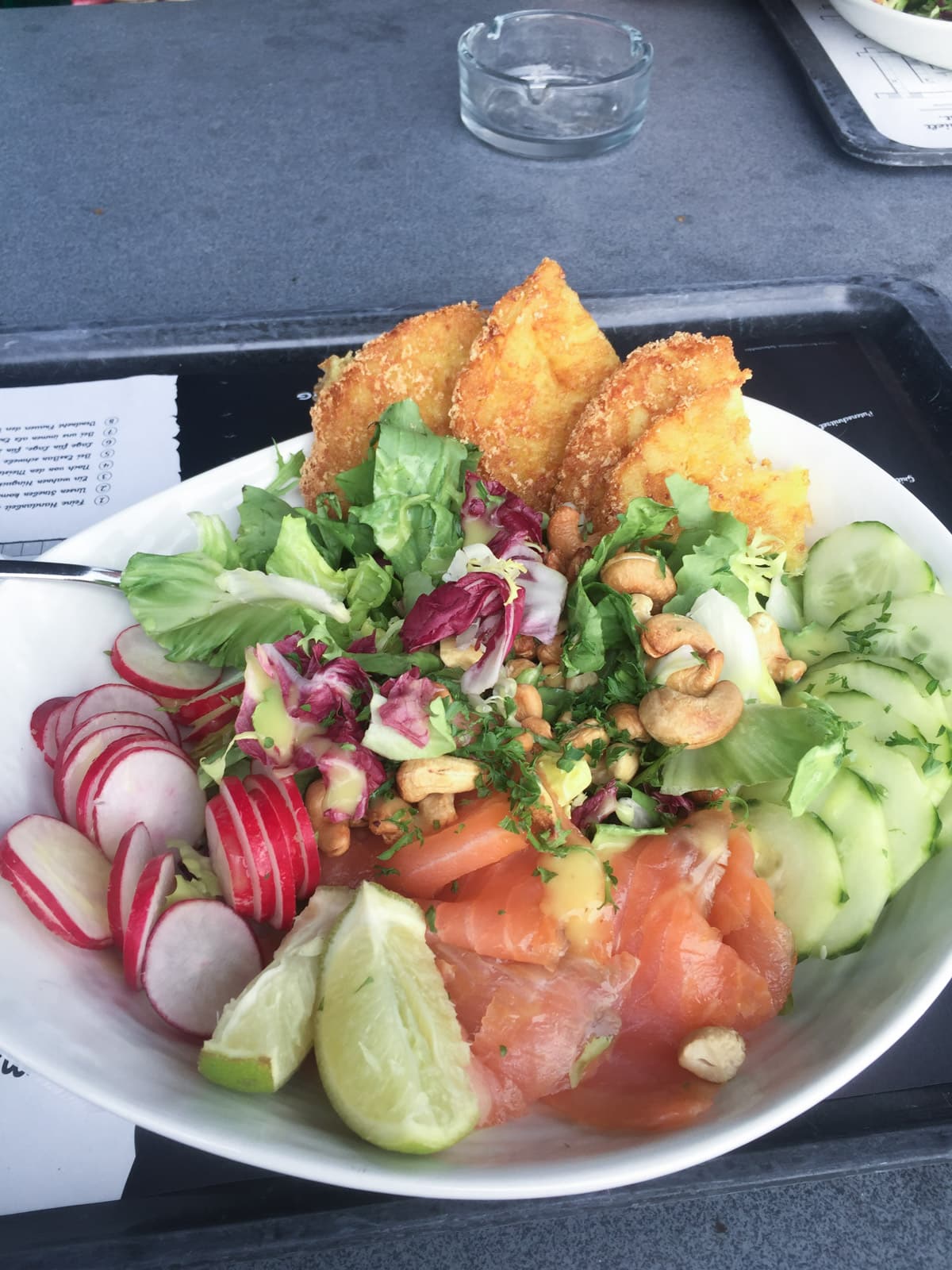 About German Food
There's a lot to love about German food. Traditional favorites are filling, hearty, and comforting. And then there's modern food, which is much more diverse than you imagine!
Not only does each region of Germany have their own take on different dishes, their cuisine is also influenced by old traditions and immigrants who have planted their roots in the country.
While traveling in Germany, one of the best ways to learn about each region is to try their food. Whether you're looking for traditional dishes or modern favorites, you're guaranteed to find something you like, no matter what kind of traveler you are.
There are plenty of street food options, light side dishes, salads, sweet desserts, and of course drinks – both alcoholic and non – that go with every meal. And don't worry if you're vegetarian, vegan, gluten free or have other eating preferences or restrictions. These days it's pretty easy to eat however you want while traveling in Germany.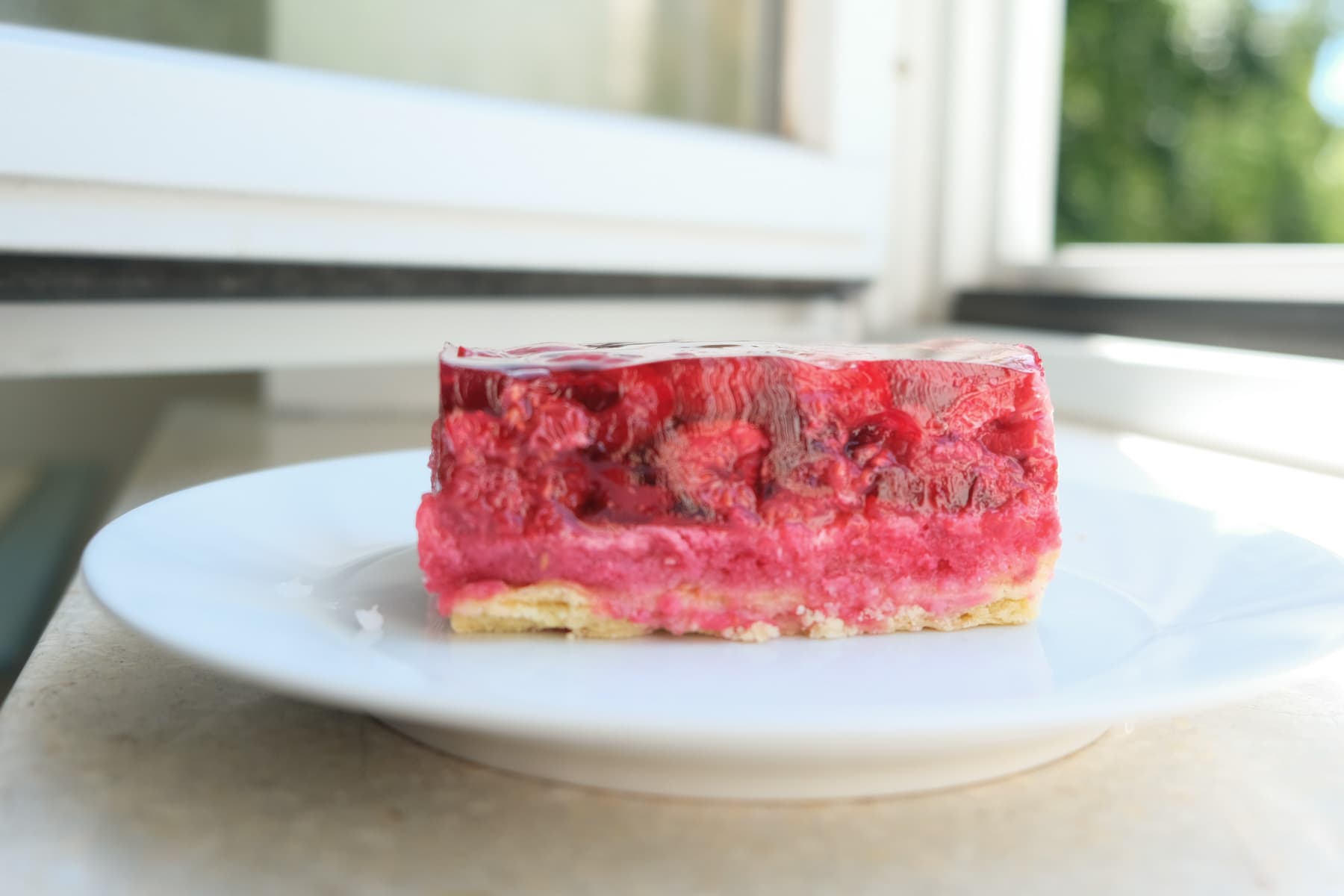 Traditional German Cuisine Vs. Modern Cuisine
If you want to sample traditional German dishes, Germany is (obviously!) the best place to do that. Get ready to eat well because there's SO much to enjoy in Germany!
This article gives you a good overview of classic German food to try while traveling. BUT there's so much more to German cuisine than what's listed here. I don't want you to think that all you'll find in Germany is heavy meat and potato dishes with red cabbage – because that couldn't be further from the truth.
To explore German food while traveling, I highly recommend eating at:
a traditional German restaurant
a beer garden
a food truck (Imbiss)
mom and pop Döner shop
a bakery
a cafe/coffee shop
an ice cream shop (Eisdiele)
I also recommend trying things like:
pizza at an Italian restaurant
a big German salad
a vegetarian or vegan restaurant
a Turkish, Ethiopian, Greek, Indian, Chinese or Thai restaurant (etc)
an Irish pub
a German take-away place
the German version of a US fast food restaurant
maybe even a Mexican or Tex-mex restaurant (warning: it might not be exactly what you're expecting so go in with an open mind)
Regional Differences in German Food
Different regions have their own specialties and preferences. For example, the northern parts of Germany are known to incorporate more seafood in their dishes due to their proximity to the Baltic Sea (like the delicious shrimp sandwich I had and fish and chips Aaron had in Hamburg in the photo below). For side dishes, potatoes are the most popular choice.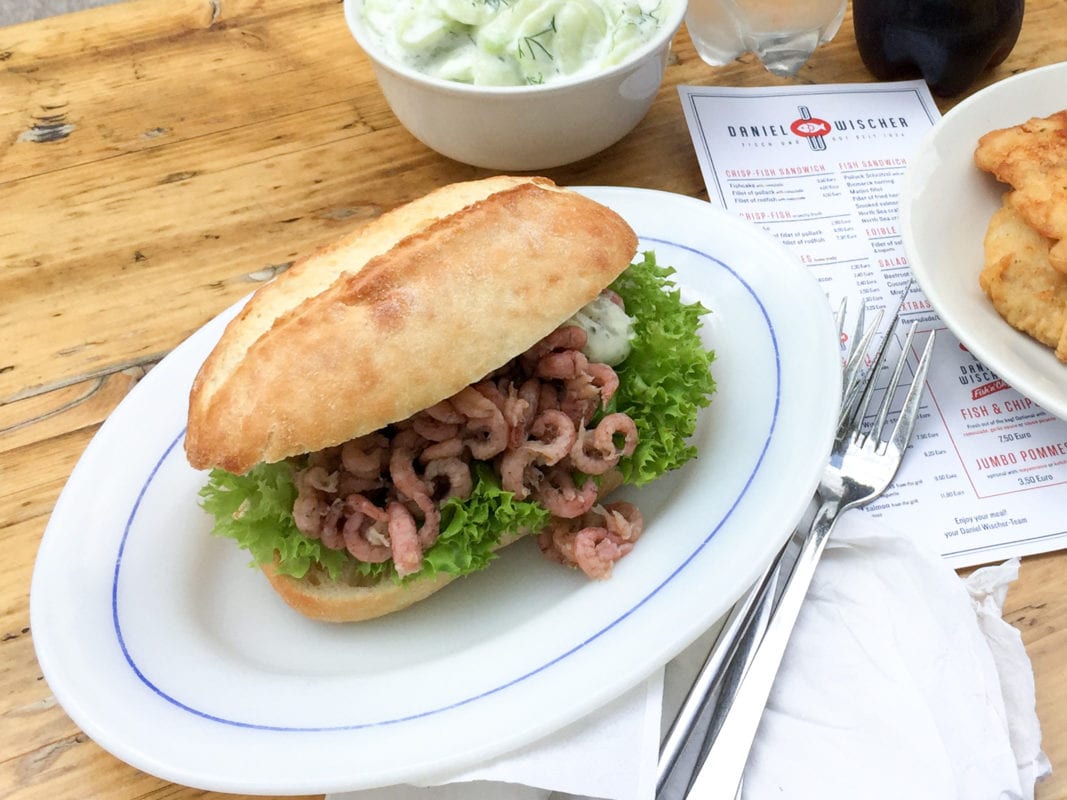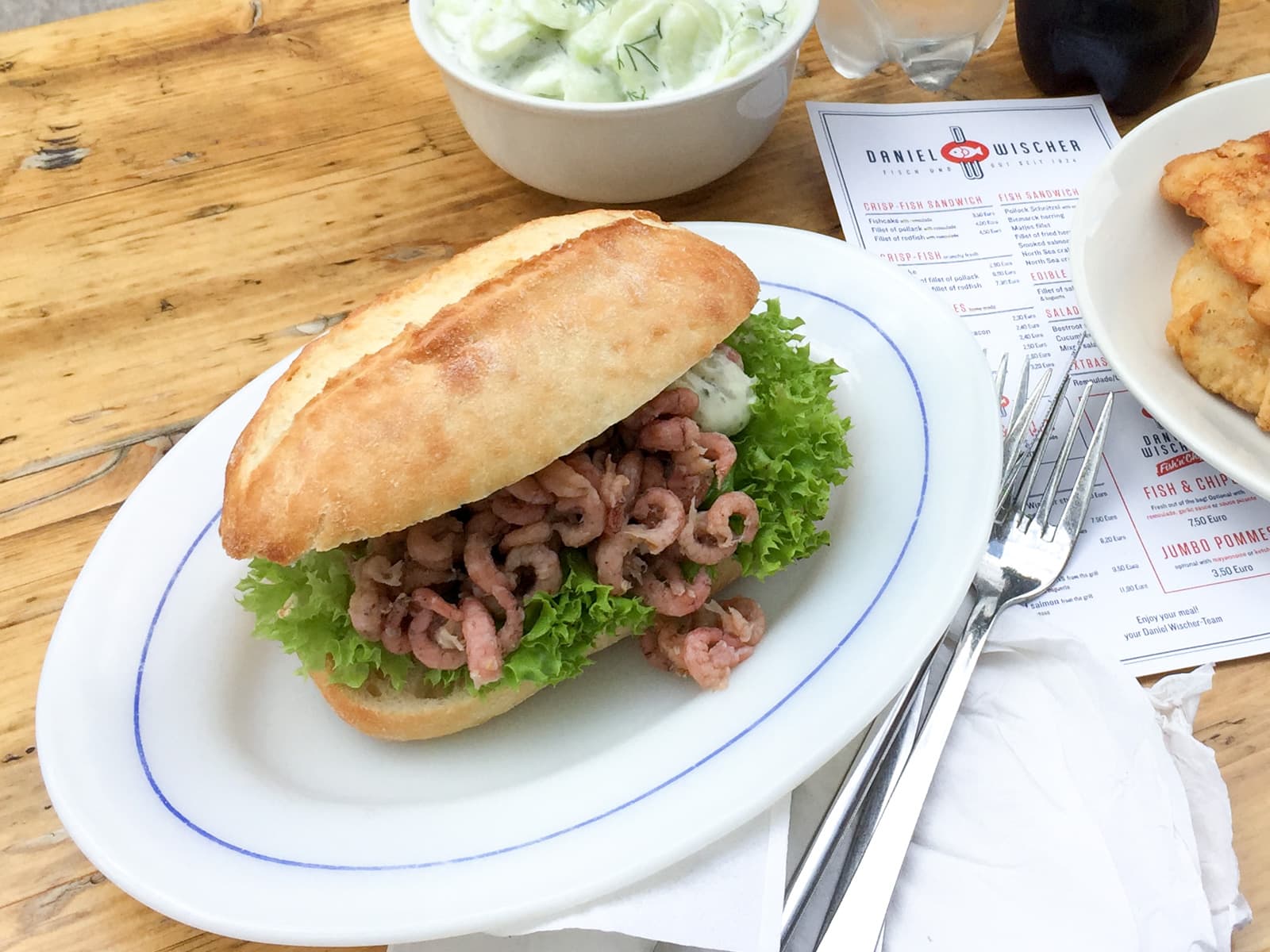 In southern Germany, on the other hand, you'll find a preference for Knödel (potato or bread dumplings) and Spätzle as side dishes.
Each region also has their own variations of different food like potato salad and even drinks like beer and sometimes wine. Desserts vary around the country, too.
A Note About German Breakfast
Germans know how to breakfast! Many hotels offer breakfast and it's usually a good deal even if not included in the room price.
Some hotels we've stayed at have had amazing buffets full of breads, Brötchen, cold cuts, cheese, sweet and savory spreads, fruit, yogurt, veggies, hard boiled eggs, and more. Others had fewer options but were delicious and filling none the less.
What you won't find at typical German hotels? Pancakes, maple syrup, bacon, waffles, French toast, omelets, scrambled eggs, etc.
You can also enjoy a delicious breakfast at cafes and restaurants. In the photos below you can see a Tübingen hotel breakfast (on the left) and a Hamburg cafe breakfast (on the right).
When we stay in AirBnBs, we often just pick up some basics at the grocery store (yogurt, fruit, Müseli, eggs, etc) and make a quick breakfast before heading out for the day.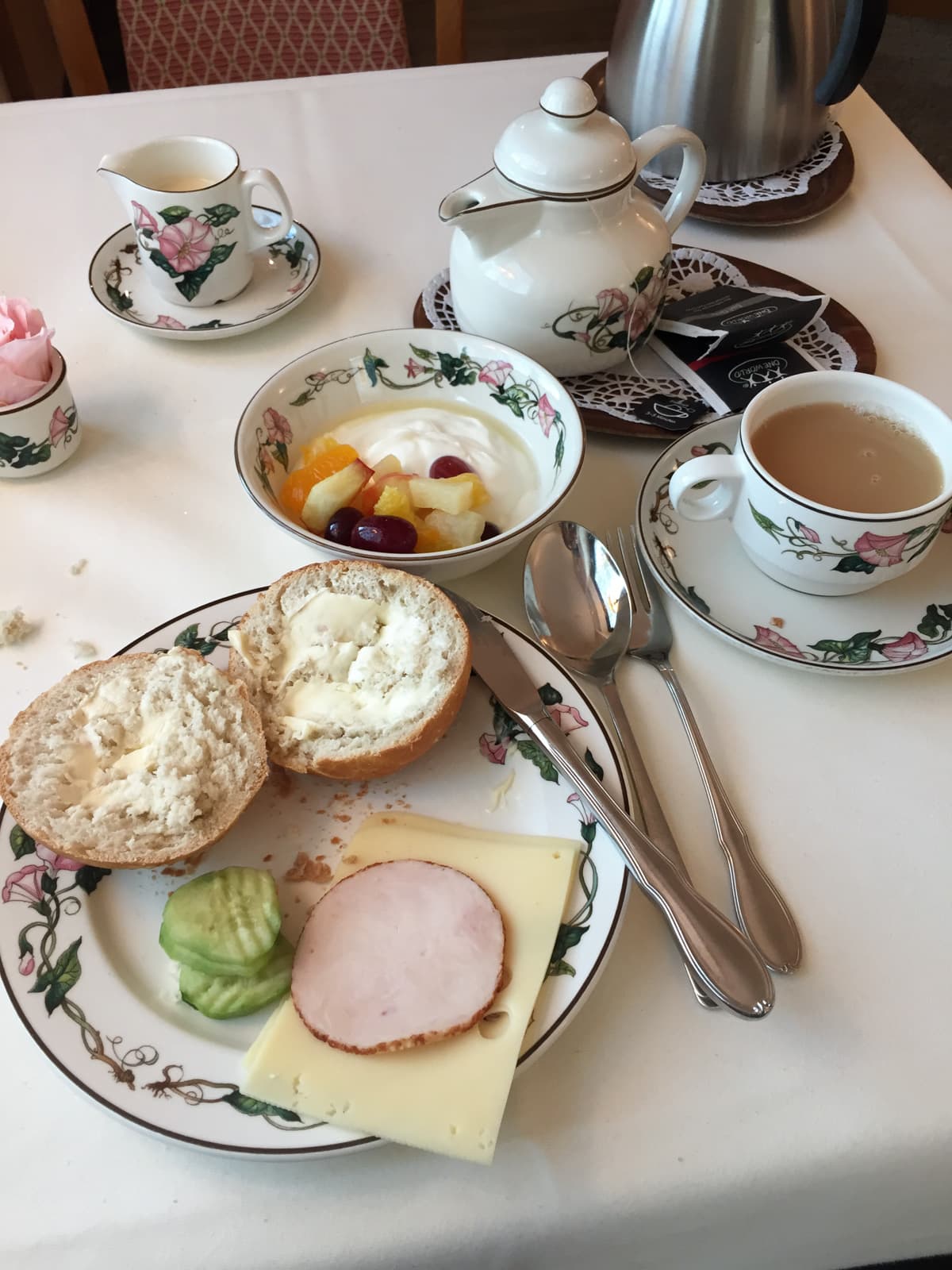 Grocery Stores In Germany
We used to eat every meal in restaurants while traveling. These days, however, we frequent German grocery stores and buy fresh fruit, nuts, granola bars, drinks, veggies, salads, yogurt, chocolate, bread, cold cuts, cheese, and other items for a quick breakfast, an easy lunch on the go, and healthier snacks.
If we're staying in AirBnB's we also usually make 1 or 2 easy dinners at the apartment, just so I can enjoy making a few of my favorite homemade dishes.
Picking up items at grocery stores during our trips keeps costs down, helps us eat healthier, and doesn't take as much time as sitting down in a restaurant for every meal. Plus, it's fun to see what's in grocery stores in other countries and a great way to "live like a local" while traveling.
Ok, are you getting hungry?
Keep reading to learn about the delicious food, desserts, and drinks you can try in Germany!
1. German Bread & Brötchen
Bread is a staple in Germany. Stop at any bakery (and some grocery stores) and you'll find all kinds of bread and Brötchen baked fresh daily.
Brötchen ("little breads") are small bread rolls. They're enjoyed during breakfast or brunch and are often used for sandwiches (I used to take one to school every day when I was in high school). Calling them "rolls" just doesn't do them justice because they're not like the rolls we typically eat in the US. If you eat bread, you've got to try a Brötchen!
Bread is such an integral part of Germany that the evening meal is called Abendbrot ("evening bread"). With all the different types of German bread and Brötchen available, it's hard to imagine going back to plain white bread!
If you want to try making Brötchen at home, start with my easy Quarkbrötchen with Raisins recipe!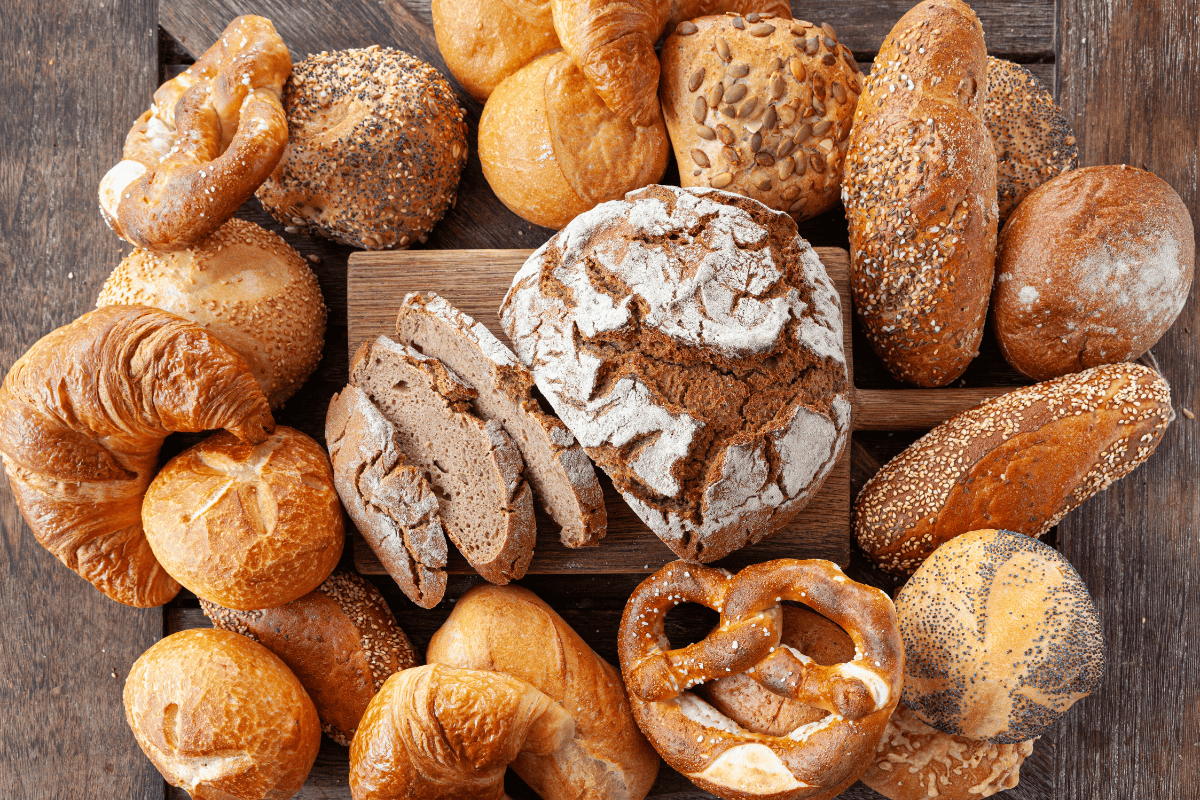 2. German Soft Pretzels (Brezeln)
German pretzels are the best! While you'll find them at bakeries and some grocery stores, you're also likely to find pretzel stands selling plain soft pretzels, as well as pretzels sliced and filled with butter or other spreads. So good! They're the perfect snack for on the go.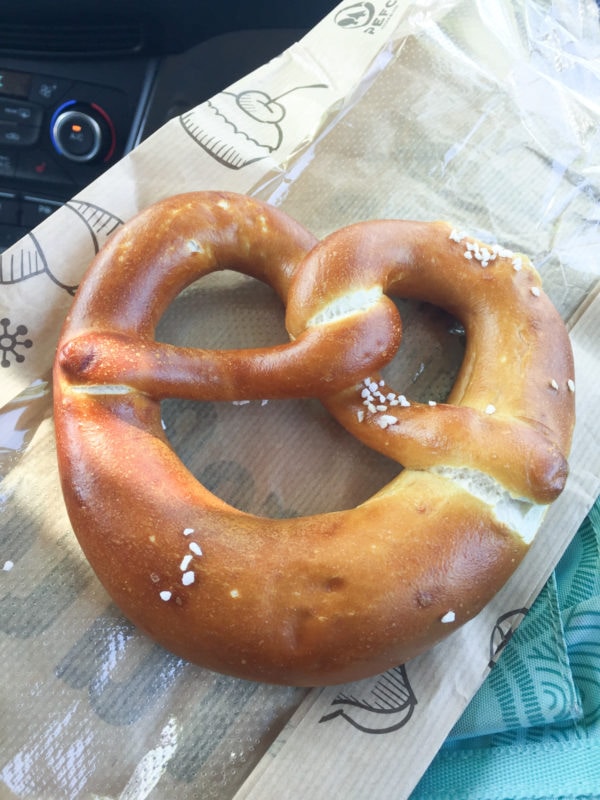 3. Döner Kebab
Döner were brought to Germany by Turkish immigrants and have evolved into one of Germany's favorite comfort foods. You can easily spot stands in any city selling them at very affordable prices. Döner used to be found at mom and pop type restaurants and food trucks but now there are also Döner chains throughout Germany, as well as modern fusion Döner shops that provide new takes on this beloved favorite.
Döner are not only delicious, they're the perfect quick lunch or dinner. You'll often have the choice between traditional lamb filling, chicken or falafel. They're typically filled with lettuce and/or red cabbage, onions, tomatoes, and a creamy tzatziki and/or spicy sauce. If you'd like yours "zum Mitnehmen" (to go), they'll wrap it in foil so it stays nice and hot.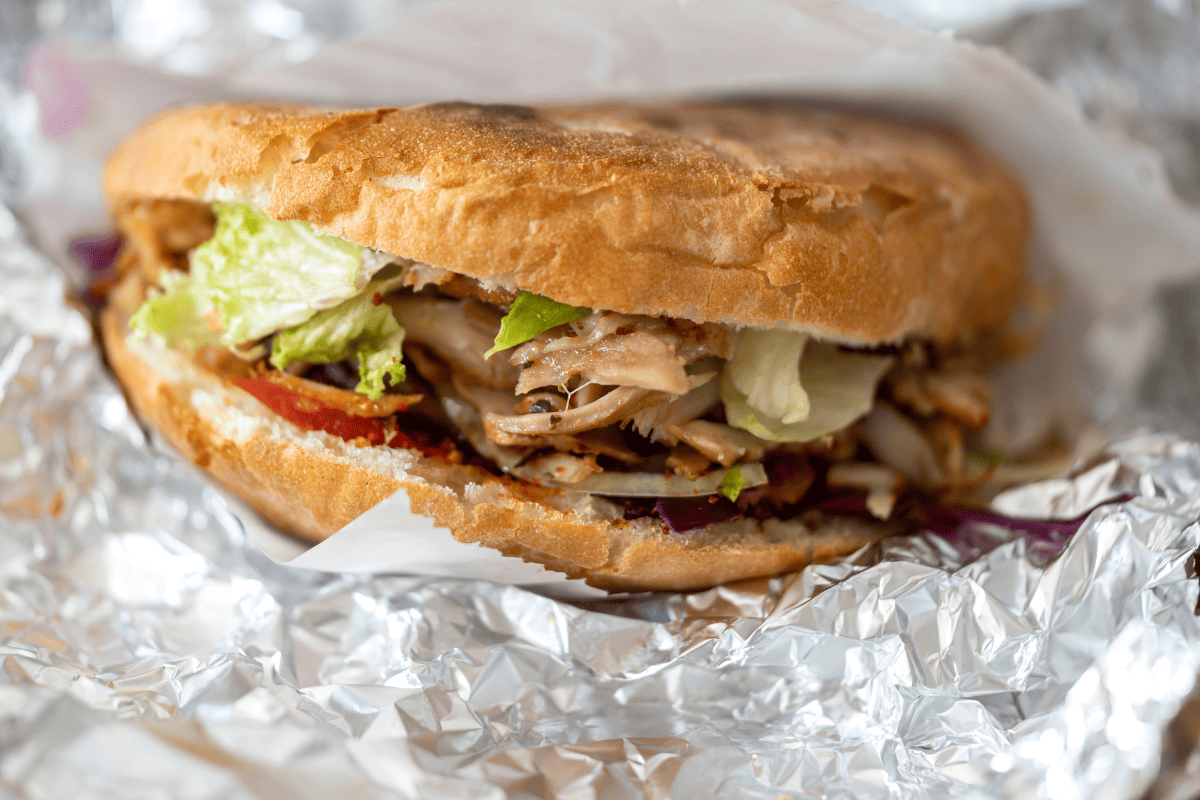 German Sausage (Wurst)
Instead of saving the Wurst for last, let's look at them first. Germany is known for its many varieties of sausage. Let's take a look at the most famous ones that you will frequently find at German restaurants and food trucks. While you can order a satisfying and filling sausage meal with sides at restaurants, you can also easily pick up a sausage to go from a food truck, often with a side of fries.
4. Bratwurst
We'll start with the most popular Wurst – Bratwurst! In old German, brat translates to "finely chopped meat," but nowadays it is often linked to the word braten, which means "to roast or pan fry." The recipe for this grilled sausage dates back to 1313.
Bratwurst is a popular type of sausage and for good reason: it's delicious and ubiquitous! You'll find it in restaurants, cafes, and food trucks. Go to any market or festival and you're sure to smell Bratwurst.
Bratwurst is typically made with pork and served with a plain white Brötchen or a slice of bread. Mustard is an optional topping.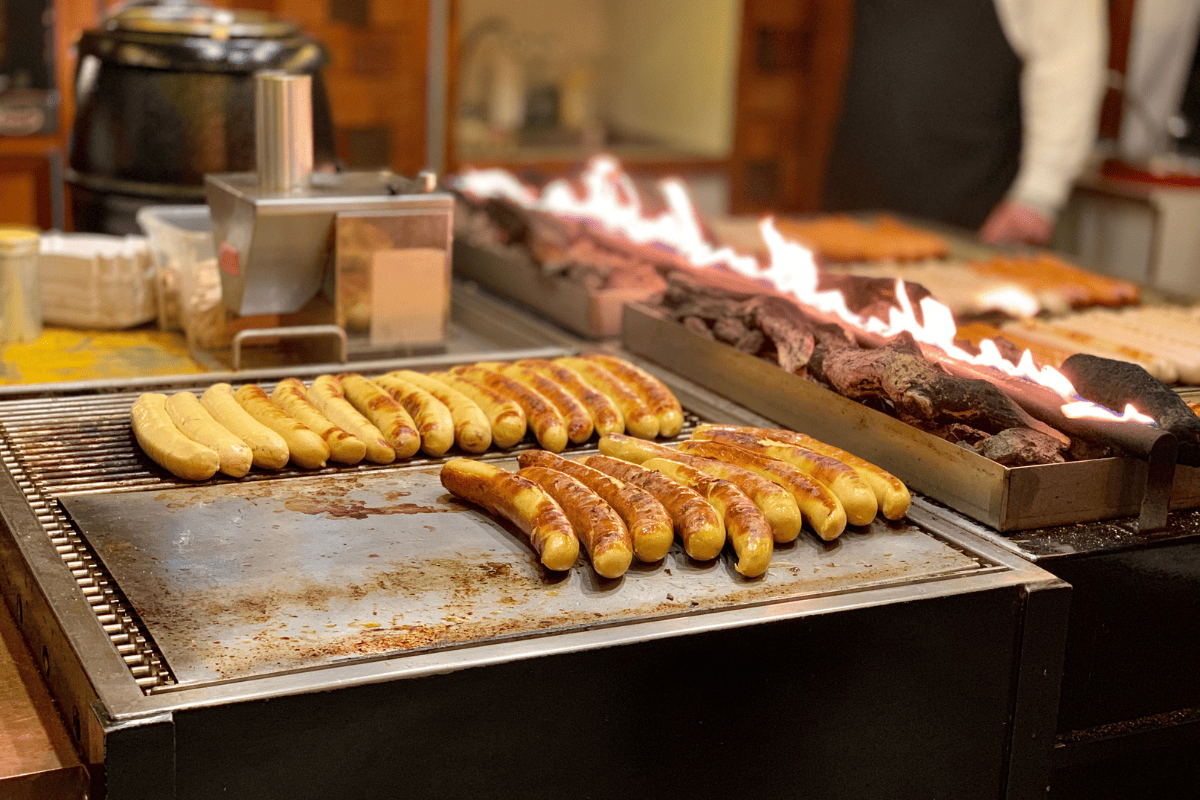 5. Currywurst
Currywurst is a tasty dish that consists of steamed or fried pork sausage, usually sliced into bite-sized chunks, and topped or seasoned with curry spiced ketchup called Currygewürzketchup. While you'll find this dish all over Germany, it's especially popular in Berlin.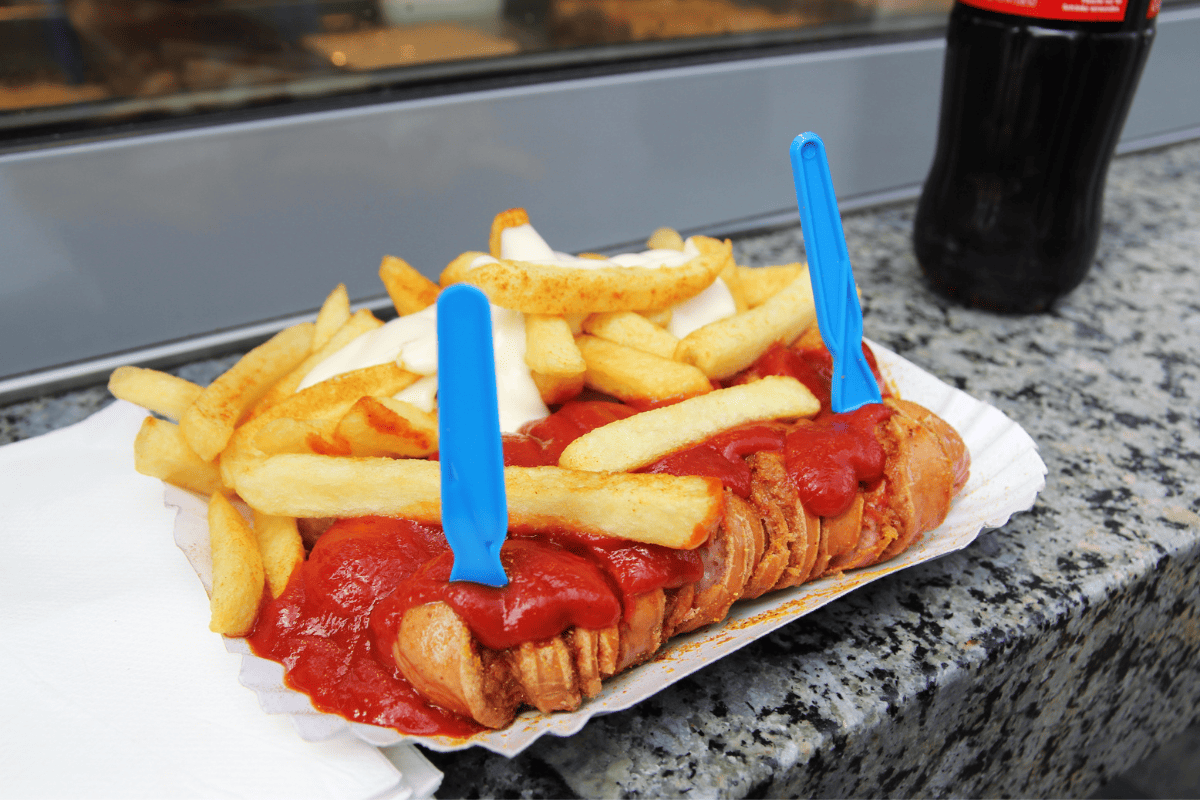 6. Weisswurst
Another popular dish in the sausage department is Weisswurst, which literally translates to "white sausage." Made from minced veal with a blend of bacon, this white sausage is traditionally seasoned with cardamom, ginger, lemon, mace, onions and parsley.
The sausage casings used for this are made from pork intestines or skin. Take note that this kind of sausage is very perishable as it is only boiled and not preserved or smoked. It is typically made early in the morning and supposed to be eaten before lunch time.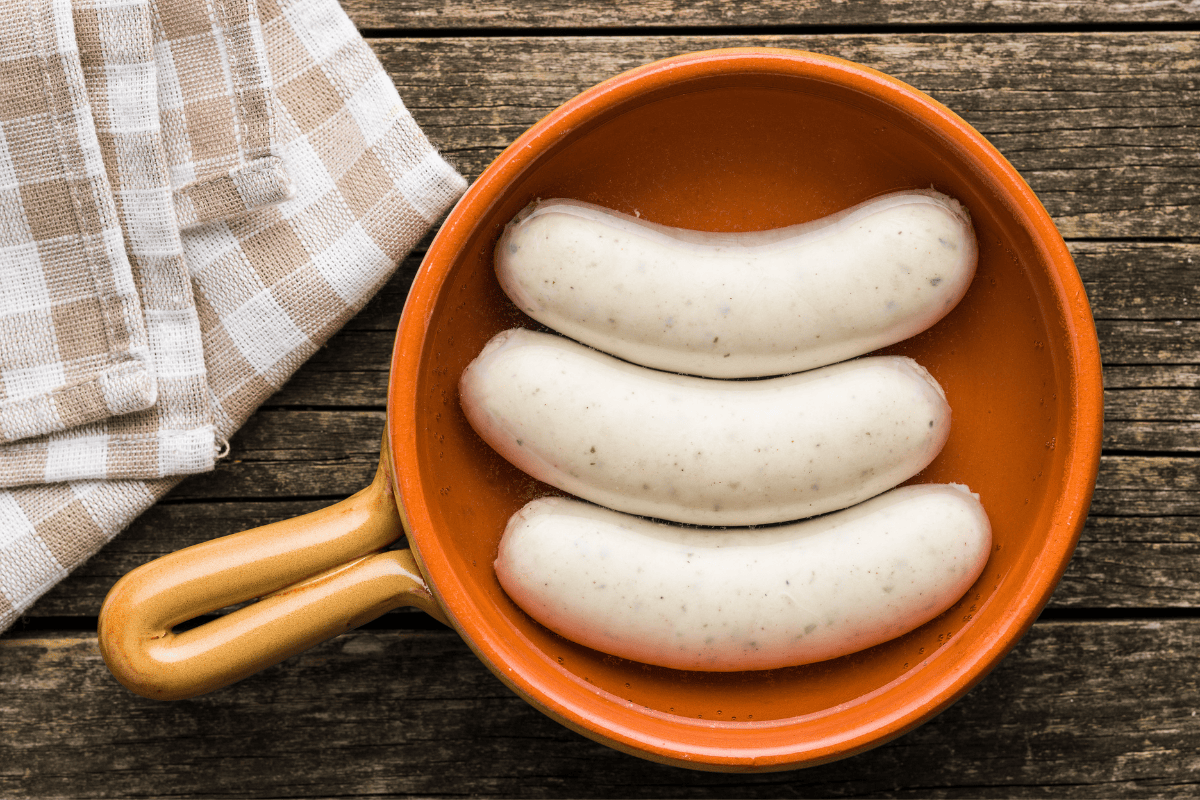 7. Blutwurst
Another traditional German food worth mentioning is Blutwurst or "blood sausage." This sausage is made with pork combined with animal blood, fat, and various seasonings, such as allspice, marjoram and thyme. Known for its firm consistency, it is usually served warmed or fried with either sauerkraut or mashed potato on the side.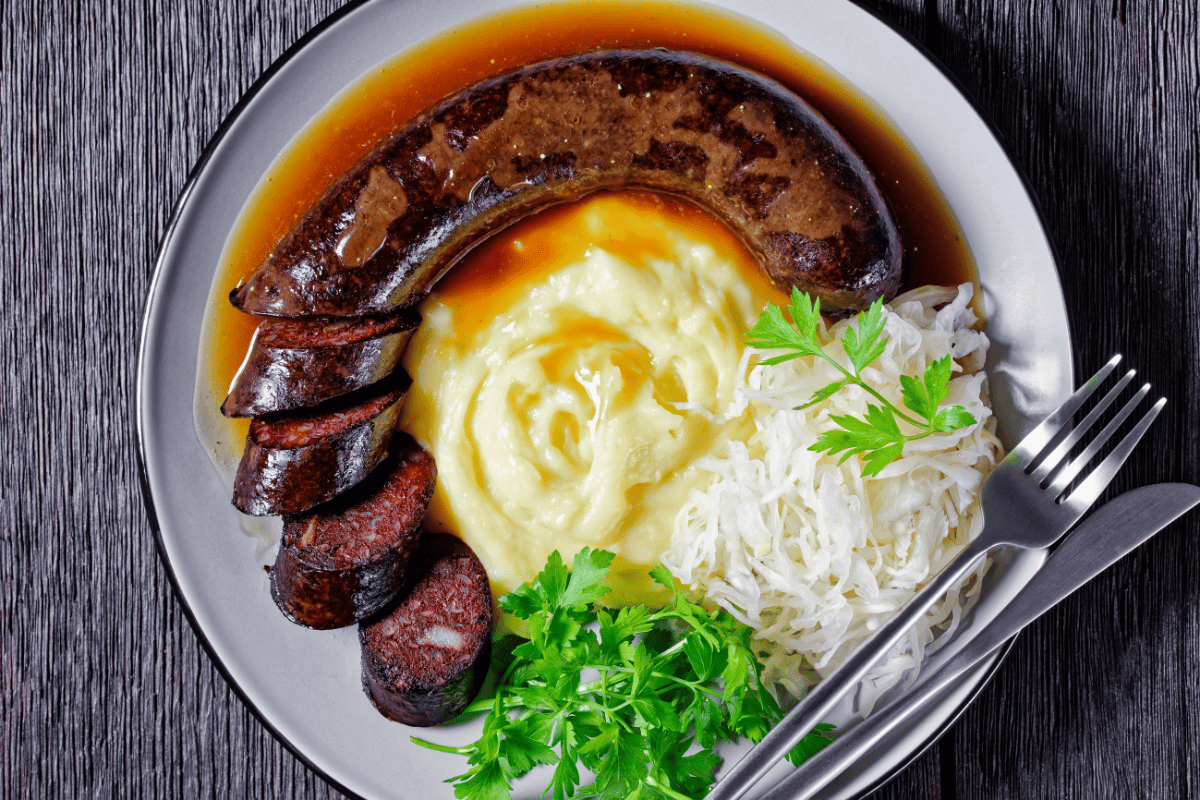 8. Schnitzel
Schnitzel is one of Germany's traditional meat dishes that you shouldn't miss. Wiener Schnitzel (Viennese Schnitzle) is a thin slice of veal that is breaded and pan-fried. It is also known as one of Austria's national dishes. These days you'll also find Wiener Schnitzel made from pork or chicken.
The traditional Austrian version of this dish that is popular all over Germany is served with lemon and sometimes parsley. While this traditional Schnitzel is a classic, you can also try other famous versions of Schnitzel like Jägerschnitzel (topped with mushroom sauce) or Zigeunerschnitzel (topped with bell pepper sauce). Schnitzel is often served with french fries.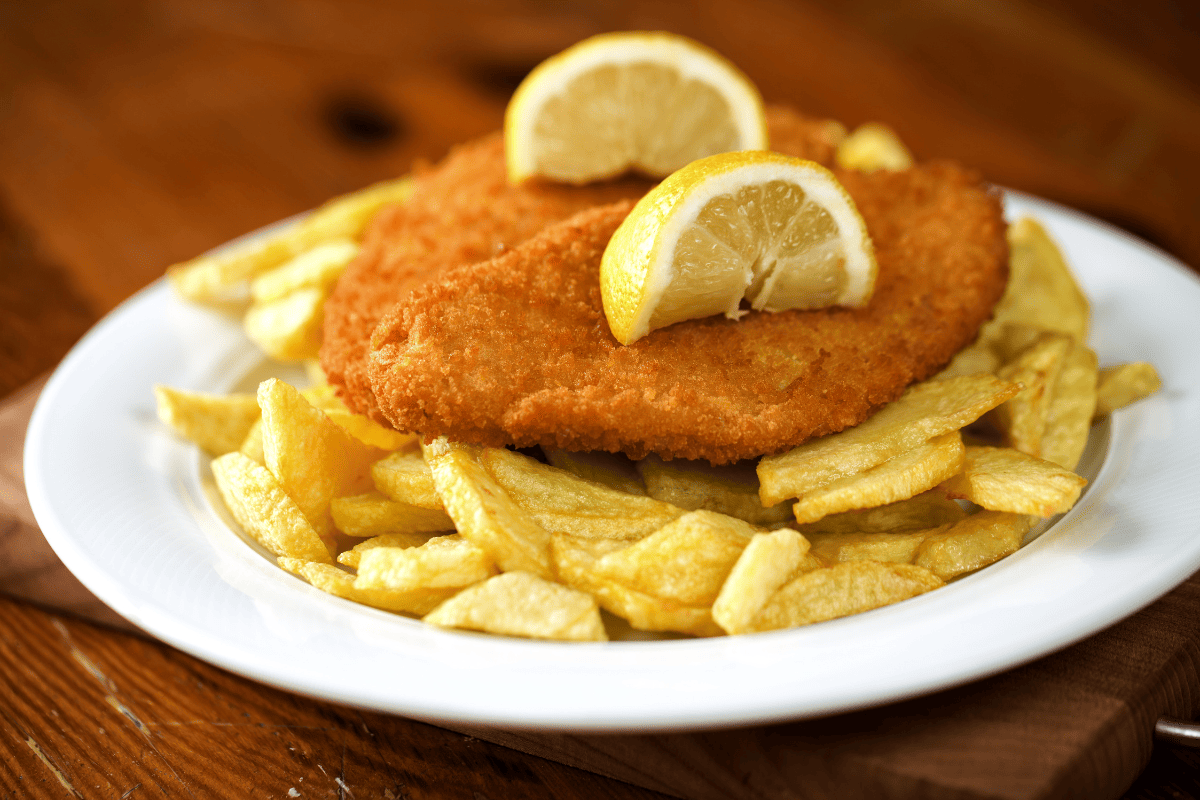 9. Sauerbraten
Sauerbraten (beef or pork pot roast or "sour roast") is definitely one of the best German dishes for meat lovers. Sauerbraten is usually accompanied by gravy, potatoes, delicious dumplings or Spätzle.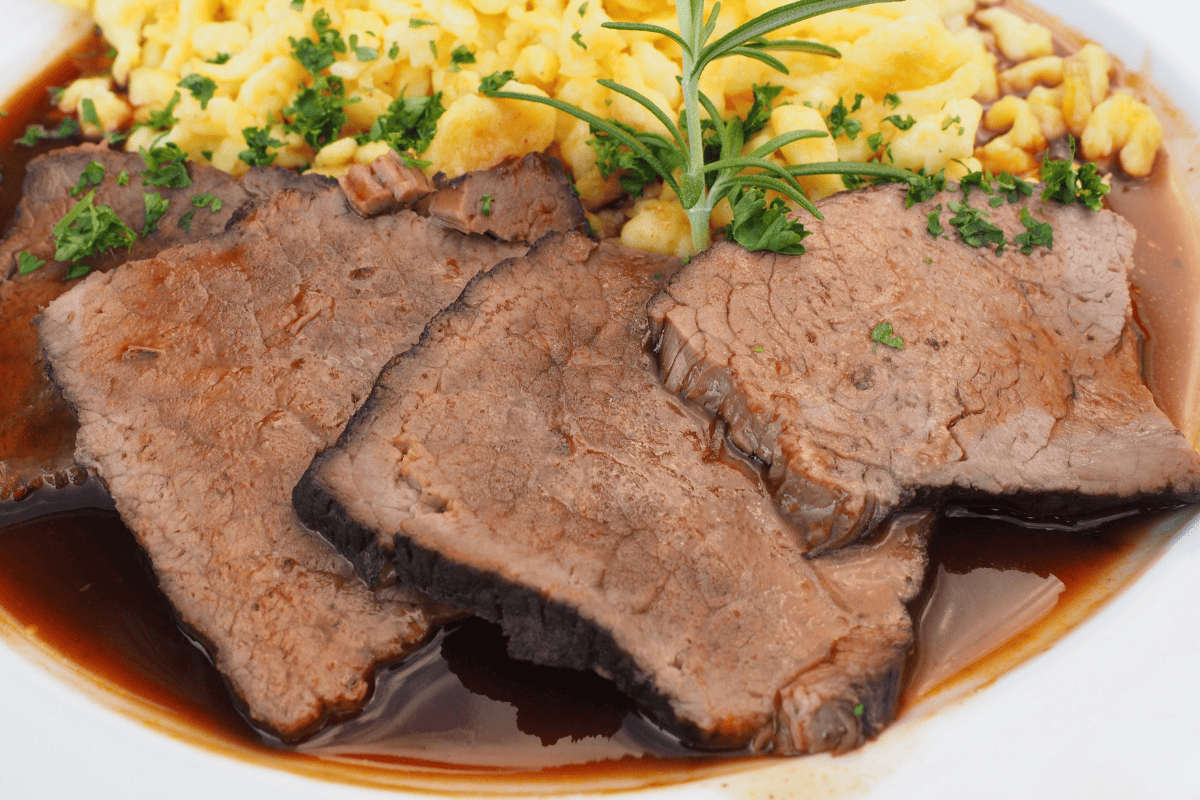 10. Fischbrötchen & Krabbenbrötchen (Fish or Shrimp Rolls)
If you want a taste of traditional food from Northern Germany, a Fischbrötchen is a must-try. It's essentially a sandwich of fried or fresh fish in a Brötchen, typically topped with horseradish or remoulade, onion, pickles, lemon, and lettuce.
You can also get one with shrimp or prawns. The shrimp roll you see in the photo above was one I picked up at Hamburg's Fischmarkt one Sunday morning and it was hands-down the BEST I've ever had!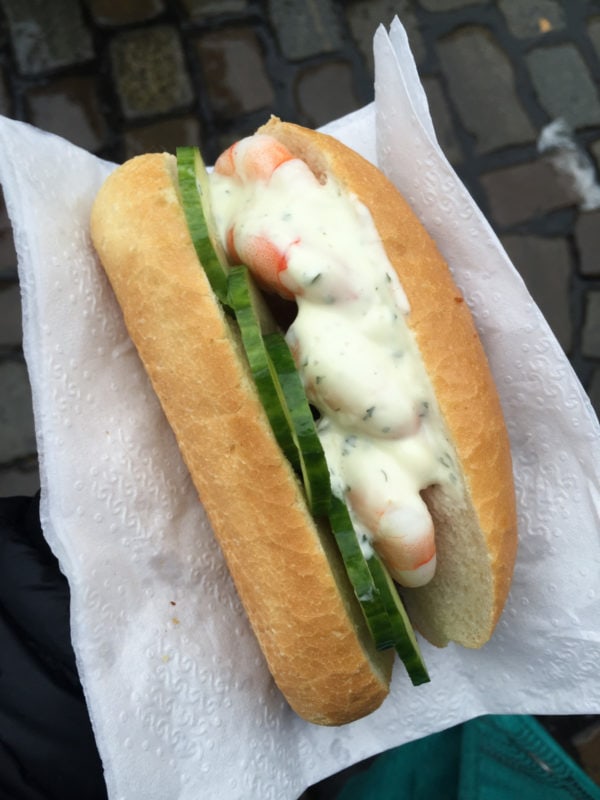 11. Spätzle & Käsespätzle
Spätzle is a pasta side dish most popular in southern Germany. The soft egg noodles are typically served with stews or meat dishes that are heavy on sauce. Traditionally, Spätzle are made fresh by hand by shaving dough into a pot of boiling water, but you can find ready-made Spätzle in grocery stores.
Käsespätzle is a popular main dish. It's made by topping Spätzle with layers of cheese, cream, and onion, which is why it's often called German macaroni and cheese. It's rich but absolutely delicious.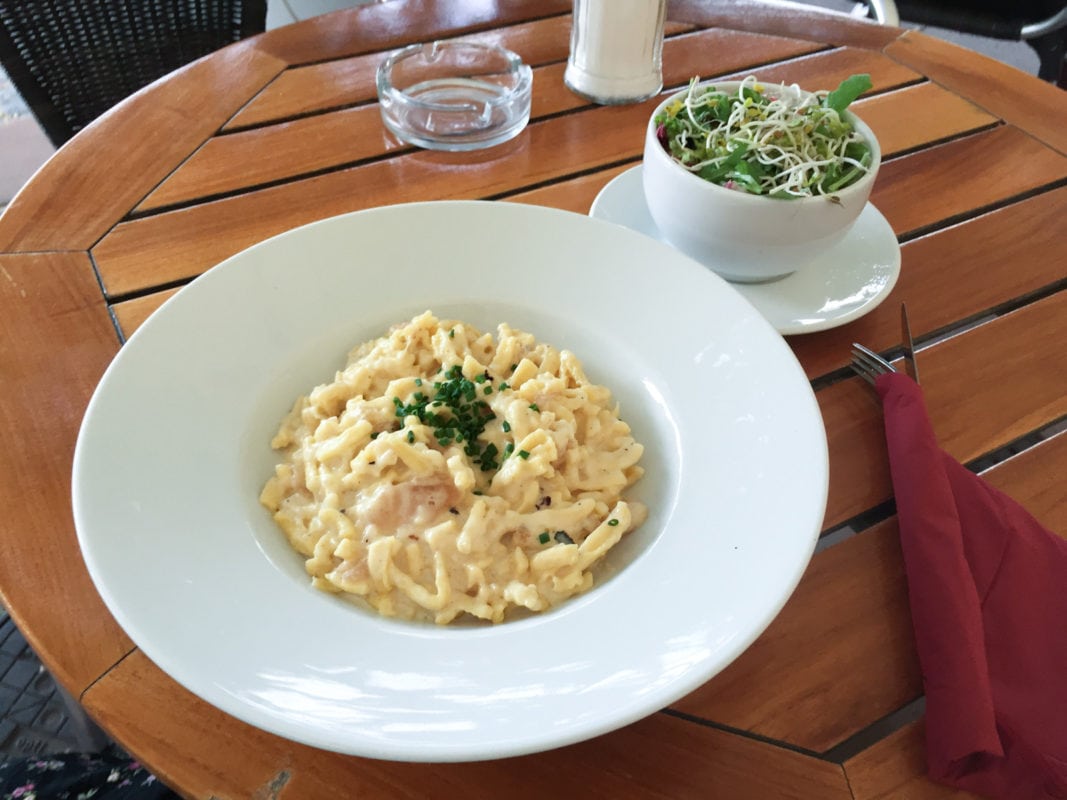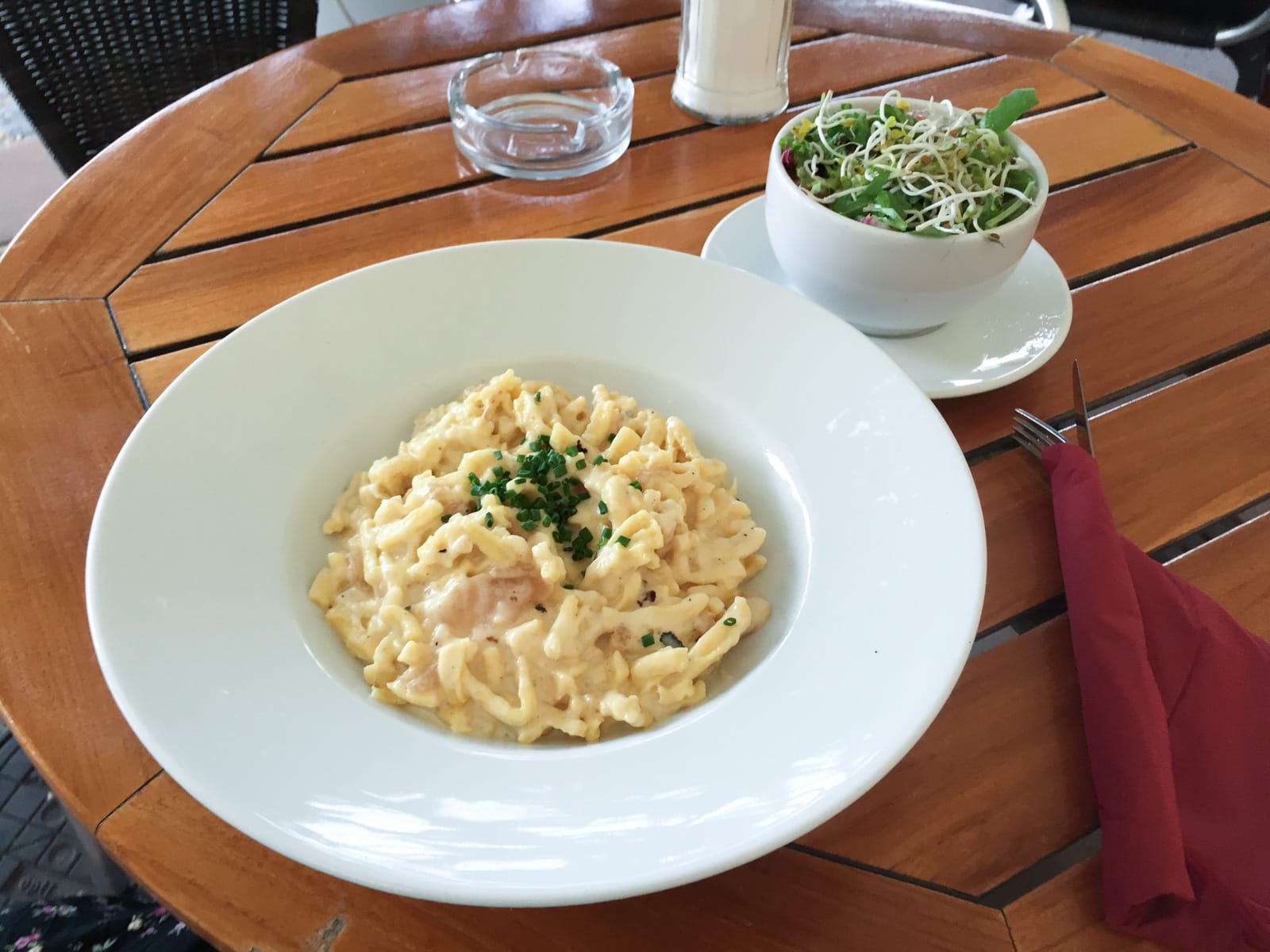 12. Zwiebelkuchen (Savory Onion "Cake")
If you're looking for a German alternative to heavier meat dishes, Zwiebelkuchen is for you. It's best described as a savory onion cake, but don't be put off by the odd combination of words! There are several variations of this classic so you'll find some that look like a quiche, some that look more like a tart, and some that resemble a pizza (my favorite). Zwibelkuchen often includes bacon (Speck in German) but some do not.
It's also pretty easy to make at home and you'll find that you probably have most, if not all, of the ingredients already in your kitchen. Follow this recipe on my international food blog to make Zwiebelkuchen at home!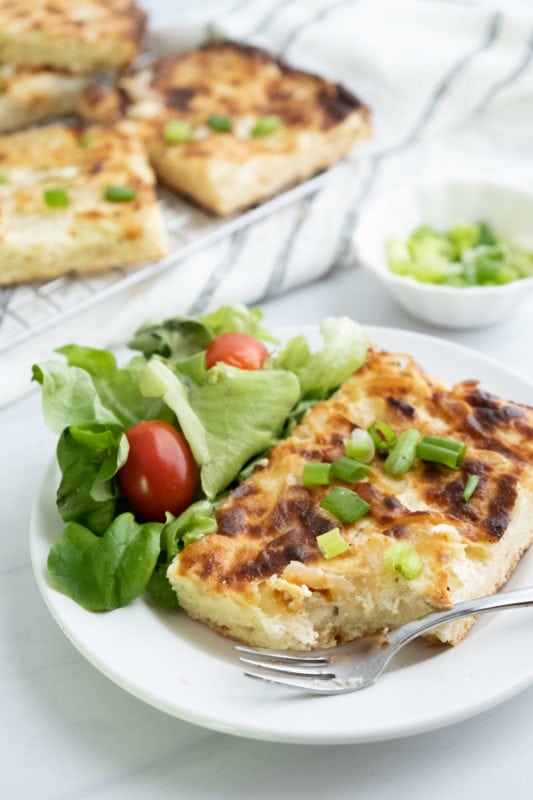 13. Kartoffelpuffer (Potato Pancakes)
Kartoffelpuffer are the German version of potato pancakes that are served as a side dish, snack or even an appetizer. Simple and delicious, they're often served with either applesauce, herbed crème fraîche or sour cream.
You'll find Kartoffelpuffer in some restaurants, at food trucks, Christmas markets and other festivals and celebrations. In some parts of Germany they're called Reibekuchen. If you like potatoes, you'll love Kartoffelpuffer.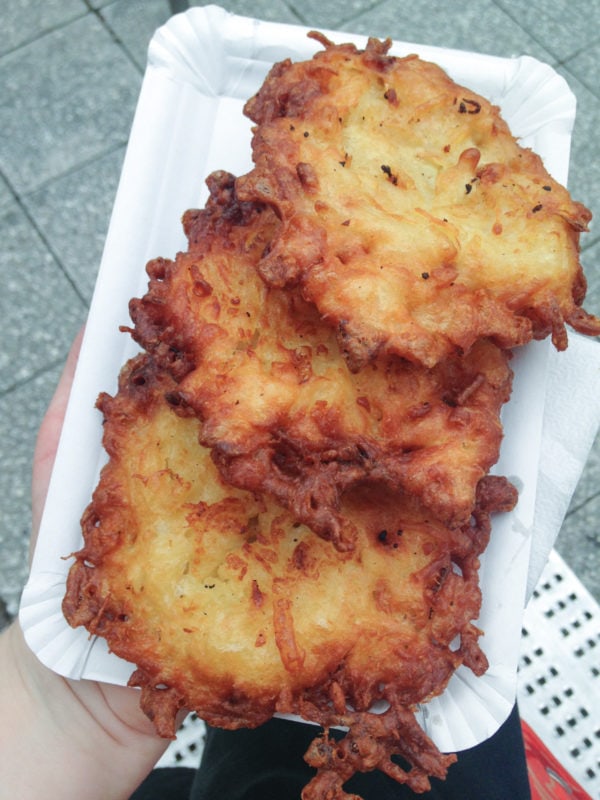 14. Königsberger Klopse
If you love comfort food, Königsberger Klopse is definitely a must-try. This famous German food consists of meatballs made from finely minced pork, veal or beef, served in creamy white sauce seasoned with capers, and served with boiled potatoes.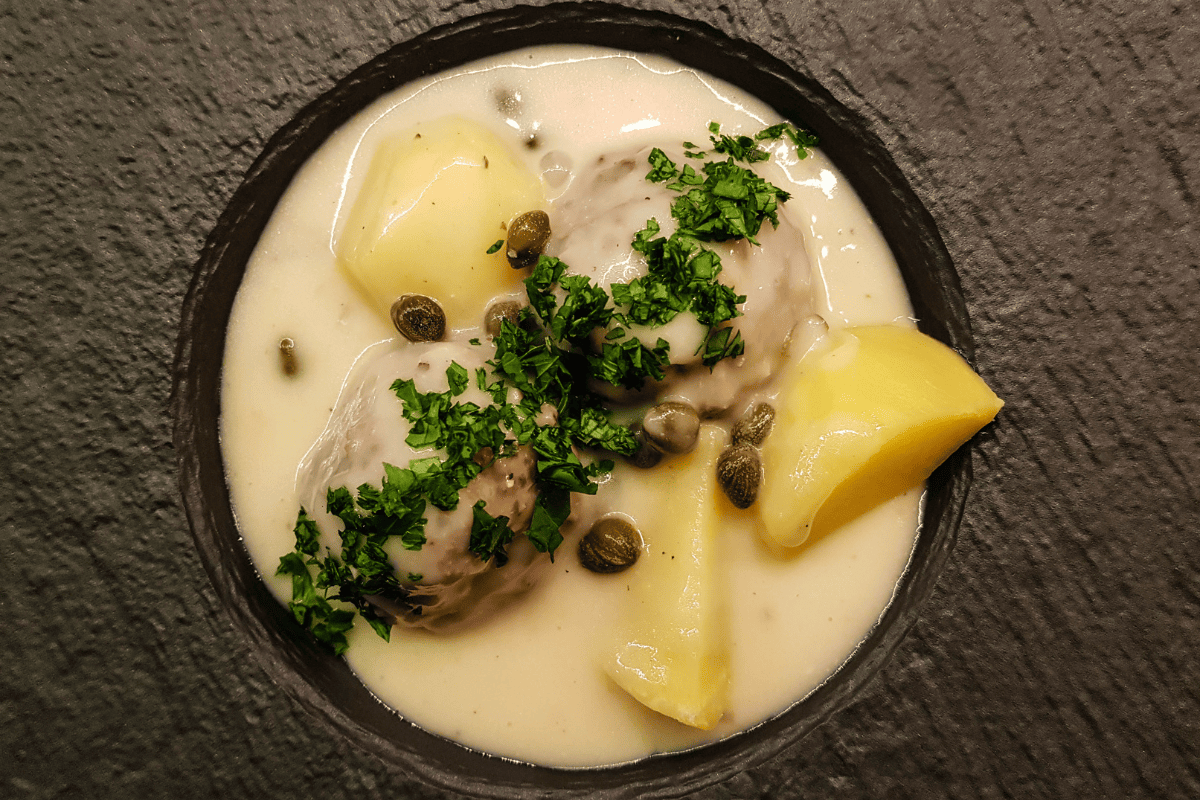 15. Kartoffelklösse & Knödel
Kartoffelklösse are German potato dumplings made from peeled potatoes that are ground up with flour or wheat to form the dumplings. There's also a similar side dish called Knödel (bread dumplings), which are made from bread. They're often served alongside meat dishes with rich gravy and used in place of mashed potatoes.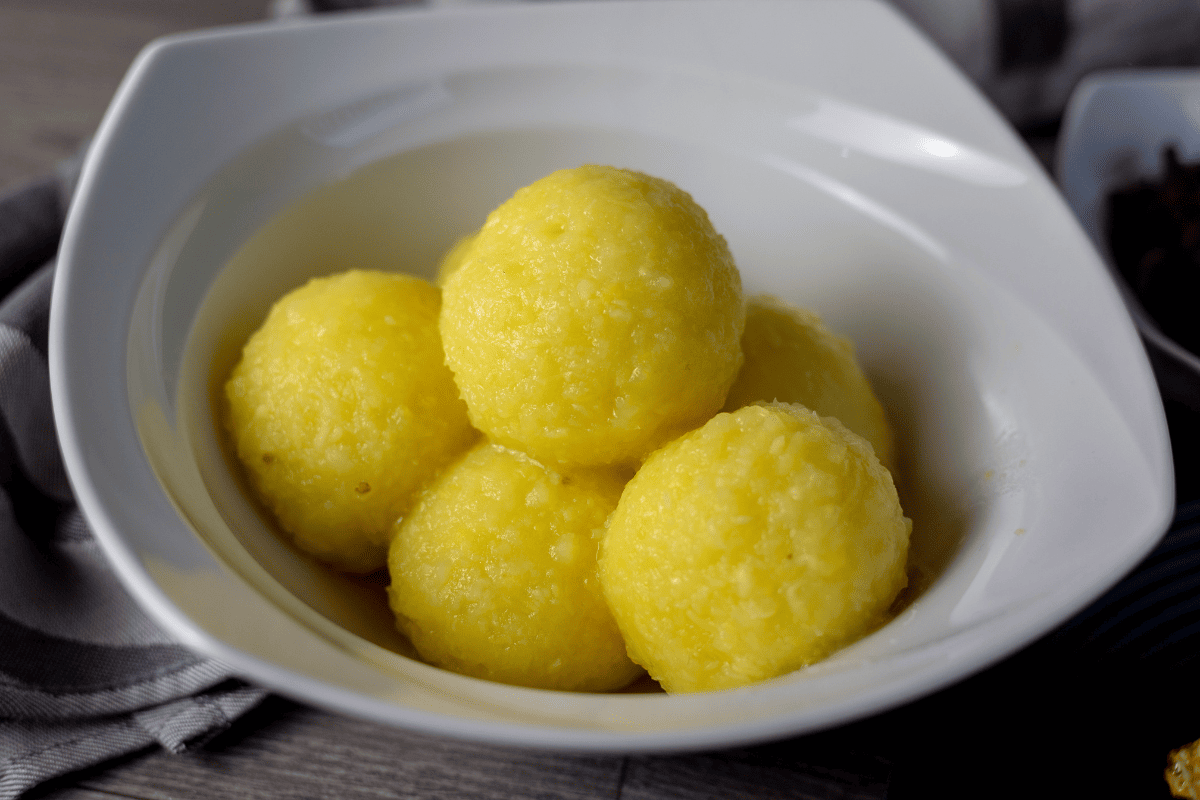 16. Potato Salad (Kartoffelsalat)
Just like a lot of US Americans, Germans love potato salad. There are many variations of potato salad recipes around the world, but in Germany, there are two main kinds: the Northern German potato salad and the Southern German potato salad.
The Northern version is served chilled and the sliced waxy potatoes are dressed with mayonnaise and herbs. The Southern version, on the other hand, is served warm and the potatoes are dressed with whole-grain sweet mustard and vinegar-based dressing. This is often served in Oktoberfest-style German restaurants.
Everyone has their favorite way to make potato salad in Germany, so don't be surprised to see many variations!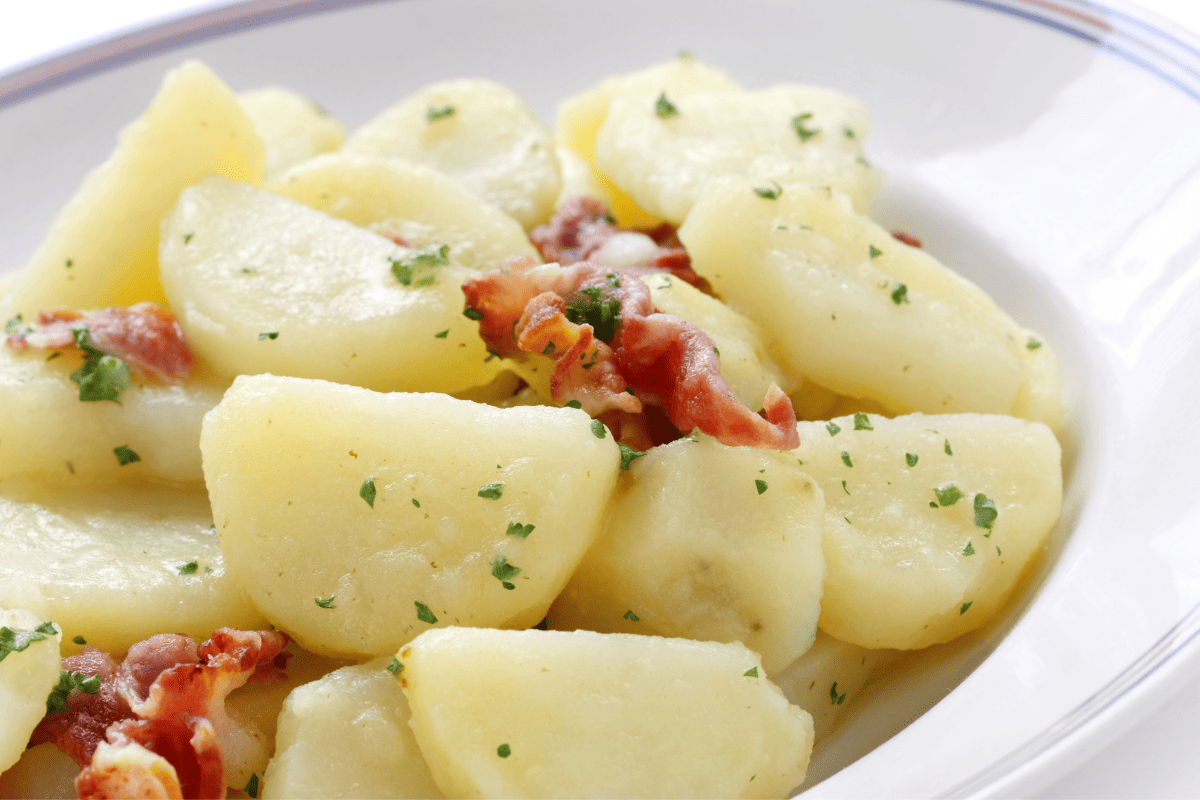 17. Bratkartoffeln
Bratkartoffeln (fried potatoes) consist of thinly sliced potatoes fried in fat such, butter or vegetable oil. Some common additional ingredients are Spek (a type of thick bacon), onion or peppers. A fun breakfast version is mixing in scrambled eggs, onion, and Spek to make Bauernomlette or a farmer's omelette. Bratkartoffeln are sometimes served with an herbed garlic sauce.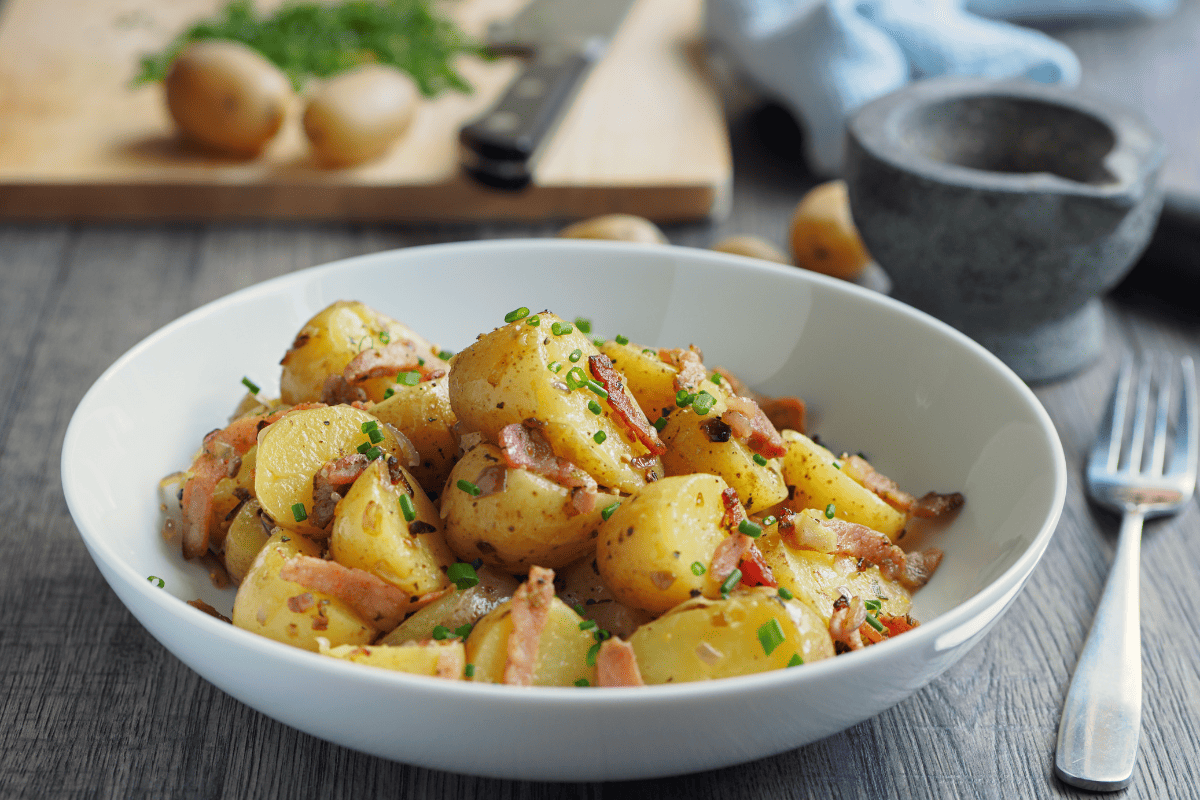 18. Rotkohl (Red Cabbage)
Germans love to eat red cabbage as a side dish. German red cabbage – or Rotkhol – is a popular side dish that has a unique sweet and sour flavor. It is the perfect side dish for a roast dinner with either Spätzle or Kartoffelkloesse.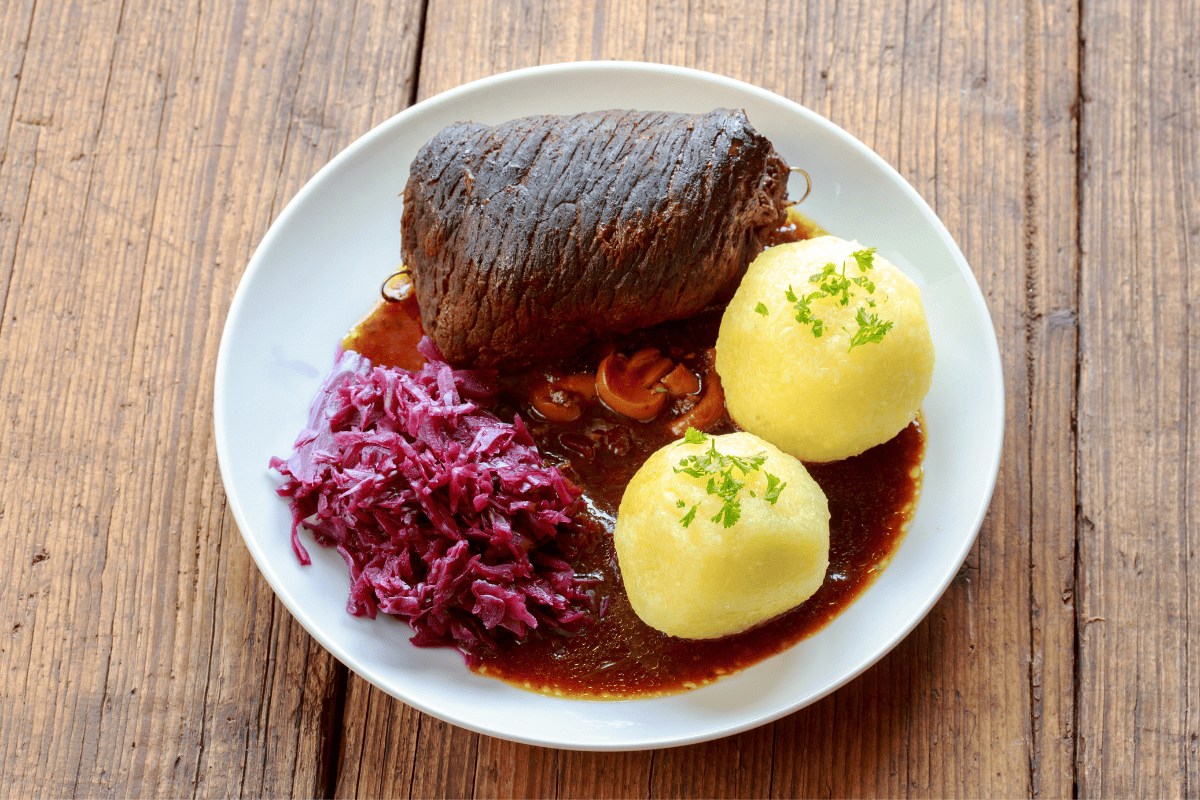 19. Spargel (Asparagus)
German white asparagus is another popular side dish, especially during the spring asparagus season. It can be prepared in all ways you would prepare regular green asparagus, but expect the flavor to be milder with a little bitterness. Spargelzeit (asparagus season) is only a short time in the spring so if you're in Germany during another part of the year you might not see as much white Spargel. We were in Germany once during Spargelzeit and literally everything had asparagus in it!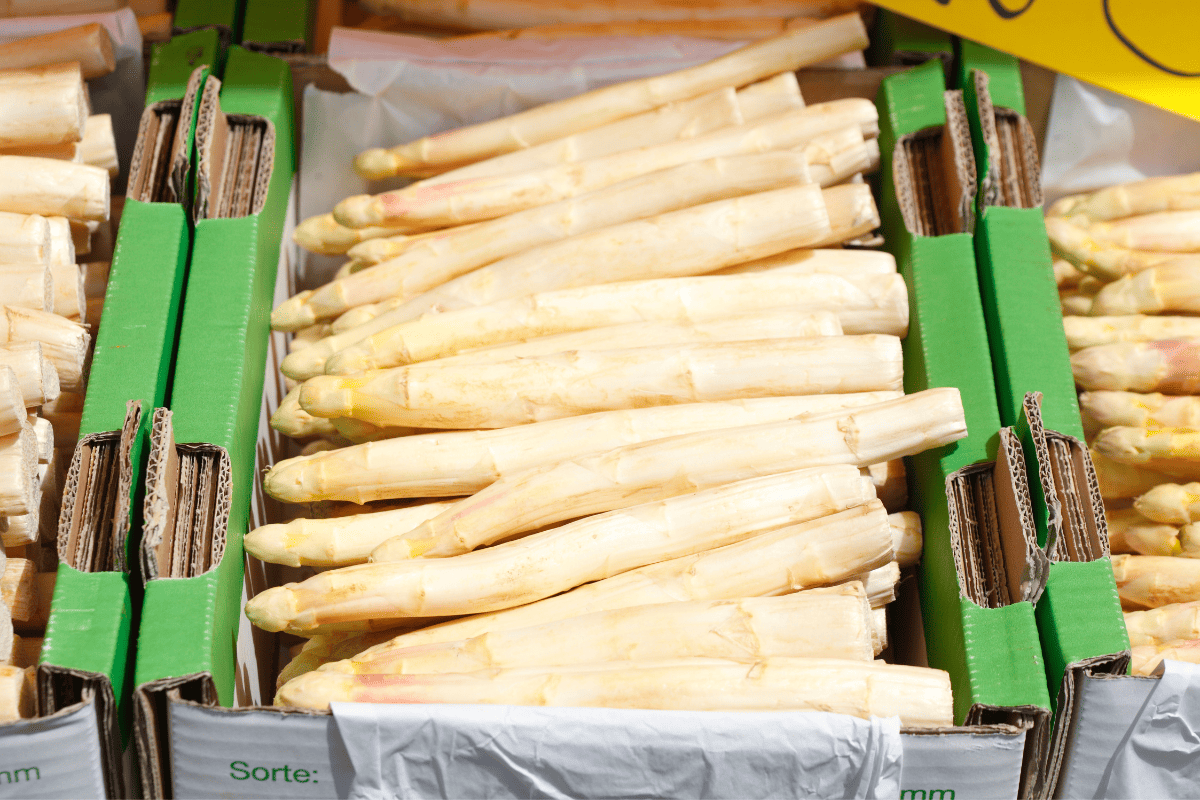 20. Salat (Salad)
Yes, you can find salad in Germany! Not everything is full of meat and sausage. Ha! We often order salads in restaurants but also get them to go from grocery stores or take-out places for a quick and healthy lunch. As you see below, corn sometimes appears on German salads!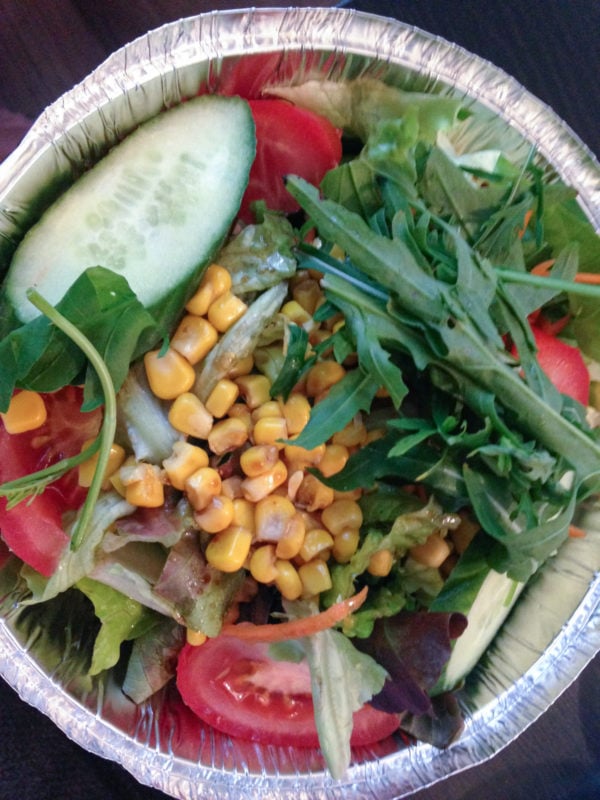 German Desserts
Germany is known for plentiful and delectable desserts. Here are some favorites that are sure to satisfy your sweet tooth cravings. You can also learn how to make some of these desserts at home by clicking on the links to my international baking other website.
21. Schwarzwälder Kirschtorte (Black Forest Cake)
The traditional German Black Forest Cake – Schwarzwälderkirschtorte – is popular both locally and internationally. The recipe originated in Germany's Black Forest region and is comprised of a chocolate sponge cake soaked in a syrup flavored with Kirsch alcohol. Cherries and whipped cream are used as toppings. This cake is light and not heavy like US cakes with buttercream. I've had versions that are light on Kirsch flavor…and others that were quite boozy!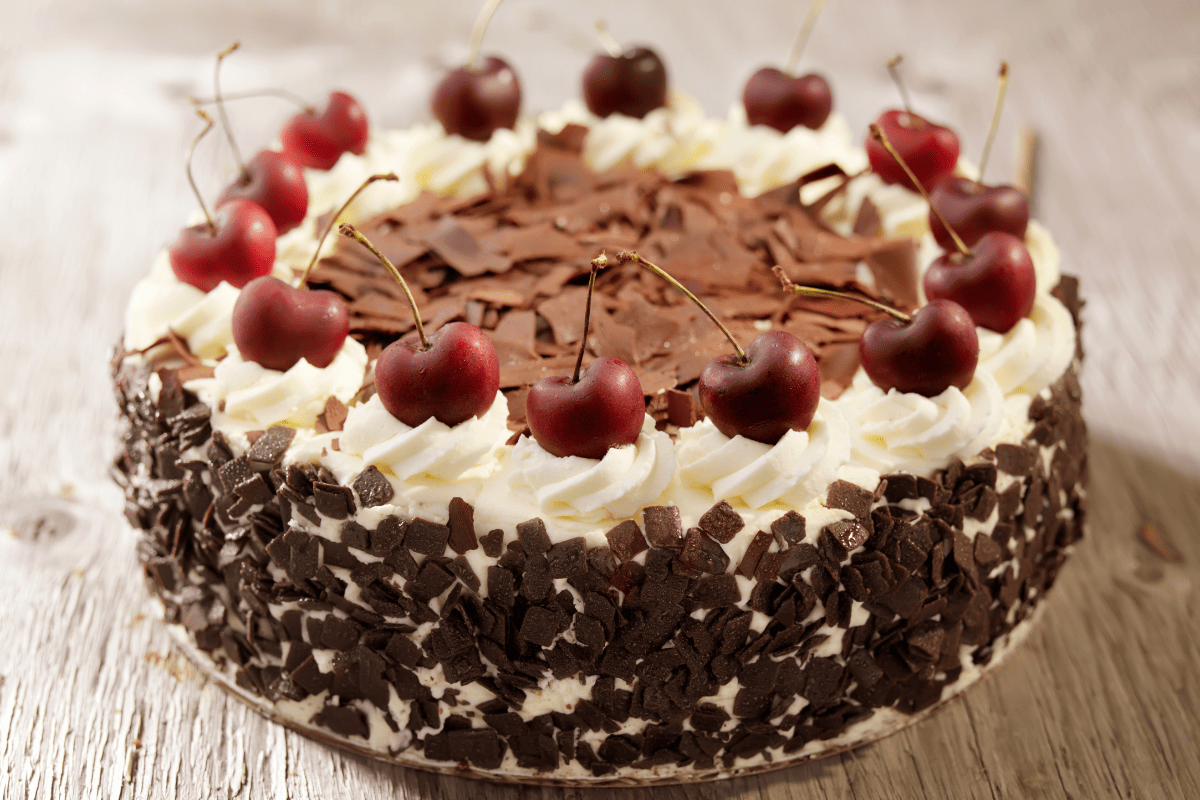 22. Apfelstrudel (Apple Strudel)
Apple Strudel is another mouthwatering German dessert that is usually served with either vanilla ice cream, whipped cream or vanilla sauce. Originally from Austria, Apple Strudel has a flaky crust and tender apple slice filling. Click here for my Easy Apple Strudel Recipe so you can make it at home!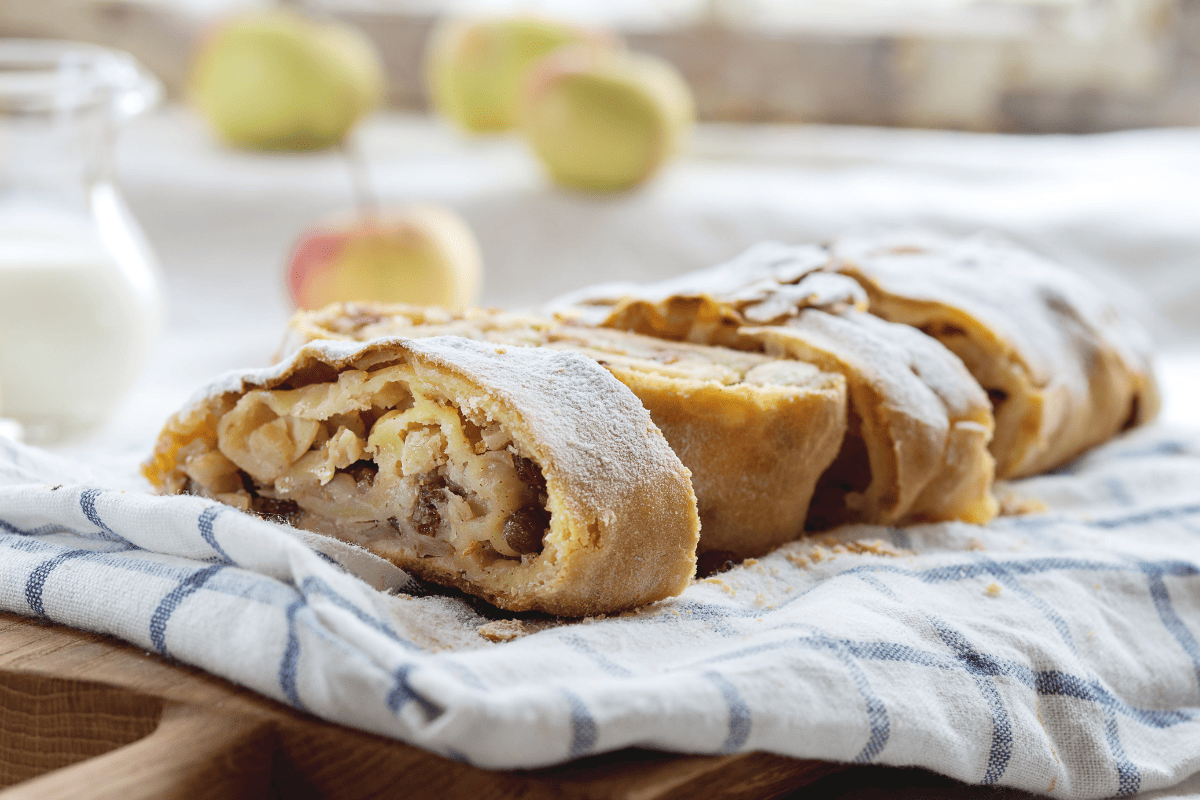 23. Rote Grütze (Red Berry "Pudding")
Rote Grütze is another fruity dessert that originated from Northern Germany and Denmark. It's comprised of fresh or frozen red berries heated with red fruit juice, sugar, and corn starch to form a delicious red berry "pudding." Just like Apple Strudel, this dessert can be served with vanilla ice cream, vanilla sauce or whipped cream.
This is one of the first desserts I tried when I first arrived in Germany as a teen, and it's one of my favorites to this day. I often make it at my AirBnB when I'm traveling in Germany. I make it the way it was served to me so many years ago – a little warm with fresh, cold cream. So good!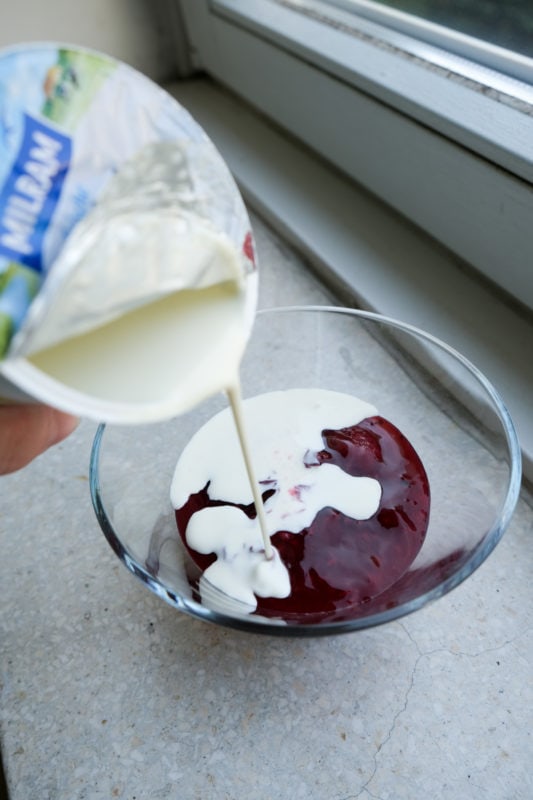 24. Spaghettieis (Spaghetti Ice Cream)
Spaghettieis is a fun dessert that's delicious during the summer. There is no actual spaghetti involved, it's just made to look like a plate of spaghetti!
The "noodles" are made of vanilla ice cream, the "tomato sauce" is fresh strawberry sauce, and the "parmesan cheese" is either made from white chocolate or coconut. What makes it so refreshing is the whipped cream hidden under the ice cream noodles. You'll find Spaghettieis in ice cream shops all over Germany. It's delicous!
This is another German dessert you can make home, and one that is sure to be a talking point! Read our recipe here to find out the best way to prepare it.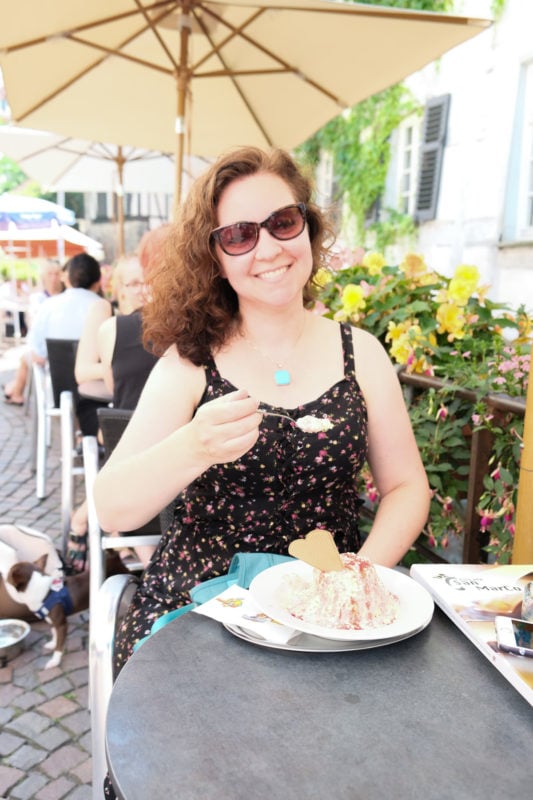 25. Ice Cream (Eis)
Germany has delicious ice cream! You can buy fancy ice cream "sundaes" at the plentiful ice cream shops all over Germany or pick up a scoop or two to go. You might even come across some flavors you've never tried before. Definitely try both at least once while in Germany!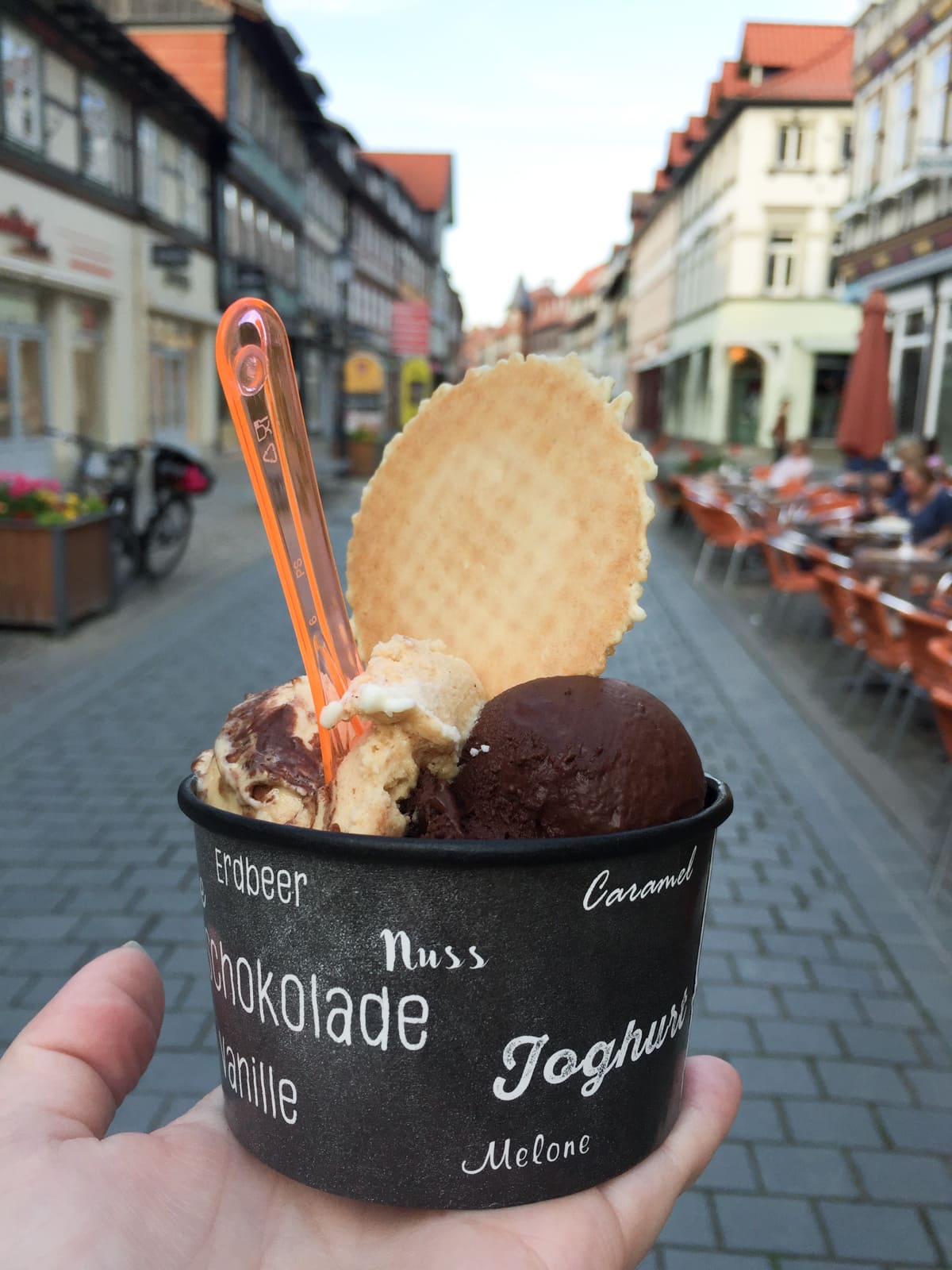 26. Käsekuchen (German Cheesecake)
Many countries have their own version of cheesecake and Germany's is called Käsekuchen. One of the most classic German cheesecakes is made with Quark, a fresh, creamy, un-aged cheese with a texture similar to Greek yogurt. The taste and texture is a little different than the typical US American cheesecake and you might even find mandarin oranges or raisins in German cheesecake. It's often served with a side of whipped cream.
German cheesecake is another dessert that's easy to make at home (even if you can't find Quark). Learn how to make Käsekuchen from scratch here!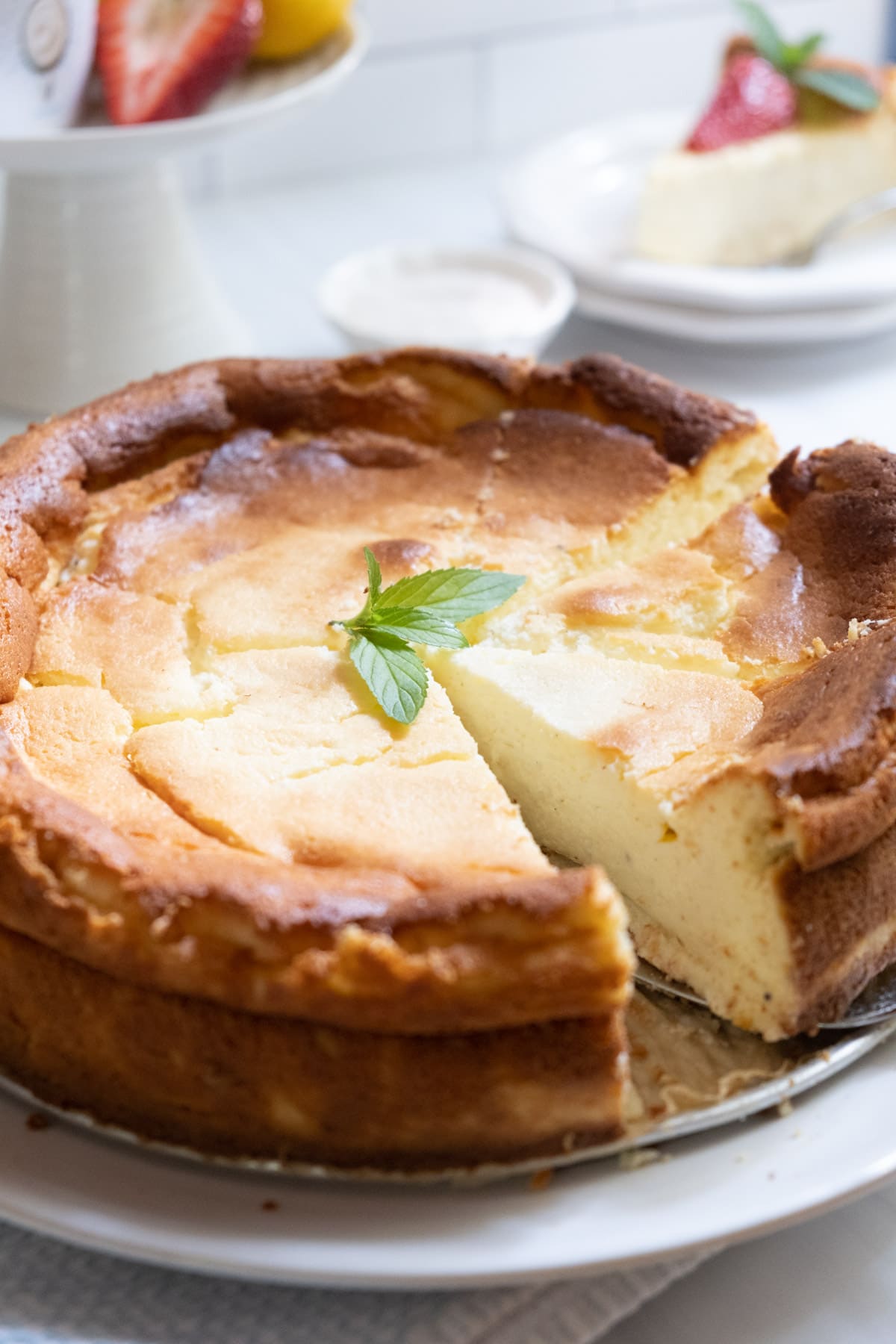 27. Bienenstich (Bee Sting Cake)
Bee Sting Cake is another traditional dessert made of two thin layers of yeast cake with a vanilla cream filling and a crunchy, buttery topping made of honey and almonds. This is one of my all-time favorite German cakes.
You can also make it at home! If you're looking for a German dessert that looks impressive but is actually very easy to make, read here for my step-by-step recipe.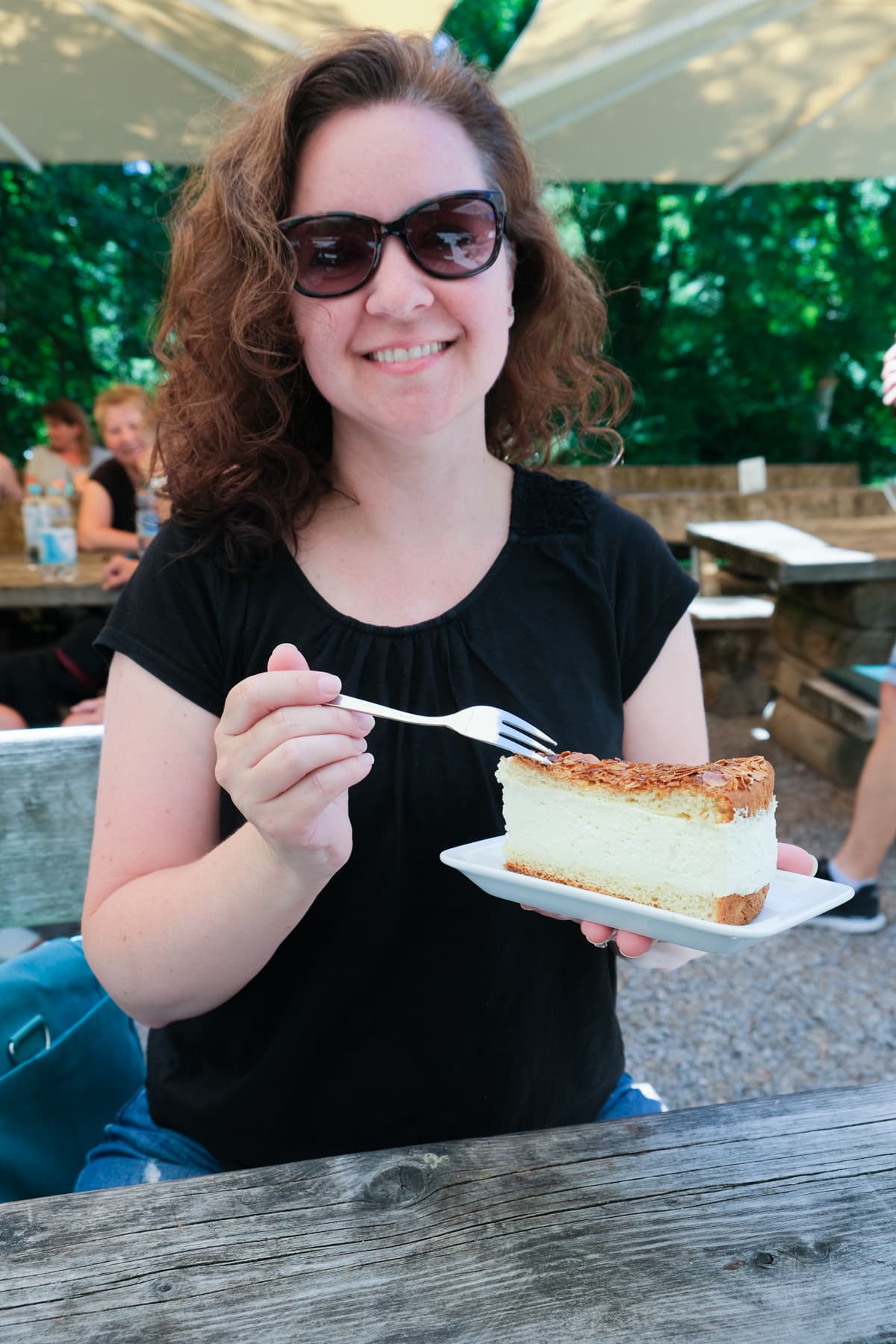 28. German Pastries
You can't talk about German desserts without talking about their delicious pastries. Fruity, glazed, vanilla, Quark filled, topped with nuts or Streusel – there are so many types of pastries to satisfy every sweet tooth craving you have.
You'll find them bakeries, cafes, coffee shops, and some grocery stores all over Germany, making pastries the best treats for breakfast with coffee or tea, a midday snack, and of course dessert!
Click here for a full guide of the best pastries to eat in Germany.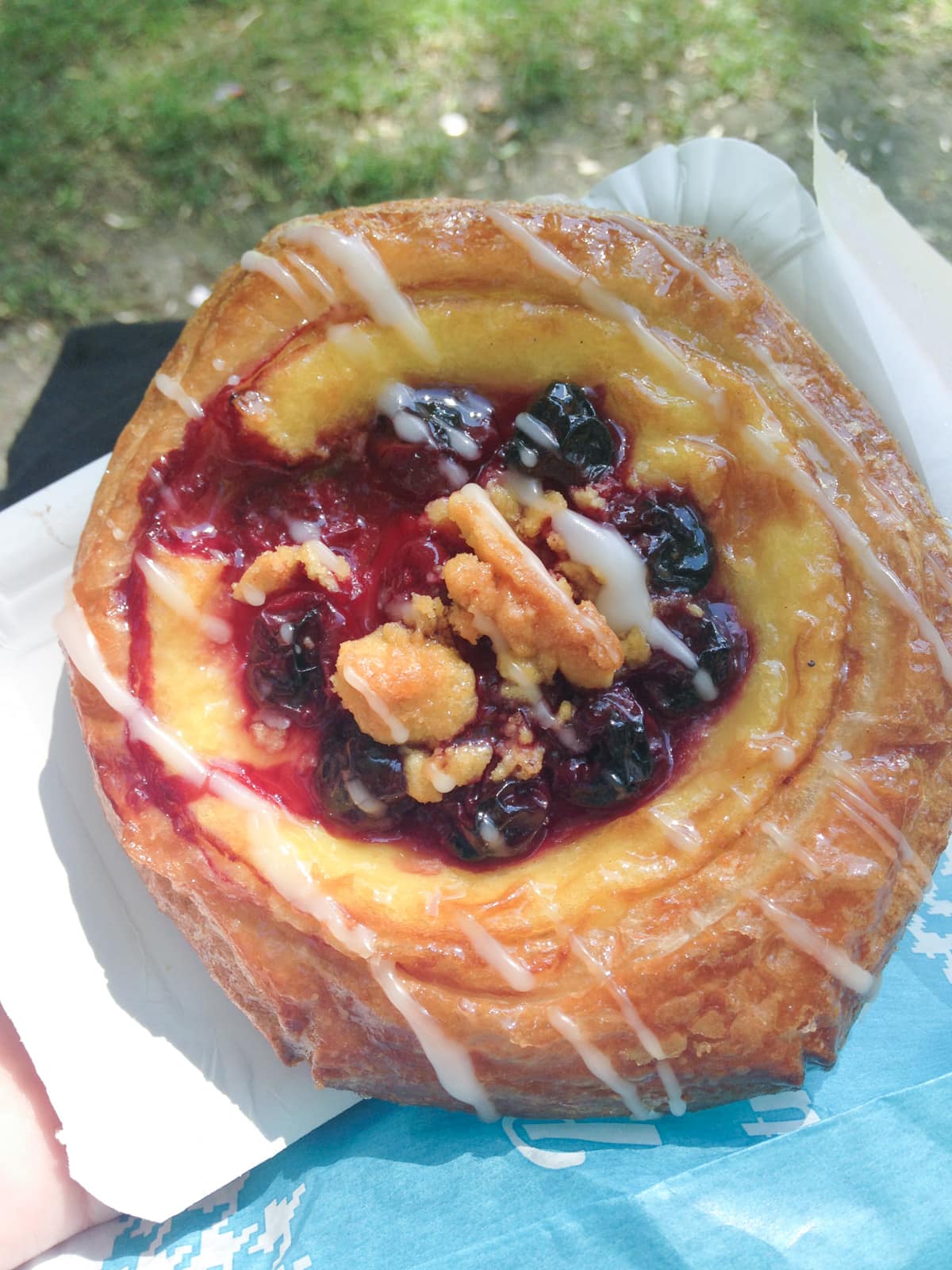 29. Schokolade (German Chocolate)
Can't leave out one of Germany's national treasures – chocolate! Look in any grocery store and you'll find a wide selection of chocolate bars in every flavor you can imagine. Milka, Ritter Sport, and Kinderschokolade are three popular brands. If you're visiting the Stuttgart area you can actually visit the Ritter Sport factory! I picked up several of the bars below at their factory shop.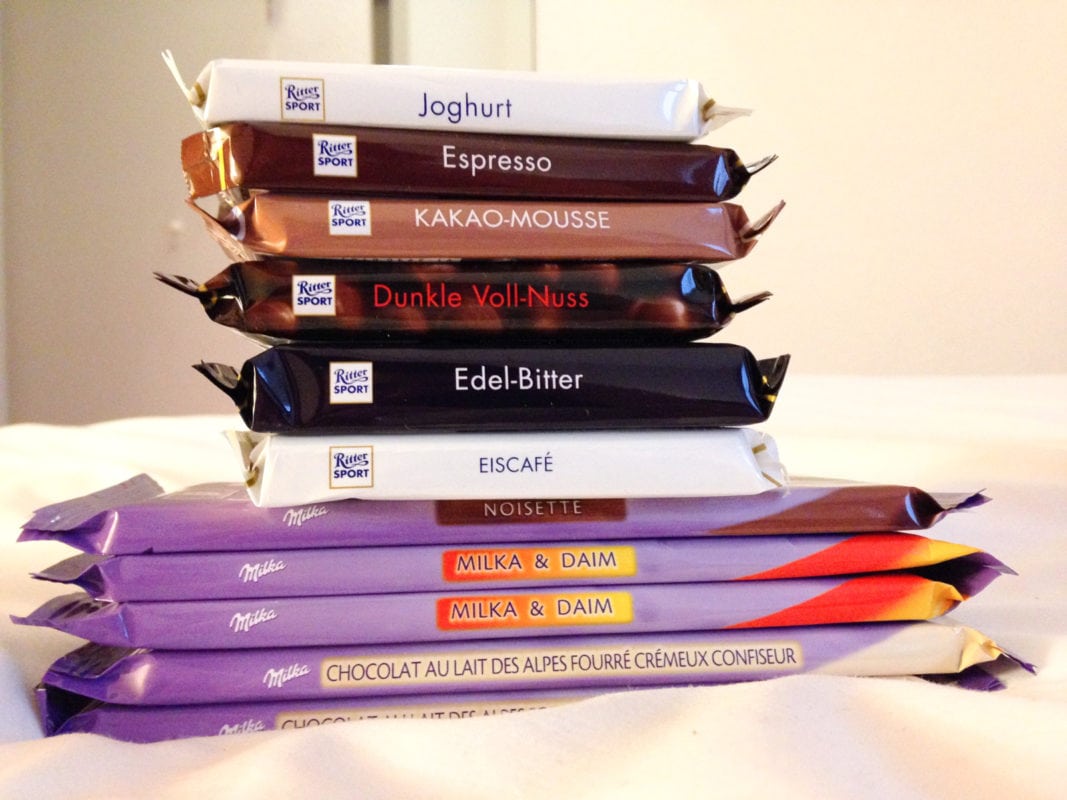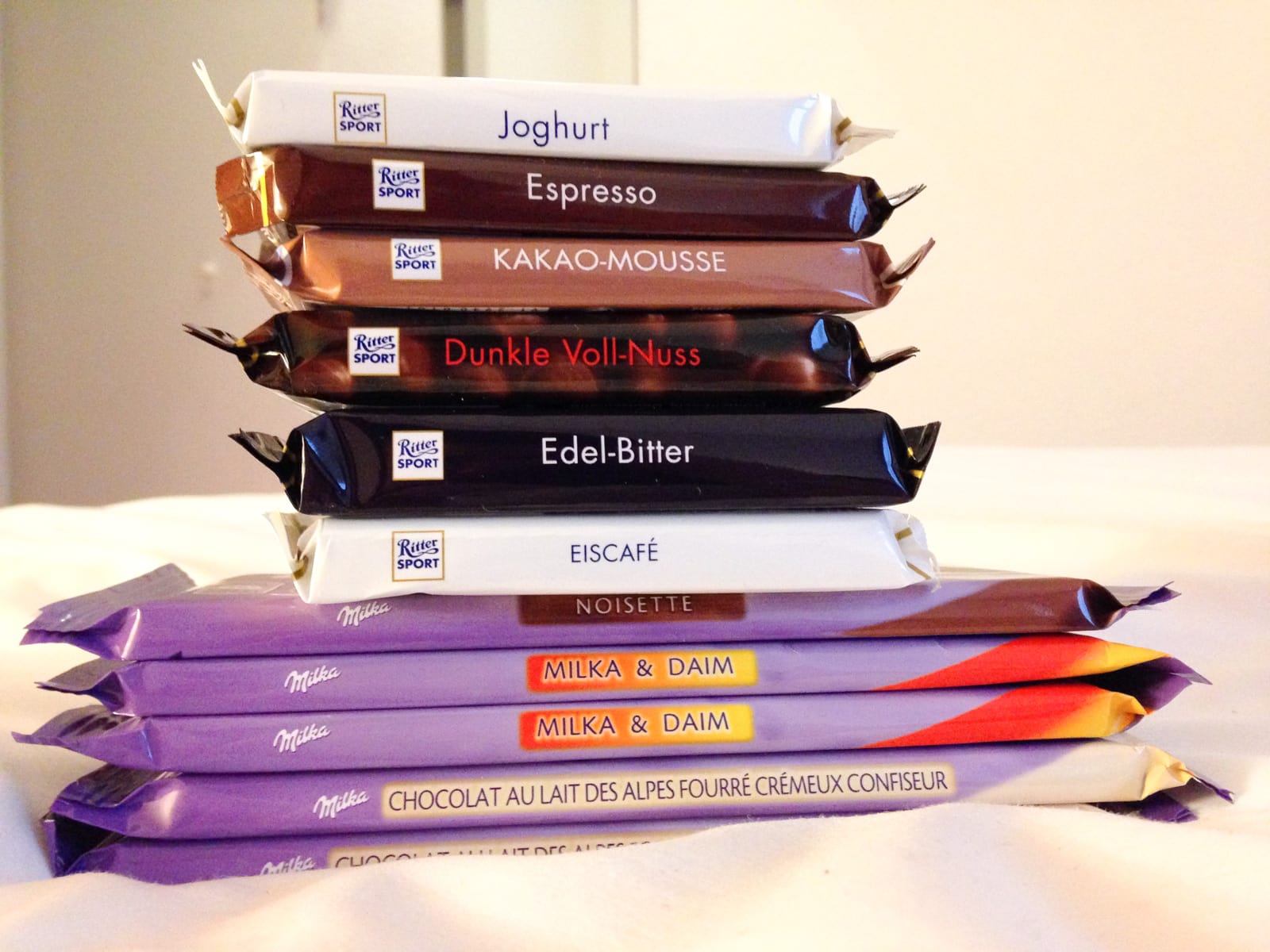 30. Bier (German Beer)
Our list of popular German foods is not complete without beer, as it is a major part of German culture. What makes German beer special is the fact that it is brewed according to "purity order," which is known locally as Reinheitsgebot. The said order involves regulations that only permit hops, malt and water as ingredients. You'll find a wide variety of beer to try in Germany. Every region has its specialty, and every beer has a special glass.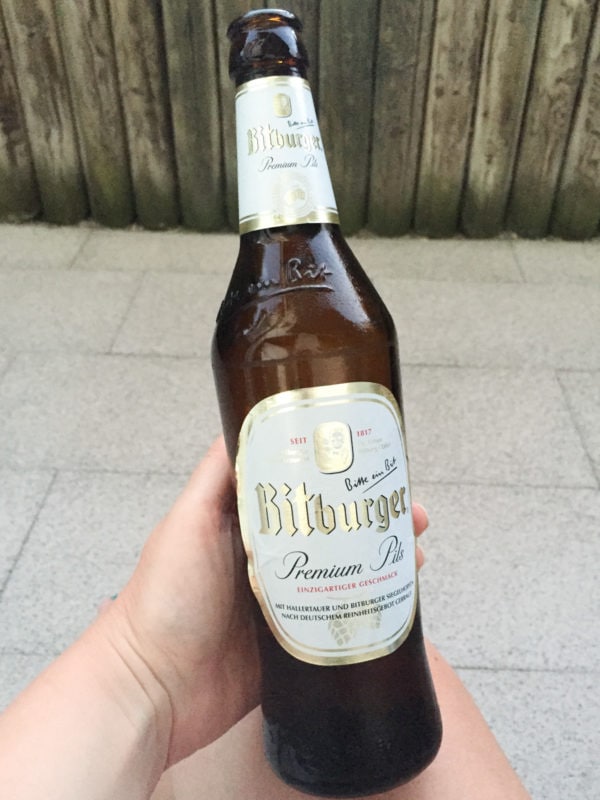 31. Glühwein (German Mulled Wine)
Glühwein (mulled wine) is a German staple during the holiday season. This hot drink made from red wine simmered with cinnamon, star aniseed, cloves, and other spices. It's the perfect way to warm up during Germany's cold winters – that's why it's a must-have in all German Christmas Markets!
If you're not going to be in Germany in December, don't worry! You can follow our recipe here to make your own Glühwein at home.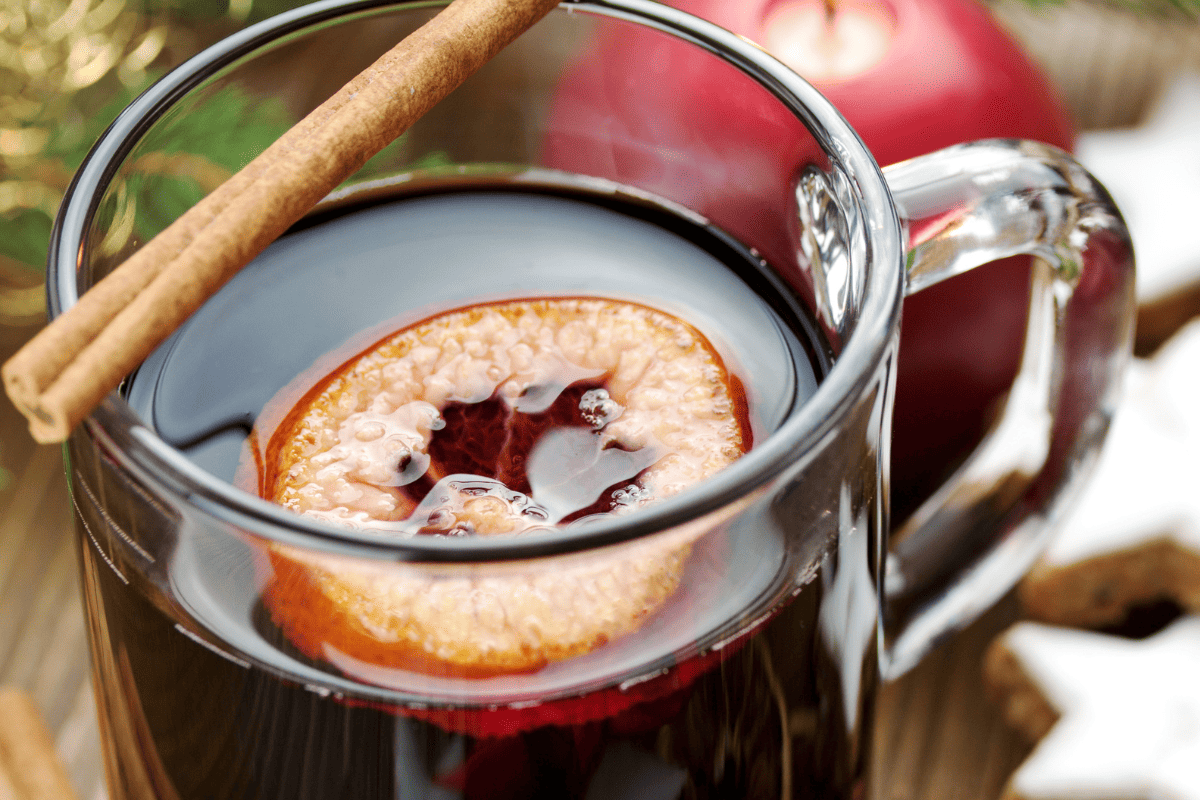 32 & 33. Radler & Cola Bier
Radler is a popular summer drink made with a mix of beer and German Limonade, a fizzy non-alcoholic lemon soda. A traditional Radler consists of 50% beer and is typically mixed with lemon-flavored soda but you can also use other flavors like grapefruit, lime, orange or lemon-lime. For an alternative to fruit soda, you can also find Cola Bier, which is…yep, beer mixed with cola.
This is another delicious German treat that you can make at home. Keep reading here to learn all the variations you can make of this refreshing summer drink!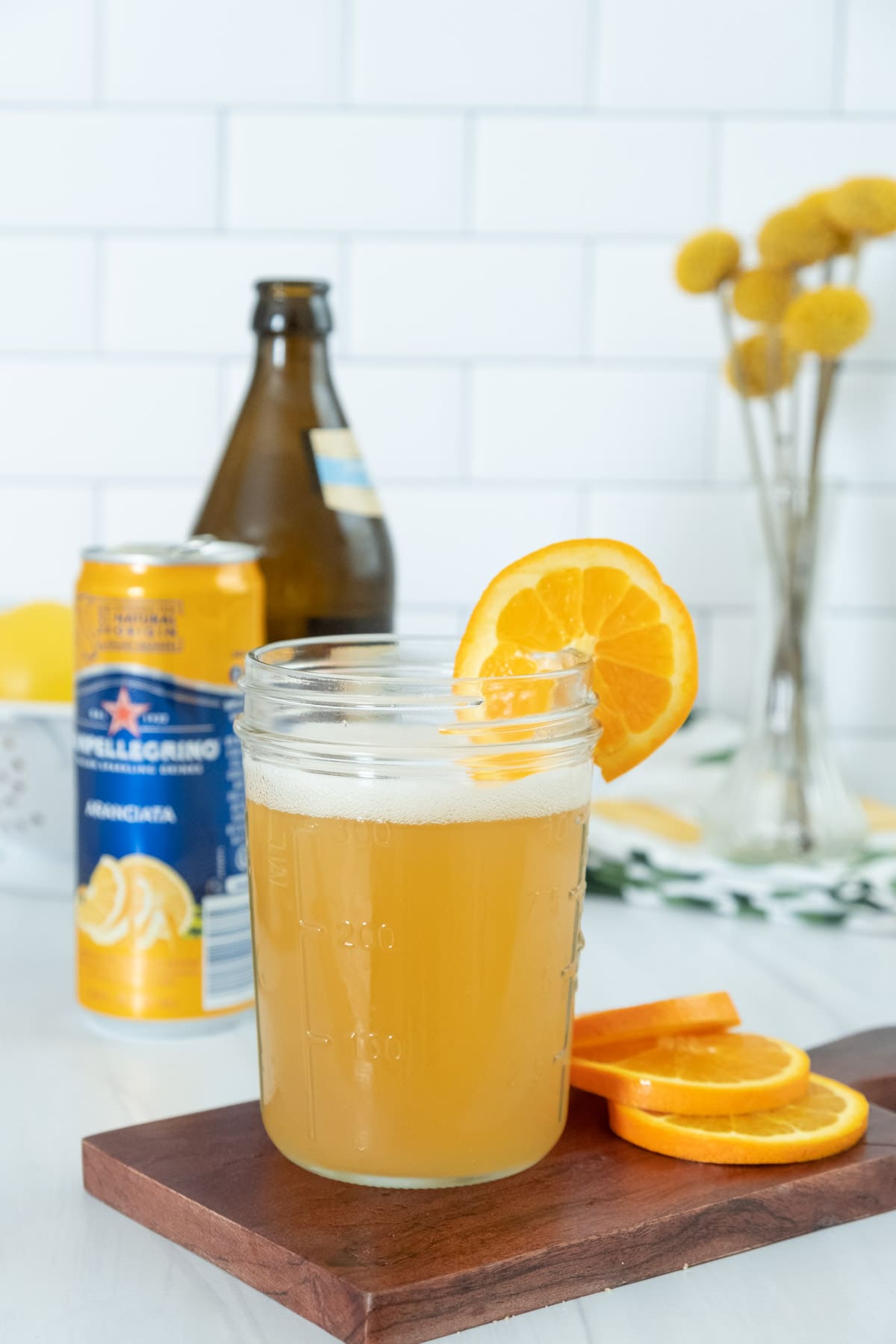 34. Apfelschorle (Apple Spritzer)
Apfelschorle (apple spritzer) is a popular drink in Germany, Switzerland, and Austria. It's made of carbonated or sparkling mineral water and apple juice. The balance between the sweetness of pure apple juice and the freshness of sparkling water is so satisfying. It also goes well with a lot of German food, which is why you'll find it on the menu of many restaurants. You can also buy it bottled next to Coke, Sprite, and the like. Apfelschorle is super refreshing on a hot summer day!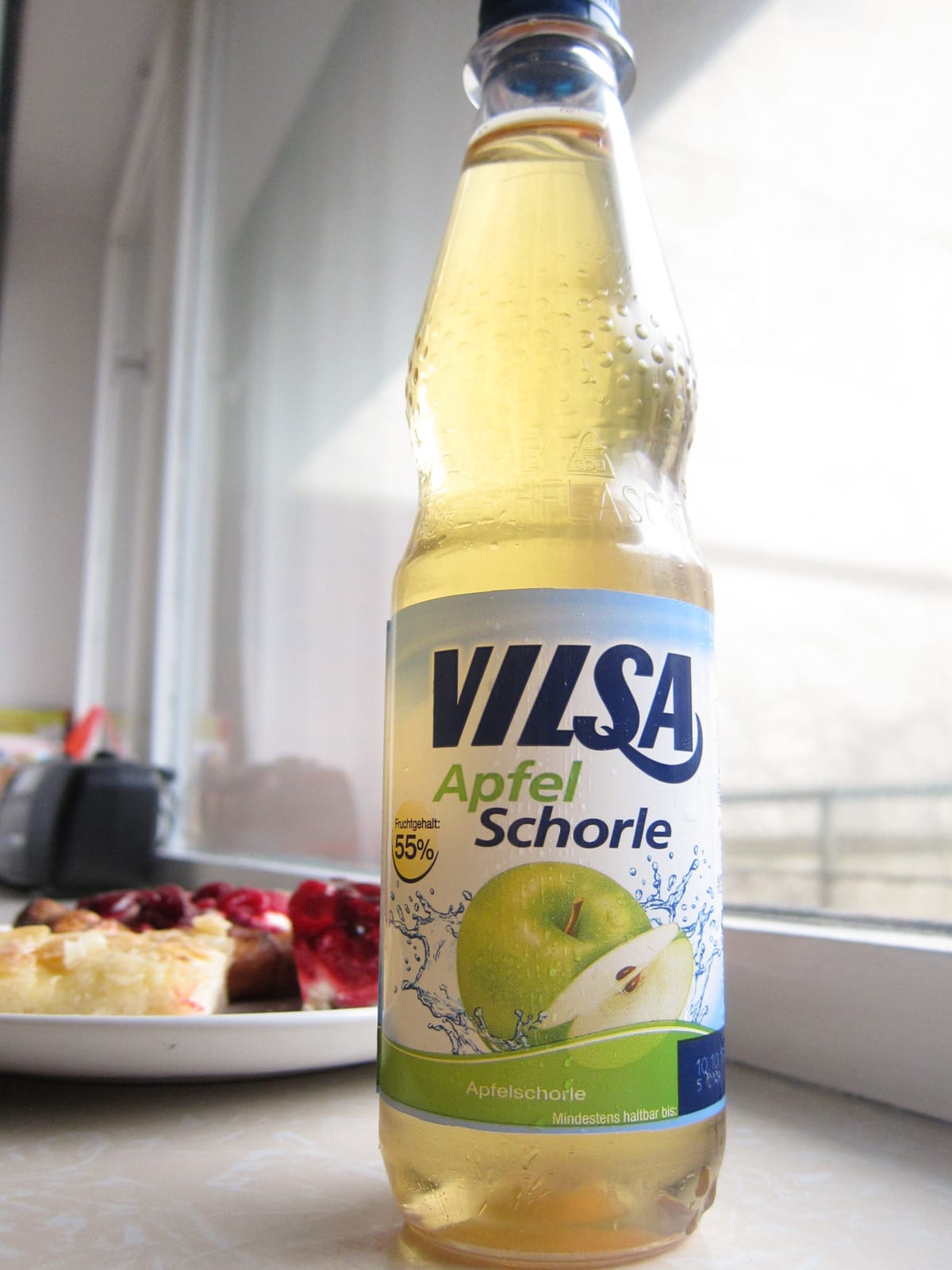 35. Eiskaffee (German Iced Coffee)
Eiskaffee or German ice cream coffee is a delicious take on iced coffee. It's basically strong coffee poured over scoops of vanilla ice cream and topped with whipped cream and chocolate sprinkles. This is a super simple but yummy treat that will cool you during hot summer days! You can find it in ice cream shops (it's Aaron's favorite). And sometimes you can find a more US style iced coffee at coffee shops and even Autobahn rest areas!
When we're not in Germany, we like to make Eiskaffee at home. Click here for our easy Eiskaffee recipe!