3 Easy Travel Journal Ideas (Plus Tips And Prompts)
This post may contain affiliate links. Read my disclaimer policy.
If you'd like to keep a travel journal on your trip to Germany and are looking for creative travel journal ideas that are easy to maintain while traveling, you're in the right place.
In this guide I show you 3 simple ways to record your favorite travel memories and experiences while on the road. I've used all 3 of these travel diaries myself and they've become my favorite ways to journal while abroad because they're fun and easy.
I also show you how to easily create a travel journal kit, so you can get even more creative with your travel log. Read to the end for travel journal writing prompts to get your creative juices flowing.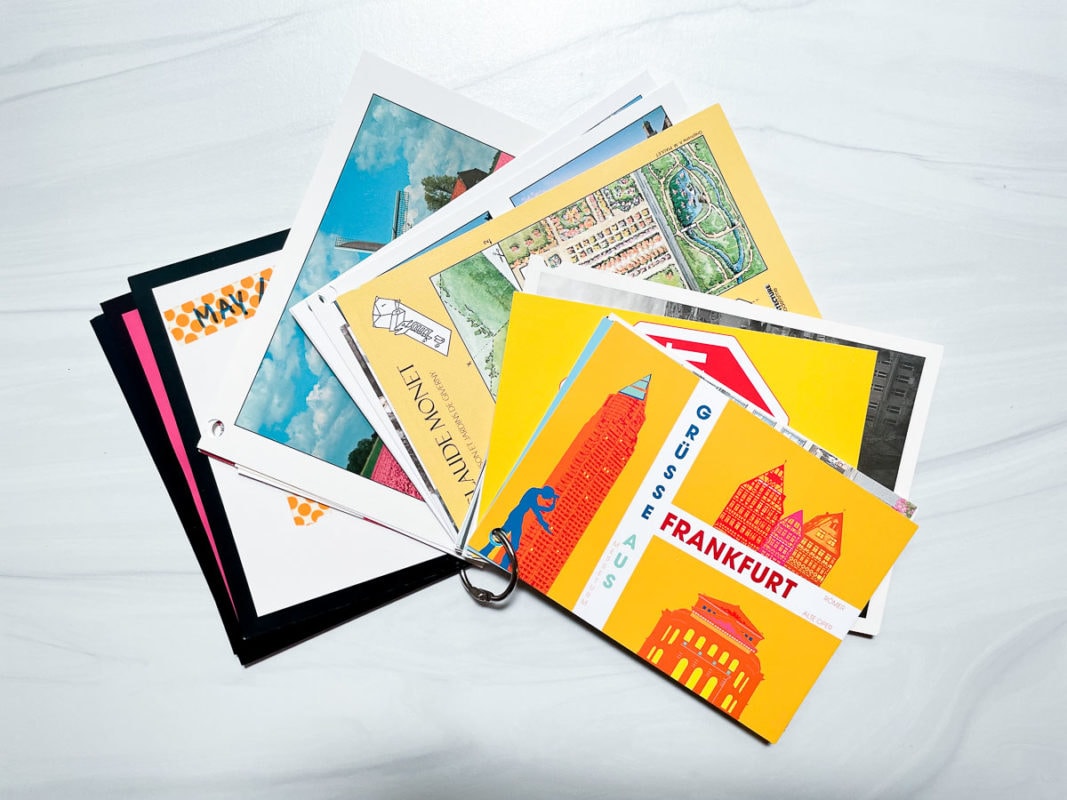 Idea #1: Postcard Travel Journal
No matter what kind of travel journal you choose, the most important thing is that it's something you can and want to maintain while on the road.
So many travelers want to keep a travel journal and then choose something that requires more time, effort, and focus than is realistic while traveling.
Or they see a blank page and feel anxiety about their writing not being "good enough." They then stop journaling a day or two into their trip and feel bad about "failing" to document their trip.
That's why I love postcard journals!
This approach is a fun first travel journal because it requires zero prep and is easy to maintain on the go. It's super simple to create, lightweight, and you can go low key with recording your travel experiences or get super creative.
All you do is buy a postcard each day and write down your favorite memories on the back of each postcard. Once you've returned home, punch a hole in the corner of each postcard and bind them together using a metal o-ring or a piece of ribbon.

Postcard journals are easy to create and the finished product is perfect for leaving on your coffee table for friends and family to take a peak at your travel adventure at their leisure.
Postcard journals make the best souvenirs and require zero hard work. You can also easily customize this type of travel log:
Create your own postcard travel journal or collaborate with your travel companion(s). If you're traveling as a family, why not take turns writing out the postcard of the day.
Buy a postcard each day or only when you arrive in a new place.
Use a simple pen or bring a travel journal kit and get more creative (see more on this below).
Buy postcards that illustrate your sightseeing each day or seek out fun, offbeat or unusual postcards.
A Couple Tips:
Bring a ziplock bag to store your postcards in as you travel.
If you don't want to carry the postcards around with you, simply mail them home every couple of days!
Stash a pen in your day bag so you can journal throughout the day while you're sightseeing. I often write in my postcard journal when I stop for rest breaks throughout the day. Personally, I enjoy travel journaling more when I do it in small bursts when I'm at a cafe or sitting on a park bench than at the end of the day when in my hotel room or apartment exhausted from the day.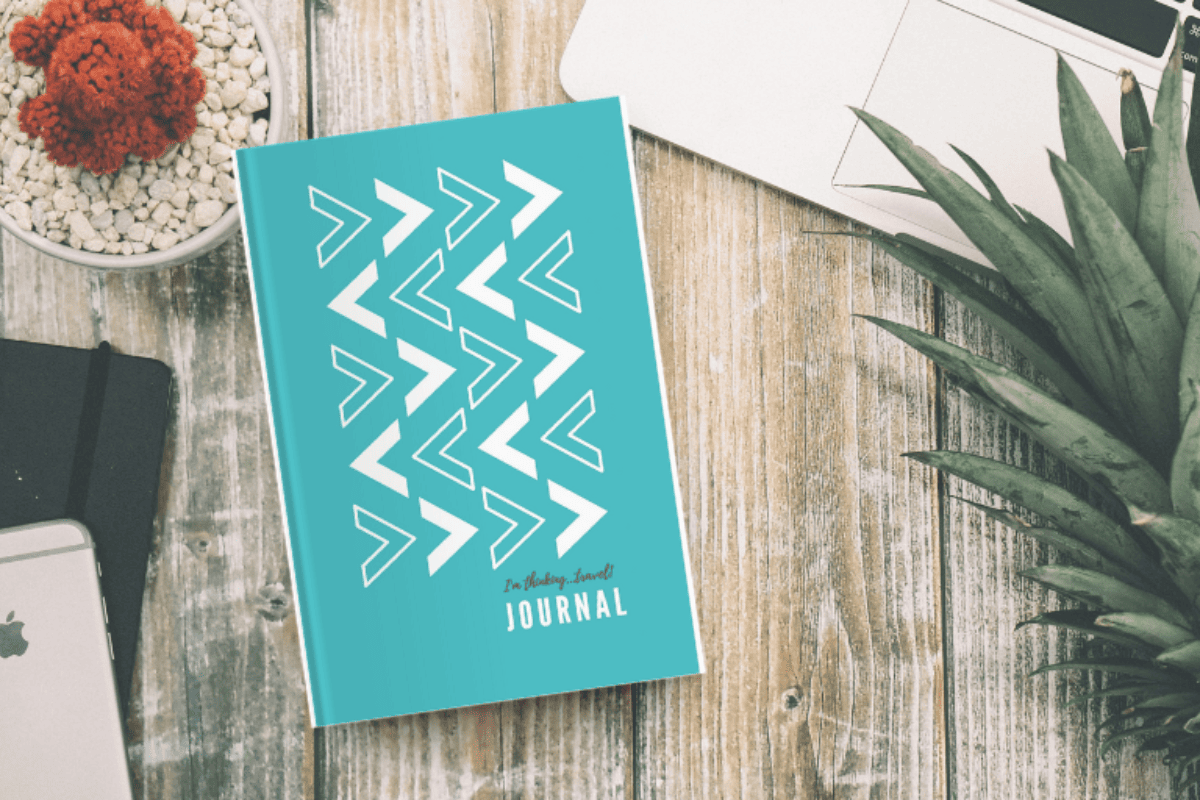 Idea #2: Guided Travel Journal
I keep a journal every time I travel and have done so since I was a teenager. I love keeping track of my memorable moments via little notes, lists, and details about my trip, as well as my thoughts, impressions, and feelings about where I am, and what I'm doing, seeing, hearing, smelling, experiencing, and eating (of course).
It's those little details that spark so many memories when I read through my journal years (even decades) later. They're priceless!
Over the years I've used a lot of different kinds of journals…spiral notebooks, hard cover bound notebooks, soft cover notebooks, pocket journals, oversized journals, postcard journals, handmade journals, blank books, guided journals. I've loved trying them all and have quite a collection.
But after years and years of travel journaling, I decided that I wanted:
A lightweight journal that I could easily carry around with me all day while I'm out sightseeing.
A journal that's visually appealing but not so pretty that I don't want to "ruin it" by writing in it.
Space dedicated for packing lists, pre-trip to do lists, etc.
Journaling prompts to spark my writing creativity — BUT only listed on one page rather than scattered throughout the journal because I like having the option to use a prompt….or not.
Blank pages for writing, sketching, and pasting in ephemera.
A re-entry section for when I return home and am already thinking about and planing my next trip.
I couldn't find what I wanted, so I created it!
Enter: the I'm Thinking…Travel! JOURNAL ('cause I'm always thinking about travel). If you're looking for a guided journal or one that's perfect for a first trip abroad, check it out!
The I'm Thinking…Travel! JOURNAL is an 83-page guided travel journal that inspires you to record *and* reflect on your trip from beginning to end, then turns into a treasured keepsake. It's large enough to enjoy writing in it yet small and light enough to fit in your day bag. The journal includes:
Favorite travel journal prompts to inspire reflection and creativity before, during, and after travel.
Plenty of space for you to record the highlights and details of your amazing trip, whether 10 days or 5 weeks.
Weekly "travel snapshots" to quickly and creatively capture the most memorable elements of your travel.
If you're looking for a hard copy journal, this is a great option.
This travel journal was a #1 New Release on Amazon. I might be a bit biased but it's the best travel journal out there! Click here to check it out.
Idea #3: Spreadsheet Travel Journal
This idea is a new type of trip journal I recently started using while on a recent 3-month Germany research trip. If you prefer a digital journal for recoding favorite trip memories, this one is a good option for you.
I created this journal because we needed a simple way to capture important information each day to use in our work later. After a few days I realized that it was so much easier for me to type my journal entries in my spreadsheet than in the hard copy journal I'd brought. And since I could access it on my phone, I could jot things down throughout the day rather than wait until the end of every day when I was exhausted.
Initially, I just planned to use this travel journal while in Germany but it became such an easy and fun way to document each day that I kept on using it during the rest of our time in Europe. It just became a simple habit that was fun and easy to maintain over the entire 6 month trip.
You can create your own spreadsheet journal or use our version. We included it in the Germany Travel Planner, so if you've already have access to that, you've already got this travel journal.
Tips & Ideas For Your Spreadsheet Journal:
Make sure you can access your Spreadsheet Journal from your phone so you can write throughout the day.
Before you leave, enter the dates of your trip. It makes maintaining your journal while traveling that much easier.
Create your own journal or collaborate with your travel companion(s). You could have each person add their thoughts each day, take turns journaling each day or create a separate column for each person. Be sure to share the journal before you leave so everyone has access.
Once you're back home you can attach a few travel photos to each day and leave as-is, screenshot your writing and save it with your trip photos, print out the journal and add it to a hard copy scrapbook or edit and then cut and paste the contents into a photo book or virtual scrapbook.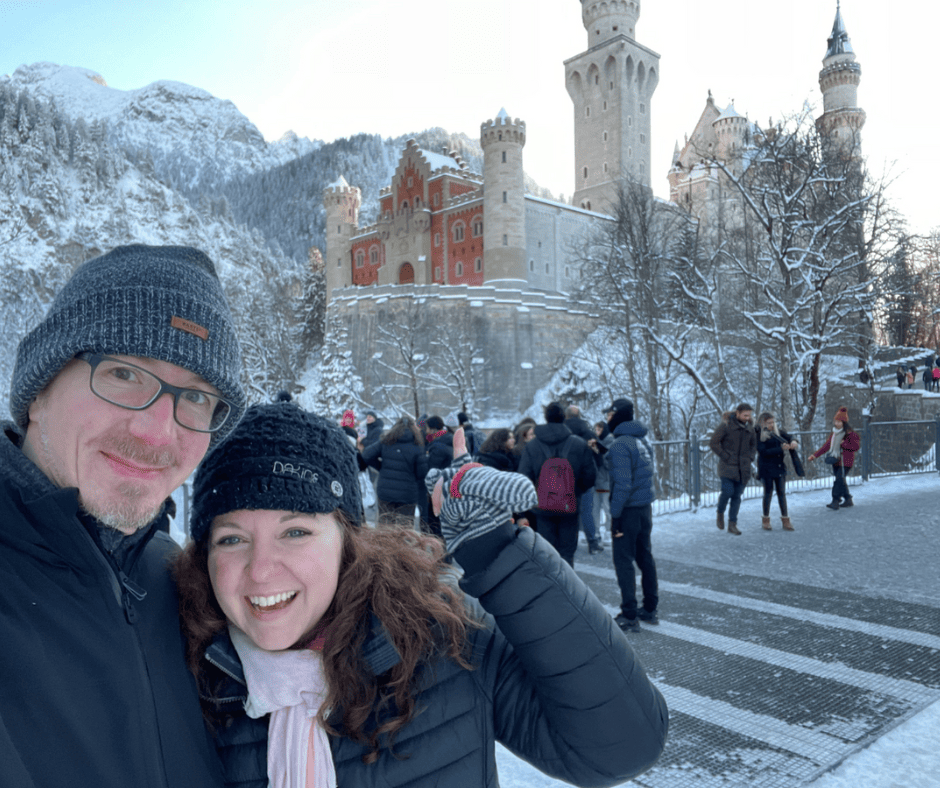 How to Create a Travel Journal Kit
I often bring a "journaling kit" when I travel (unless I'm traveling super light) so thought I'd share how I create one. It's so easy to make one for yourself or others.
There are 3 things I always include in my travel journaling kit once I've selected my travel journal:
#1: Pens
I like to bring 3-5 different kinds of pens in various colors. I often bring a combination of these InkJoy Gel pens in various colors and a few Fineliner pens. You might also want to bring pencils for sketching (I can't draw anything but stick figures so I leave them at home). Tip: make sure that the pens you bring are comfortable to write with and that you're ok with losing them (I always lose a pen or two when traveling).
#2: Embellishments
You don't need embellishments to create a memorable travel journal but they sure do make journaling a lot more fun!
Things like…washi tape, stickers or cute paper clips are fun travel journal embellishments. I sometimes also bring a small pair of scissors or my travel watercolor set (mostly just for adding background color since I can't draw or paint at all).
#3: Carrying Case
I fell in love with pencil cases when I lived in Germany as a high school student, and I've carried a pencil case full of pens ever since. In fact, I still use a metal gold pencil case I bought in Hamburg when I lived there in high school.
When I travel I usually switch to a larger pencil bag that holds all of the accessories I want to bring with me. I'm always on the lookout for cute and functional travel pencil bags. If you're looking for ideas, try this lone, this one, this one or this one.
5 Travel Journaling Tips
Choose your travel journal before you leave on your trip. That way you can record travel notes and lists, and jot down your pre-trip feelings and impressions. These are the things that are interesting to look back on after your trip and make your journal unique, personal, and memorable.

Put down your phone – and get out your travel journal instead. Pack your travel journal and a pen in an easy to access part of your carry on or day bag so you can easily journal whenever you get a few free minutes. Got 5 minutes? Jot down 3 things you can see from where you're sitting. Got 10 minutes? Make a list of what you've done so far that day and what you plan to do the rest of the day. Who says you have to have lots of uninterrupted time to journal? Or journal at the end of the day when you're back in your hotel room? Make use of the nooks and crannies of free time during your busy travel days!

Tell your internal editor to back off. There are no journaling rules and there's no wrong way to keep a travel journal. Your journal is for you, so journal however you want! Write a little, write a lot, make lists, write poems, draw, keep a list of thing you eat and drink or purchase, write stream-of-consciousness…whatever you feel like doing is totally ok. The most important thing is that you keep journaling because a blank journal won't help you reminisce about your trip years later.

Details make the difference. When I look back at my travel journals, what's most interesting (and spark the most memories) are the small things about what I packed, how much our lunch in Berlin cost, how far we walked in Munich that one day, how I felt while watching the sun set over the Alps with Aaron, what I made for dinner in our vacation apartment, etc. Your future self will love reading these small details so don't leave them out!

Get creative. Use different pen colors. Doodle. Use fancy lettering. Use washi tape to paste in ticket stubs, receipts, chocolate wrappers, postcards, pressed flowers, and anything else you collect. If you don't want to paste things into your journal, simply collect everything in an envelope or ziplock bag to keep with your journal. Pick up fun local stickers, paperclips or more washi while you're traveling. You could even get one of those little Instax instant cameras that prints out little photos and paste those into your journal as you travel.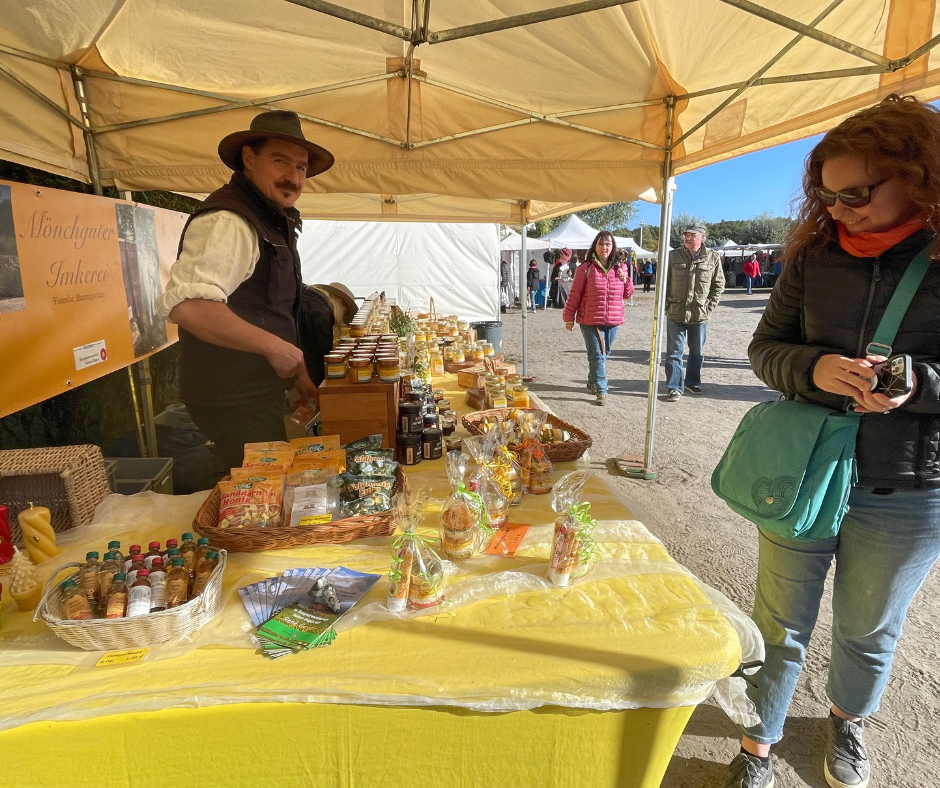 Favorite Travel Journaling Prompts
To get you started, here are 5 of my favorite prompts from the list of travel journal prompts included in the I'm Thinking…Travel! JOURNAL:
Before you leave, write down your trip packing list.
Trust, me you'll love seeing this years later when you re-discover your travel journal.

While traveling, make a list of each day's top 3 moments.
This is a great journaling habit to get into so you keep up your writing momentum, even on days you're busy or too tired to write .

Jot down a conversation you overhear.
You'll never remember that hilarious/awkward/confusing exchange if you don't write it down.

Write about what you're learning about yourself through travel.
Reflective writing = personal growth!

After your trip, reflect on your thoughts and feelings about "home."
Use the "new eyes" you only have for a short time after being away to see your home from a different perspective.
Happy travel journaling!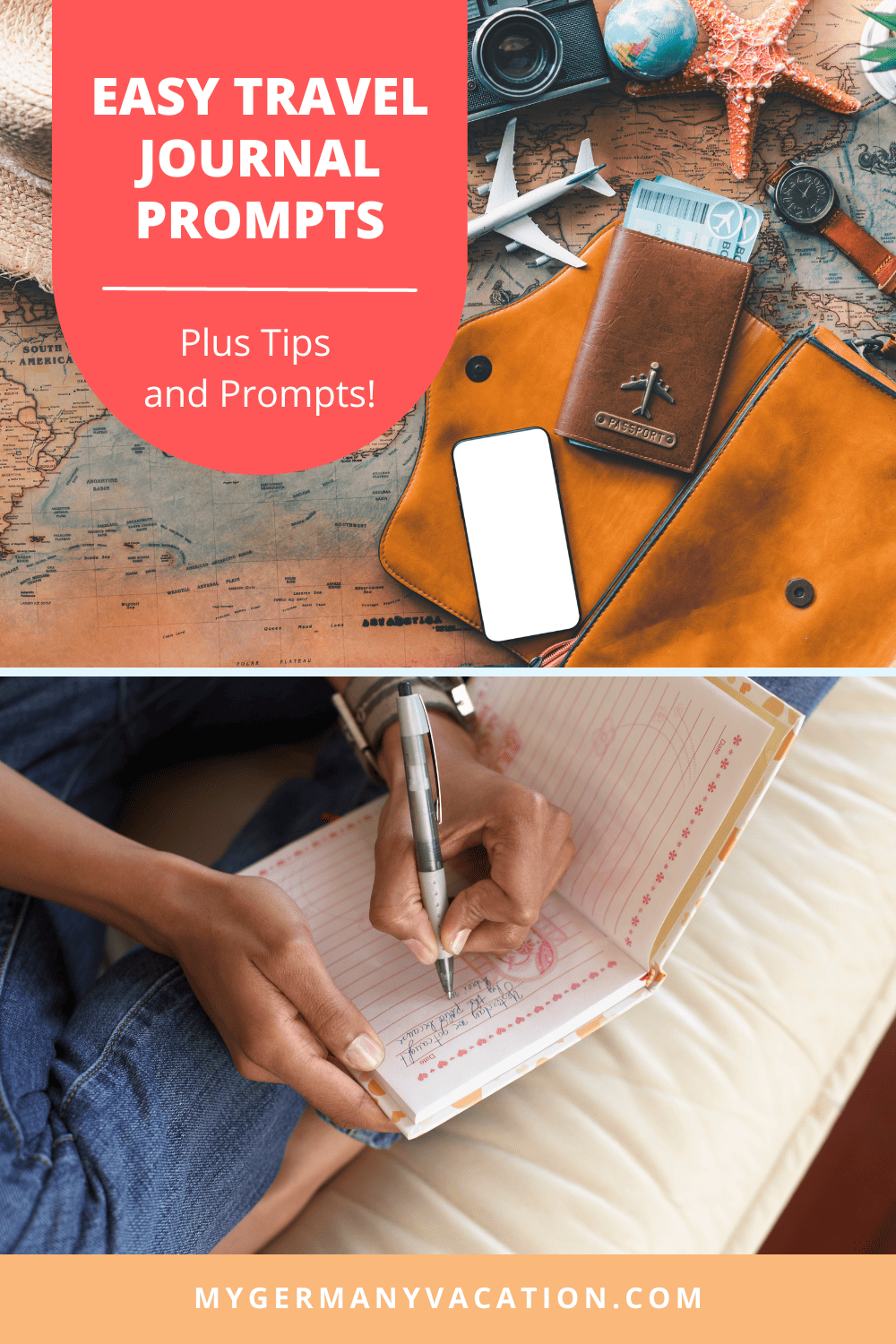 Next Steps For Planning Your Trip: