The Black Forest is a popular destination in Germany. It's known for its lush evergreen forests, varied natural landscapes, fashionable spa towns, rich cultural heritage, charming villages, and being in the sunniest part of Germany.
If you're visiting the region, choosing the best Black Forest hotel to stay in is key to having an unforgettable experience! This guide makes it easy to find the perfect place to sleep in the Black Forest.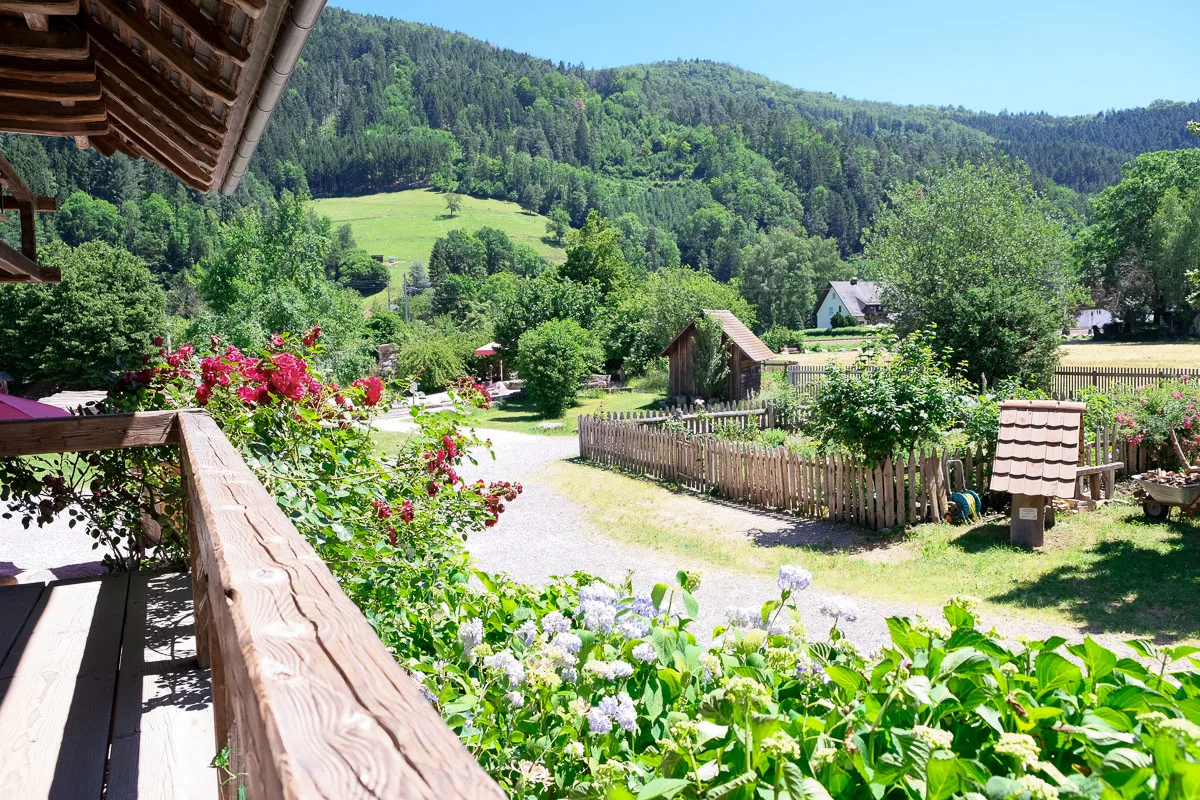 Where Is The Black Forest?
The Black Forest is located in southwest Germany in the state of Baden-Württemberg. To the north is the Rhine Valley region and to the east is the state of Bavaria. It also shares a border with France to the west and Switzerland to the south, making it the best place to travel to three different countries in just a couple of days.
It's quite an accessible region, whether you're coming from other cities in Germany or another country in Europe. If you're flying in, the nearest international airports in Germany would be in Frankfurt or Stuttgart. You could also fly into Base, Switzerland or Strasbourg, France.
From there you can either take the train or bus, since Germany's train network connects many of the cities and towns in the region. If you don't want to take public transit, by far the most flexible option would be to rent a car.
When I lived in this area I took trains and busses everywhere with no problems. We've also rented cars on a couple visits and enjoyed the freedom to get off the beaten path and stop whenever and wherever we wanted.
If you have a car you can drive along the Black Forest High Road, a scenic route that runs through the heart of the Black Forest. For more information on this route and other scenic road trips in Germany, read our road trips guide!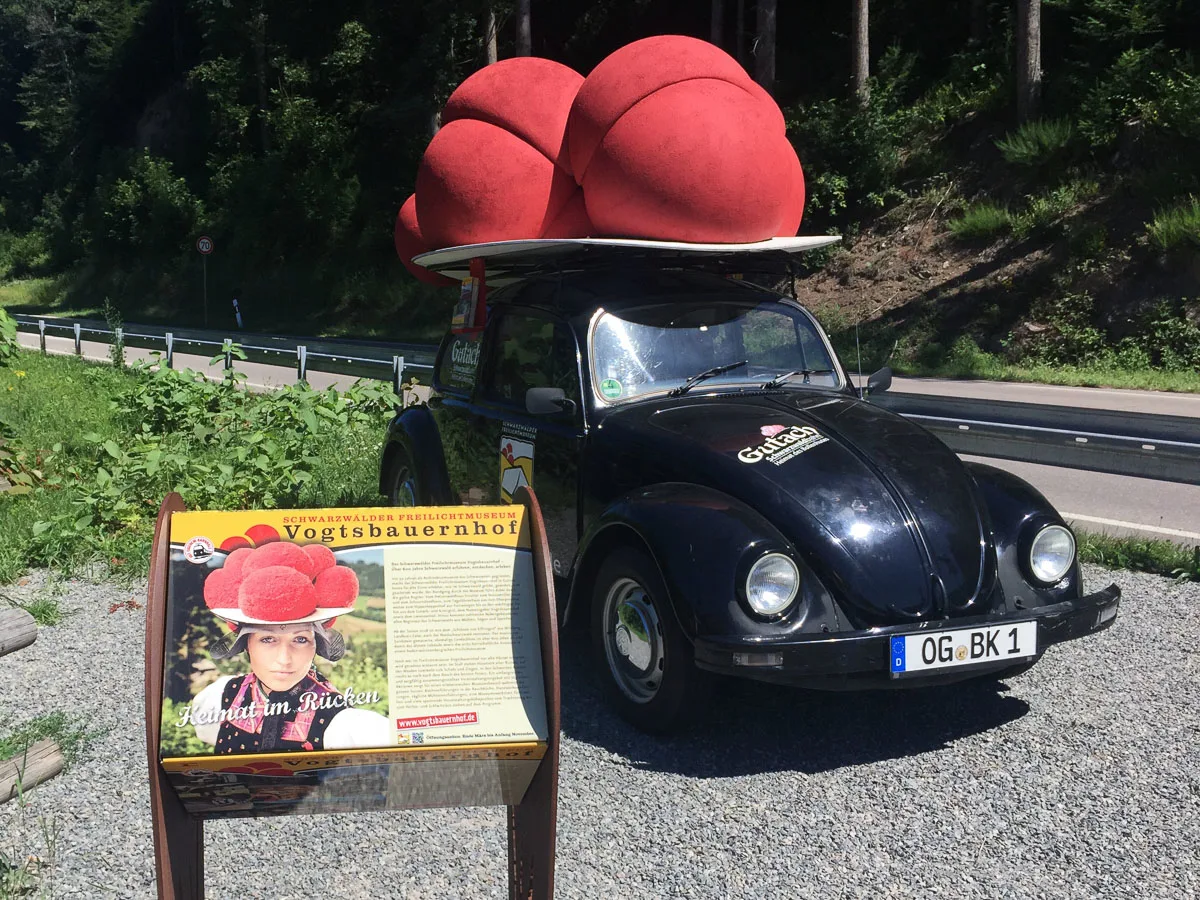 Cities and towns to stay in the Black Forest
If you're planning to explore the Black Forest area, choosing a city or town as your home base can be the best way to make the most of your trip. This lets you have a clear starting point for your adventure and a good place to return to after a long day of exploring. Not having to pack and unpack, check in and out, and find your way around a new location every day saves you time and stress.
Many of the towns in the region have excellent public transport connections or are just a short drive away from one another and other nearby popular attractions.
This makes it easier to get around and allows you to be more flexible with your schedule, so you can take your time and see all the sights at your own pace. By choosing a location (or even two) as your base, you can easily access a wide range of activities and attractions, ensuring that you make the most of your time in the Black Forest.
The Black Forest region is made up of tons of small towns. Any would make an ideal base for your journey, depending on what you're looking for. All of the little towns in this beautiful region are warm and welcoming but are also distinct from one another.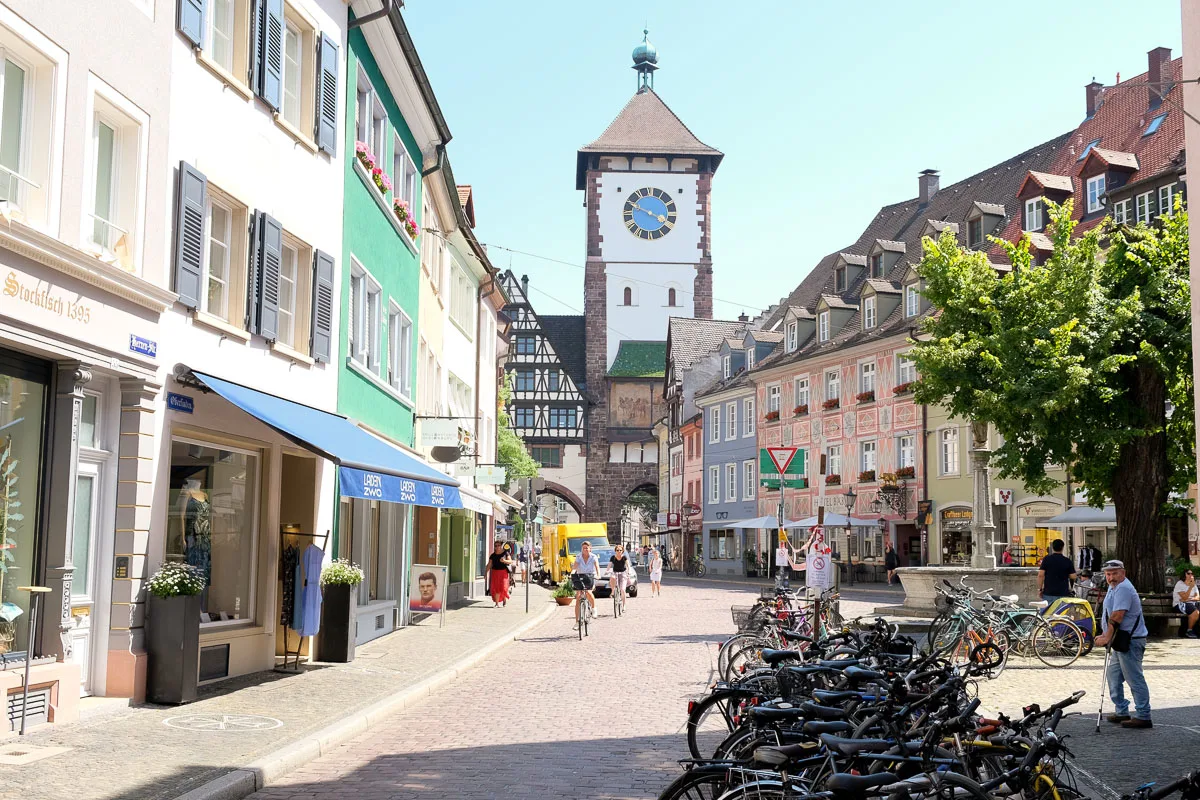 Freiburg im Breisgau
Freiburg im Breisgau is known as the Capital of the Black Forest. It's a vibrant university town, home to the famous University of Freiburg (Albert-Ludwigs-Universität), that is also known for its Gothic and modern architecture as seen in the Old Town's picturesque streets. It's the ideal spot to stay for a couple of days if you're looking for a more lively atmosphere that also has a historic feel. Some important landmarks include the Freiburg Minster in the cathedral square and Schlossberg, an outlook with panoramic views of Freiburg's red-tiled roofs.
Triberg
Another great place to stay is Triberg. Triberg is a smaller town that's closely associated with the famous Black Forest cuckoo clocks. In fact, you can find the world's biggest cuckoo clock here!
Triberg does lean towards being touristy but it's also home to the Triberg Waterfalls, a series of waterfalls near the Gutach river and considered to be one of Germany's highest waterfalls. It's really fun to hike to these waterfalls and an easy way to work a Black Forest hike into your itinerary. If you're looking to stay somewhere that has a good mix between natural landscapes and tourist attractions, then you'll have a great time in Triberg.
Gengenbach
Gengenbach is a quaint town on the western edge of the Black Forest. It has the classic, picturesque half-timbered houses in Old Town, which is always fun to explore. The Old Town also features the Gengenbach Town Hall which is known to be the world's biggest advent calendar. The large windows of the building each represent a day in the countdown and it looks magical during the Christmas season.
Gengenbach is also a 30-minute drive away from the Black Forest Open-Air Museum, where you can learn about the region's cultural traditions and even try a slice of the iconic Black Forest cake. It's easy to reach lots of places in the Black Forest from Gengenbach, as well as hop over the border into France.
Staufen im Breisgau
Staufen is a charming little town south of Freiburg known for its historic architecture, winding streets, and historic atmosphere. One of Staufen's highlights is its beautiful castle, Schloss Staufenberg. This castle sits majestically atop a hill overlooking the town and offers amazing views of the Black Forest countryside. Visitors can hike up to admire the grounds and also stop by the castle restaurant which serves delicious regional traditional delicacies. The castle also offers winery tours where you can sample their local wines. It's a great place to stay for food and wine lovers!
Baden-Baden
The spa town of Baden-Baden in the north of the Black Forest is perfect for those looking to enjoy a wide array of activities while also having the option to wind down and relax after sightseeing. This town is famous for its natural hot springs, spa and wellness centers, and thermal baths. Aside from luxurious spas, Baden-Baden is also one of Germany's top destinations for sports enthusiasts. You'll find everything from hiking trails, golf courses, tennis courts, and equestrian clubs.
Bad Wildbad
Bad Wildbad is another beautiful, idyllic town in the northern Black Forest. Like Baden-Baden, this town is known for its thermal baths and spa resorts. Some of the most popular ones include Vital Therme and Palais Thermal, both of which are great options to pamper yourself. Bad Wildbad is also home to the Sommerbergbahn, a funicular railway that goes up to a plateau with breathtaking views of the Black Forest.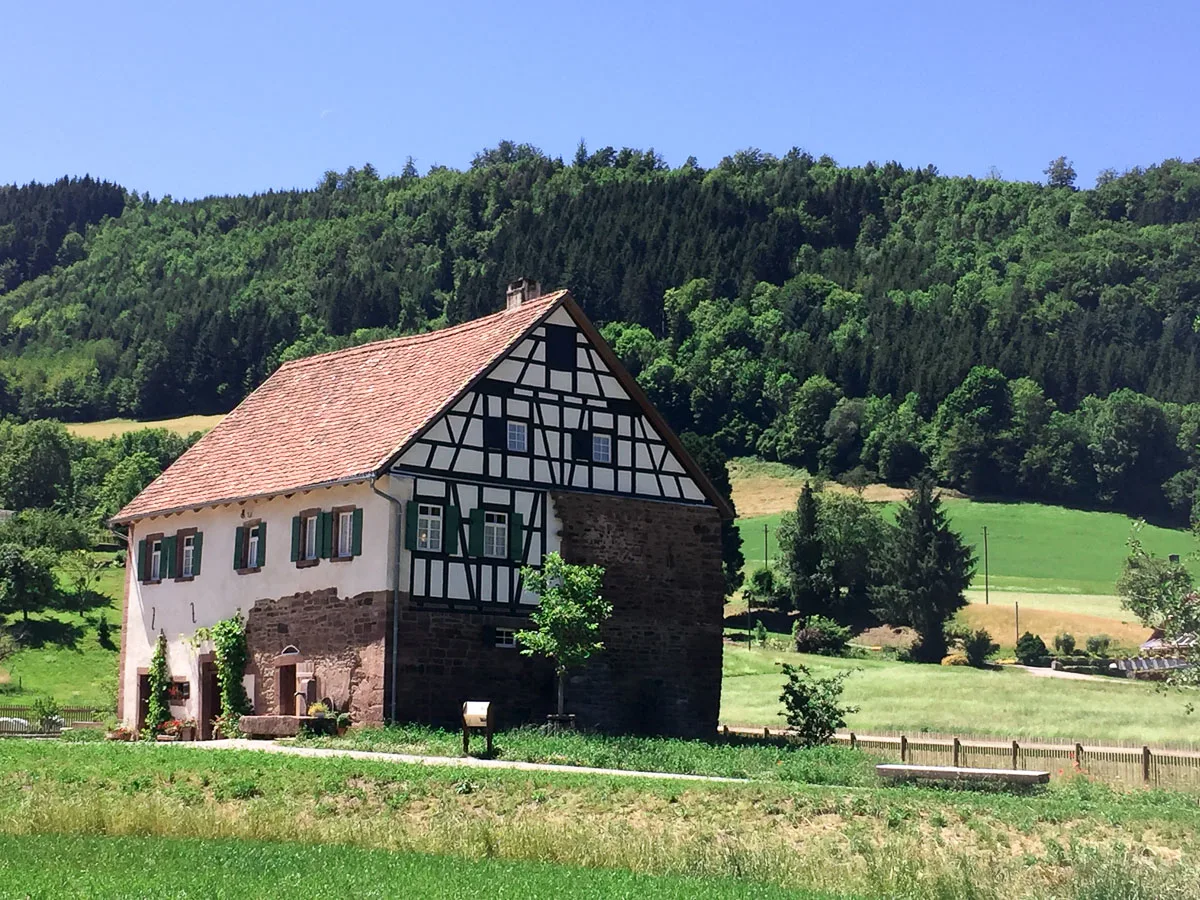 Where To Stay: Best Hotels In The Black Forest
There are a lot of accommodation options in the Black Forest region. You can choose to stay in a larger city like Freiburg or Baden-Baden or in small towns and villages like Triberg, Staufen, Gengnenbach or in a more rural part of the Black Forest.
We like to use Booking.com to find hotels and apartments in Germany because having a list of your reservations in one place is SO convenient. For some trips we've made 15+ hotel and apartment bookings and haven't had to pre-pay for any of them so it's easy to cancel if you need to.
Below you'll find hotel recommendations throughout the Black Forest. You can also look for Black Forest apartments here, guesthouses here, B&Bs here, villas here, and resorts here.
Park Hotel Post (Freiburg im Breisgau)
Freiburg im Breisgau
Park Hotel Post
Pros:
Free WiFi

A/C

Private parking onsite

Breakfast buffet

Historic building

Individually designed rooms with a literary theme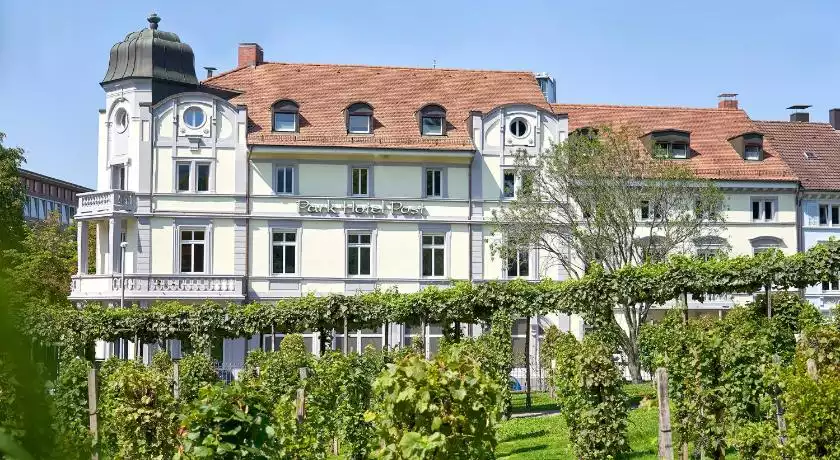 We earn a commission if you make a purchase, at no additional cost to you.
SUMMARY: Housed in a stately 19th-Century Art Nouveau-style building, Park Hotel Post is a 4-star hotel located in Freiburg city center. This classy hotel offers elegant rooms with literary and cultural themes and modern facilities.
Guests say: "From start to finish, we had a wonderful stay at Park Hotel Post! We particularly appreciated the friendliness of the front desk staff and the hotel's convenient location. The bed was comfortable and there were lots of options for breakfast. In short, we will happily return to this hotel the next time we're in Freiburg im Breisgau."
Click here to book your stay in this unique and elegant hotel
Boutiquehotel am Stadtgarten (Freiburg im Breisgau)
Freiburg im Breisgau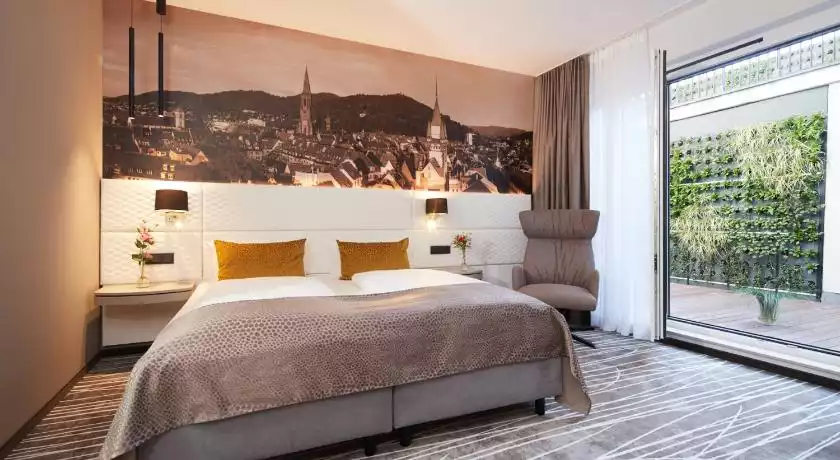 We earn a commission if you make a purchase, at no additional cost to you.
SUMMARY: Located right across Stadtgarten and within walking distance of the Freiburg Cathedral, this accommodation is perfect for those looking for boutique hotels with a casual atmosphere and modern facilities.
GUESTS SAY: "Location was good, comfortable and clean rooms. Personnel was very nice, they gave us recommendations to eat typical German food. You can find supermarkets, the center and restaurants within walking distance."
Click here to stay in a modern boutique hotel in a central location in Freiburg
Other options in Freiburg im Breisgau:
Hotel Restaurant Ketterer am Kurgarten (Triberg)
Triberg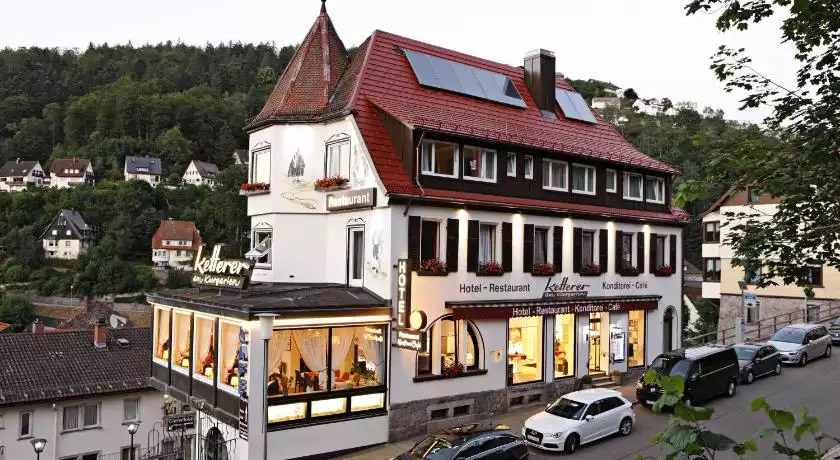 We earn a commission if you make a purchase, at no additional cost to you.
SUMMARY: This family-run hotel is located just 10 minutes away from the Triberg Waterfalls. The warm and cozy rooms offer scenic views of the Black Forest which you can also enjoy from the restaurant and beer garden in the hotel.
GUESTS SAY: "A lovely family-run hotel with a warm and inviting atmosphere. Large rooms with plenty of space and warmth. Great buffet breakfast in the restaurant. Great location, right near the trail to the waterfalls and downtown without being next to the traffic of the main road."
Click here to book a room with Black Forest views and close to the Triberg Waterfalls
Hotel Garni Central (Triberg)
Triberg
Hotel Garni Central
Pros:
Free WiFi

Rooms with views

Terrace

Breakfast buffet

Bar and restaurant onsite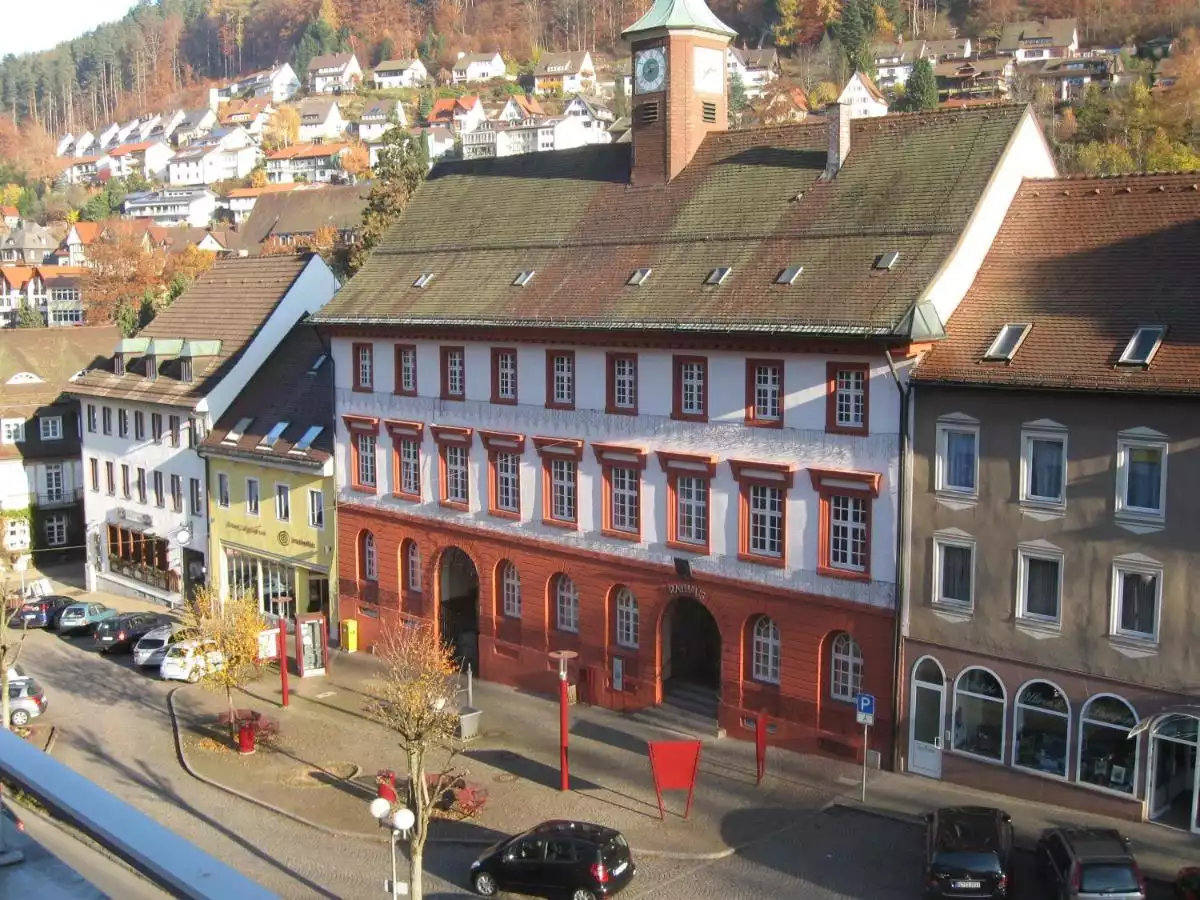 We earn a commission if you make a purchase, at no additional cost to you.
SUMMARY: This modern hotel is located in Triberg's town center, surrounded by many establishments like restaurants and stores within walking distance. It's also conveniently located near the Triberg waterfalls. The rooms feature simple, functional furnishings and amenities with views of the beautiful Black Forest countryside. There's also a casual restaurant and bar onsite serving breakfast and meals throughout the day.
GUESTS SAY: "This is a small hotel in the center of Triberg, ideally suited to anyone visiting the town and particularly Germany's highest waterfall which is literally 5 minutes walk away. The hotel and my room was very clean, and cleaned daily. The breakfast was very good and filling! It would make an ideal place for people walking in the district."
Click here to book a no-fuss stay with everything you need at a centrally located hotel in Triberg
Other options in Triberg:
Hotel Café Adler: If you're looking for a boutique hotel experience with an inhouse cafe and delicious breakfast
Die Reichsstadt – Hotel Spa und Restaurant (Gengenbach)
Gengenbach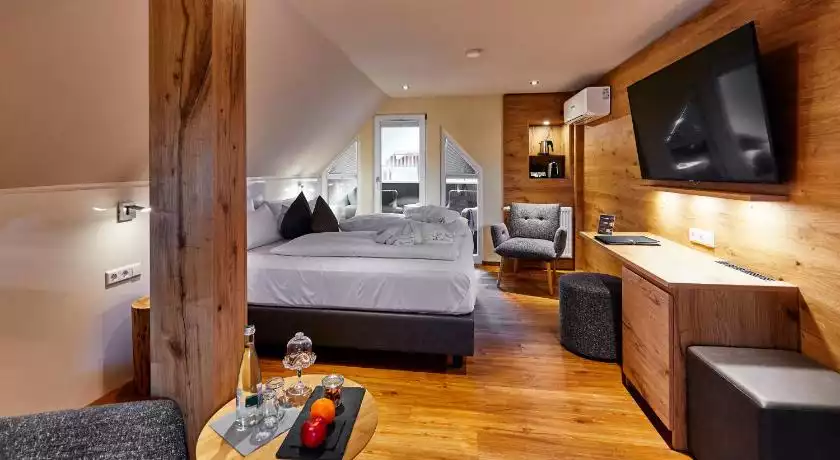 We earn a commission if you make a purchase, at no additional cost to you.
SUMMARY: This upscale hotel offers the best amenities to have a relaxing stay in the Black Forest. Enjoy everything from a sauna, spa center, outdoor swimming pool, and rooftop terrace lounge. It's also conveniently located within 5 minutes from the main train station.
GUESTS SAY: ""Everything about the hotel is great from the breakfast, restaurants, garden and outdoor pool area. The rooms are very comfortable and clean and you can really tell that the hotel has been done to a high standard with all the extra touches and finishes. The hosts are extremely friendly and were more than happy to help."
Click here to book a relaxing stay in this classic yet modern hotel in the heart of Gengenbach
Other Gengenbach options:
Gasthaus Zum Hirschen (Staufen)
Staufen
Gasthaus Zum Hirschen
Pros:
Free WiFi

Terrace

Private parking onsite

Buffet restaurant onsite

Family rooms

Bicycle rentals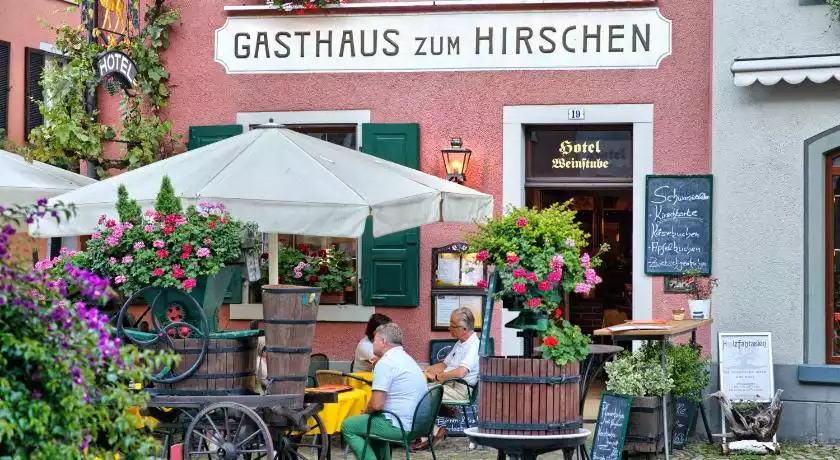 We earn a commission if you make a purchase, at no additional cost to you.
SUMMARY: This inn offers charming and spacious rooms with balconies overlooking the shops and restaurants of the historic town center. There's also a delicious buffet-style restaurant onsite and a variety of activities in the surroundings like hiking and cycling.
GUESTS SAY: "Very cozy and we were surprised that our rooms were quite large and had a balcony. Great breakfast. The staff were friendly and helpful. We would definitely stay there again!"
Click here to book a room in this picturesque hotel in Staufen
More options in Staufen:
Hotel Rathausglöckel (Baden-Baden)
Baden-Baden
Hotel Rathausglöckel
Pros:
Free WiFi

Family rooms

Terrace

Wine cellar and bar onsite

Room service

Breakfast buffet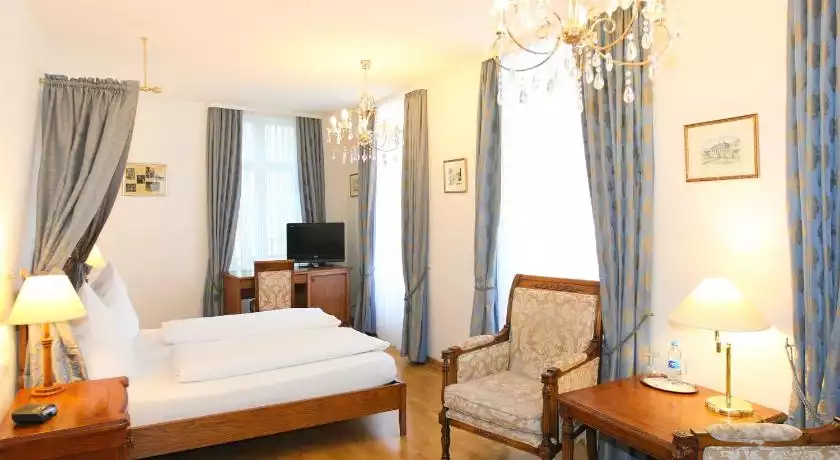 We earn a commission if you make a purchase, at no additional cost to you.
SUMMARY: Hotel Rathausglöckel is a historic hotel a short walk from Baden-Baden's famous thermal baths. This 4-star hotel features fully renovated and individually furnished rooms and suites all while being set in a historic building from the 16th century. The hotel also has a highly-rated daily breakfast buffet, a terrace, wine cellar and bar onsite.
GUESTS SAY: "Absolutely perfect location. So close to the spas and restaurants. The staff were incredibly friendly and helpful. They provided great information and helped with dinner reservations. The breakfast was delicious and worth the add on. The room was very clean and fairly comfortable. I definitely recommend!"
Click here to book a comfortable hotel in the heart of Baden-Baden.
Schwarzwaldhotel Sonne (Baden-Baden)
Baden-Baden
Schwarzwaldhotel Sonne
Pros:
Free Wi-Fi

Family rooms

Terrace with forest views

Free private parking onsite

Highly-rated buffet breakfast

Room service

Restaurant onsite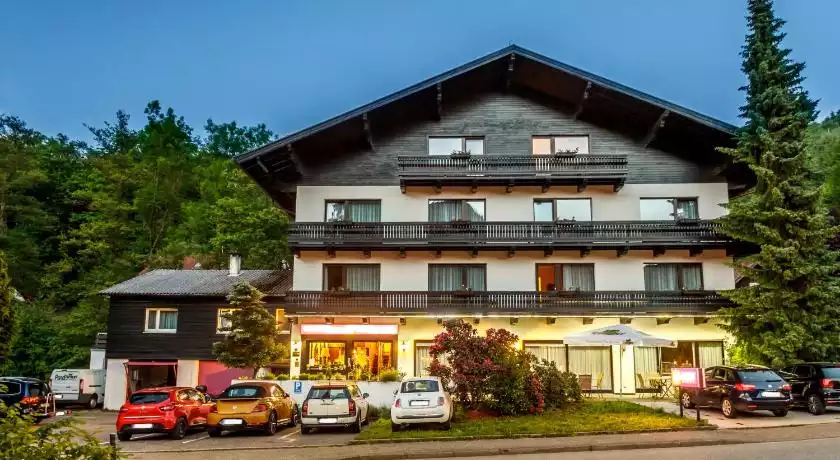 We earn a commission if you make a purchase, at no additional cost to you.
SUMMARY: This family-run hotel is set in a charming chalet-style building and it's located at the base of the Schwarzwald National Park. The rooms are spacious and comfortable and some even have balconies with forest views. It's the perfect place for families looking for a getaway amidst the natural surroundings of the Black Forest.
GUESTS SAY: "Excellent stay. Very easy to find with on site parking. Warm welcome, charming reception. Clean, cozy rooms. Nice paintings throughout. Breakfast is fresh and awesome. We will surely visit again."
Click here to book a wonderful stay in the tranquil surrounding area of Baden-Baden.
More options in Baden-Baden:
Mokni's Palais Hotel & Spa (Bad Wildbad)
Bad Wildbad
Mokni's Palais Hotel & SPA
Pros:
Free WiFi

Indoor and outdoor thermal pools

Full breakfast buffet

Restaurant with fine dining

Exclusive spa facilities

Private parking onsite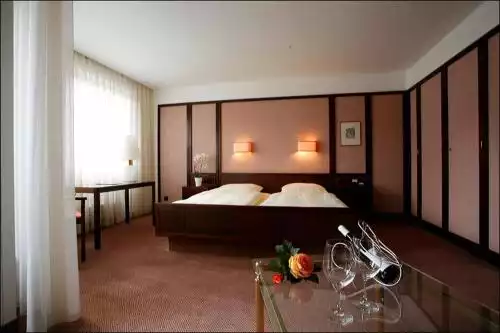 We earn a commission if you make a purchase, at no additional cost to you.
SUMMARY: This luxury hotel offers guests direct access to the popular Palais Thermal of Bad Wildbad, known for its classical Roman-style interiors and for having over 10 outdoor and indoor pools, saunas, steam rooms, mineral spas, and many more exclusive spa facilities. The rooms and suites feature upscale furnishings and modern amenities. Plus, the hotel boasts of a fine dining restaurant serving international and regional cuisine and a daily full breakfast buffet.
GUESTS SAY: "On arrival the staff are welcoming and very helpful, lovely hotel right in the middle of town, fantastic location. Everything was clean and tidy, the room was good and breakfast was fab! Direct access to the wellness spa which was fantastic. Plenty of saunas and pools to enjoy."
Click here to treat yourself to the ultimate relaxation experience in this beautiful spa hotel in the heart of Bad Wildbad
Other options in Bad Wildbad: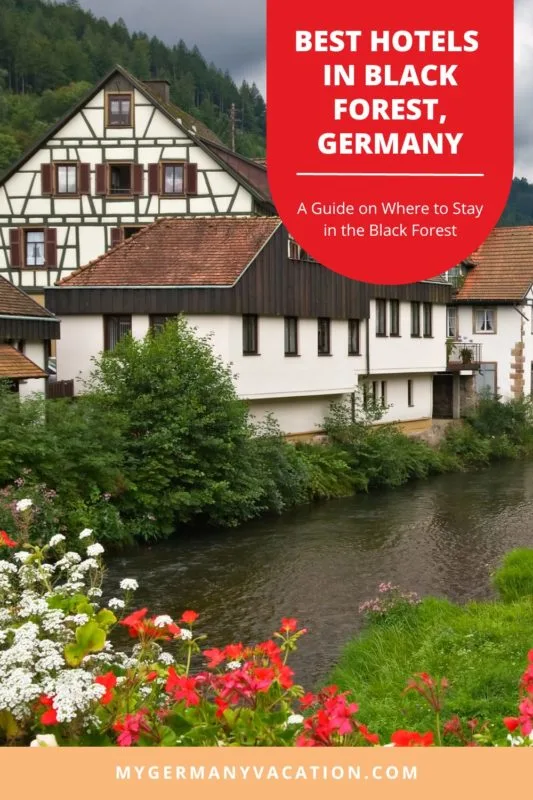 Next Steps:
---
ULTIMATE GERMANY TRAVEL RESOURCES
We've gathered some of our essential travel guides, websites, and other information to help you plan the best vacation! We use these resources ourselves and share them to save you money, time, and stress so you can focus on enjoying and making the most out of your time in Germany.

GERMANY TRAVEL BUNDLE: Our Ultimate Germany Travel Bundle gives you the best tools, up-to-date tips, and expert insights to easily and efficiently tackle the travel planning process. You'll get our custom Trip Planning Map, which shows you the best sights, hotels, castles, and more – because seeing where things are in relation to each other makes trip planning SO much easier! You also get our Trip Planning Spreadsheet, City Cheatsheets, How-to Videos, Germany Trip Planning Guide, and Trip Planning Spreadsheet!

BOOKING FLIGHTS: To find the the best flights deals, we recommend checking Kayak, Skyscanner, Expedia, Travelocity. These websites are also great for getting rental cars.

ACCOMMODATIONS: We recommend using Booking.com since they have widest range of accommodations available from hostels, boutique hotels, luxury chains, aparthotels, at the best prices. For vacation homes, we suggest checking VRBO. We also have accommodation guides on different destinations (Hamburg, Cologne, Munich, Stuttgart, and more to come!) in our website.

TRAINS & BUSES: For point-to-point or regional train tickets (great for day trips or groups) within Germany, or tickets originating in Germany to other European destinations, we recommend buying them on the Deutsche Bahn (German Rail System) website. If you want to buy a rail pass for Germany (or elsewhere in Europe), buy them on Rail Europe. For buses, FlixBus offers tickets for routes within Germany and to other European countries. FlixBus is often cheaper than trains but can take longer.

TRAVEL CREDIT CARD: One of the best ways to make travel to Germany more affordable is by booking free flights. Using the points accrued with our Chase Ink credit card (and a few others), we haven't had to pay for flights to Europe in the past 10 years!

TICKETS AND TOURS: We always recommend exploring a new city for the first time with a Hop On Hop Off Bus tour (ride it all the way around for the entire 1.5-2 hour tour). Here is our guide on the best Hop On Hop Off Bus tours for different German cities. For guided walking tours, day trips, private tours, and skip-the-line tickets, Get Your Guide is our go to!

WHAT TO PACK: Not sure what to bring to Germany? Check out our 2-week minimalist packing guide for tips on traveling light, and our Germany packing list for our must-pack items. Bonus: check out our guides on finding the best travel purse and best travel scarf with a hidden security pocket.

TRAVEL CONSULT: If you feel like you need more help and guidance beyond these resources, book a travel consult with us! We offer personal live sessions where we'll help you with things like planning your itinerary, showing you how to book train or skip-the-line tickets, and answer any other questions you have about traveling to Germany.