Best Things to Do and See in Germany's Black Forest
This post may contain affiliate links. Read my disclaimer policy.
Thinking about visiting Germany's Black Forest region? With its picturesque landscapes, history, and culture, it's no wonder this region has become a popular tourist destination. If you're planning to visit this breathtaking area, you've come to the right place!
I lived in this region for a while and loved exploring the towns, nature, and hopping across the border to explore nearby France and Switzerland. This travel guide will provide you with the information you need to start planning an unforgettable trip to the Black Forest.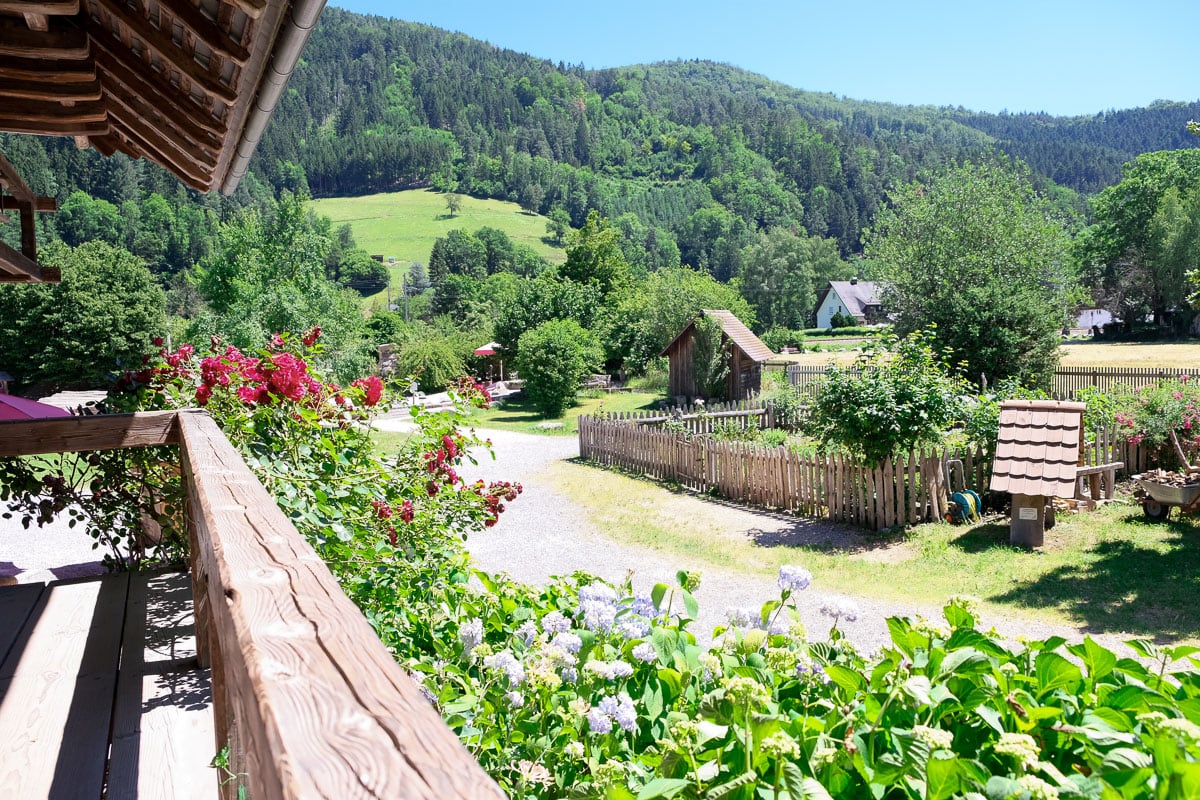 Where Is The Black Forest?
The Black Forest is located in southwestern Germany in the state of Baden-Württemberg. The Rhine valley region is to the north, the state of Bavaria to the east, France to the west, and Switzerland to the south. The Black Forest is the place to go if you'd like to eat a meal in 3 different countries in one day!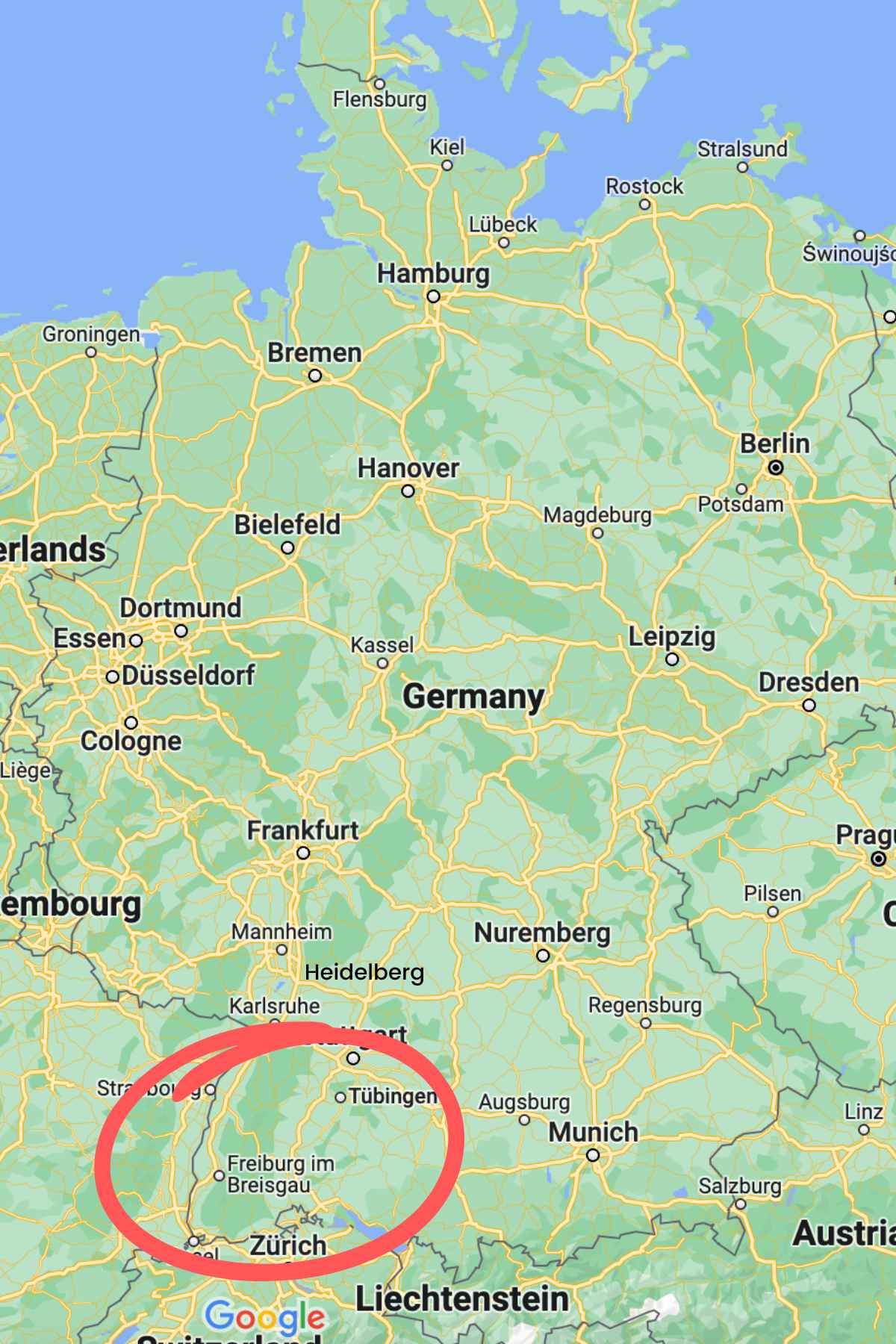 Why Visit The Black Forest?
The Black Forest is home to the world's largest cuckoo clock, world-famous Black Forest ham, boozy Black Forest cake, picturesque glacial lakes, waterfalls, mountain peaks, walking, hiking and biking trails, spa towns, quaint villages, bustling university towns, and, of course, a famous forest.
Called der Schwarzwald in German, the Black Forest area is often associated with the famous Brothers Grimm fairy tales like Hansel and Gretel. The Black Forest region is also famous for its enchanting and dense forest filled with evergreen trees, dreamy castles, historic medieval cities, and towns that will give you the ultimate fairytale feeling.
Germany's Black Forest is also a highly recommended hiking and skiing destination. You can enjoy a variety of walking paths and hiking trails all year long. During the winter months, the Black Forest transforms into a beautiful winter wonderland.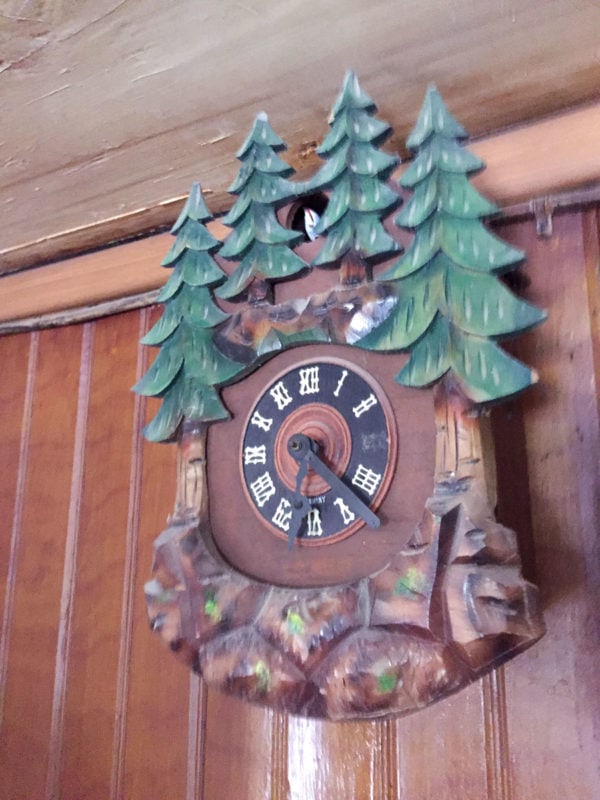 There are also several high peaks offering stunning views, such as Feldberg to the south and Hornisgrinde to the north, the Danube and Neckar rivers, and trails like the popular Freiburg-Lake Constance Black Forest Trail which takes you to the largest lake in Germany.
There are countless things to do in Black Forest: hiking, cycling, swimming, relaxing at a spa or sauna, experiencing traditional Black Forest history, culture and farm life, exploring quaint villages and towns, enjoying delicious local food and drinks or simply just touring around and taking in the breathtaking scenery.
What To Do, See And Experience In The Black Forest
One of the reasons the Black Forest is such a fun place to visit is because there are so many cute villages and lovely natural areas to explore. Here are just some places to visit when spending time in the beautiful Schwarzwald.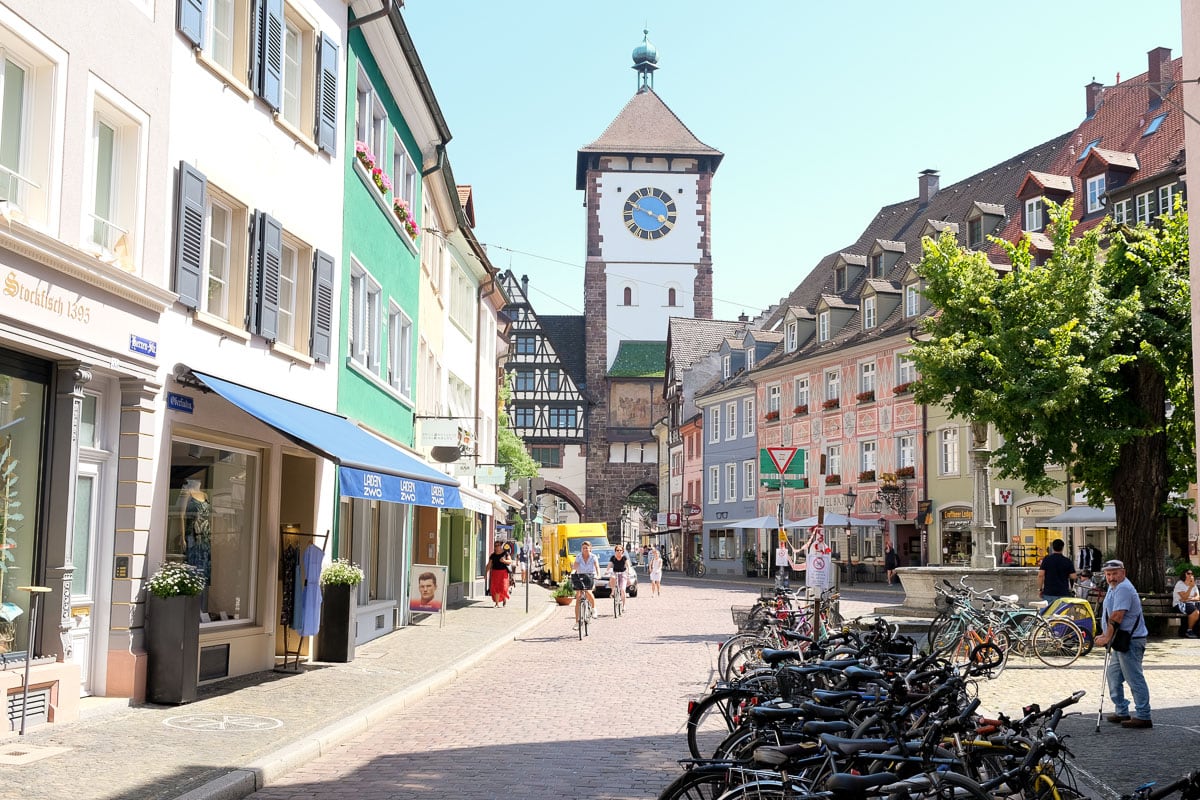 Freiburg im Breisgau
Freiburg is considered the "Capital of the Black Forest" and the sunniest spot in Germany. A popular tourist destination, this laid back city is famous for a mixture of gothic and modern architecture, an historic university, and a beautiful old town filled with cobbled streets and narrow runnels called Bächele, historic buildings, outdoor markets, charming cafes, bikes, and university students.

One of the most popular attractions in Freiburg is the Münster cathedral. This impressive Gothic structure dates back to 1200 AD and boasts one of Germany's largest church bells. You can climb up to the tower for panoramic views of the city or stay on the ground and look for the etching that was once used to measure bread and ensure customers weren't being cheated.
Another Freiburg must-see is Schlossberg, which offers stunning vistas over Freiburg's red-tiled roofs. You can reach the top by foot, car or cable car.
And, if you're in Freiburg on a hot day, head to the Dreisam river to cool down (there are spots where you can wade in the shallow river…so refreshing)!
Click here for our full Freiburg im Breisgau guide!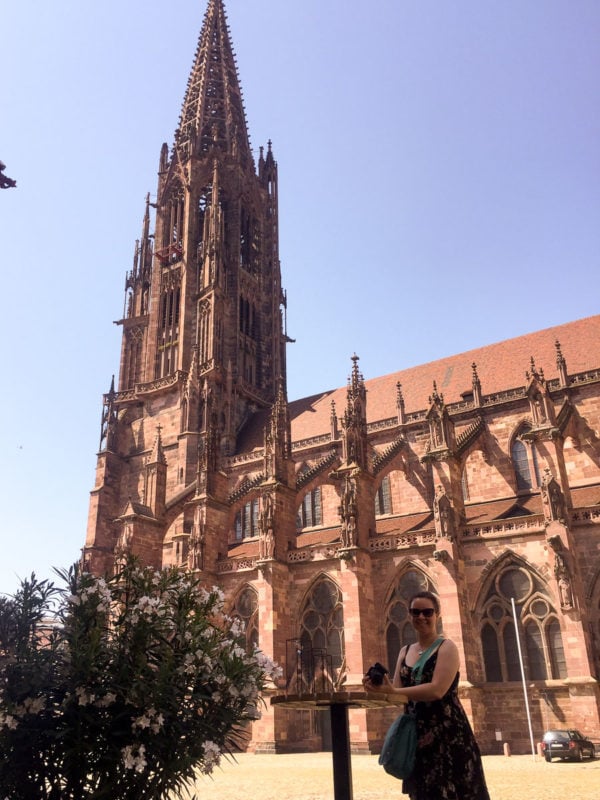 Baden-Baden
Baden-Baden is a charming town north of Freiburg known for its thermal baths and spas. This city has been a popular destination for thousands of years thanks to its natural hot springs that were believed to have healing powers by the Romans. If you're looking for luxurious spas and wellness centers, terrific restaurants, and beautiful buildings, add Baden-Baden to your itinerary.
Triberg im Schwarzwald
Triberg im Schwarzwald is a picturesque town located in the heart of the Black Forest region. With its stunning natural beauty and rich cultural heritage, it has become a popular destination for travelers from all over the world. Many visitors leave with a new cuckcoo clock.
One of the most popular attractions are the Triberg waterfalls, which cascade down seven levels and are among the highest in Germany. You can walk along scenic trails that wind through lush forests and take in breathtaking views of the falls.
If you want to learn more about the history of this fascinating region, there are also several museums and historical sites to visit, including a traditional Black Forest farmstead that offers a glimpse into rural life in centuries past.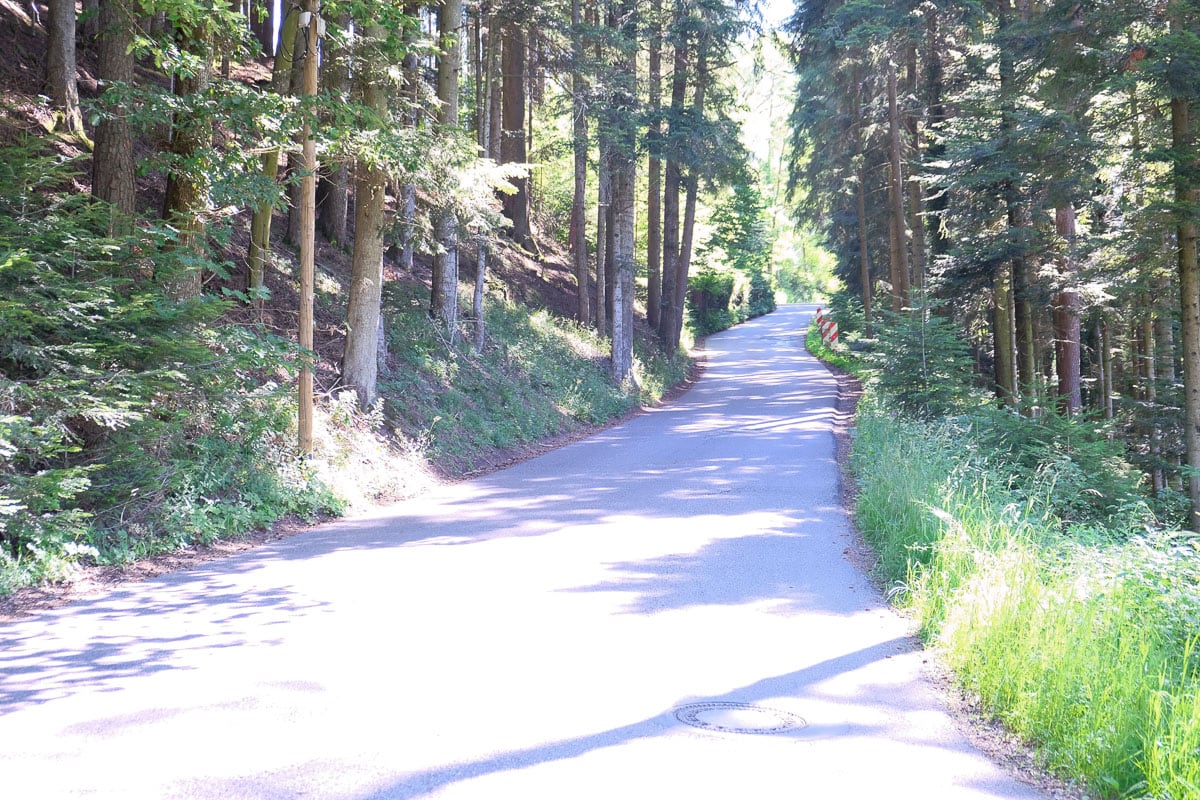 Staufen
Staufen is a quaint little town known for its historic architecture, vibrant market square, winding streets, festivals, and charming atmosphere. One of Staufen's highlights is its beautiful castle, which sits majestically atop a hill overlooking the town. If you're looking for something more active, there are plenty of hiking trails in the surrounding hills that offer breathtaking views of the countryside.
Black Forest National Park
The Black Forest National Park is a must for nature lovers. You'll find hiking and biking trails that wind through lush forests and picturesque valleys and offer breathtaking views.

The the park's main priority is protecting and preserving nature and wildlife. You might even be able to spot red deer, lynx, wild boar, and many other species in their natural habitat. If you prefer water activities, then kayaking or canoeing on one of the many streams or lakes within the park are also great options.
Feldberg & Schauinsland
These two scenic spots are located near Freiburg im Breisgau. At 1,493 meters above sea level, Feldberg is not only the highest mountain peak in the Black Forest, it's the highest mountain in all of Germany outside of the Alps. After hiking or taking a cable car to the top you can enjoy panoramic views of the region. During the winter months the area transforms into a true wonderland as the white snow fully covers its slopes–perfect for skiing and other winter activities.

Schauinsland is located just outside the city of Freiburg and is easily accessible by car or public transport. It's an easy and fun day trip from Freiburg. You can explore the many trails that wind through the mountains and enjoy breathtaking views along the way. The area is also home to ski resorts, making it a popular local winter destination for skiing enthusiasts. I once attempted to go skiing there (long story).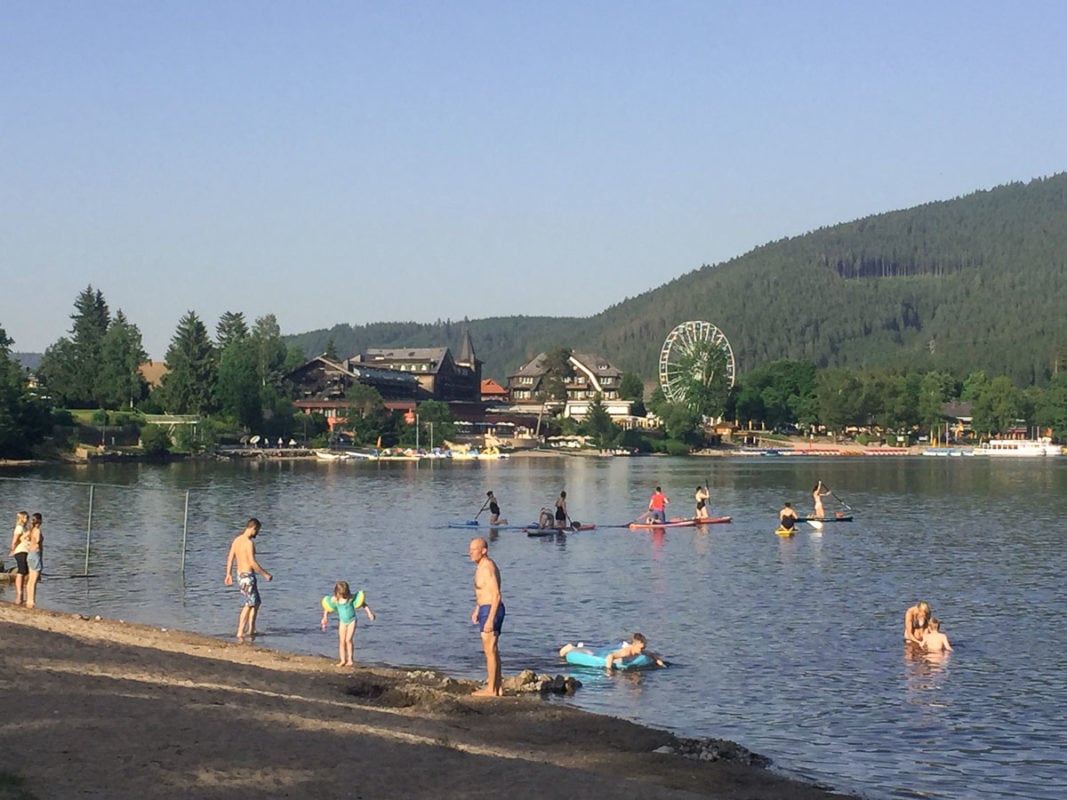 ​Lake Titisee
​Lake Titisee is a gorgeous lake in the heart of Germany's Black Forest known for its crystal-clear waters, stunning scenery, and outdoor recreational opportunities. Easy to reach from Freiburg, it's a popular tourist destination for both locals and visitors alike.
One of the best ways to experience Lake Titisee is by taking a leisurely stroll around its perimeter. The trail around the lake is approximately 6 kilometers long and offers breathtaking views of the surrounding mountains and forests. Along the way, you will find several restaurants where you can stop for a bite to eat or grab a coffee while enjoying the serene atmosphere.
This is another great place to cool down during a heat wave!
Calw
Calw is an adorable little town located in the northern part of the Black Forest. It's a hidden gem that's usually overlooked by tourists. Known for its picturesque half-timbered houses, narrow streets, and fountains, you can spend hours wandering around the cobblestone streets, admiring the architecture, and taking in the relaxing atmosphere.

One of Calw's most famous residents was none other than Hermann Hesse, a Nobel Prize-winning author who was born here in 1877. His childhood home has been turned into a museum dedicated to his life and works. If you're a fan of literature or just curious about German culture, it's definitely worth checking out!
Freudenstadt
Freudenstadt is another hidden gem with a picturesque market square, the biggest in Germany. With numerous shops, restaurants and cafes, you can indulge in local treats like Black Forest cake. You can also take a stroll through the nearby Kurpark or relax at one of the town's many spas. Other must-see landmarks include the Evangelical Lutheran Church and the Friedrichsturm (Frederick's Tower).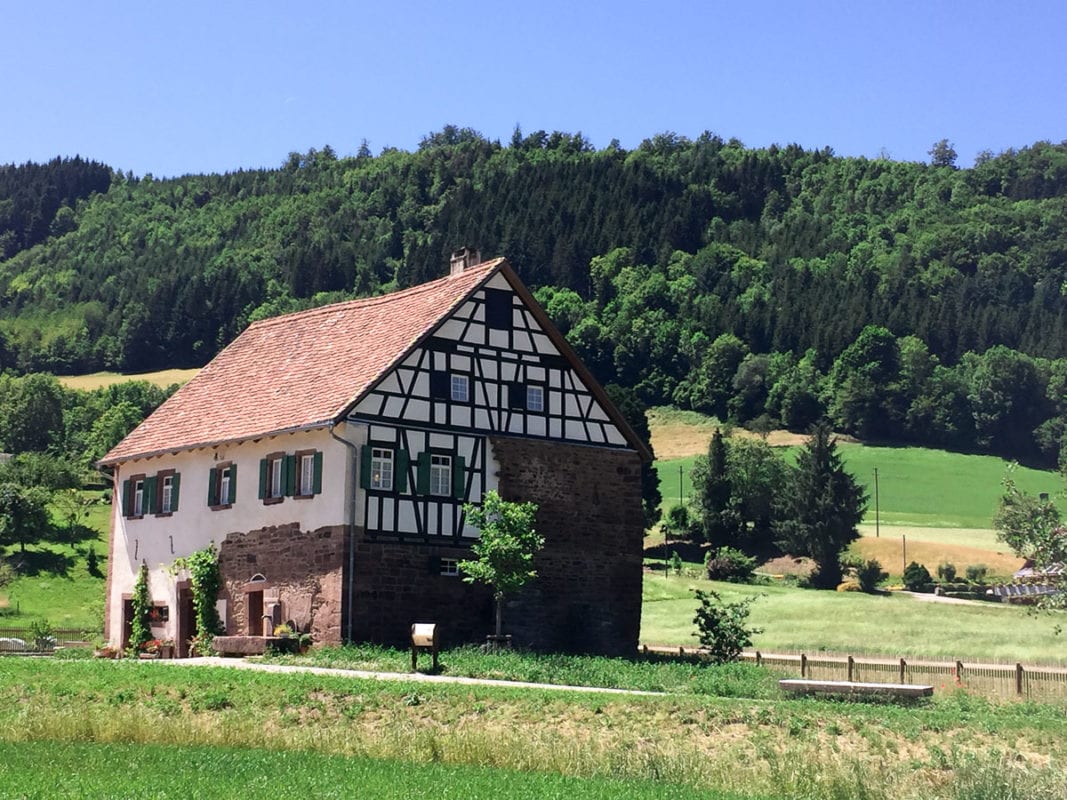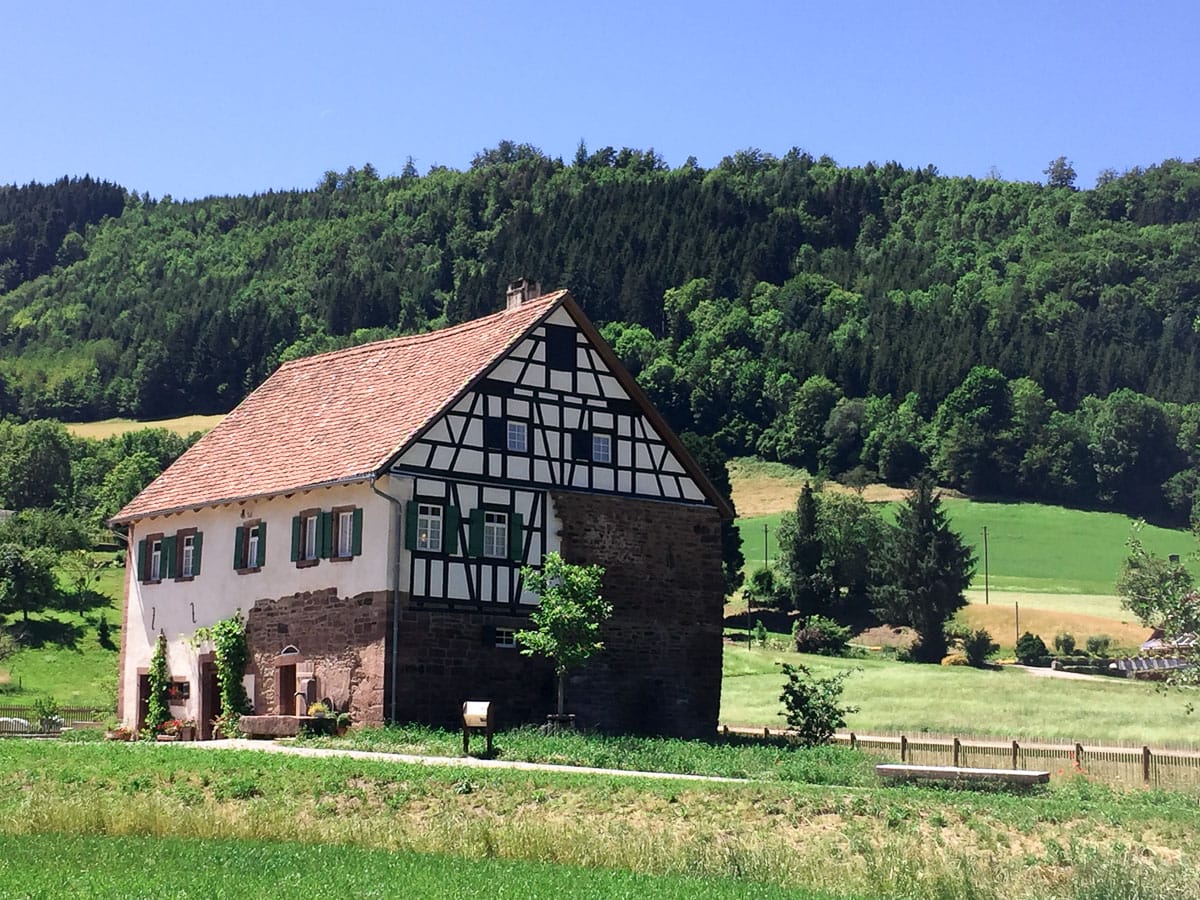 Bad Wildbad
Bad Wildbad is a small town located in the district of Calw in the valley of Enz. It's widely known as a spa and holiday town, perfect for travelers looking for a relaxing getaway in the Black Forest. It's also close to Wildsee, a small lake with hiking trails. In the past recent years, there's also been a rise of outdoor activities and attractions in the mountain of Sommerberg like a treetop walking path, a pedestrian suspension bridge, and a mountain bike park.
Gengenbach
Gengenbach is another charming village with picturesque streets and timber-framed houses. It's also another popular tourist destination. Wander through the narrow cobblestone streets and you'll find traditional bakeries selling freshly baked breads and pastries, quaint cafes serving up rich coffee and delicious cakes, and cozy restaurants offering hearty local dishes. And if you're a wine lover, make sure to visit one of Gengenbach's many wineries where you can sample some of the finest wines in the region.
Schluchsee
Lake Schluchsee is the highest reservoir lake in Black Forest and the largest lake in the region. Lake Schluchsee is a very popular lake due to its cool waters during the summer and easy-access shorelines. The lake offers different water sports and activities for all tourists and locals alike. Aside from water sports, you can also hire a boat, walk around the lake, or hike up the 18-kilometer long hiking trail, and even view the wonderful scenery at the Riesenbühl Tower.
Mummelsee
Lake Mummelsee is the highest lake in Black Forest, located at 1034 meters above sea level. Along the Black Forest High Road and on the western mountainside of Hornisgrinde, it's a popular place to take a stroll, ride in a pedalo, enjoy a coffee, or visit the Hornisgrinde lookout tower.
Wutach Gorge
Wutach Gorge offers a stunning natural landscape that will take your breath away. The gorge is formed by the Wutach River and is surrounded by steep cliffs and dense forests. Hiking through the gorge you'll come across gushing waterfalls, serene pools of water, and unique rock formations.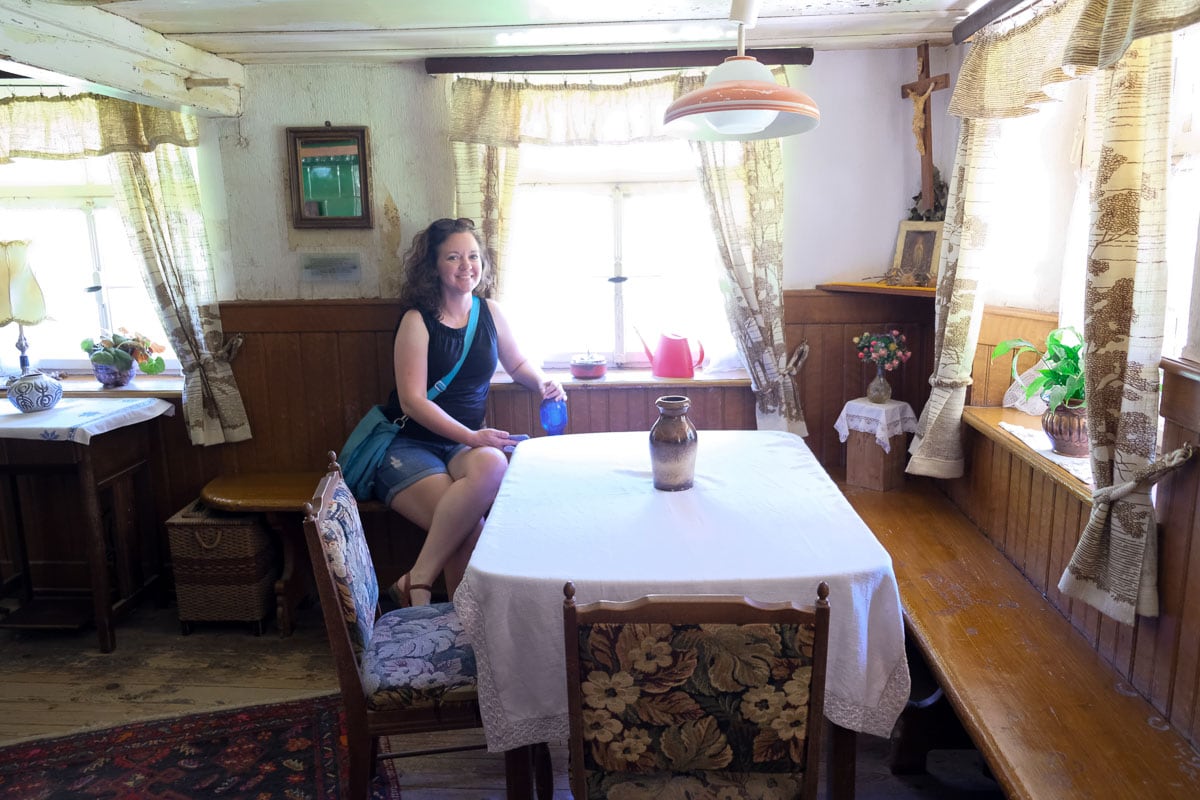 Black Forest Open Air Museum
The Black Forest Open Air Museum is the first open-air museum in the Black Forest, located in Gutach. It claims to be the most visited open-air museum in Germany with over 250,000 visitors annually. The museum brings you the rural experience of Black Forest. Here you can witness the region's traditional crafts, housing, culture, and even technology.

Aside from that, you'll also can see numerous farm animals and do some hands-on activities. There are several areas specifically for kids, and there's a restaurant that serves delicious Black Forest cake (and more). It's a lot of fun and a great place to spend the day!
Europa-Park in Rust
Europa Park is the largest theme park in Germany, located between Freiburg im Breisgau and Strasbourg, France. The park has over 18 different themed areas and 13 roller coasters, ranging from kid-friendly ones like the Alpenexpress Enzian which goes through a diamond mine and high-speed roller coasters like the Silver Star. There are tons of indoor activities as well as shows, parades, a 4D cinema, and holiday events for everyone. There's even a resort which hosts six hotels and a campground for families who want to stay longer.
Castle Hohenzollern
Castle Hohenzollern is an iconic 1000 year old castle located near the Black Forest. It's one of Germany's most popular tourist attractions and holds significant historical importance for Germany. It was once home to powerful German emperors who shaped the country's political landscape during their reigns.
Castle Lichtenstein
Not too far from Castle Hohenzollern is the19th century Castle Lichtenstein. It stands on a rocky cliff that offers breathtaking views of the surrounding countryside. The castle has been owned by the same family since it was built and has undergone several renovations over the years to maintain its beauty and structural integrity. The castle also features a picturesque courtyard and gardens that are perfect for picnics or leisurely strolls.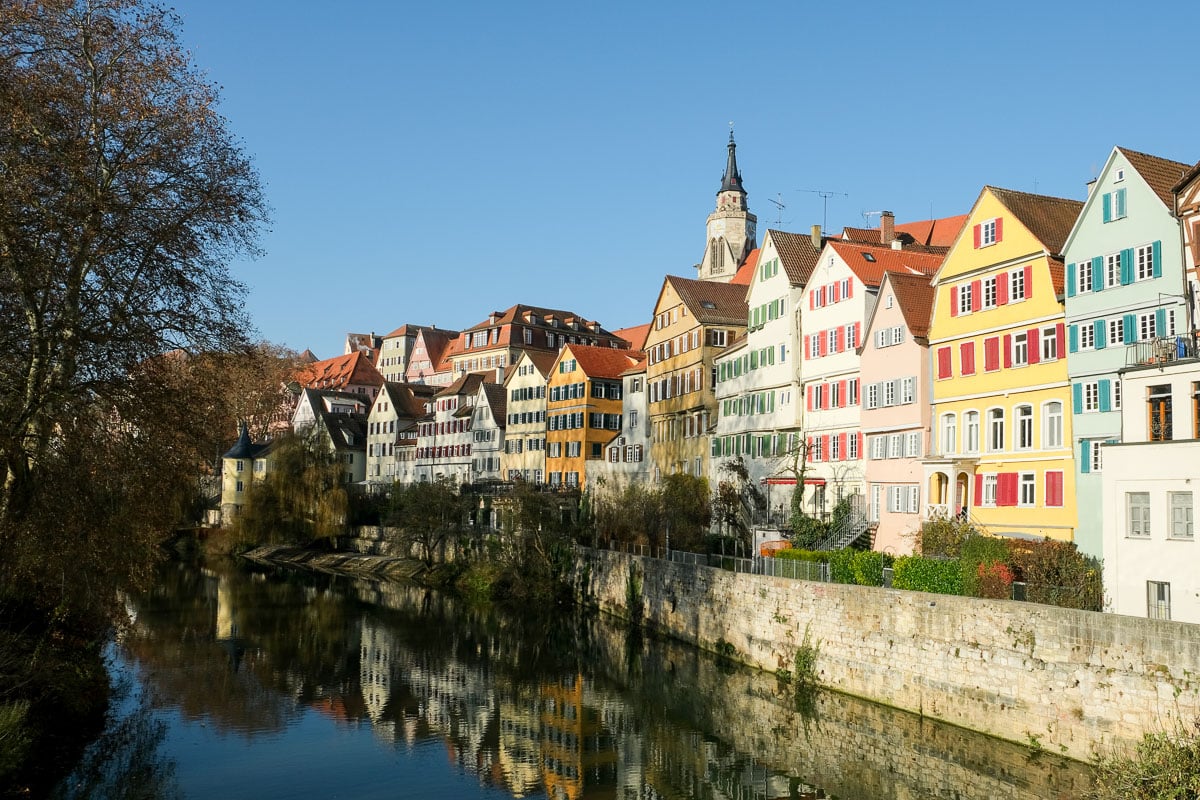 Tübingen
Tübingen is a charming university town on the banks of the Neckar River near the Black Forest. One of the town's most significant attractions is its historic Old Town. Here you can wander through streets lined with half-timbered houses and marvel at the impressive Gothic architecture of landmarks such as St George's Collegiate Church.
The ancient castle ruins perched high above the town offer breathtaking views over the surrounding countryside. You can also visit one of Europe's oldest universities (Eberhard Karls University) where famous alumni like Hegel and Hölderlin once studied.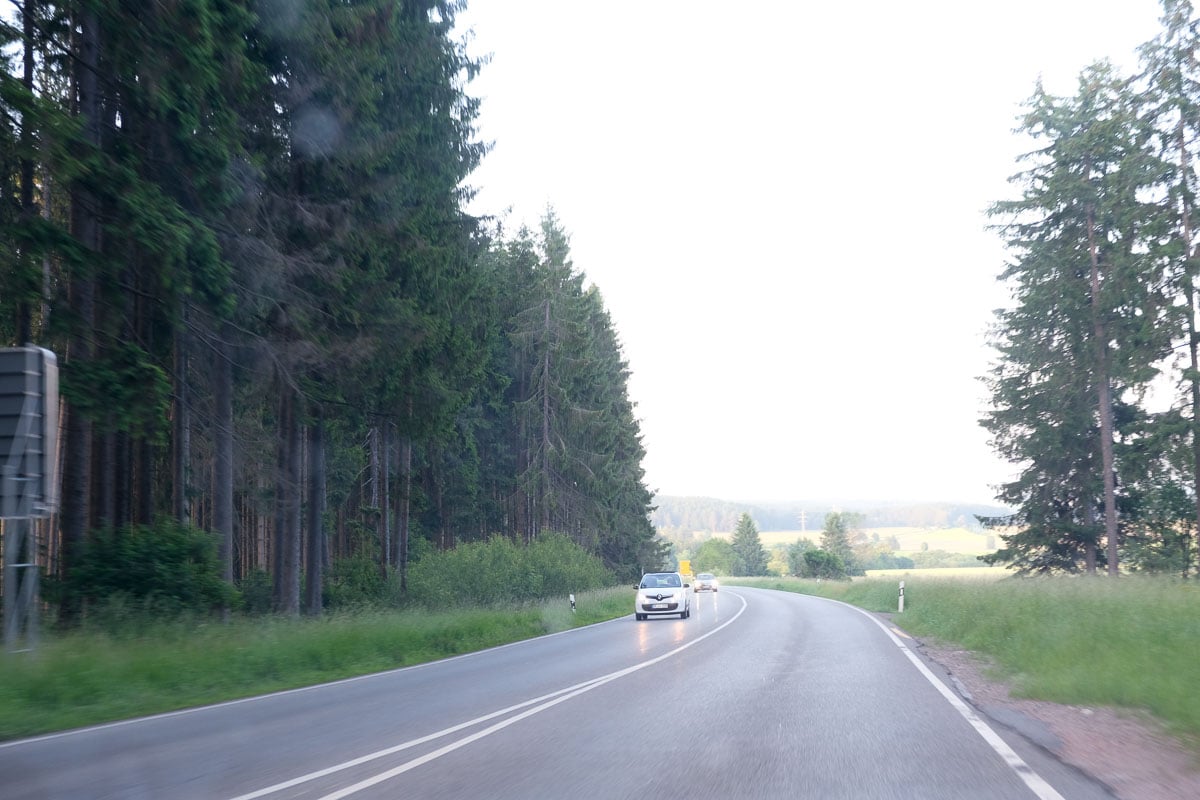 Black Forest Road Trip Ideas
If you'll have a car during your visit to the Black Forest, consider doing one of these beautiful drives.
Black Forest Route / Black Forest High Road (Schwarzwaldhochstraße)
This scenic drive begins in Baden-Baden and ends in Freudenstadt and takes you through charming towns, dense forests, and rolling hills. Along the way you can also visit the Mummelsee.
German Framework Route (Deutsche Fachwerkstrasse)
Also known as the German Timber-Frame Road, this scenic drive runs all the way from the Elbe river in northern Germany to the Black Forest to Lake Constance (Bodensee). It covers seven regional sections which include Saxony, Lower Saxony, Saxony-Anhalt, Hesse, Thuringia, Bavaria, and Baden-Württemberg – where the Black Forest is located.
As suggested by its name, you can expect to see traditional timber-framed houses as you make your way through several medieval towns and small villages along the way. It's interesting to see how the architectural style, shapes, and colors differ from one state to the other.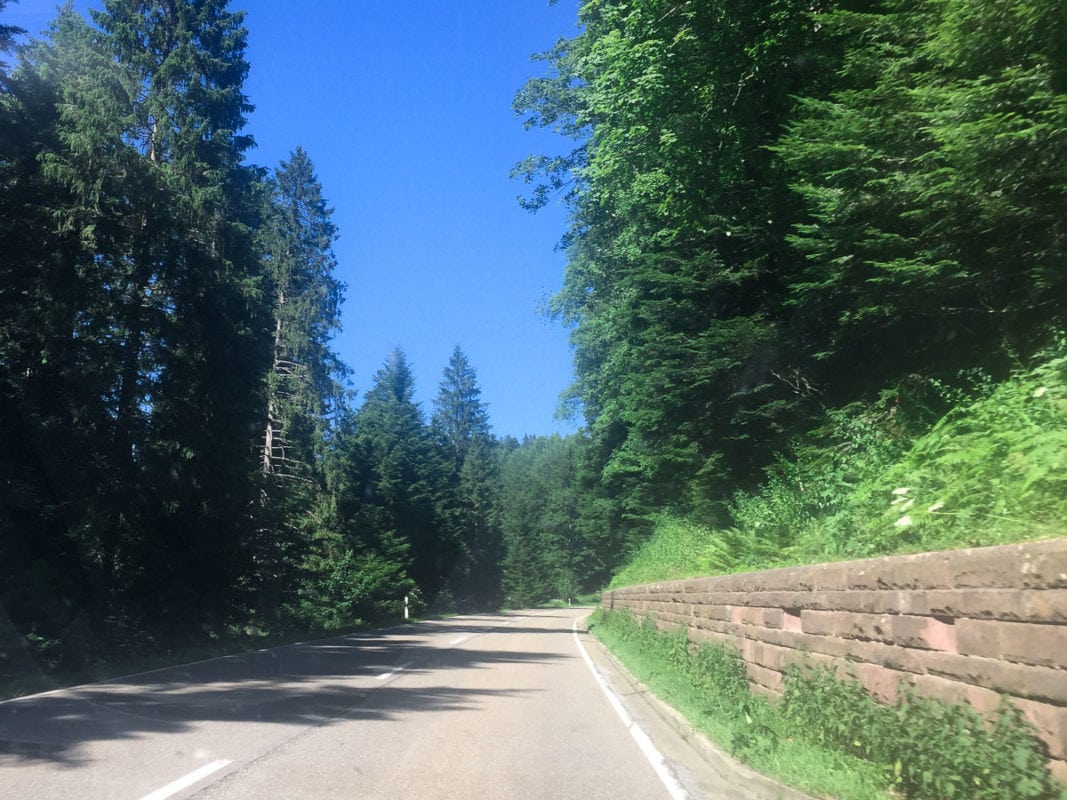 Badische Wine Road (Badische Weinstrasse)
The Badische Wine Road is a route along the foothills of the Black Forest that passes through the wine-growing areas of the Baden Mountain Route, Kraichgau, Ortenau, Kaiserstuhl, Tuniberg, Breisgau and Markgräflerland.
It's perfect for foodies and wine lovers who want to visit some of Germany's best vineyards and wine cellars and enjoy local wine and delicacies. Besides picturesque wine-growing villages, you're sure to make your way through beautiful orchards, meadows, castles, historic small towns, panoramic views, and beyond.
3 Countries In 1 Day: Germany, France And Switzerland
The Black Forest's prime location in southern Germany makes it the ideal base for those who want to go on a road trip outside of the country. While you're here you can make the most out of your visit by hopping over the border into France and Switzerland. Yes, you can visit 3 different countries in 1 day!
You can easily cross the French border and visit Strasbourg and Colmar. Or cross the Swiss border and explore Basel (possibly even Zurich, depending on how much time you have).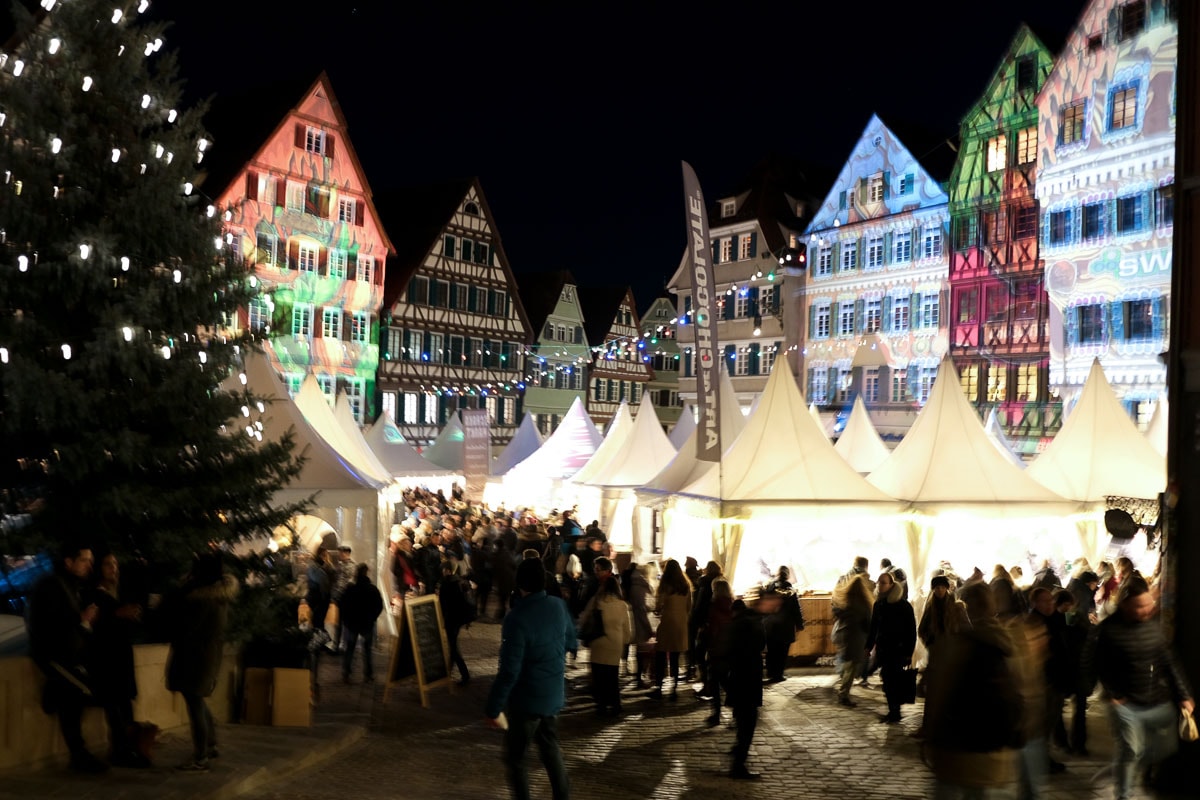 Christmas Markets In The Black Forest
Christmas markets in and near the Black Forest are unlike any other in the world. This is because the region is especially beautiful during the winter season. Cities, towns, and villages come alive with their own cultural traditions, festive decorations, and culinary specialties, attracting both locals and tourists from all over the world. There are many Christmas markets to choose from but here are some that we recommend:
Stuttgart Christmas Market
One of the oldest and largest traditional Christmas markets in Europe boasting over 300 festive booths, each of which is uniquely decorated. Read more about the Stuttgart Christmas Market here.
Esslingen Christmas Market
Located close to Stuttgart, this is a unique Christmas market with a medieval twist. Experience fun performances, costumes, and handicrafts that will take you back to the Middle Ages. Read more about the Esslingen Christmas Market here.
Tübingen ChocolArt Festival
Perfect for chocolate lovers who want to stock up on sweet treats to give as Christmas gifts, learn about chocolate making or admire stunning chocolate artwork in charming Tübingen. Read more about the Tübignen ChocolAlrt Festival here.
Ravenna Gorge Christmas Market
This is one of the most breathtaking markets because of its location – beneath an historic railway viaduct called Devil's Valley Railway and directly surrounded by the Black Forest! It's straight out of a fairytale when it snows, covering all the wooden stalls in white. Read more about the Ravenna Gorge Christmas Market here.

You can also visit beautiful Christmas markets outside of Germany, in Colmar and Strasbourg in France and Basel in Switzerland.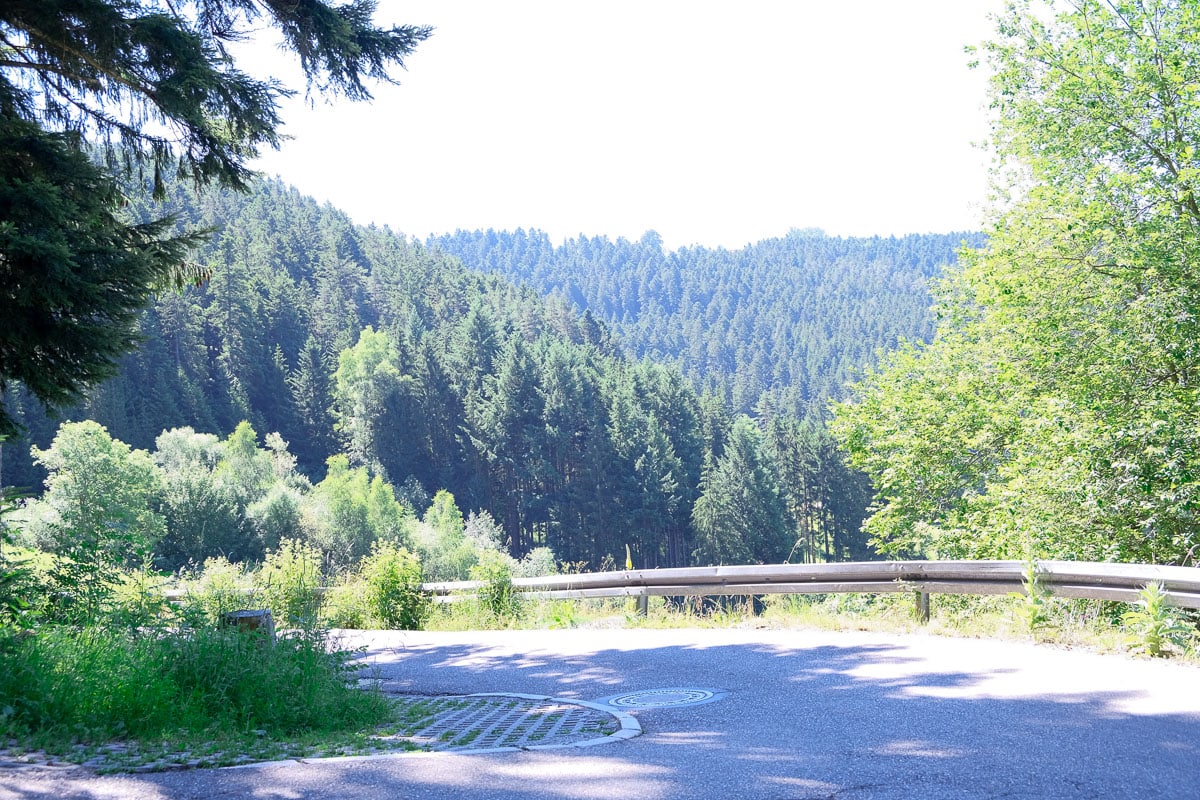 What's The Best Time Of Year To Visit The Black Forest?
The Black Forest is truly a stunning destination year-round. There's really no wrong answer to this questions because each season offers something unique and you can find plenty to do all year long.
One thing to consider is that the Black Forest's climate is temperate and the weather varies throughout the year.
The months of December to February can be cold, windy, rainy or even snowy. But they can also be quite cozy and festive because of the Christmas markets all around the region. Also, if you're fond of skiing, snowboarding, snowshoe hiking, and other snow activities, then winter is the best time for you to visit.
As it slowly gets warmer as winter transitions into spring, the weather can vary daily. It's a beautiful time of year seeing flowers bloom, trees leafing out, and outdoor seating opening up at restaurants and cafes.
The summer months of June, July, and August are ideal for visiting because you're likely to experience sunny and warm or even hot weather and little rainfall. It's the ideal weather if you want to fill your itinerary with outdoor activities like trekking, camping, boating, hiking or swimming.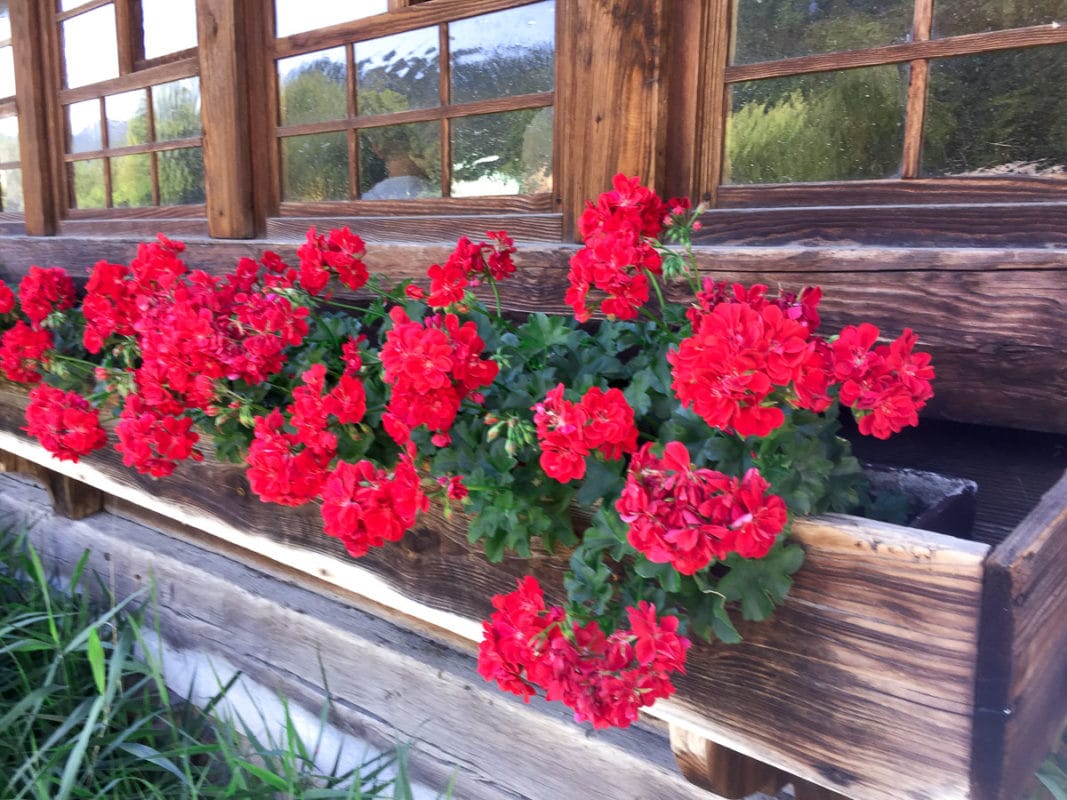 Do note, though, that summer heat waves have become more common in recent years. And these are also the busiest months for tourism. Expect high transportation and accommodation costs and crowds. Book hotels and sights early for the most options and best prices.
The fall months from September to early November are another great time to visit the Black Forest. You can still engage in outdoor activities, such as hiking, you'll enjoy cooler weather, and you'll get to witness the changing of the leaves and vibrant autumnal foliage.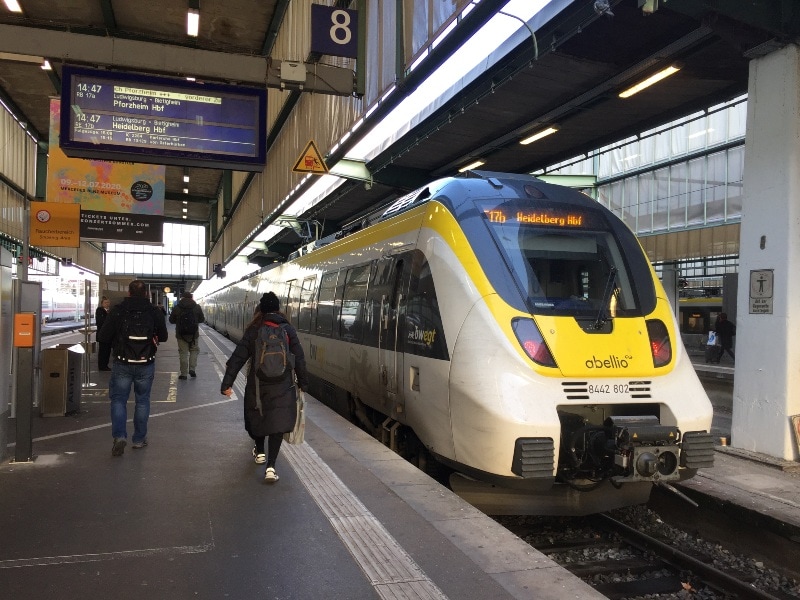 How To Get to the Black Forest?
You can reach the Black Forest by train or car. Trains will get you to many locations in the Black Forest but a car is better if you want to explore beyond the cities and main villages, get off the beaten path or visit the Black Forest National Park.
If you're flying to Germany and then heading to the Black Forest, consider flying into Stuttgart, which is located just north of the Black Forest. You could also fly into nearby Strasbourg, France or Basel, Switzerland and then take the train or drive a rental car to the Black Forest.
How Long Does It Take To Get To The Black Forest?
The Black Forest covers a big area in the state of Baden-Württemberg. Here's a list of train travel times from Germany, France, and Switzerland.
Take note that the travel time varies depending on the train station, train schedule, number of stops, and number of train changes. A good place to research train times and purchase train tickets is the official German rail website.
Munich to Baden-Baden: around 4.5 to 5 hours
Munich to Freiburg between 4.5-6 hours
Freiburg to Titisee in the Black Forest: 1 hour
Stuttgart to Freiburg: 2 hours (longer if you take regional trains through the Black Forest)
Basel, Switzerland to Freiburg: 1 hour
Strasbourg, France to Freiburg: 2 hours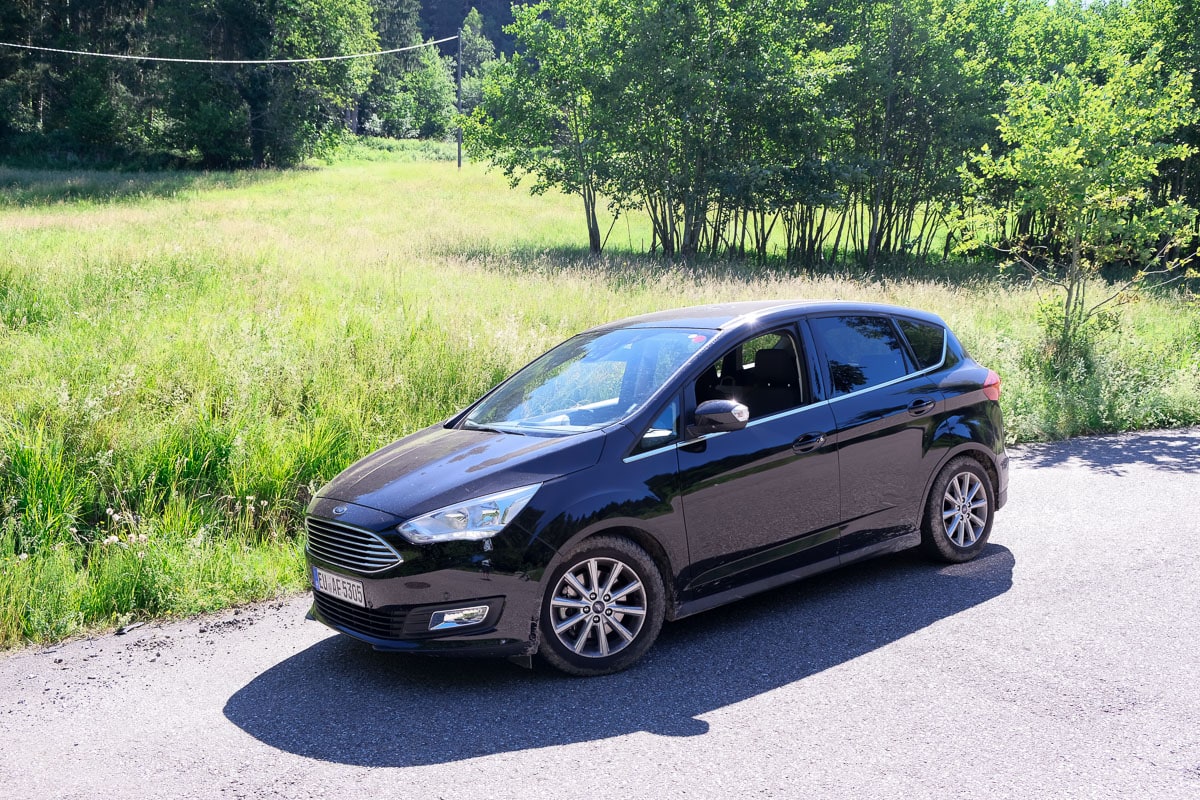 Can I Take A Day Trip To The Black Forest?
Yes, it's very easy if you're coming from Strasbourg or Colmar in France; Basel in Switzerland; Freiburg, Stuttgart, Tübingen or Konstanz in Germany, especially if you have a car. If you want to visit the Black Forest National Park, traveling by car is the easiest way to do so.
A more economical way to visit the Black Forest is by train. It might be a bit harder or take a little longer to visit some rural places but you'll be immersed in the scenic view of the Black Forest!
Where To Stay In The Black Forest
There are a lot of hotels and vacation rentals in the Black Forest region. You can stay in a city like Freiburg or Baden-Baden or you in small towns and villages like Triberg, Staufen, Haslach, Gengnenbach, etc. You can also rent apartments and vacation homes in the rural areas of the Black Forest. We use this site to find hotels and apartments all over Germany.
How Can I Get To And Around The Black Forest?
If flying, consider flying direclty into Stuttgart, the nearest big city to Black Forest. You could also fly into Strasbourg in France or Basel in Switzerland. Then take the train or rent a car and drive to your Black Forest destination.
We've driven a rental car through the Black Forest and taken trains. We like the freedom and flexibility you get with a car but taking the train is much cheaper.
We use this site to find the best deals on rental cars in Germany.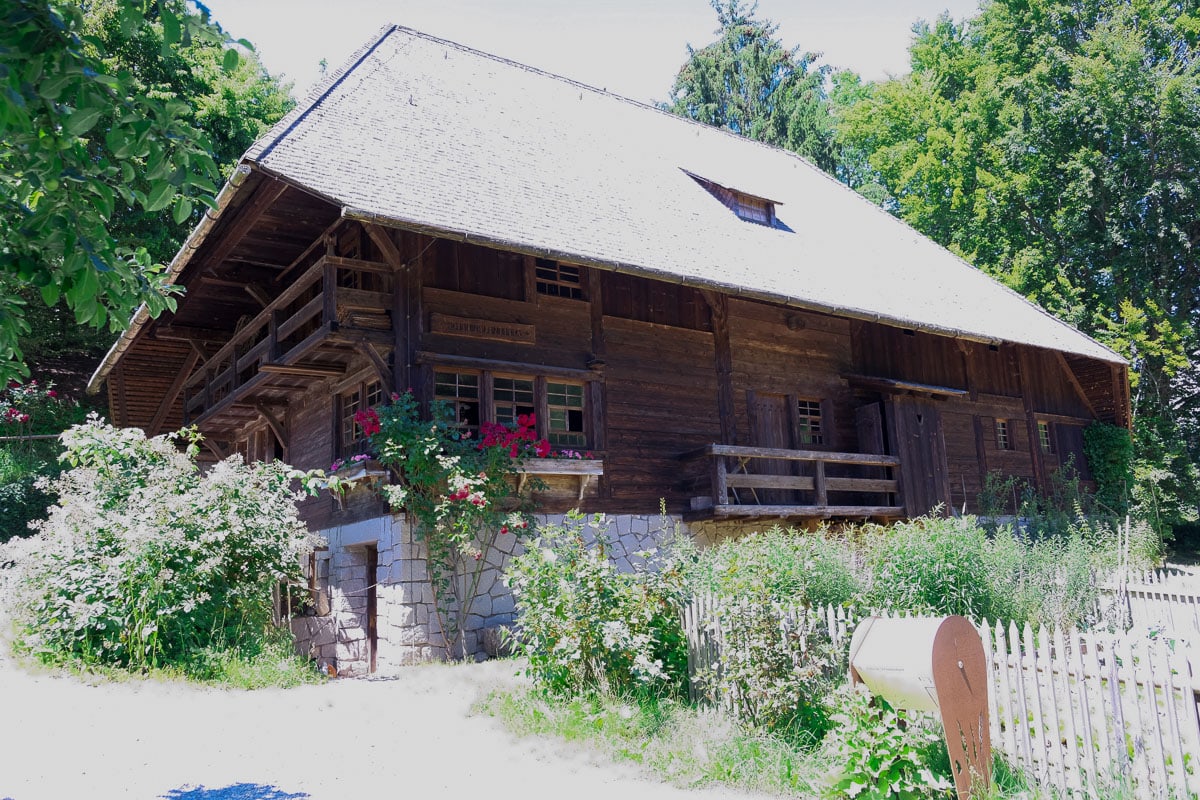 Konuskarte
If you want to reduce expenses, using the KONUS Guest Card is one of the best ways you can save money while exploring Black Forest. It gives you access to free rides on buses and trains throughout the Black Forest as often as you want while your card is valid.
You'll receive your KONUS Guest Card when checking into your hotel or apartment. It'll be valid for the duration of your stay for 2nd class regional transportation.
For more information, visit the official KONUS Guest Card website here.
Baden-Württemberg Regional Train Ticket
If you don't have access to a KONUS card or are traveling outside of the KONUS area, the Baden-Württemberg regional train ticket is another inexpensive way to travel through the region. This rail pass allows 1 day of unlimited travel in the state on local trains for up to 5 people traveling together. You can purchase this ticket ahead of time or on the day of travel.
For more information, check the official Deutsche Bahn website here.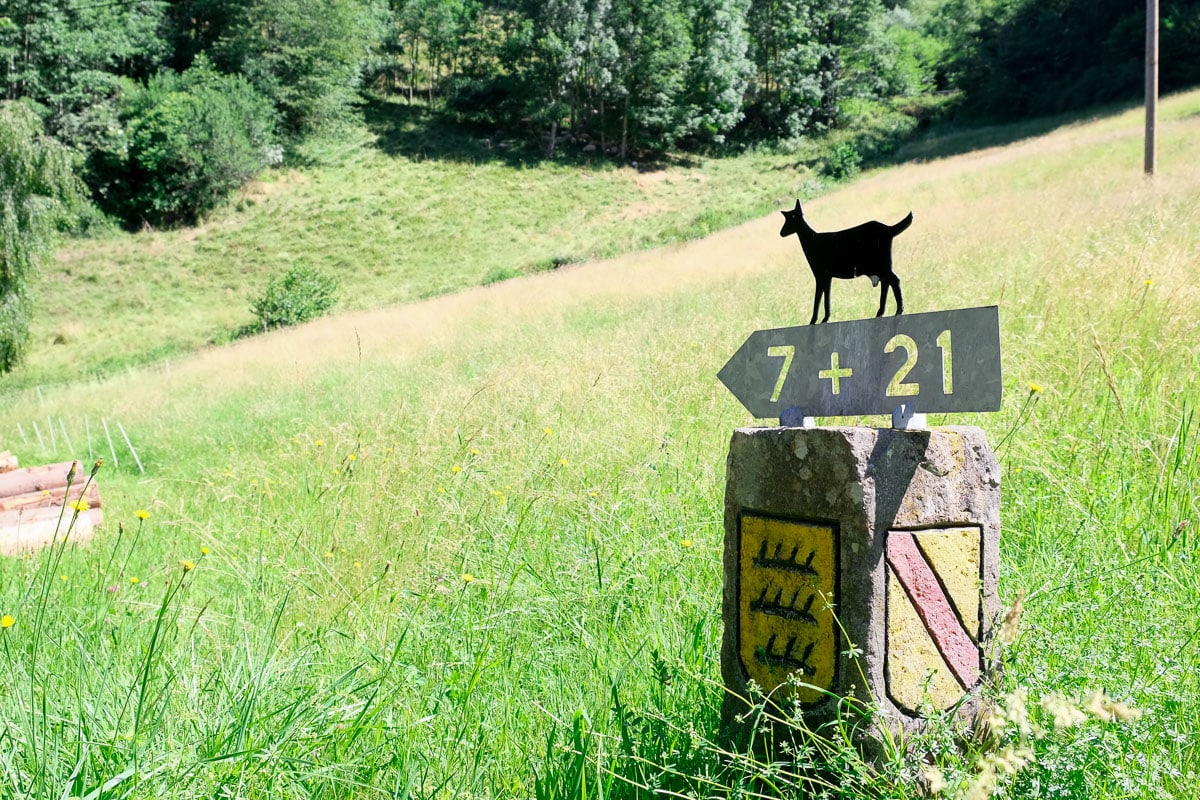 Do I Need A Black Forest Card?
First, what is the Black Forest Card? After purchasing a 3-day holiday card you can enter over 200 attractions for free! You can even add on skip-the-line admission to Europa-park. Because you can enter so many attractions for free, it's an easy way to discover hidden gems and attractions in the Black Forest.
Do you need the Black Forest Card? It depends. We always recommend making a list of the things you want to do, adding up the prices, and comparing that to the cost of the card to see if it will work for you.
The Black Forest Card is valid on three days of your choice, and attractions can only be visited once during those three days, so carefully plan ahead to maximize the Black Forest experience.
Get the Black Forest Card here!

Can I Camp In The Black Forest?
Yes, you can camp in the Black Forest. There are a few campgrounds in the area. Places like Muellerwiese, Alpirsbach, Muenstertal, and Freudenstadt offer campgrounds and cabins to stay at. Some include free parking and free wifi, while others include free access to a pool.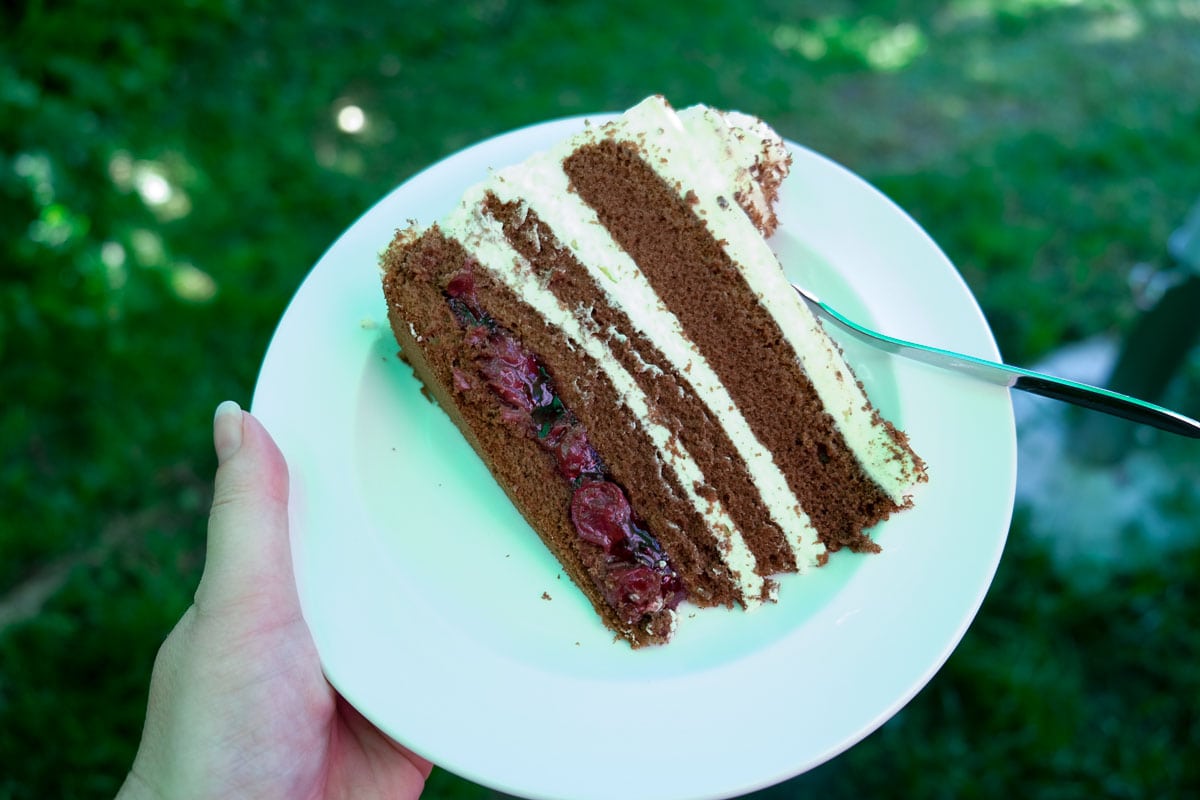 Is Black Forest Cake Really From The Black Forest?
Yes! Black Forest cake (also known as Black Forest gâteau and Schwarzwälder Kirschtorte in German) is a local delicacy that originated in, you guessed it, the Black Forest.
It's a moist chocolate sponge cake doused in Kirsch syrup (cherry liquor syrup), filled and iced with whipped cream, and topped with chocolate shavings and cherries.
It's a light cake but can taste boozy, depending on who makes it. I've had some where you can barely taste the Kirsch…and others where the flavor was super strong.
It's said that the way the cake is decorated was inspired by traditional costumes of the Black Forest region. Specifically, it's supposed to resemble a Bollenhut, the hat of a traditional women's outfit. It's a formal headdress with a white brim and large, red woolen pom-poms on top.
If you like cherry and chocolate, try a slice of Black Forest cake!
Ready to Visit the Black Forest?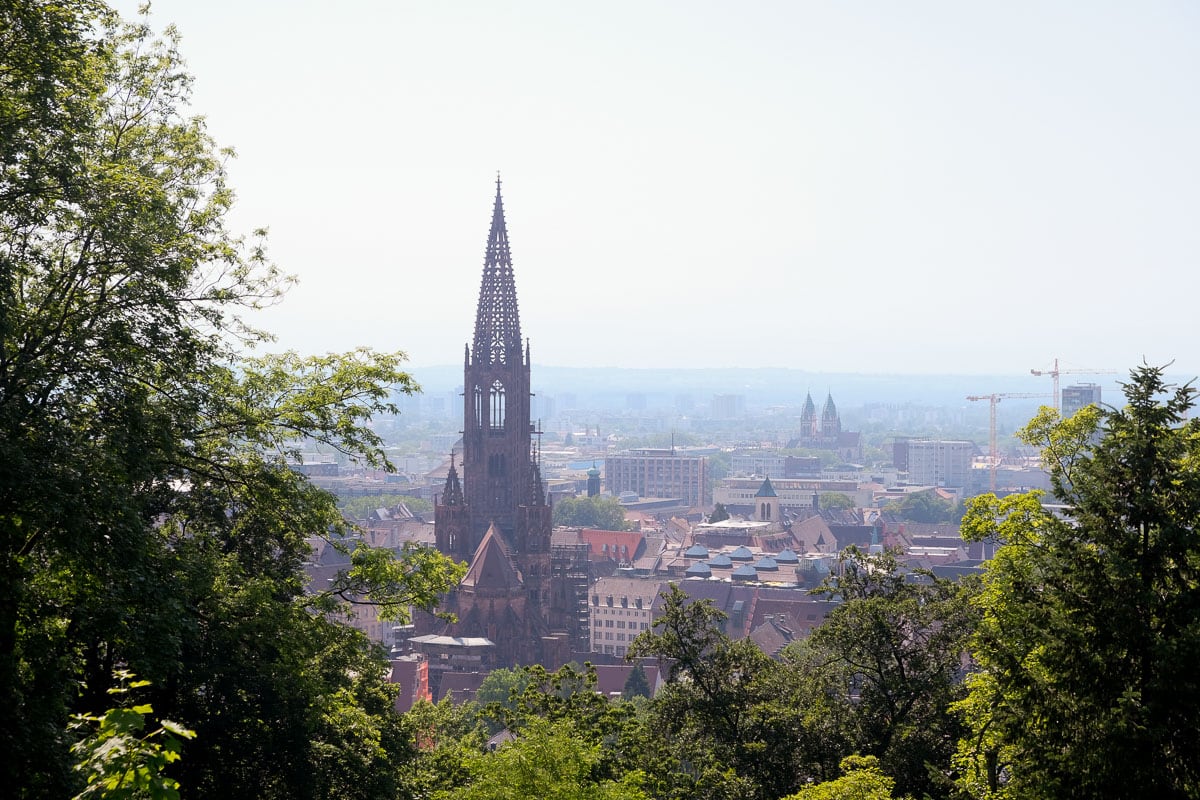 The Black Forest is an excellent destination for exploration, relaxation, and vacation adventure. Whether you want to take in the stunning views, visit historic towns and villages or enjoy local food and drink, you're sure to make memories to last a lifetime.