Whether you're looking for stunning architecture, fascinating historical stories or simply breathtaking beauty, the incredible castles and palaces in and around Berlin are sure to leave a lasting impression.
From the Baroque Charlottenburg Palace to the restored Sanssouci Palace to lesser known gems, this article will guide you through the best castles and palaces to visit in and around Berlin.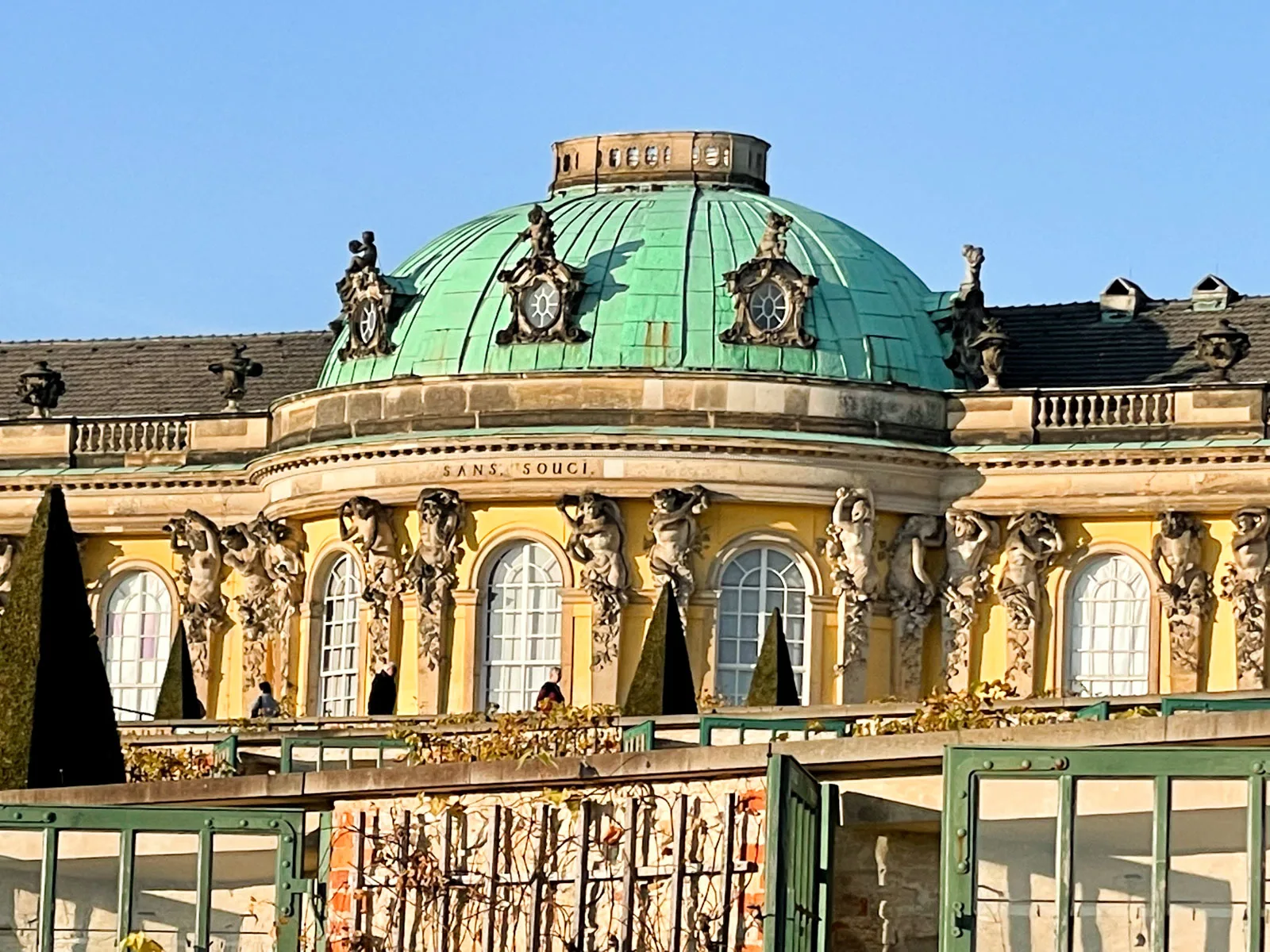 The city of Berlin and the surrounding state of Brandenburg is home to numerous fascinating castles and palaces.
Why? Because Berlin is considered to be the seat of the kings of Prussia, who later became the German emperors. As a result, many royal palaces and summer residences can be found in and around Berlin.
The architecture of the palaces across this region are truly unique and varied, making them a worthy addition to your Berlin itinerary.
There are more than 30 palaces and gardens in Berlin and Brandenburg. Visiting them transports you back in time to the era of Prussian royalty but also shows you just how each castle has transformed over the years to become important tourist attractions, museums, official residences, or cultural venues.
Here is our list of the best castles in and nearby Berlin.
Best Castles and Palaces to Visit in and Around Berlin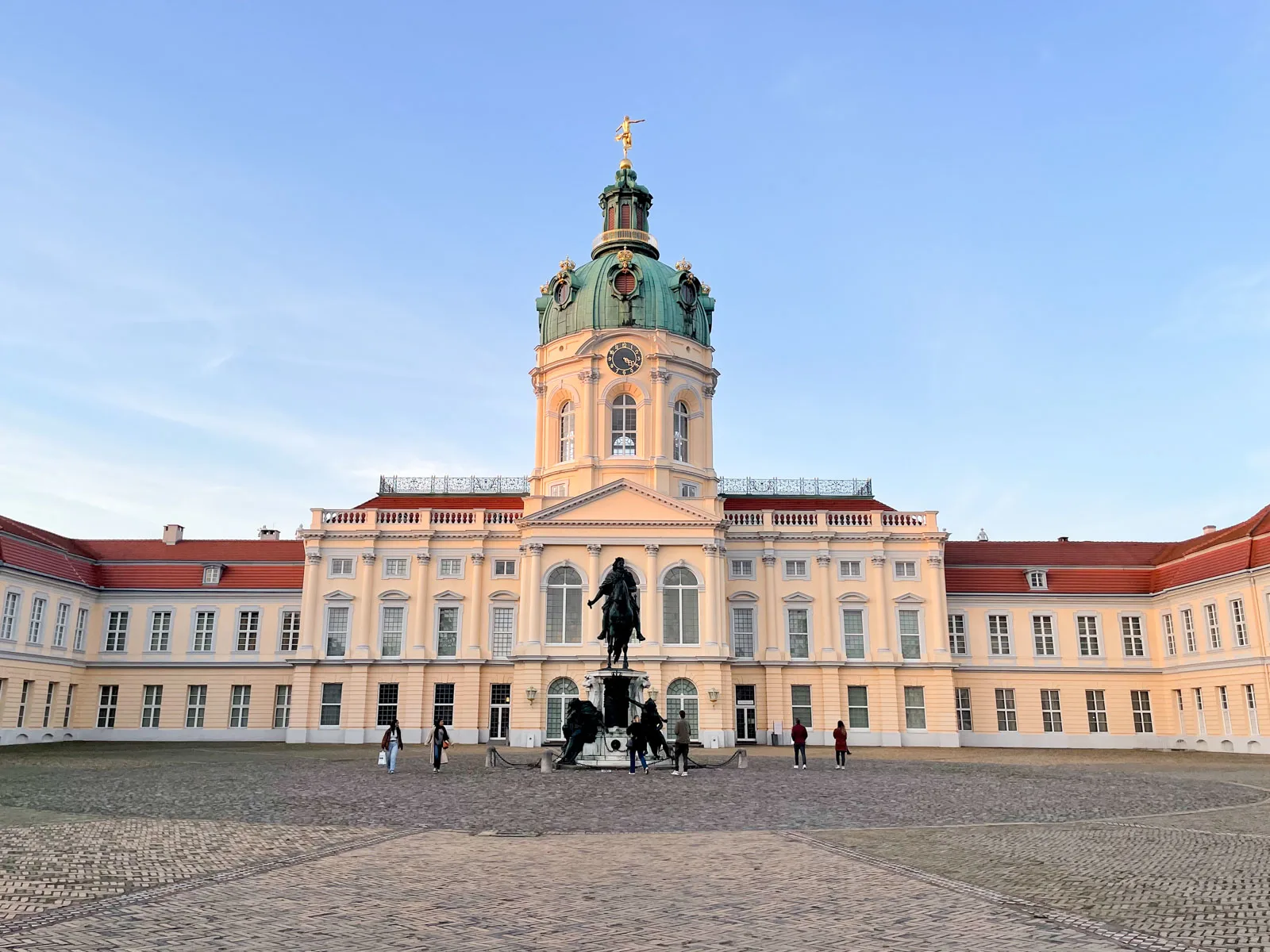 Charlottenburg Palace (Schloss Charlottenburg)
Schloss Charlottenburg is Berlin's largest palace and one of the most famous. Built in the end of the 17th century, it originally served as the summer retreat of Sophie Charlotte, the first Queen consort of Prussia but many generations of Prussian kings and German emperors left their mark on the palace.
The palace grounds are extensive, made up of several wings and new pavilions that have been restored with their original furnishings. Through a guided tour, visitors can admire highlights like the living rooms of Sophie Charlotte, the Golden Gallery, and the Porcelain Cabinet.
Admission fee: 12 € each for regular ticket to Old Palace and New Palace, 19 € for Charlottenburg+ ticket (valid for a single visit to all the museum institutions in the Charlottenburg Palace Gardens including special exhibition on one day)
Public transportation stop: Schloss Charlottenburg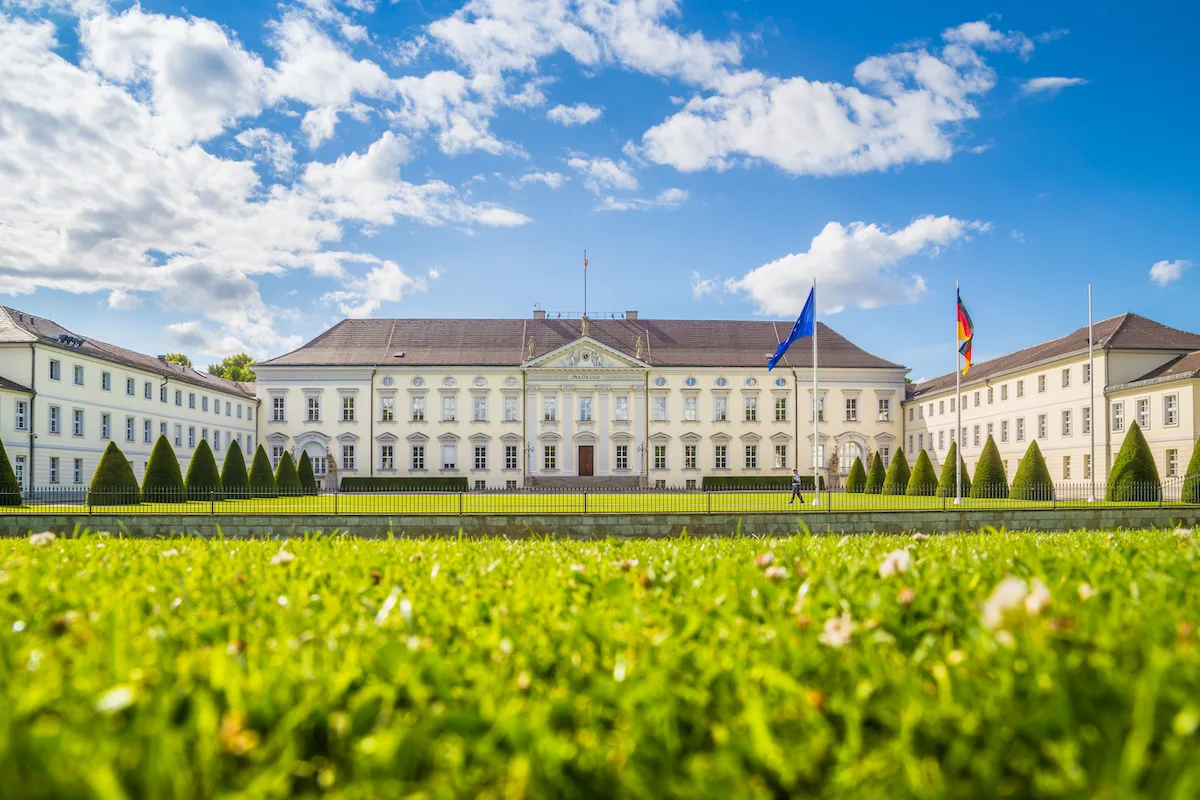 Bellevue Palace (Schloss Bellevue)
Bellevue Palace is the official residence of the President of Germany. This palace dates back to the 18th century, when it was first commissioned by Prince August Ferdinand of Prussia. It has become the President's principal official residence since 1994.
This beautiful palace is located in Tiergarten park in downtown Berlin and is surrounded by a spacious park bordering the River Spree. The palace is made up of a main building with two side wings and is mostly used for special events like New Year's receptions, and for state and inaugural visits.
Bellevue Palace is understandably closed to the public but once a year there is an open day, when the general public are invited to visit.
Admission fee: Not applicable
Public transportation stop: Großer Stern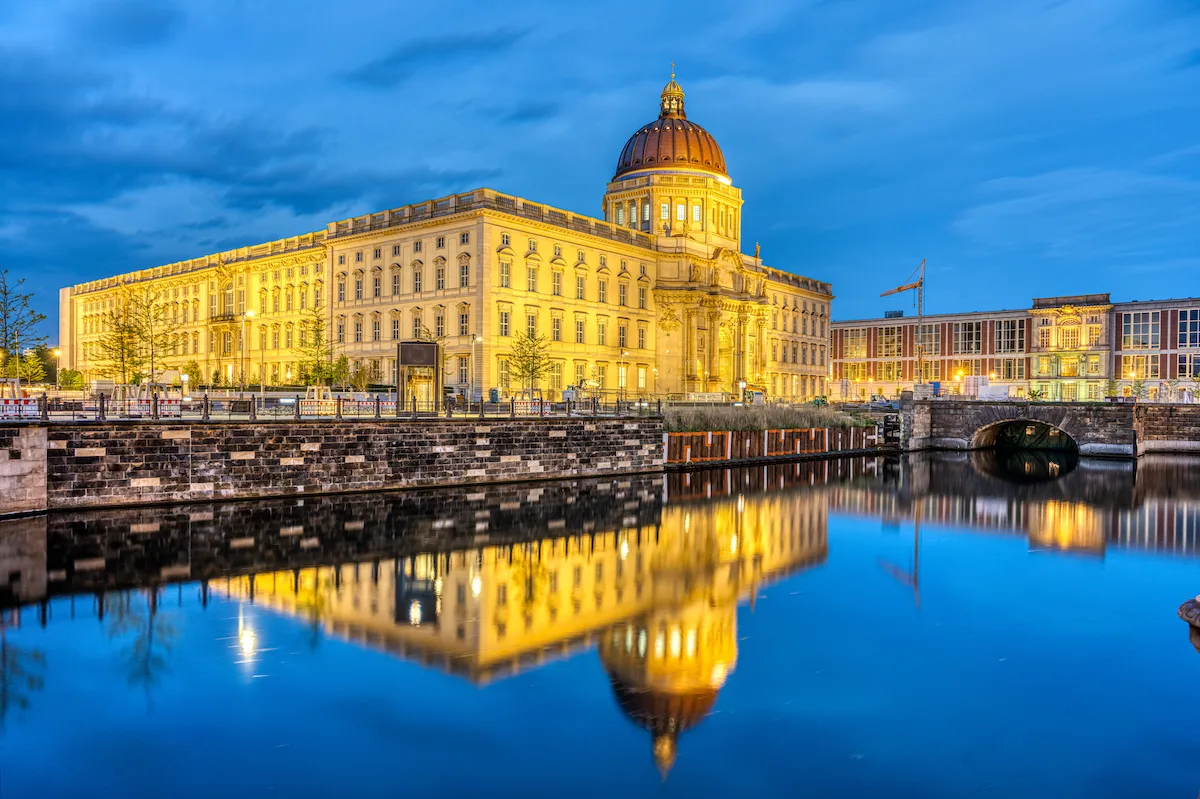 Berlin Palace (Berliner Schloss)
The Berlin Palace, also known as the Berlin City Palace (Stadtschloss), has a very interesting history. It was originally built as the seat of the Hohenzollern rulers but has undergone significant damage during World War II and the subsequent years.
The long reconstruction process of the building as it stands now began in 2013 and it was ensured that the facades would keep its Baroque style. The new palace is now home to the Humboldt Forum, an interdisciplinary center with various museums and spaces for scientific and cultural events.
Admission fee: Free admission to Humboldt Forum
Public transportation stop: Museumsinsel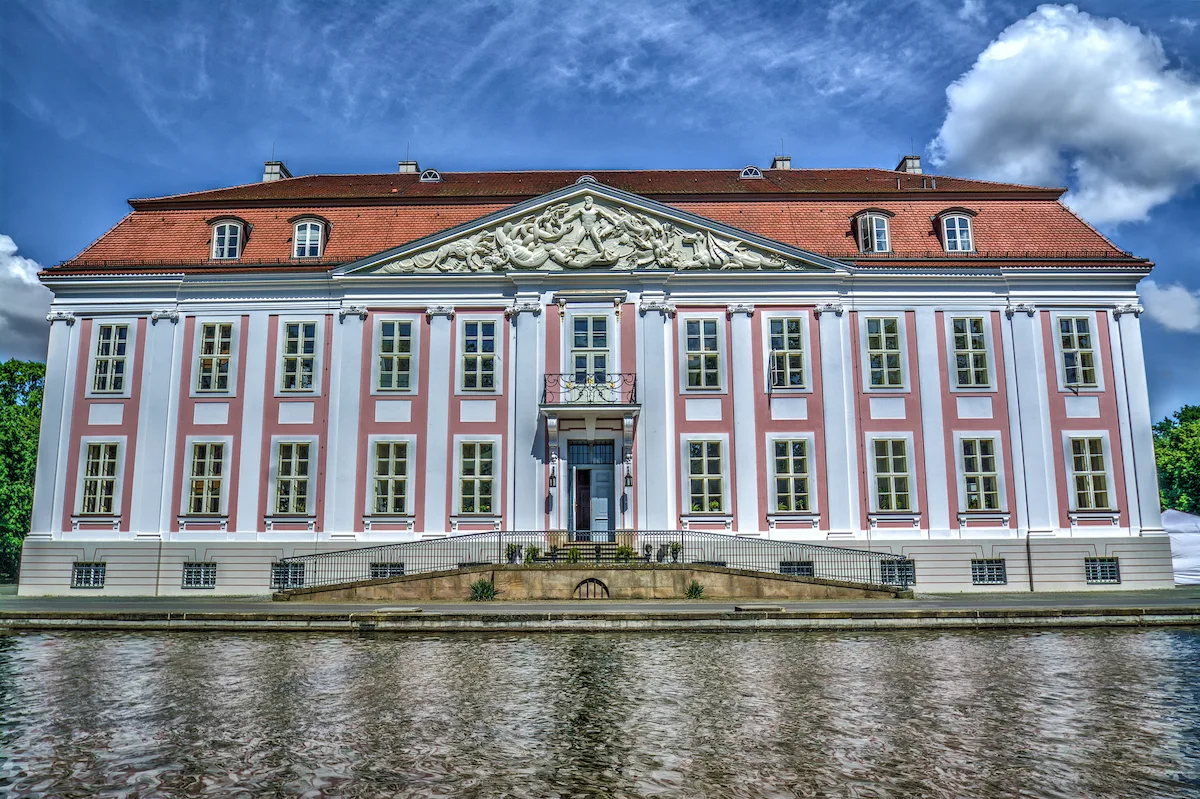 Friedrichsfelde Palace (Schloss Friedrichsfelde)
Schloss Friedrichsfelde is a Neo-classical palace found in the heart of Tierpark. Like many others in Berlin, this palace has undergone several transformations. Throughout time, the palace has been a luxury residence, a model of modern agriculture and veterinary clinic for animals, and even a quarter for French soldiers.
Now, it's a popular stop for those who visit the zoo. There are concerts regularly held in the banqueting hall, as well as different exhibitions on animals and the history of the palace.
Admission fee: 16 € for regular ticket to Tierpark (the Tierpark entrance fee entitles you to visit the Friedrichsfelde Palace at no additional charge)
Public transportation stop: Tierpark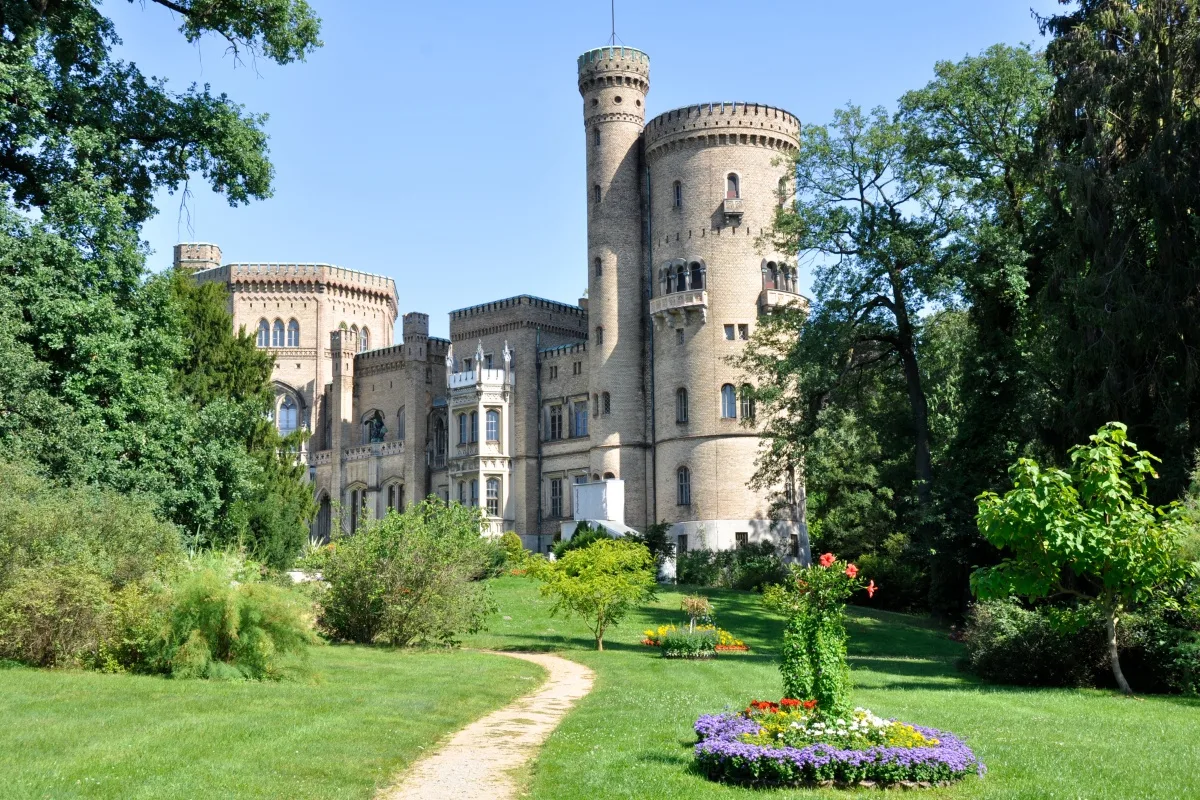 Babelsberg Palace
Babelsberg Palace was the summer residence of Crown Prince William, later known as Emperor William I. It was built in the beginning of the 19th century taking inspiration from the neo-Gothic style and English Tudor architecture. This is especially seen in the palace's beautiful palace park.
The palace is surrounded by terraces with mosaics, sculptures, beautifully arranged flowerbeds and a gothic fountain. The park, which is open all year round, is located on the banks of the Havel River and has a beautiful view of the Glienicke Bridge.
Admission fee: Free admission to Babelsberg Park (Babelsberg Palace is only open during special events)
Public transportation stop: Alt Nowawes (Potsdam)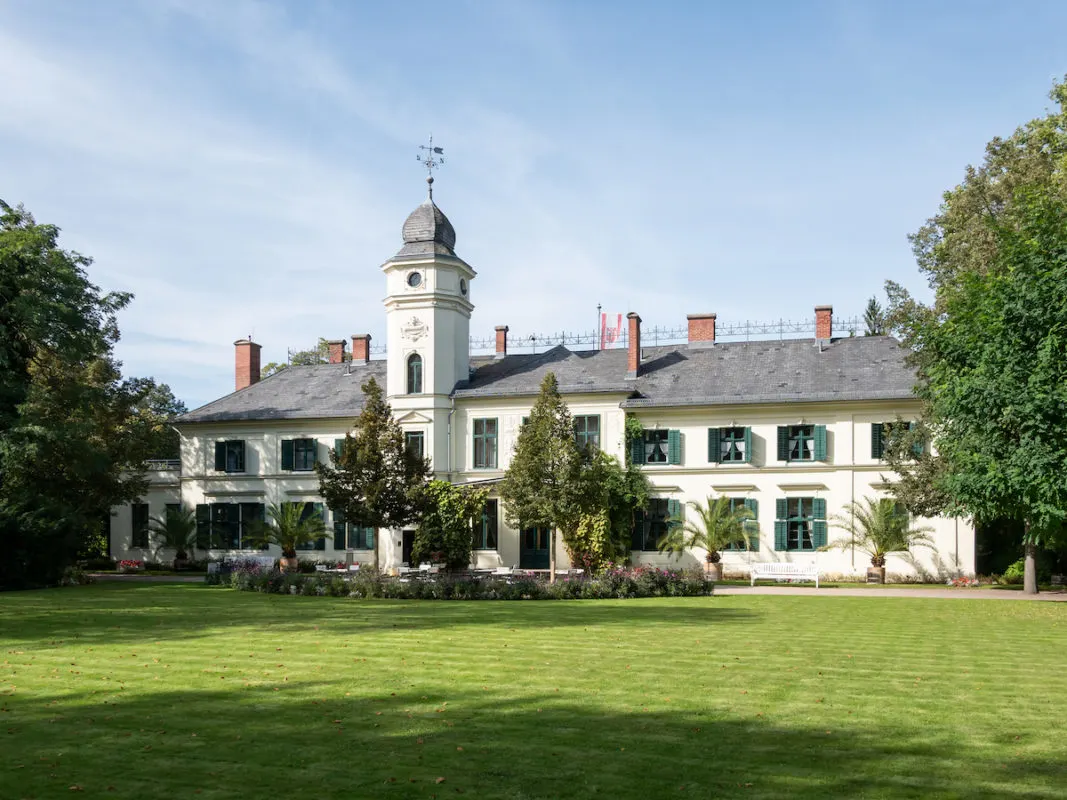 Britz Palace (Schloss Britz)
The Britz Palace is a manor house that was built in the early 18th century on the site of a medieval half-timbered house. It served as a rural residence for high-ranking Prussian court officials and state ministers.
Now Britz Palace is part of the German capital's cultural landscape as it houses regular exhibitions on how people lived in the Gründerzeit during the industrial expansion and is also a venue for readings and concerts. The surrounding park, inspired by Dutch gardens, features a goldfish pond, an orangery, a small wood and orchards.
Admission fee: 3 € for regular ticket (+ 3 € for guided tours on Saturdays and Sundays)
Public transportation stop: Parchimer Allee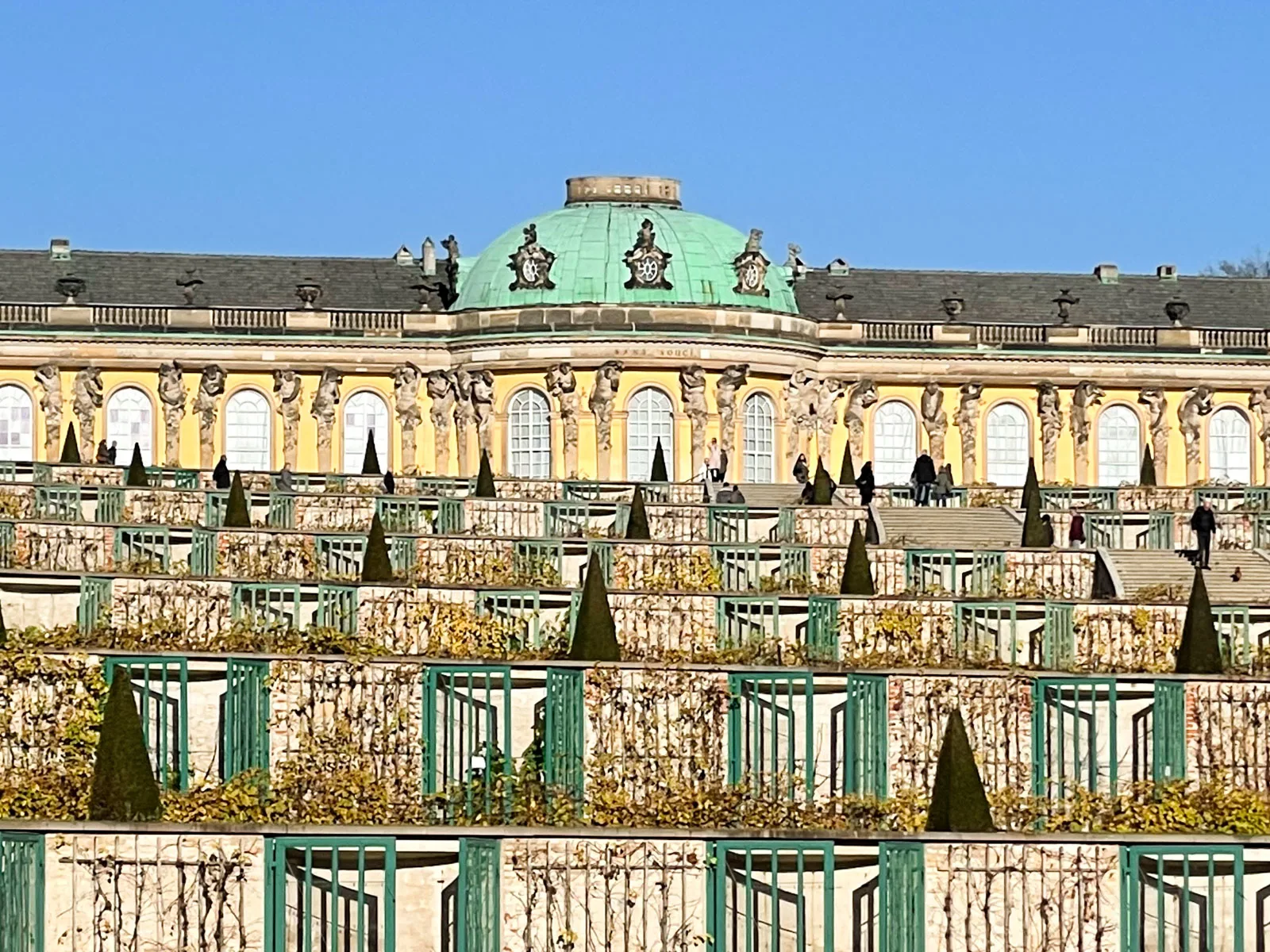 Sanssouci Palace
Sanssouci Palace in Potsdam is another popular day trip destination and for good reason. This grand palace is often considered as the German counterpart of the Palace of Versailles in France. It was the summer residence and favorite place of Frederick the Great. One of its most iconic features are the vineyard terraces in front of the palace.
Below the terraces, you'll find a beautiful sprawling garden with even more gorgeous structures and decorative features. These include the historic windmill, the Great Fountain, and the Neptune Grotto. The interiors are equally delightful. Even though it is a "smaller palace" made up of only twelve rooms, the elegance and stylish displays of grandeur definitely don't go unnoticed.
Because there is so much to see in Sanssouci Palace, we suggest booking a guided tour (this option includes transportation from the city center). If you have more time to explore Potsdam, we also recommend this day tour, which brings you to other points of interest like the Baroque Old Town, the famous Dutch Quarter and other castles like the Cecilienhof Castle, and the New Palace.
Admission fee: 14 € for regular ticket (with audio guide), 22 € for Sanssouci+ Ticket (valid for a single visit to all the SPSG palaces in Potsdam open to the public on one day)
Public transportation stop: Schloss Sanssouci (Potsdam)
Glienicke Palace (Schloss Glienicke)
Glienicke Palace is different from the styles of the Prussian kings' other palaces – this one is inspired by the Mediterranean, specifically Italy and Roman-style architecture. Theinteriorboasts of furnishings of antique and medieval original pieces as well as contemporary sculptures.
The charming palace is adjoined by a beautiful garden courtyard where visitors can find Mediterranean touches like a large fountain surrounded by two gilded lions, a vine-covered pergola, and a carriage house turned into a romantic restaurant.
Nearby you can also find the Hunting Lodge Glienicke which together with the palace forms part of the Palaces and Parks of Potsdam and UNESCO World Heritage Sites in Berlin.
Admission fee: 6 € for regular ticket (includes guided tour)
Public transportation stop: Schloss Glienicke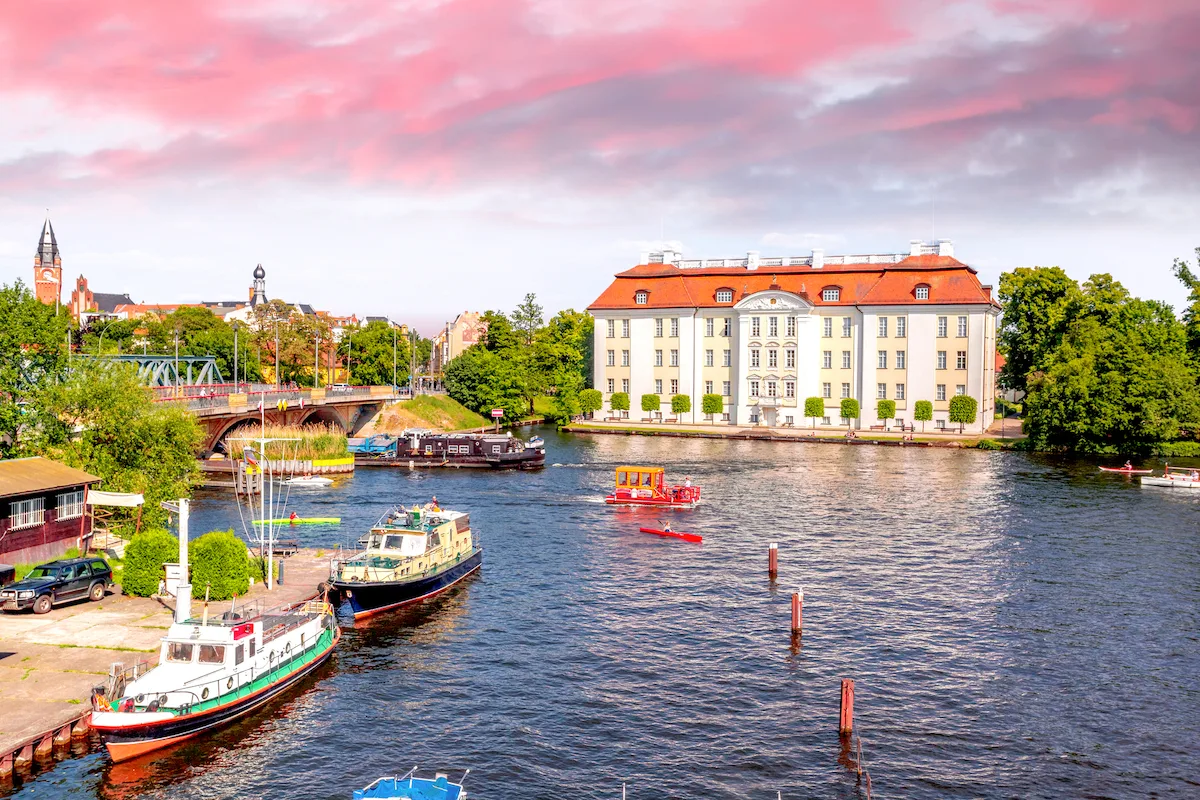 Köpenick Palace (Schloss Köpenick)
Schloss Köpenick is a Baroque palace located on an island in the Dahme river. It is the only Baroque building in Berlin to survive in its original state. The palace was spared from bombing and major damages during World War II so the Baroque room decorations like the ornate ceiling paintings are mostly completely preserved.
This palace also houses collections from the Kunstgewerbemuseum (Museum of Decorative Arts). The museum features furniture, tapestries and other works of art from the Renaissance, Baroque and Rococo periods.
Admission fee: 6 € for regular ticket
Public transportation stop: Schloßplatz Köpenick or Spindlersfeld
Jagdschloss Grunewald
The Grunewald Hunting Lodge is one of Berlin's oldest palaces, dating back to the 16th century. It is one of the 32 historical Prussian palaces and is very well-preserved. The main building was built to face the Grunewaldsee lakeside and woodlands.
When hunting events were not as common anymore, it was converted into a Renaissance hall. The lodge now has a permanent exhibition with over 150 paintings of the rulers of Brandenburg and Prussia as well as many historical royal hunting trophies.
Admission fee: 6 € for regular ticket (includes Hunting Lodge and Hunting Depot and Armory)
Public transportation stop: Königin-Luise-Str./Clayallee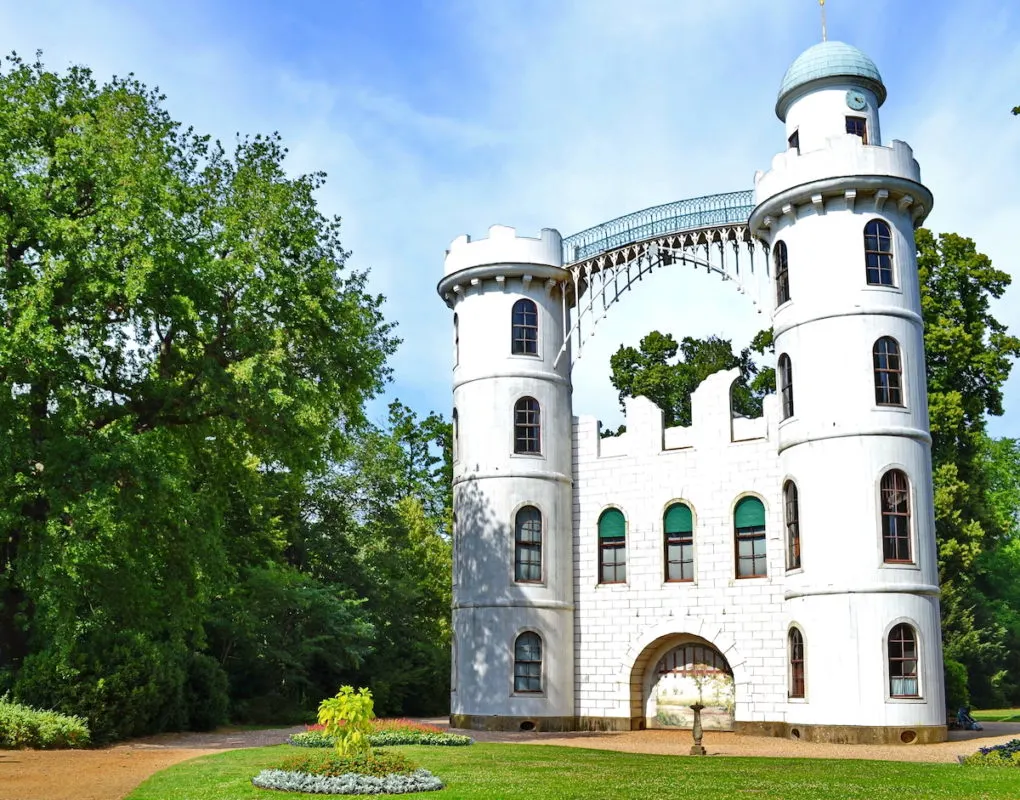 Pfaueninsel Palace (Castle on Peacock Island)
If you're looking for a change of pace or scenery from the busy and urban streets of Berlin, then Peacock Island is an amazing place to go on a day trip. The entire island is a UNESCO World Heritage Site and a protected flora and fauna habitat. The rich landscape is filled with exotic trees and plants that gradually took root.
At one point a menagerie and lots of colorful peacocks roamed the island, which is where it gets its name. Most of the animals were given to the zoological garden in Berlin, but you can still find some peacocks and even water buffaloes living in the island.
The island is also filled with historical landmarks like the Pfaueninsel Castle. It has a bright white exterior that resembles marble and two towers connected by an iron convertible bridge. It is also found in a prominent clearing at the end of the island, which adds to the Romantic-style landscape of the fairy tale setting. Other highlights of the island include the charming footpaths with beautiful views, nearly 400 old oaks and the oldest rose garden in Berlin.
Note: The castle is temporarily closed as it will be undergoing renovations until 2024.
Admission fee: 6 € for regular ferry ticket
Public transportation stop: Pfaueninsel
Marble House (Marmorpalais)
The Mamorpalais, also known as the Marble House, is located on the shores of the Heiliger See of New Garden in Potsdam. This is the first and only Prussian royal palace that was designed in the early Neoclassical style. This is seen in many of the living areas as well as special rooms like the Grotto Hall and the Concert Hall. They are luxuriously furnished with silk wall coverings, marble fireplaces, paintings and decorative arts.
The New Garden is also a beautiful place to explore. The spacious grounds are inspired by English gardens and offer a peaceful and calm atmosphere. Visitors can also enjoy panoramic views of both the Havel River landscape, reaching as far as Peacock Island.
Admission fee: 8 € for regular ticket (includes guided tour), 22 € for Sanssouci+ Ticket (valid for a single visit to all the SPSG palaces in Potsdam open to the public on one day)
Public transportation stop: Birkenstr./Alleestr. (Potsdam)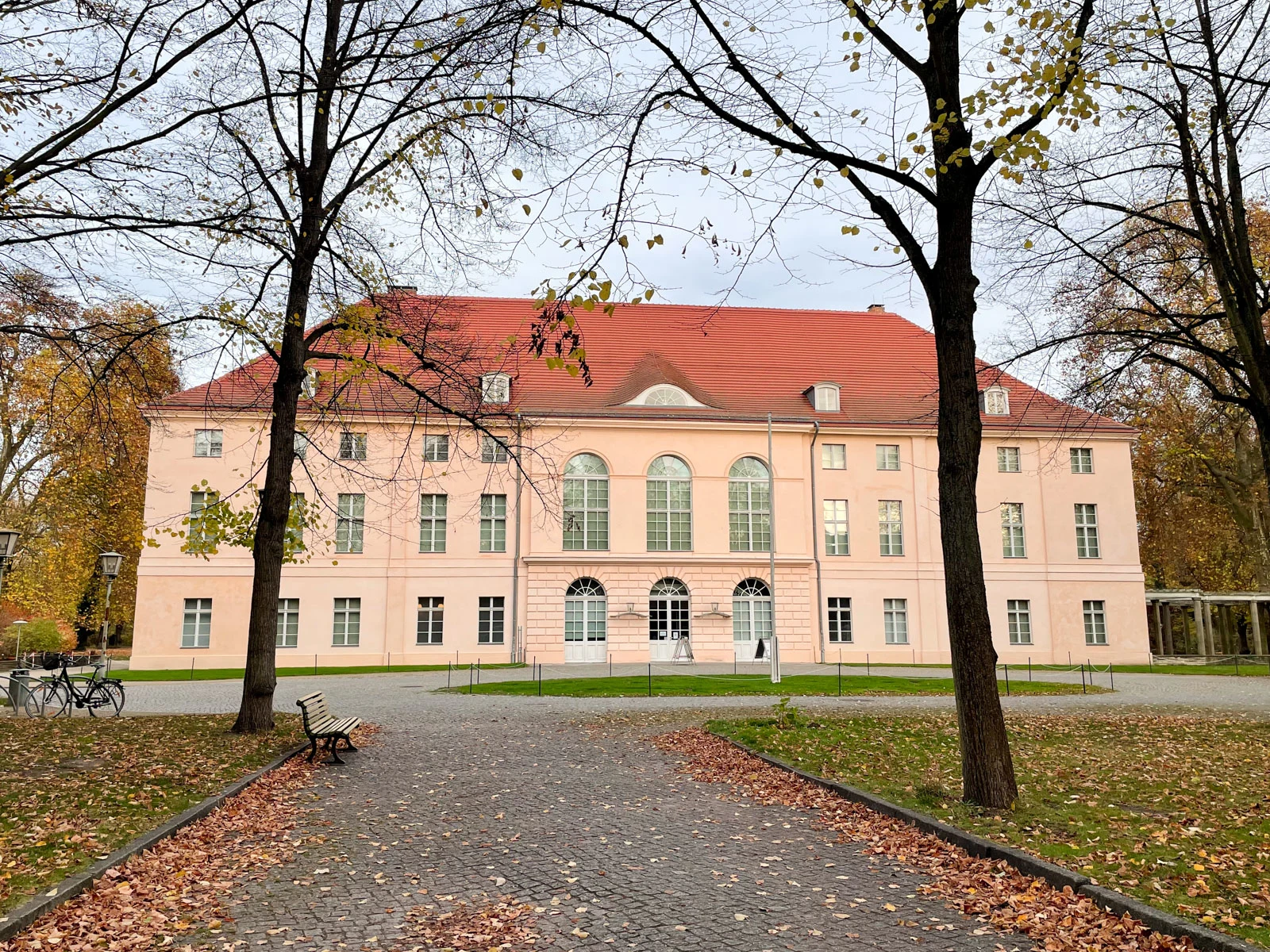 Schönhausen Palace (Schloss Schönhausen)
Schloss Schönhausen is another summer residence of the Prussian kings. It has a fascinating history since it has played an important role in the country's politics. During the Nazi era, the palace was used to store exhibitions and artworks. This included over 700 paintings and sculptures and over 3,500 works on paper all made by banned artists, some of which were shown in an exhibit called "Degenerate Art."
After World War II, the palace served as the official residence of the first and only head of state of East Germany (GDR). It eventually turned into a state guest house that accommodated prominent political figures like Leonid Ilyich Brezhnev, Fidel Castro, and Mikhail Gorbachev.
With all of this being said, the palace interiors are quite opulent and elegantly decorated. Some features include stucco ceilings, brightly colored floral carpets, long halls with wood panels and mirrors, and other Rococo-style decorations.
Admission fee: 8 € for regular ticket (note: this palace was not open when we stopped by in November)

Public transportation stop: Tschaikowskistrasse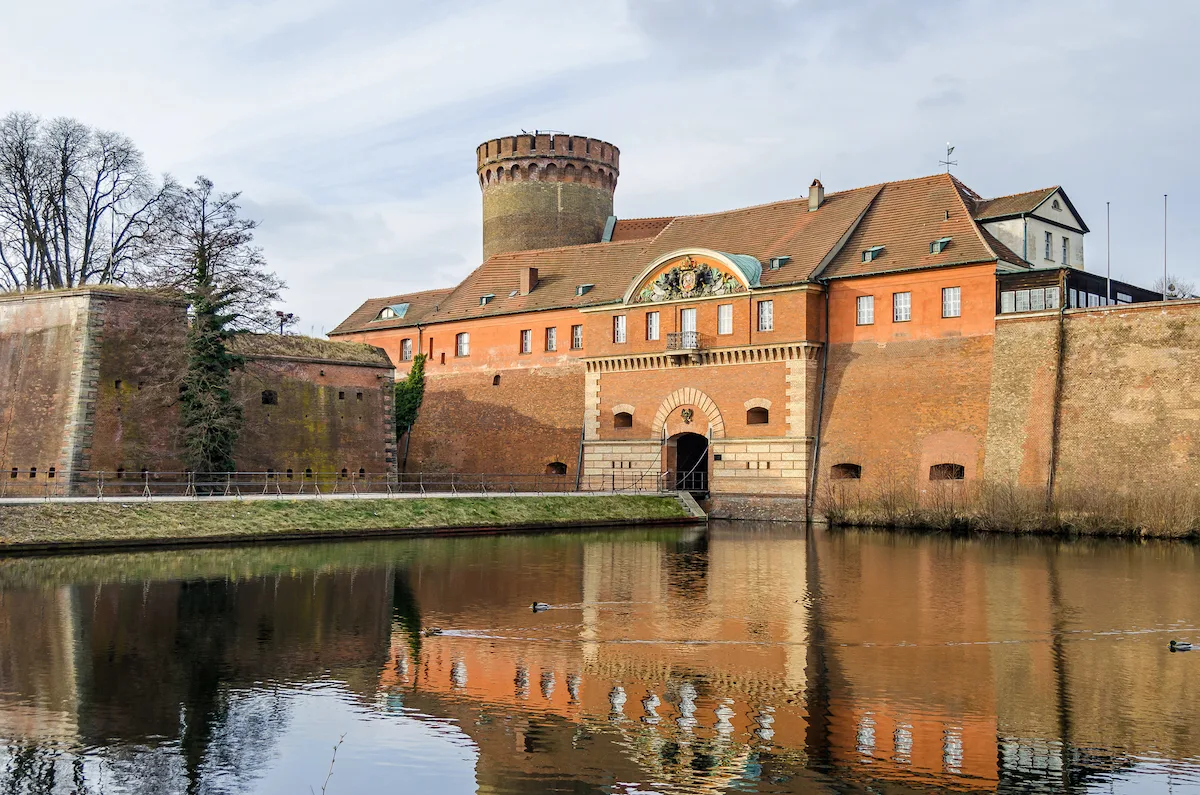 Spandau Citadel
The Spandau Citadel is one of the best preserved Renaissance fortresses in all of Europe. It was first built in the 16th century but some of the oldest parts of the fortress actually date back to the Middle Ages. One of the surviving towers, the Juliusturm, is considered to be Berlin's oldest building. Visitors can climb to the top level to get panoramic views across the old town of Spandau and the River Havel.
The defensive structures of the fortress were designed symmetrically with four bastions connected by four walls of equal length. To go inside, visitors also have to cross over a small bridge over the surrounding moats.
The former military fortress is now an important cultural center. It hosts tons of events like historical exhibitions, festivals, open-air concerts, puppet theater, and medieval and jousting festivals. Fun fact: The fortress provides a winter home to over 10,000 bats each year. Visitors can go on the popular guided "bat tours" through the vaulted corridors of the cellar.
Admission fee: 4.50 € for regular ticket (includes the museums, the Juliusturm and the exhibitions)
Public transportation stop: Zitadelle or Altstadt Spandau
Other Must-Visit Castles in Germany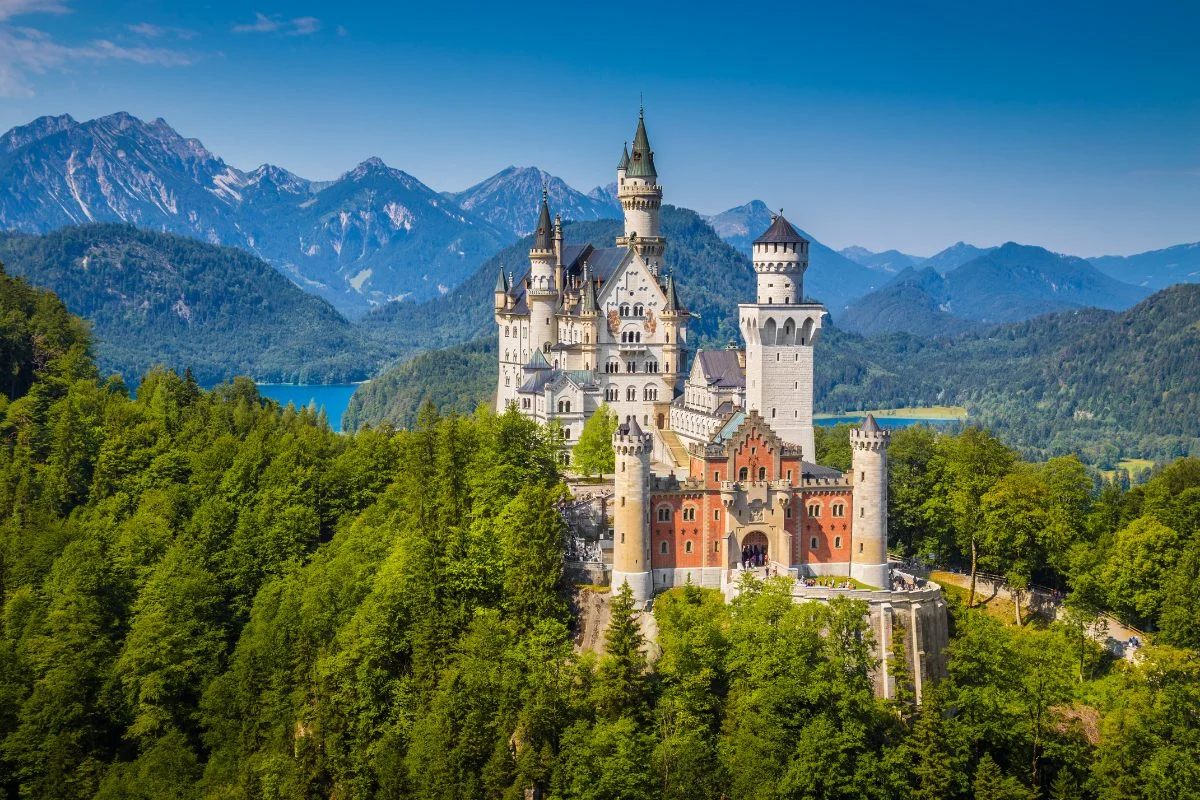 While Berlin is an amazing destination, it's no secret that many more of Germany's most beautiful castles can be found in other regions of the country. In fact, there are over 25,000 beautiful castles just waiting to be explored.
Here is a list of some of the top castles in Germany to add to your bucket list!
For more information on these castles and more, read our guide here on how to plan the ultimate tour of castles in Germany.
---
ULTIMATE GERMANY TRAVEL RESOURCES
We've gathered some of our essential travel guides, websites, and other information to help you plan the best vacation! We use these resources ourselves and share them to save you money, time, and stress so you can focus on enjoying and making the most out of your time in Germany.

GERMANY TRAVEL BUNDLE: Our Ultimate Germany Travel Bundle gives you the best tools, up-to-date tips, and expert insights to easily and efficiently tackle the travel planning process. You'll get our custom Trip Planning Map, which shows you the best sights, hotels, castles, and more – because seeing where things are in relation to each other makes trip planning SO much easier! You also get our Trip Planning Spreadsheet, City Cheatsheets, How-to Videos, Germany Trip Planning Guide, and Trip Planning Spreadsheet!

BOOKING FLIGHTS: To find the the best flights deals, we recommend checking Kayak, Skyscanner, Expedia, Travelocity. These websites are also great for getting rental cars.

ACCOMMODATIONS: We recommend using Booking.com since they have widest range of accommodations available from hostels, boutique hotels, luxury chains, aparthotels, at the best prices. For vacation homes, we suggest checking VRBO. We also have accommodation guides on different destinations (Hamburg, Cologne, Munich, Stuttgart, and more to come!) in our website.

TRAINS & BUSES: For point-to-point or regional train tickets (great for day trips or groups) within Germany, or tickets originating in Germany to other European destinations, we recommend buying them on the Deutsche Bahn (German Rail System) website. If you want to buy a rail pass for Germany (or elsewhere in Europe), buy them on Rail Europe. For buses, FlixBus offers tickets for routes within Germany and to other European countries. FlixBus is often cheaper than trains but can take longer.

TRAVEL CREDIT CARD: One of the best ways to make travel to Germany more affordable is by booking free flights. Using the points accrued with our Chase Ink credit card (and a few others), we haven't had to pay for flights to Europe in the past 10 years!

TICKETS AND TOURS: We always recommend exploring a new city for the first time with a Hop On Hop Off Bus tour (ride it all the way around for the entire 1.5-2 hour tour). Here is our guide on the best Hop On Hop Off Bus tours for different German cities. For guided walking tours, day trips, private tours, and skip-the-line tickets, Get Your Guide is our go to!

WHAT TO PACK: Not sure what to bring to Germany? Check out our 2-week minimalist packing guide for tips on traveling light, and our Germany packing list for our must-pack items. Bonus: check out our guides on finding the best travel purse and best travel scarf with a hidden security pocket.

TRAVEL CONSULT: If you feel like you need more help and guidance beyond these resources, book a travel consult with us! We offer personal live sessions where we'll help you with things like planning your itinerary, showing you how to book train or skip-the-line tickets, and answer any other questions you have about traveling to Germany.