Best Things to Do and See in Tübingen, Germany
This post may contain affiliate links. Read my disclaimer policy.
Tübingen is the quintessential picturesque German college town with cobblestone streets, half-timbered buildings, and a castle on the hill. It also has a rich cultural history that can be seen in its old churches and universities, including the famous University of Tübingen, which dates back to 1477.
I once spent a month in Tübingen and loved exploring the old town, hiking nearby forest trails, and enjoying restaurants, cafes, and bars. No matter the time of year, I'm always happy when I can go back and visit!
This guide will help you plan your own trip to this beautiful German town.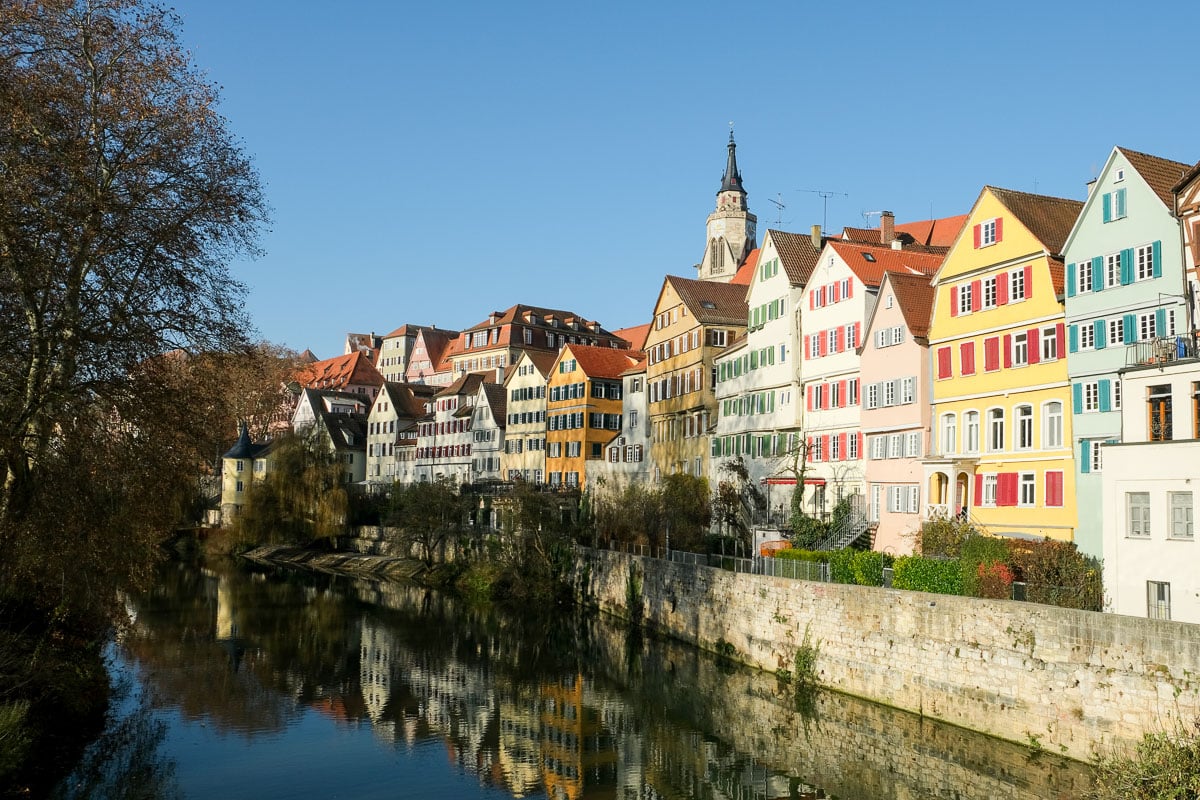 Where is Tübingen in Germany?
Tübingen is in southwestern Germany in the German Bundesland (state) of Baden-Württemberg. It's about 1 hour from Stuttgart by train and not too far from the Black Forest, Castle Hohenzollern, and Castle Lichtenstein.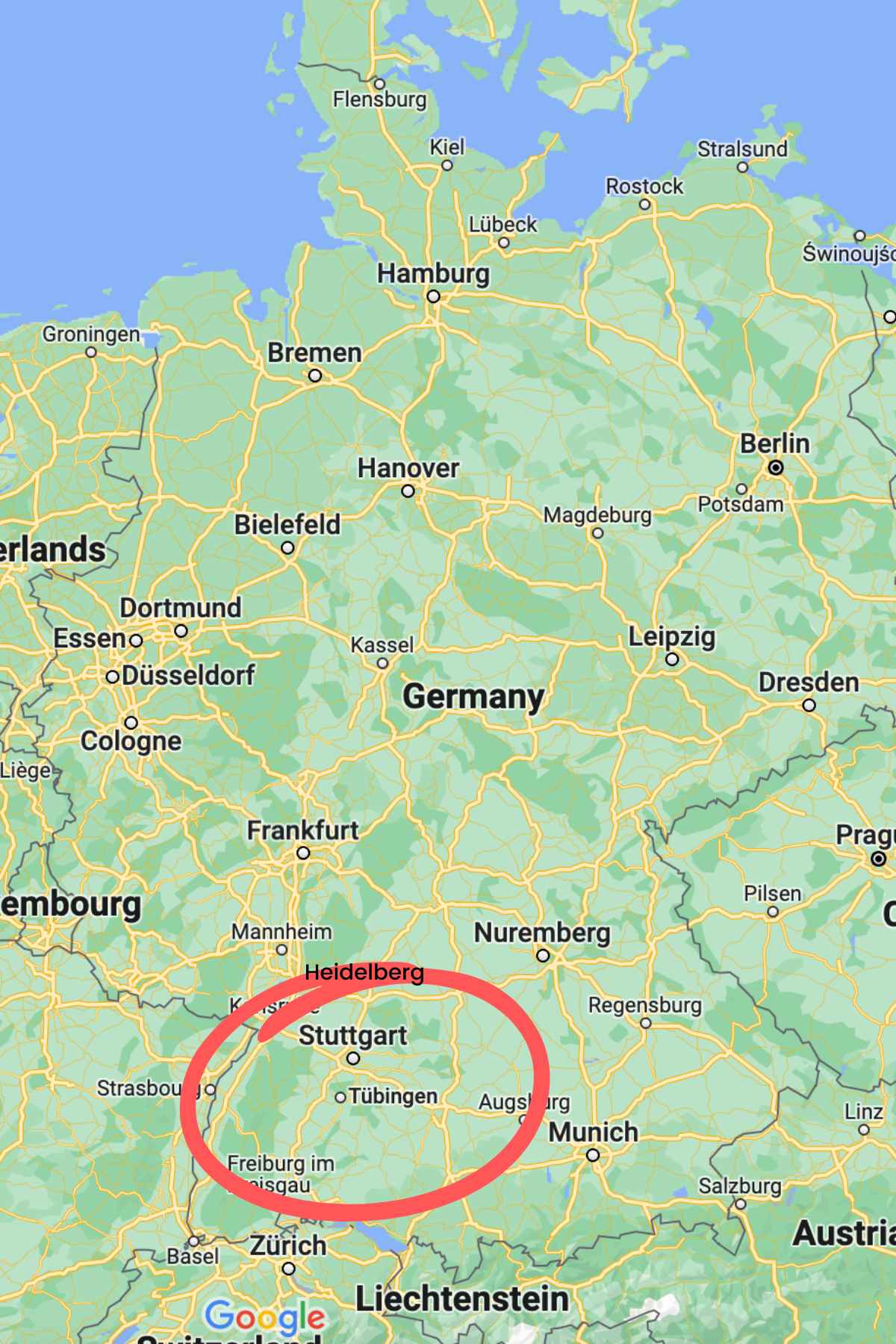 Is Tübingen Worth Visiting?
Yes! Here are a few reasons to add charming Tübingen to your itinerary:
It's a wonderful combination of German cute and work-a-day town. There are tourists here but you feel like you're seeing how Germans live among the half-timber buildings and cobblestone squares.
It's a university town so it's got a youthful and energetic vibe. And lots of lovely cafes and bars.
It's not a sanitized tourist town. Right next to the cathedral you'll find the oldest university building next to a graphitti wall. You'll also find cute boutiques that locals actually shop at.
It's super walkable. Everything you'll want to visit on a day trip is reachable by foot. And Tübingen has a convenient bus system and train station so you can reach locations that are further out.
Day trip options. Tübingen is close to castles, Stuttgart, the Black Forest, to name a few. I once even did a day trip to Munich from Tübingen.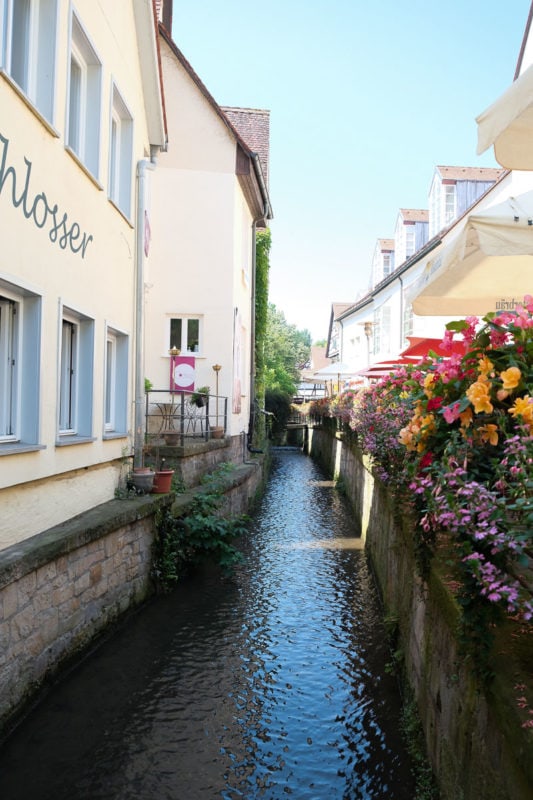 Where to Stay in Tübingen
Tübingen is a smaller town and hotels can fill up quickly. So if you plan to spend a night or two, don't put off booking your hotel. There are several great hotels in or just outside of the Altstadt (Old Town). If you stay in or near the Old Town you'll be able to see the city on foot.
See below for the hotel I recently stayed in and a few other recommended hotels.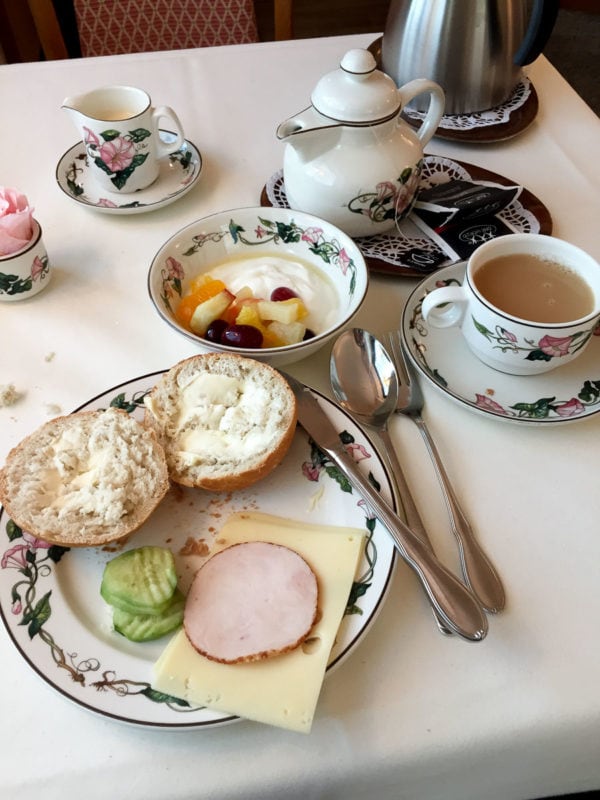 1. Hotel am Kupferhammer
Located in a quiet yet centrally located part of Tübingen, Hotel am Kupferhammer is within a walking distance of Tübingen's historic center and main train station. This hotel prides itself for excellent staff service, cozy rooms, and highly rated breakfast!
I stayed here the last time I was in Tübingen and enjoyed it. The bed was so comfortable, the breakfast was plentiful and delicious, the room was quiet, and the staff were so friendly. Bonus: a large grocery store was a couple minutes away and the perfect place to stop for snacks and a quick to-go lunch or dinner.
2. Hotel am Schloss
Perched the top of a narrow cobbled street within the Old Town, Hotel Am Schloss offers a glimpse into the medieval experience as it sits right next to one of Tübingen's most famous landmarks, the Hohentübingen Castle. Guests can complete the local experience by enjoying authentic local Swabian food at the hotel's very own Mauganeschtle restaurant!
3. Hotel Krone
Highly recommended for its location and breakfast, Hotel Krone is conveniently situated very central to downtown Tübingen, a short distance from the old medieval town, local restaurants and shops, and the train station. It perfectly combines the charm of an elegant old structure with well-appointed modern furniture and facilities.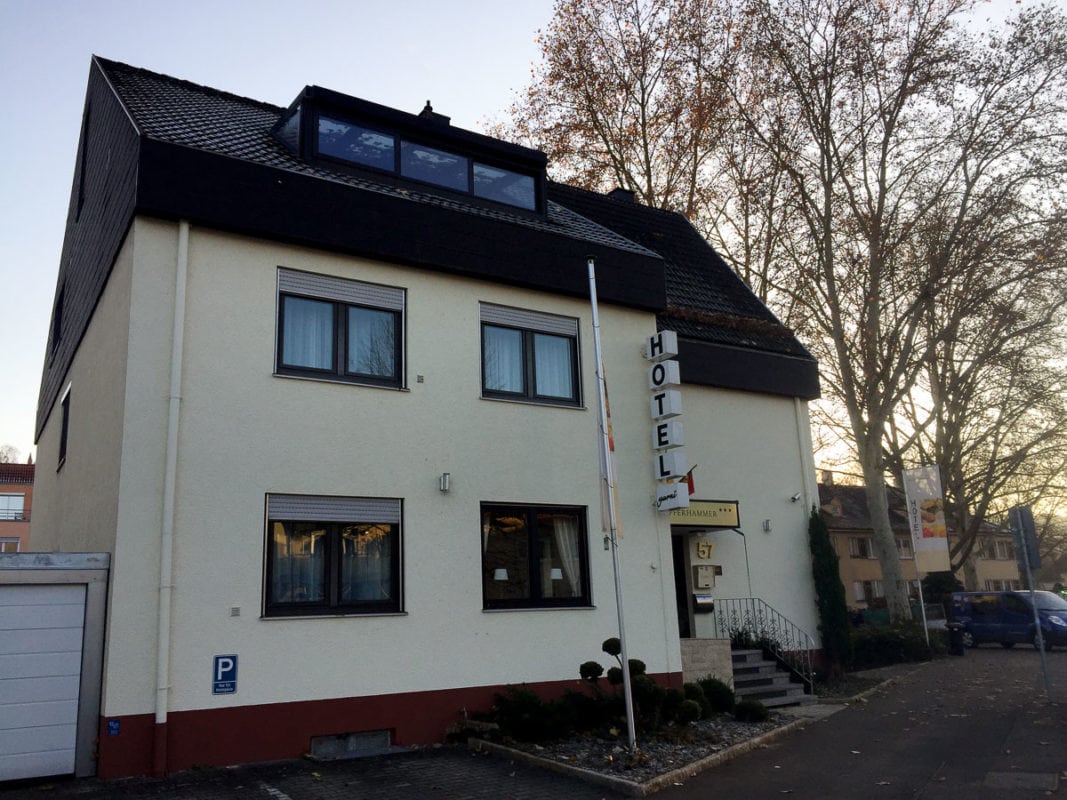 4. Domizil Tübingen
Domizil Tübingen, winner of a prestigious architectural award, beautifully integrates state-of-the-art designs into the natural landscape of the Neckar riverbank. This delightful hotel offers regional gastronomic dishes, magnificent views of Neckar and the Old Town, and a quick access to the city center's foremost tourist destinations.
5. Ibis Styles Tübingen
With its close proximity to the city center, local shops and restaurants, and the train station, Ibis Styles Tübingen is a great place to stay if you're a fan of Ibis or are looking for easy parking. You'll find spacious rooms, comfy beds, and filling breakfast.
Things to Do & See in Tübingen in 1 Day (or More)
There's a lot you can do and see in lovely Tübingen in 1 or more days. If you're short on time, head right to the Altstadt (Old Town). If you have more time, branch out and explore beyond the city center, pop into a museum, take a boat ride, enjoy a restaurant, and do some shopping. See below for Tübingen's must-sees.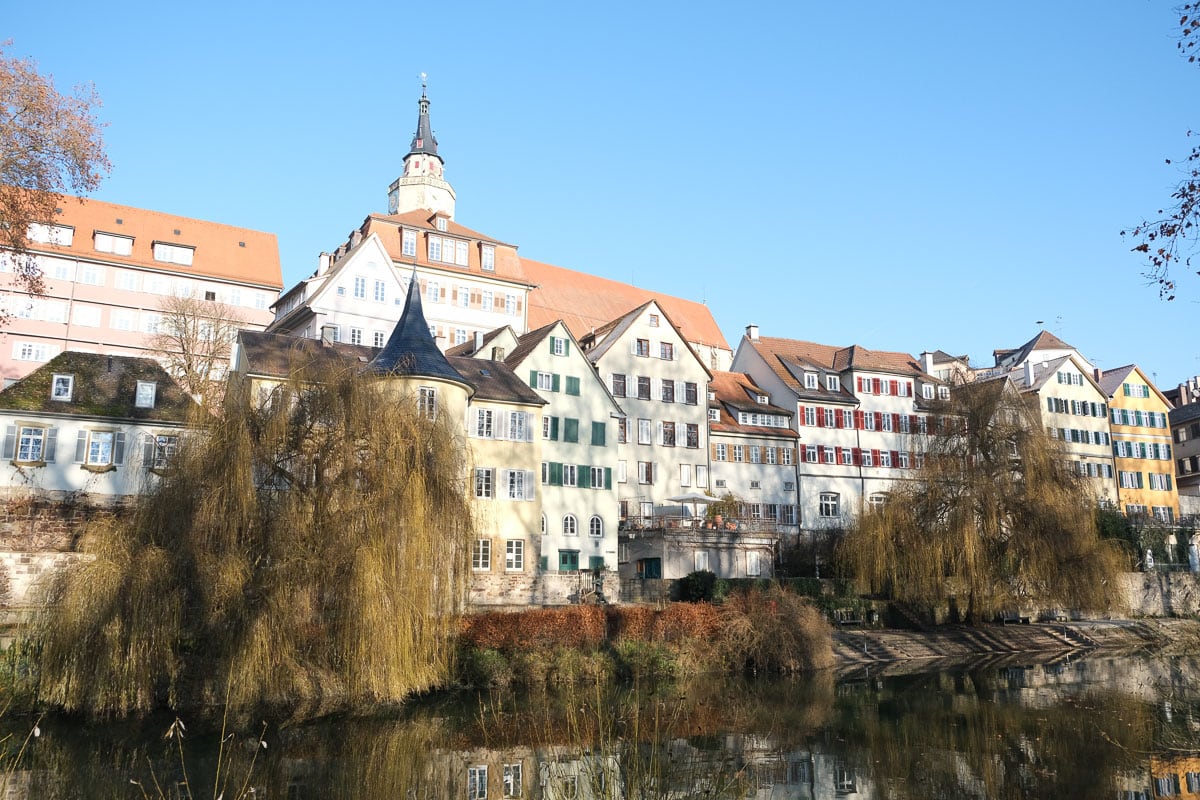 Platanenallee & Neckarinsel
Standing in the middle of the Neckar river is the small island of Neckarinsel featuring the picturesque Platanenallee walking path. Two-century-old sycamore trees line up along the Platanenallee, perfect for unwinding on the meadow, watching boat rides, and biking on the island. With its historical significance and scenic panorama of Neckarfront, locals and tourists alike enjoy relaxing here in one of Tübingen's main open spaces.
Neckarfront & Hölderlinturm
The Neckarfront is possibly one of the most recognizable spots in Tübingen. Neckarfront is a cluster of colorful houses that were preserved to document the history and capture the personality of the Old Town. At the end of the Neckarfront stands the Hölderlinturm or the Hölderlin Tower, named after the poet Friedrich Hölderlin to honor his life and contributions to the literary history of Germany.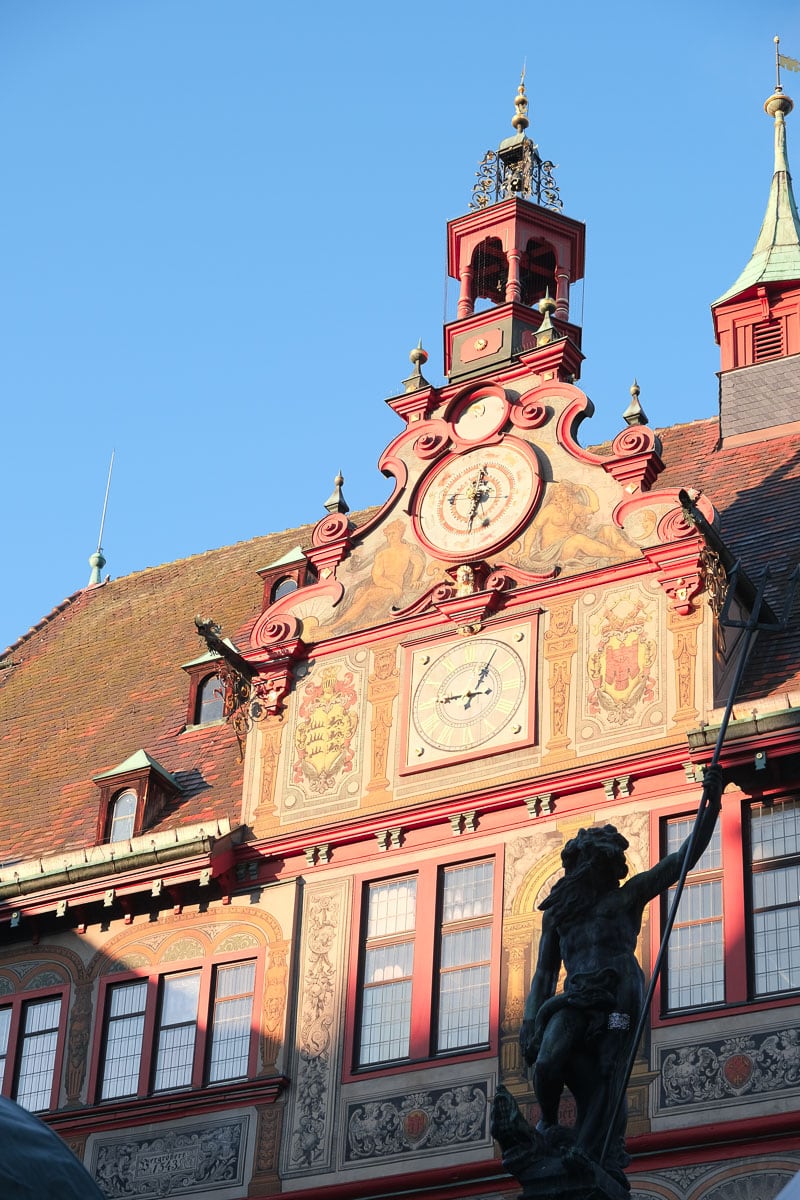 Rathaus (City Hall)
Originally built in 1435 as a marketplace, the Rathaus (Tübingen's town hall) has undergone several renovations, which is evident through the varying architectural designs and materials found around the building. Other historical artifacts also worth viewing in the town hall are the astronomical clock installed in 1511, the carillon constructed in 1988, and the more recently installed art gallery featuring the works of renowned German painters.
Stiftskirche (Collegiate Church)
The Stiftskirche reflects the late Gothic design of the 15th century. Despite being over 500 years old, the collegiate church remains to be Tübingen's biggest and most important concert hall. Some of the key features of the church are the beautiful glass windows, shell limestone sculptures, the folding altar, and the carved choir stalls.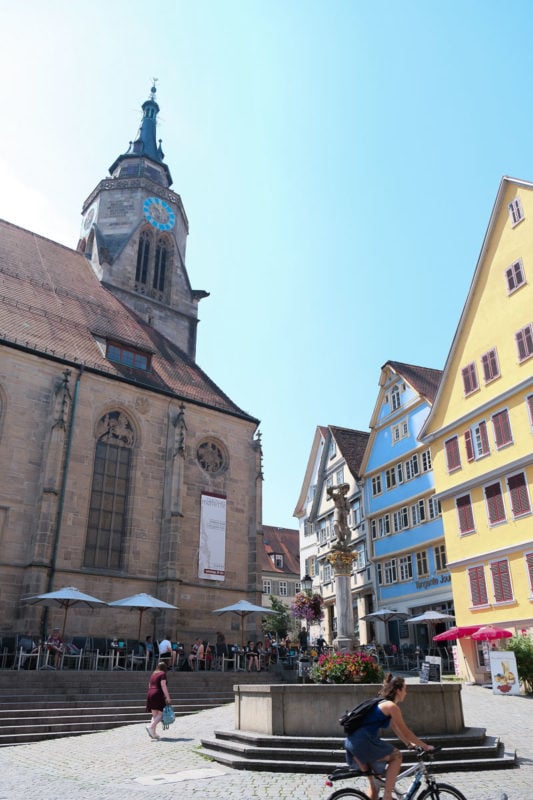 Neptunebrunnen
Standing tall in the middle of the Tübingen market square is the Neptunbrunnen named after Neptune, the Roman god of the sea. While its unveiling came with a little controversy, this self-sufficient sandstone fountain is now one of the top tourist attractions in the city center.
Schloß Hohentübingen (Castle Hohentübingen)
A stunning remnant of the Middle Ages, Schloß Hohentübingen displays 40,000 years worth of archaeological and cultural-scientific collections which include an ancient Egyptian burial chamber, early artworks from the Ice Age, the world's first biochemical laboratory, and the oldest and second largest wine barrel in the world. Currently, the castle also houses the University of Tübingen and the Hohentübingen Castle Museum. Even if you don't visit either of them, the views from the castle are well worth the walk up the hill.
Holzmarkt by the Stiftskirche
The Holzmarkt, which translates to "wood market" in English, is located right in front of Stiftskirche (the Collegiate Church). Presently, the Holzmarkt serves as a venue where demonstrators hold their rallies, local farmers sell their produce, and residents sit back to relax. Boutiques, restaurants, and the Heckenhauer bookstore are found in the area.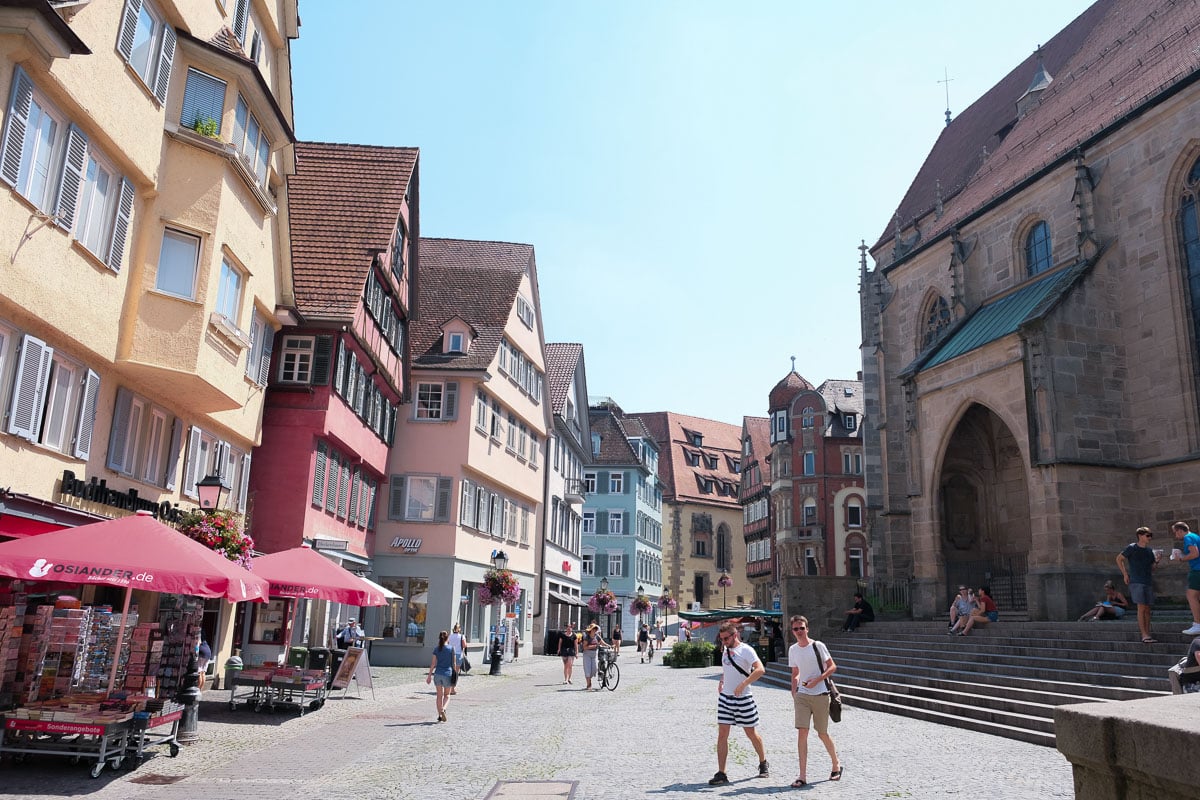 Marktplatz am Rathaus (Market Square)
This market square is right at the center of Tübingen's Old Town where the weekly market offers regional products every Monday, Wednesday, and Friday. This is also the perfect spot for both residents and tourists to just sit back, relax, and enjoy the view of the historic town hall, the beautiful music of the carillon, and the traditional dishes and refreshments at the local cafés.
Stocherkähne (Flat-bottom Boats)
If Venice has its gondolas and Cambridge has its punts, Tübingen has its "Stockerkähne" – flat-bottom boats propelled by a long pole. Definitely a highlight of every trip to Tübingen, Stockerkähne rides take the guests through the scenic Neckarfront and around the Neckar Island.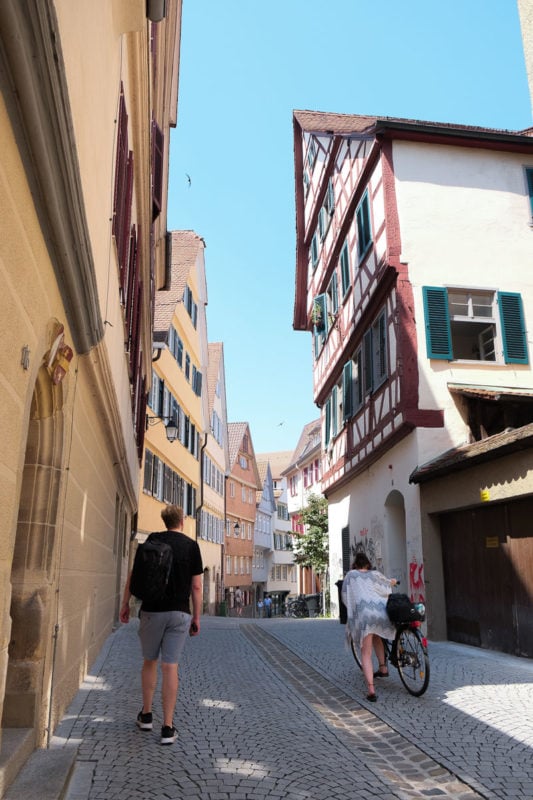 Botanical Garden
Although the Botanical Garden is mainly used by the University of Tübingen as a teaching and research facility, it invites the public to explore over 12,000 species of plants from all over the world through its differently-themed sections, numerous greenhouses, and countless collections. This 10-hectare garden offers a unique way of learning about nature with its public lectures, guided tours and exhibitions, and hands-on experiences for free.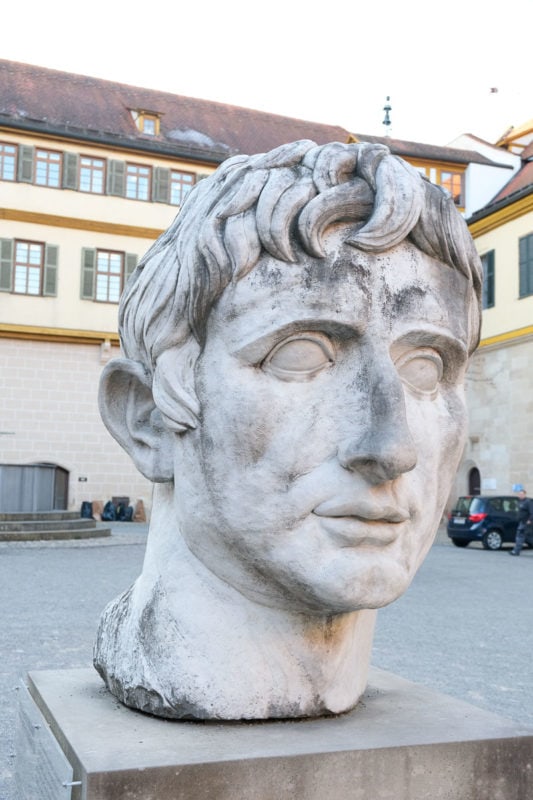 Nonnenhaus + Radfarher
A building recognized for its exemplary restoration of a historic building, the Nonnenhaus was originally built as a convent in the 15th century and remains to be one of the largest half-timbered houses in Tübingen. Currently, it houses a boutique, a bookstore, and the Radfarher, a bronze sculpture called the Cyclist King.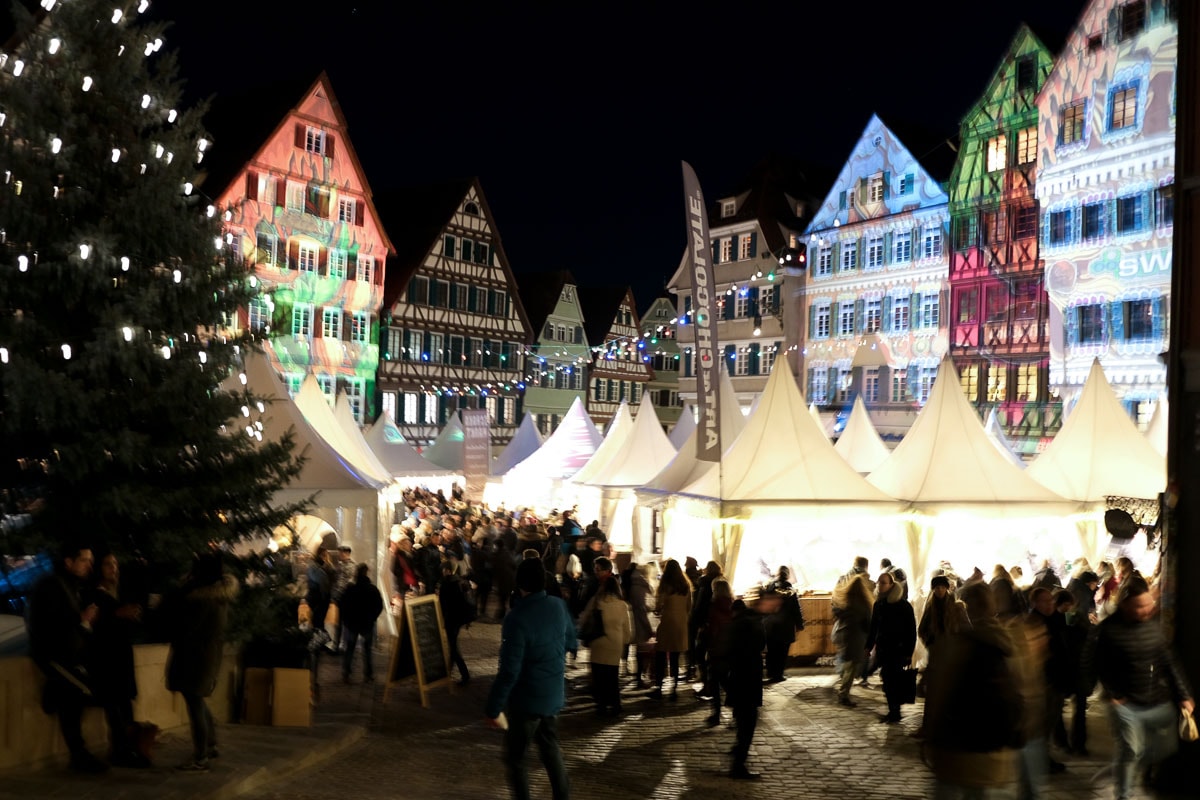 ChocolArt Festival
Unlike many other cities in Germany, Tübingen does not have a 4-week Christmas market. Instead, they host a chocolate festival! Celebrated every first week of December, the ChocolArt Festival gathers over 100 top-notch chocolate manufacturers and artists from across the globe at the Tübingen city square. You'll find chocolate slabs, chocolate beers, pralines, truffles, nougats, and so much more at Germany's biggest chocolate festival!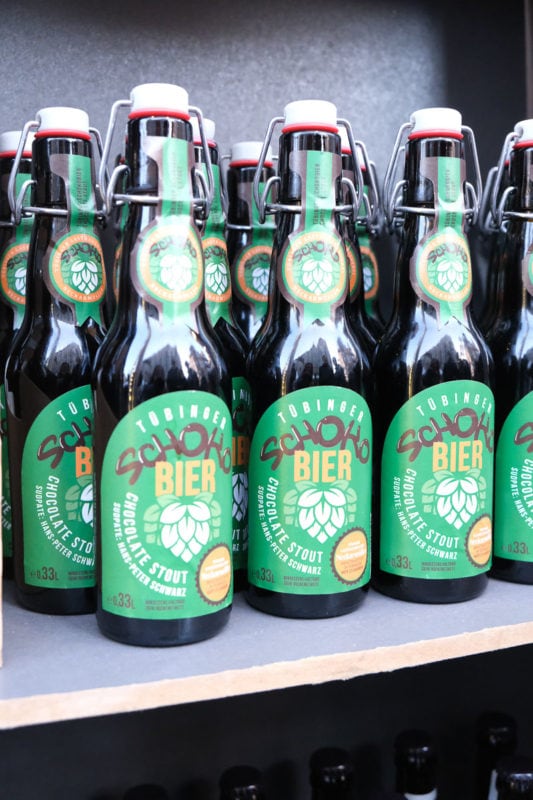 Cafes & Shops
Since Tübingen is a university town, it's filled with lovely cafes and shops sprinkled in and around the Old Town. When you're tired of walking and window shopping, snag a table at a cafe and rest your feet while sipping coffee or tea.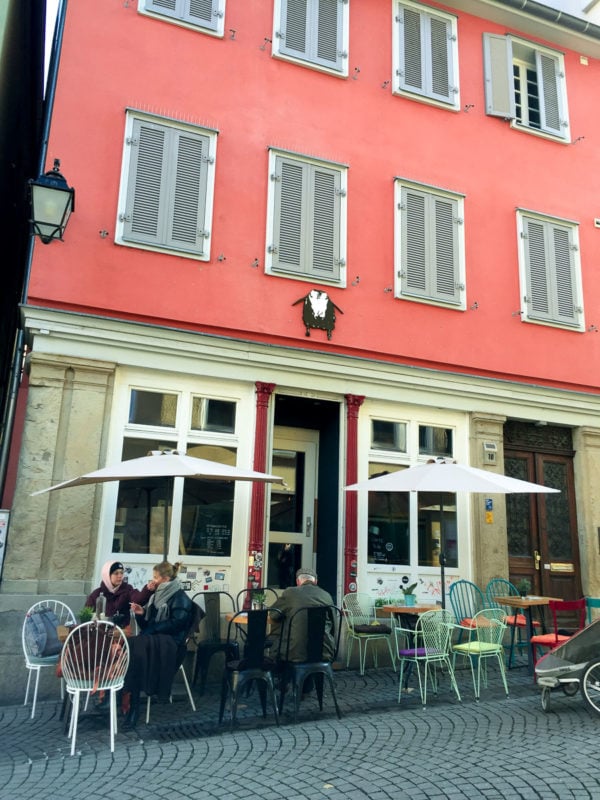 How Much Time Should You Spend in Tübingen?
You can see Tübingen's highlights on a day trip (from Stuttgart, for example). Or you can make Tübingen your home base for 2-3 days if you want to see the town and visit a nearby castle or two.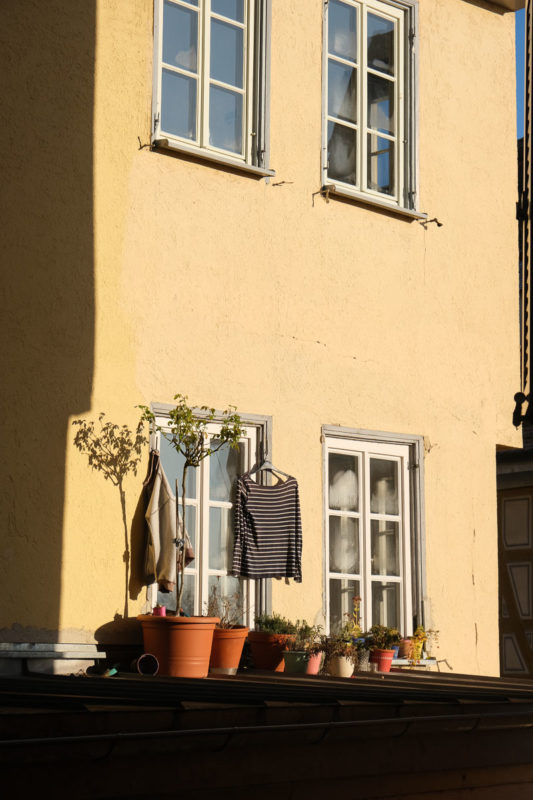 How to Get to Tübingen
You can drive or take the train or bus to Tübingen. The nearest airport is in Stuttgart, and there's a bus that will get you to Tübingen in an hour. I took this bus a couple years ago and it was a pleasant drive through cute towns and hilly countryside.
If traveling to Tübingen from downtown Stuttgart, rather than the airport, you can catch a train from the main train station (takes about 1 hour). Tübingen is also easy to reach by car or train from Frankfurt and Munich airports, as well as other German cities.
If arriving in Tübingen by train, you can walk, take the bus or hire a taxi to get to your hotel from the train station. Tübingen is a very walkable town with a great bus system.
If arriving by car, make sure your hotel has parking. If you're driving to Tübingen just for the day, there's paid public parking on streets and in garages. They can fill up so arrive early! We got lucky and found one on the street next to the Botanical Garden, just a short walk from the Old Town. It was a super hot summer day on that visit, so not many people were out and about, though.
If you plan to take day trips to nearby castles or to go hiking, be sure to research travel options and times in advance, especially if using public transportation. If you plan to combine a visit to Tübingen with seeing other sights like Bebenhausen, Bad Urach, Castle Hohenzollern or Castle Lichtenstein, driving is a good idea.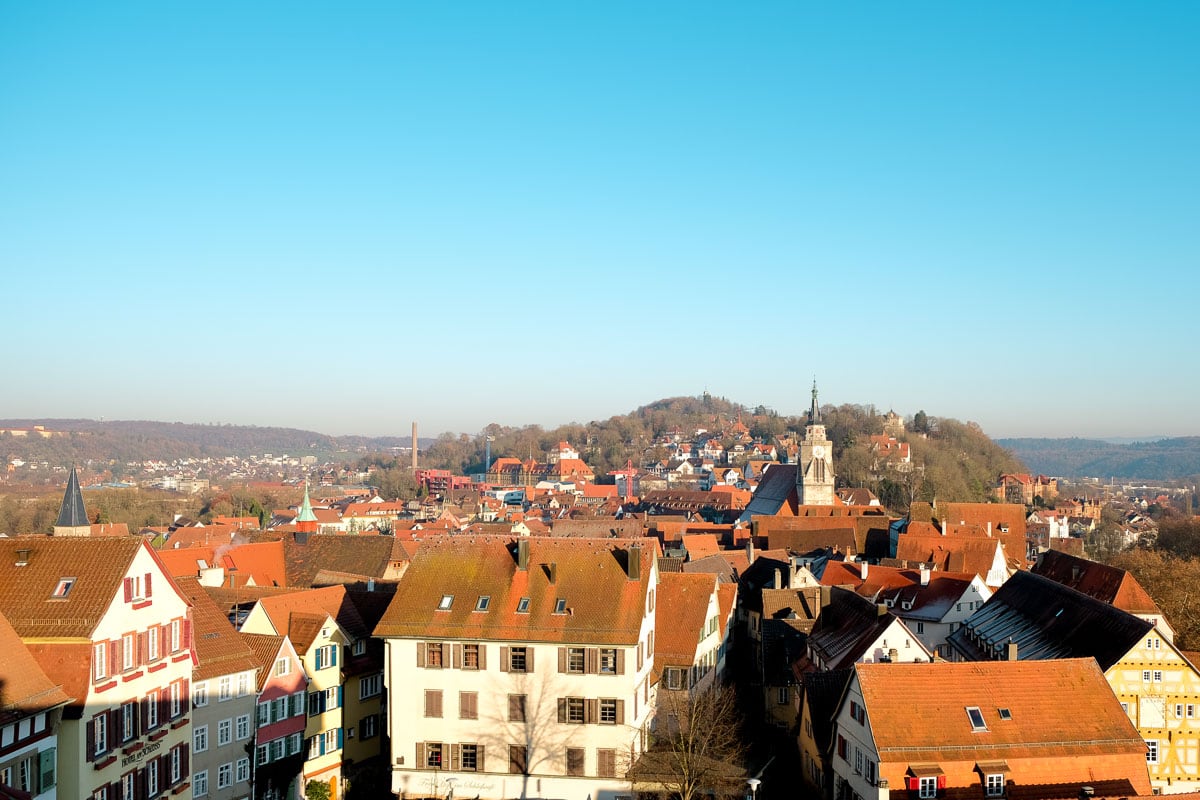 Day Trips from Tübingen
If you're able to spend 2-3 days in lovely Tübingen, be sure to take a day trip so you can see more of the area. Here are some ideas.
1. Bebenhausen
Bebenhausen monastery is an important German architectural heritage site after having served as a royal residence, a school, a hospital, and a church. One of the well-preserved historical communities in the region, this Gothic and Renaissance inspired monastery offers guided tours around the village with stories about its former royal and monk residents and key architectural features. Located at the Schönbuch nature reserve six kilometers north of Tübingen, the Bebenhausen is only 12 minutes away by bus or car from the city center.
2. Hohenzollern Castle
Sitting on top of a hill 30 kilometers away from Tübingen, the magnificent castle of Hohenzollern showcases the royal family's lavish personal chambers, art collection, armory, precious silver and porcelain, and the Prussian royal crown. Guests can also enjoy numerous concerts, an open-air cinema, and Christmas markets in the vicinity of the castle. This castle is about 30 minutes away by car. You can take public transport to the castle but it takes much longer (upwards 2 hours).
3. Lichtenstein Castle
A small, quaint castle set against the panoramic views of the Echaz Valley and Swabian Alps, the Lichtenstein Castle is also known as Württemberg´s fairytale castle. Some of the key features of this stunning structure are the royal chambers, the weaponry, and the glass arts in its chapel. Located 30 kilometers from Tübingen, your can reach Lichtenstein Castle in about 30-minutes by car or in about an hour by train from the city center.
4. Bad Urach
Bad Urach is a small town filled with half-timber archticture located in the heart of the UNESCO Biosphere Reserve Swabian Alb. You can hike nature trails, see the internationally famous Urach waterfall, swim with a view of valleys and castle ruins or enjoy scrumptious regional Swabian cuisine. Bad Urach is less than an hour from Tübingen by car or train.
5. Waldenbuch and the Ritter Sport Chocolate Factory
If you're a fan of Ritter Sport chocolate, this is a fun day trip! Ritter Sport's Waldenbuch factory offers a ChocoExhibition showcasing the company's history and sustainable operations, a ChocoWorkshop which allows guests to create their own chocolate bars, and a ChocoShop filled with Ritter Sport chocolate bars at a discount. You can find all kinds of flavors, including new flavors they're testing out that you can't find in stores. Located only 18 kilometers from Tübingen, Ritter Sport Waldenbuch is only 20-30 minutes away by car or public transport.