Thinking about visiting Heidelberg? With its beautiful castle, old town, bridge, and hiking trails, it's a Germany must-see.
This guide will help you help you plan you visit to this historic university town and its famous Heidelberg Castle.
Heidelberg Castle (Heidelberger Schloss in German) is a popular castle and castle ruin in Germany and a major landmark of Heidelberg.
The city of Heidelberg is located in the state of Baden-Wurttemberg in southwest Germany, along the Neckar River. Situated atop a hill overlooking the Neckar Valley, the castle attracts people from all over and is definitely worth visiting.
Aaron and I have been to Heidelberg many times over the years and always enjoy wandering the cobblestoned streets, exploring the castle, and taking walks on the Philosophenweg trails.
Here's everything you need to know about visiting Schloss Heidelberg!
Why Visit Heidelberg
So many reasons! First, Heidelberg is a famous university town and home to Heidelberg University, which is the oldest and one of the most prestigious universities in Germany. A friend of mine studied there and her student housing was in the historic city center!
Second, the old town of Heidelberg is known for its romantic architecture, historic sites, and unparalleled riverside views. And while there are tourists in Heidelberg, it's not just a tourist destination.
Third, the city is quite easy to navigate and easy to get around on foot, so you can definitely see Heidelberg Schloss and other important landmarks in a day.
Your first stop should be Altstadt (old town) where you'll find picturesque streets lined with cafés, medieval buildings, and churches. Highlights include the Marktplatz (main square), the Church of the Holy Spirit, and the Rathaus (town hall).
Another must see is the Alte Brücke (old bridge), a stone bridge spanning the river Neckar and connecting two sides of historic Heidelberg. Take a stroll or book a river cruise to get great views and a unique perspective of the castle and the city.
What You Need to Know About Visiting Heidelberg Castle
Getting to Heidelberg
You can travel to Heidelberg by train or car. The main train station in Heidelberg is centrally located and has service to both regional towns and major cities, the nearest ones being Frankfurt and Stuttgart. To find the best train or route to take, check out the Deutsche Bahn website (German Rail).
On the Deutsche Bahn website you can check train schedules and book point-to-point tickets or regional tickets. This is where I book all of our Germany train tickets.
If you're driving a rental car, take the Autobahn (motorway) A5 or A 656 (via Darmstadt, direction: Karlsruhe/Basel) and exit at Heidelberg motorway interchange or at "Heidelberg/Schwetzingen" which will take you to the city center.
If you don't want to worry about transportation, consider booking a day tour! This guided tour from Frankfurt provides private bus transportation and brings you to the main tourist attractions of Heidelberg.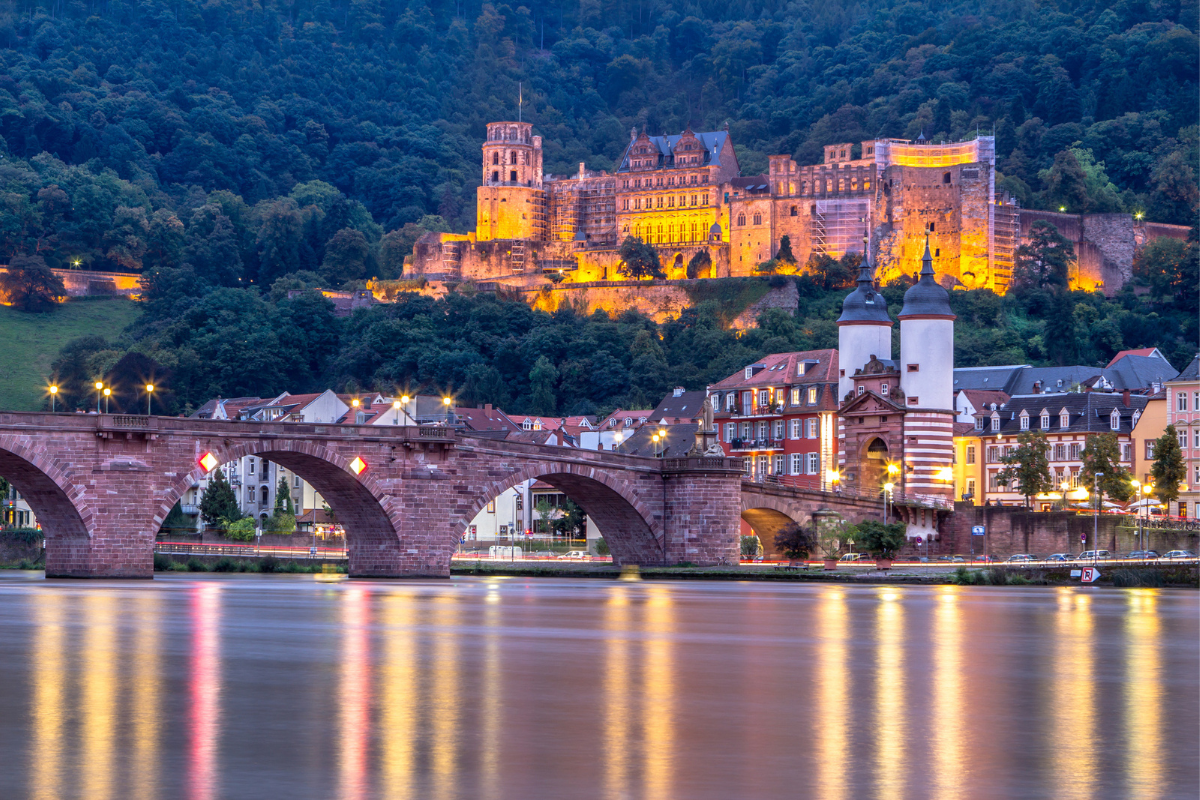 Directions to Heidelberg Castle
To get to Castle Heidelberg from the central train station using public transportation, take bus line 33 or bus line 20 to the stop "Bergbahn." Once there, you have to take a short ride via the funicular railway all the way up to the "Schloss" station.
Alternatively, you can also walk from the train station to Old Town and then to the castle. You can find the uphill path that leads up to the castle (called Burgweg) next to the Rathaus and Kornmarkt. You can choose between the short route (with steps) or the scenic route (no steps). For both paths, follow the signs that lead to the castle.
If you're driving, keep in mind that there aren't many parking spaces close by. There are a few parking spots with fees about 500m from the main entrance of the castle grounds, further uphill of the garden area. Take note that the one way street uphill to the castle is closed to the public on weekends. Instead, park in a larger public lot and then walk to the castle enjoying the town along the way.
Visitor Information: Opening Hours & Tickets
Heidelberg Castle is open Mondays to Sundays from 9:00 am to 6:00 pm. Viewing the interior is only possible through a guided tour. The guided tours in English are done at the following times: 11:15 am, 12:15 am, 2:15 pm, and 3:15 pm (at the time this guide was written).
The areas that are open without a tour are the castle gardens, inner courtyard and terrace, wine barrel cellar, and the German Apothecary Museum.
You can access all of these places with the standard entrance ticket which costs 9,00€. It also includes round trip use of the funicular.
The guided tours have an additional fee of 6,00 € for adults. You can buy tickets at the castle ticket counter (visitor center or Burgweg).
How to Reserve A Guided Tour
If you'd like a guided tour of the castle or the castle and town with an English speaking guide who can give you insider information and tips, here are 3 great options that are all very highly rated.
This 1.5 hour castle tour is perfect if you're short on time or want to easily combine a tour with exploring on your own.
If you'd like to combine a Heidelberg city tour with a castle tour, this 2-hour tour is perfect for you.
And if you'd prefer a private tour – especially if you're traveling together with friends or family – book a private tour.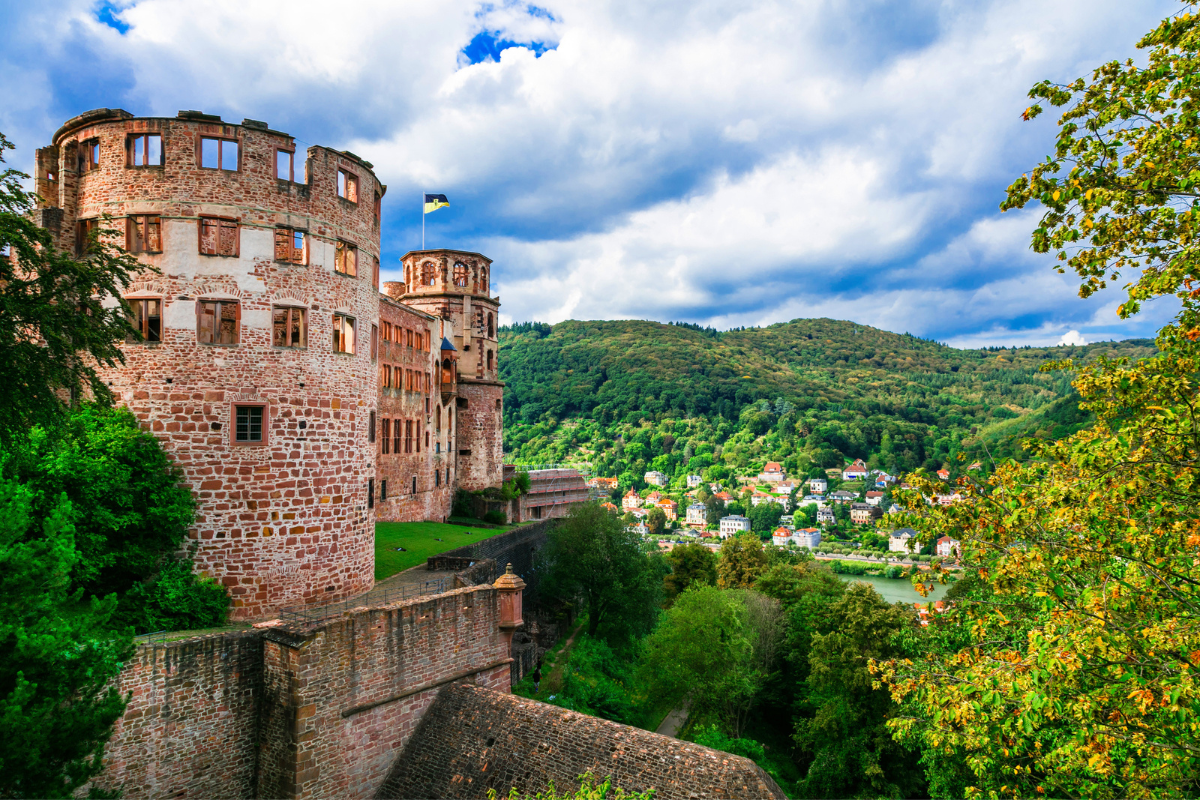 Brief History of Heidelberg Castle
The Heidelberg Castle has a fascinating history that dates back to the early 13th century. The earliest structure was constructed in 1214 and continued expanding until it became two castles. It was first used as a royal residence by Prince Elector Ruprecht III, the King of Germany during a short period in the early 15th century.
Originally a fortified castle with outer defensive walls, Heidelberg Castle continued to expand into a combination of several buildings. Succeeding Prince Electors of the Palatinate built several residential halls, which resulted in the property looking like a mix of a castle and palace.
Unfortunately, the castle also suffered a lot of damage. In the 17th century, it was destroyed by the French army during the Nine Years War. Parts of it were rebuilt but it was damaged again by lightning strike twice in the 18th century, leaving the castle uninhabitable and in ruins.
It was never completely restored but the ruined castle now stands as a symbol of German Romanticism. The vestiges of the past with the restored structure all highlight a different period of German architecture which attracts over millions of tourists annually.
What To See In Heidelberg Castle
German Apothecary Museum
The German Apothecary Museum is an interesting glimpse into the history of pharmaceutics. The exhibition showcases everything from natural remedies from medieval times to antique lab equipment. The museum is located on the lower floor of the Ottheinrich Building.
Heidelberg Tun
The Heidelberg Tun is the world's largest wine barrel. It was built by Prince Elector Karl Theodor to hold over 220,000 liters (58,124 gallons) of wine. The giant barrel stands at 7 meters (23 feet) high, and is 8.5 meters (28 feet) wide. It even has a dance floor built on top of it!
Friedrich Building
The Friedrich Building is the royal family's ancestral hall. It's filled with statues of emperors and kings displaying the idealized royal lines as built by Friedrich IV. You can admire some of the statues and sculptures that are on the facade of the building but the original ones are displayed inside.
Ottheinrich Building and the Imperial Hall
The Ottheinrich Building houses the grand Imperial Hall, one of the most ornate and beautiful rooms in the castle. The ceremonial hall also managed to keep many of its original parts like the door frames, sandstone ornaments, and some sculptures. The second floor has now been repurposed into a special venue for exhibitions and receptions for weddings.
Castle gardens and courtyard
The castle gardens, constructed by garden architect Salomon de Caus, are a beautiful sight in itself. As you stroll through the romantic palace garden, you'll stumble upon vibrant flower beds, intimate garden alcoves, mazes and man-made grottoes, a heated greenhouse with orange trees, and fish ponds.
Heidelberg Castle lighting and illumination
The castle lighting and illumination is a special event that takes place three times a year, usually the first Saturdays in June and September, and the second Saturday in July. It's done in memory of the three times when the castle was on fire. The event begins with a light show of the castle being illuminated to simulate the fire. It's then followed by a spectacular firework show launched from the Old Bridge over the Neckar river.
Other Famous Castles in Germany
Germany is full of castles just as beautiful and fascinating as Heidelberg Castle. In fact, there's said to be over 25,000 castles all over the country waiting to be added to your itinerary!
We have several guides that can help you choose which to visit. Start by reading our ultimate guide of the best castles to visit in Germany.
We also have a guide on the top castles to visit near Cologne and Frankfurt.
Lastly, because we can't talk about castles without mentioning Neuschwanstein Castle, here are our tips on how to plan your Neuschwanstein day trip from Munich.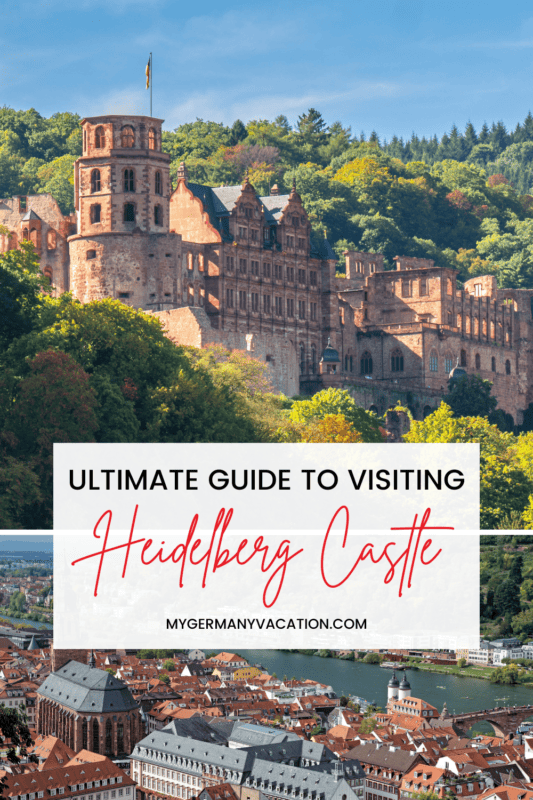 ---
ULTIMATE GERMANY TRAVEL RESOURCES
We've gathered some of our essential travel guides, websites, and other information to help you plan the best vacation! We use these resources ourselves and share them to save you money, time, and stress so you can focus on enjoying and making the most out of your time in Germany.

GERMANY TRAVEL BUNDLE: Our Ultimate Germany Travel Bundle gives you the best tools, up-to-date tips, and expert insights to easily and efficiently tackle the travel planning process. You'll get our custom Trip Planning Map, which shows you the best sights, hotels, castles, and more – because seeing where things are in relation to each other makes trip planning SO much easier! You also get our Trip Planning Spreadsheet, City Cheatsheets, How-to Videos, Germany Trip Planning Guide, and Trip Planning Spreadsheet!

BOOKING FLIGHTS: To find the the best flights deals, we recommend checking Kayak, Skyscanner, Expedia, Travelocity. These websites are also great for getting rental cars.

ACCOMMODATIONS: We recommend using Booking.com since they have widest range of accommodations available from hostels, boutique hotels, luxury chains, aparthotels, at the best prices. For vacation homes, we suggest checking VRBO. We also have accommodation guides on different destinations (Hamburg, Cologne, Munich, Stuttgart, and more to come!) in our website.

TRAINS & BUSES: For point-to-point or regional train tickets (great for day trips or groups) within Germany, or tickets originating in Germany to other European destinations, we recommend buying them on the Deutsche Bahn (German Rail System) website. If you want to buy a rail pass for Germany (or elsewhere in Europe), buy them on Rail Europe. For buses, FlixBus offers tickets for routes within Germany and to other European countries. FlixBus is often cheaper than trains but can take longer.

TRAVEL CREDIT CARD: One of the best ways to make travel to Germany more affordable is by booking free flights. Using the points accrued with our Chase Ink credit card (and a few others), we haven't had to pay for flights to Europe in the past 10 years!

TICKETS AND TOURS: We always recommend exploring a new city for the first time with a Hop On Hop Off Bus tour (ride it all the way around for the entire 1.5-2 hour tour). Here is our guide on the best Hop On Hop Off Bus tours for different German cities. For guided walking tours, day trips, private tours, and skip-the-line tickets, Get Your Guide is our go to!

WHAT TO PACK: Not sure what to bring to Germany? Check out our 2-week minimalist packing guide for tips on traveling light, and our Germany packing list for our must-pack items. Bonus: check out our guides on finding the best travel purse and best travel scarf with a hidden security pocket.

TRAVEL CONSULT: If you feel like you need more help and guidance beyond these resources, book a travel consult with us! We offer personal live sessions where we'll help you with things like planning your itinerary, showing you how to book train or skip-the-line tickets, and answer any other questions you have about traveling to Germany.