Best Things To Do And See In Cochem, Germany
This post may contain affiliate links. Read my disclaimer policy.
Thinking about exploring the Moselle Valley region? Don't miss out on the beautiful medieval town of Cochem. Here are the top things to do in Cochem, Germany!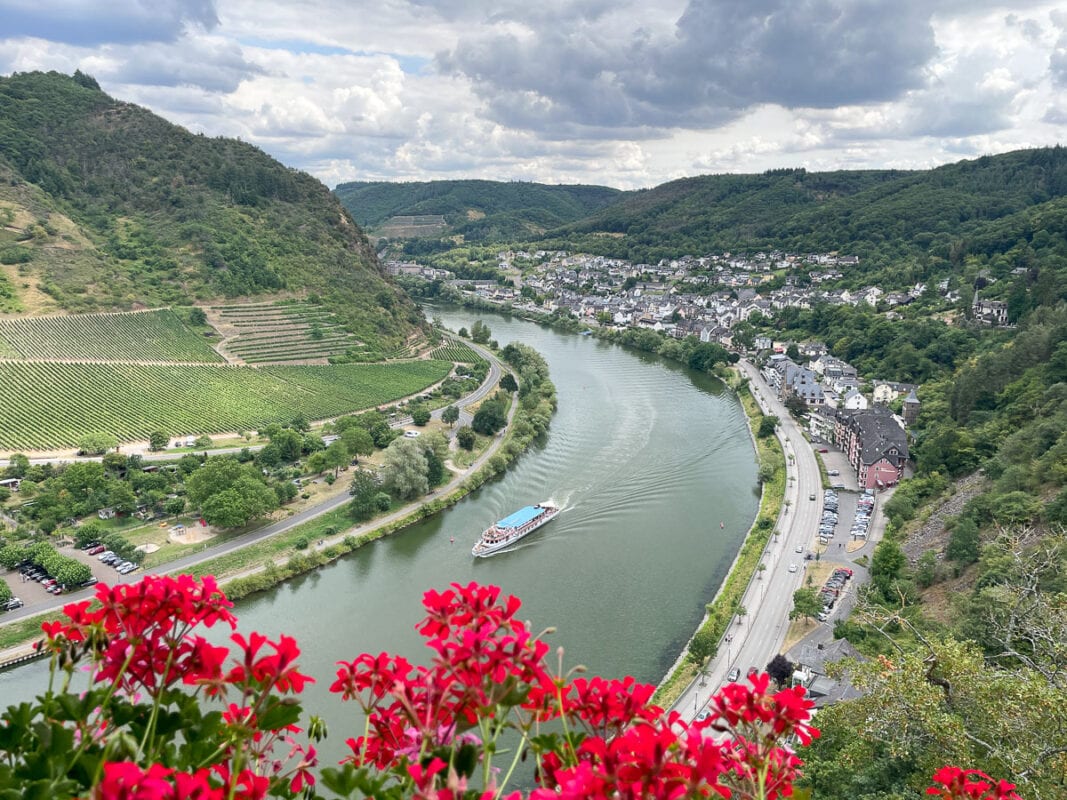 Why Visit Cochem? Where Is It Located?
Cochem is a small, beautiful medieval town in the Rhineland-Palatinate (Rheinland-Pfalz in German) region of western Germany. Located in the heart of the Moselle Valley (Moseltal in German), Cochem offers beautiful natural landscapes with its lush vineyards, riverside promenades and important historical sites like the Cochem Castle, which is one of the country's most beautiful castles.
Cochem is one of our favorite towns in this area and even if you don't choose Cochem as your home base, it definitely deserves at least a few hours visit.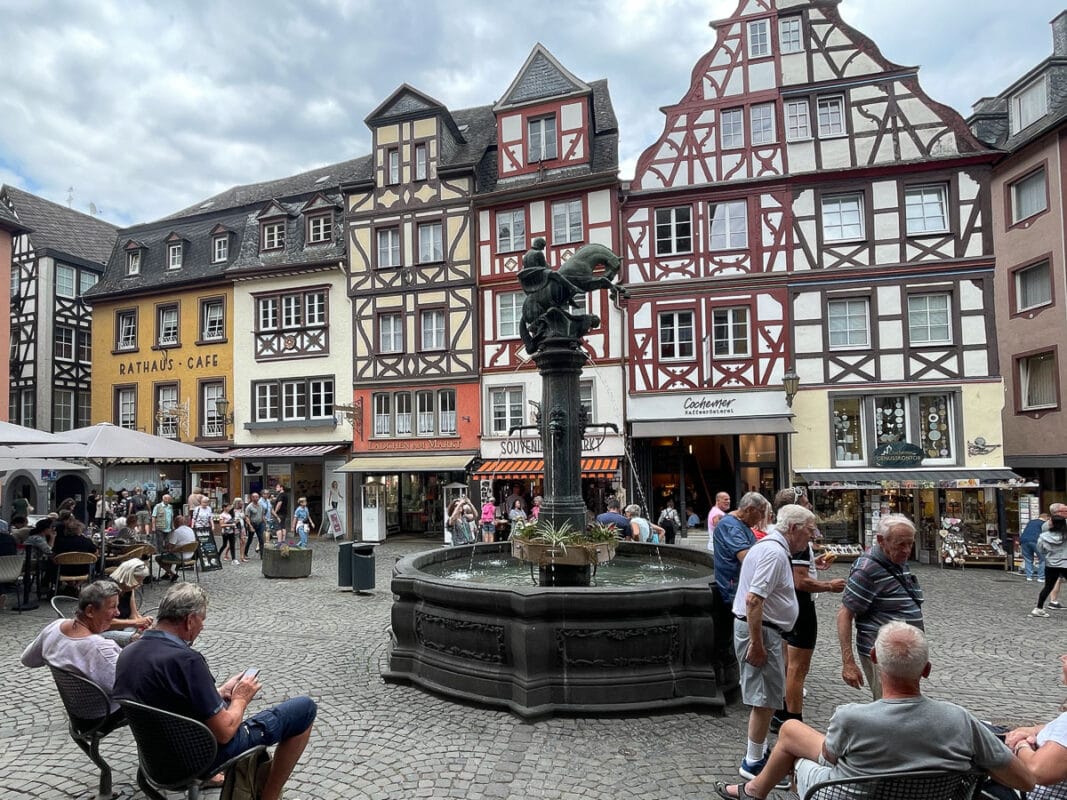 When's The Best Time To Visit Cochem?
Cochem is a beautiful destination to visit year-round. Summer is a great time to visit for warm, sunny days and experiencing the town full of life. There are also a ton of special events during this time, like the Cochem Castle Festival that happens in August. However, summer is the peak travel season for Germany, which means crowds and higher prices, so keep that in mind when planning your trip.
Spring and autumn are good seasons too, especially if you're looking to tour vineyards in the region since this is when they are in full bloom. The weather during these seasons are also more temperate, making it perfect for walks and boat trips along the river. If you visit in the spring, you might get to experience white asparagus season (Spargelzeit in German), a special time when restaurants are filled with all kinds of white asparagus dishes.
Winter is ideal for those looking to experience holiday festivities in a charming, medieval atmosphere. It's also the low season so you can avoid crowds and high prices. But keep in mind that some activities, like hiking up the castle, might be more challenging with the winter cold, and some tourist sights will have limited hours or even be closed.
We've visited Cochem in both summer and winter and enjoyed the town in both seasons. Winter definitely felt off season but it was fun to see the Moselle river full of ice and experience the area with far fewer people.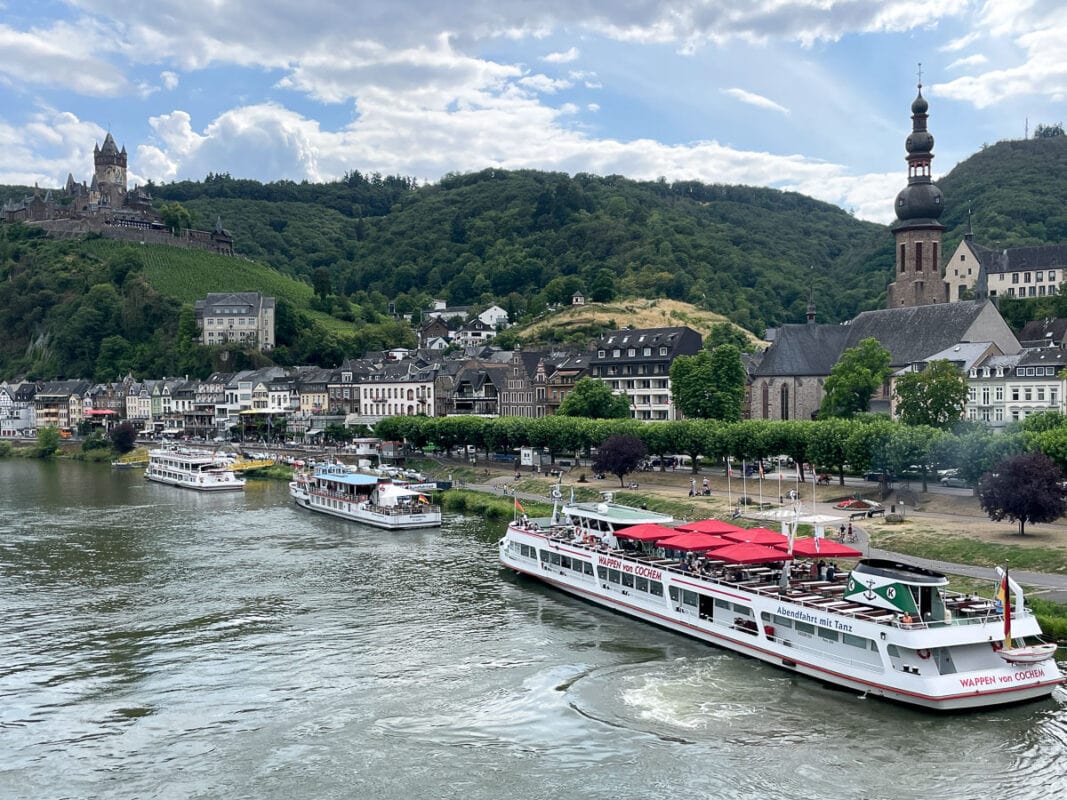 How Much Time to Spend In Cochem
If you make Cochem your home base, you could easily spend a week exploring the Moselle and Rhine Valley areas. If you don't have that much time, you can still see a lot in 1-3 days, especially if you have a car.
If you plan to stay in a different part of the region, Cochem makes a great day trip. The last time we spent a week in the area, we stayed in Boppard and drove to Cochem for the day (we also visited nearby Ernst and Beilstein – both of which are great places to stay if you want to be near Cochem but not stay in the town).
Plan to stop for at least a few hours so you can see the Old Town and walk up to the castle. A half or even a full day is ideal so you can take in all of the sights without rushing, enjoy a relaxing meal, and soak in the atmosphere. To maximize your time, we recommend booking this private guided walking tour to see all of Cochem's highlights!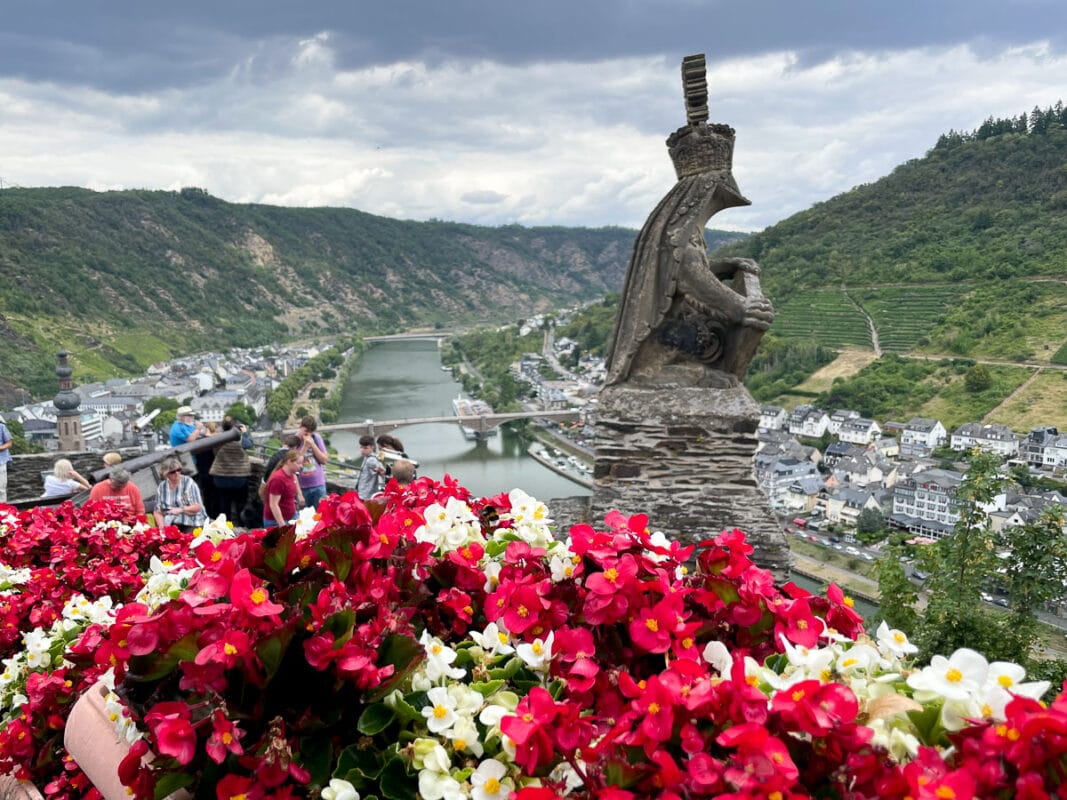 How To Get To Cochem
Cochem is easily accessible by train, bus or car. You can also fly into the area via nearby Frankfurt Airport and then take a car or train from there. The Moselle Valley area is a great first destination after landing in Frankfurt or last stop before flying home because it only takes 1.5-2 hours to get to/from the airport by car.
The nearest major cities are Frankfurt and Cologne, both of which make a great base for renting a car. The fastest way to reach Cochem by car is to take the A48 Koblenz-Trier motorway.
Cochem has its own train station which is well-connected to other major and regional cities like Koblenz and Trier, both of which are less than an hour away by train. From the train station, it's a short walk or taxi ride to the center.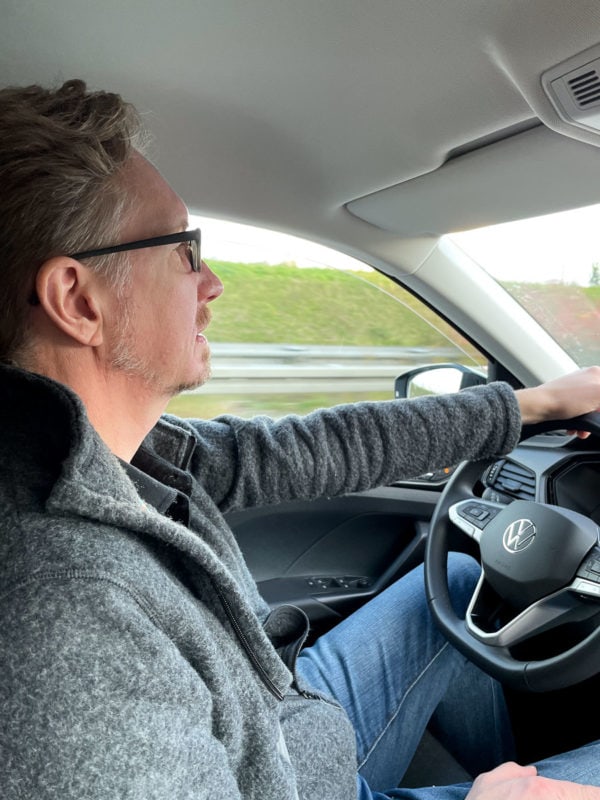 Best Way to Get Around The Moselle Valley
We like having a car when visiting this area so we have the freedom and flexibility to explore all of the villages and beautiful areas in the Moselle Valley and nearby Rhine Valley. There's a lot to see and half the fun is simply exploring the area without an agenda!
If you're flying into Frankfurt you can easily pick up a rental car at the airport. If you don't need a car for the rest of your trip, you can return the car to Frankfurt airport or a location in the city and take the train to your next destination.
We use Discover Cars to find great deals on rental cars in Germany and elsewhere (we stick to the major, well-known rental companies).
You can also take the train or bus to Cochem and other locations. If you're primarily visiting a few towns in the area, the train and local busses will suffice. On our first visit in the winter we arrived by train and used the train and bus to explore other towns in the Moselle Valley and Rhine Valley.
The next few times we visited we decided to rent a car, though, so we could get off the beaten path a bit. Some of the drives we took were absolutely gorgeous!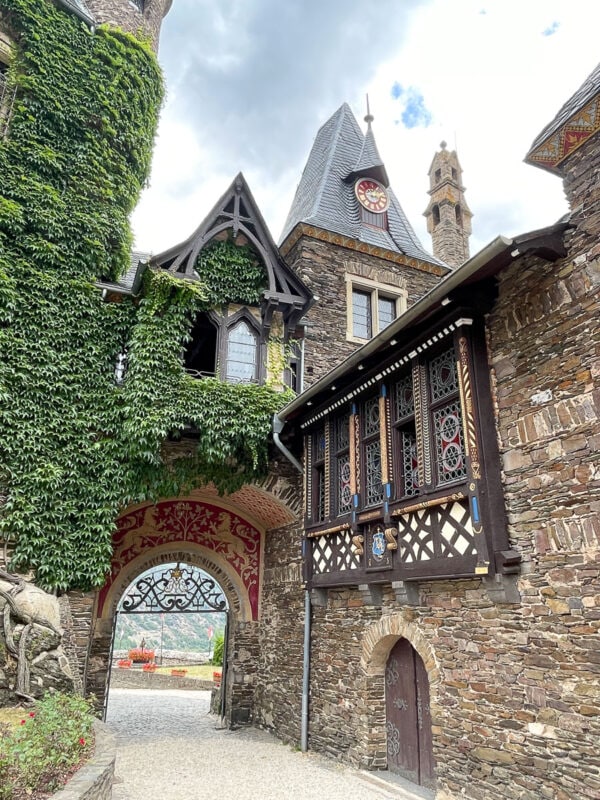 Where To Stay In Cochem
If you want to be close to everything, the best place to stay is in or near Cochem's city center area, which is the Altstadt (Old Town). In this area you'll find important landmarks, cafes, and restaurants within a short walk of each other. And you'll get that beautiful, historic look and feel. Cochem Castle is also just around a 10-minute walk from the market square.
If you'd prefer something a bit quieter but still close to Cochem, look on Booking.com (where we book most of our hotels and apartments) for a hotel or apartment across the bridge on the other side of the river or along the river promenade. The nearby villages of Ernst or Beilstein are also good choices, though they're a bit further from Cochem.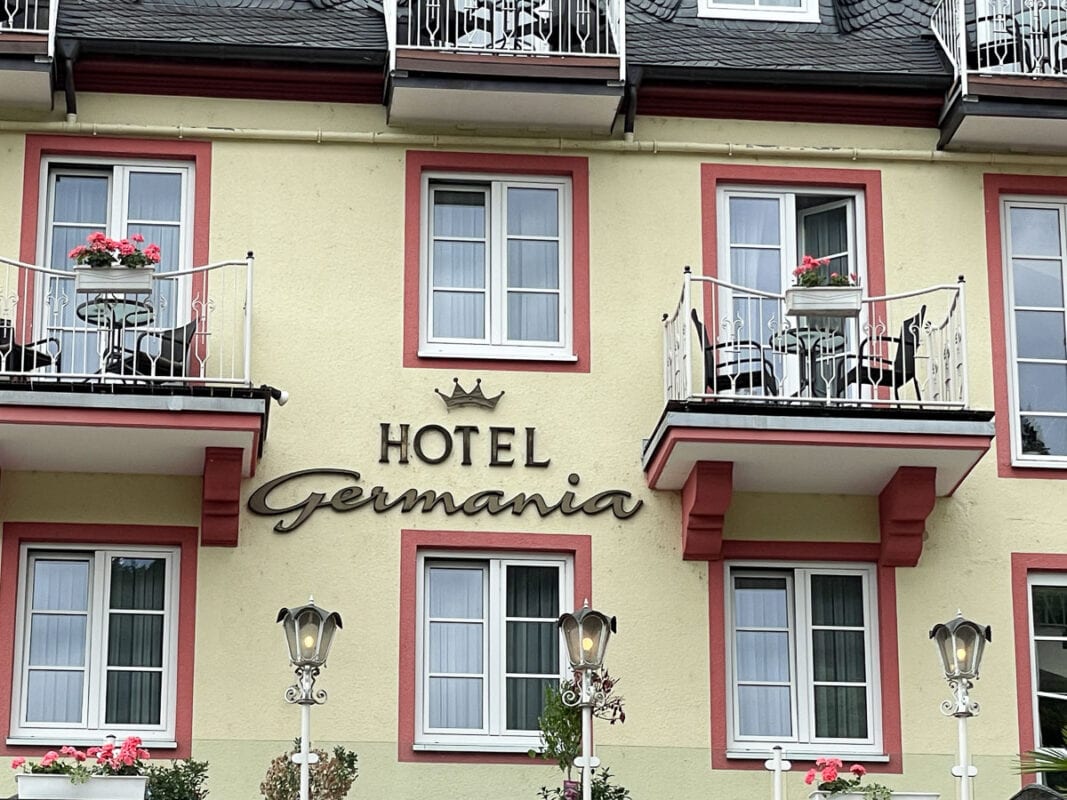 Here are 3 highly-rated hotels we recommend:
Hotel Germania – If you want to be in the middle of it all, this hotel is for you! Located along the Moselle Promenade, this hotel is in a great central location. It's also set in a historic building but with contemporary furnishings. There's also an on-site restaurant overlooking the Moselle and wine tasting sessions at their vineyard in nearby Ernst. Click here to check availability and price!
Hotel Zehnthof – This family-run hotel offers comfortable and spacious rooms with amazing service. It's located across the bridge on the other side of the Moselle river so it's close to Cochem but in a peaceful, relaxing location. The hotel has a cafe/restaurant and their daily breakfast and dinner comes highly recommended. They also features local wines. Click here to check availability and price!
Hotel Villa Vie – This luxury hotel is set in a charming 19th century stone building along the promenade. The rooms are comfortable and modern and it's an easy walk to Cochem. Some rooms even come with riverside views and balconies. Click here to check availability and price!
What To Do And See In Cochem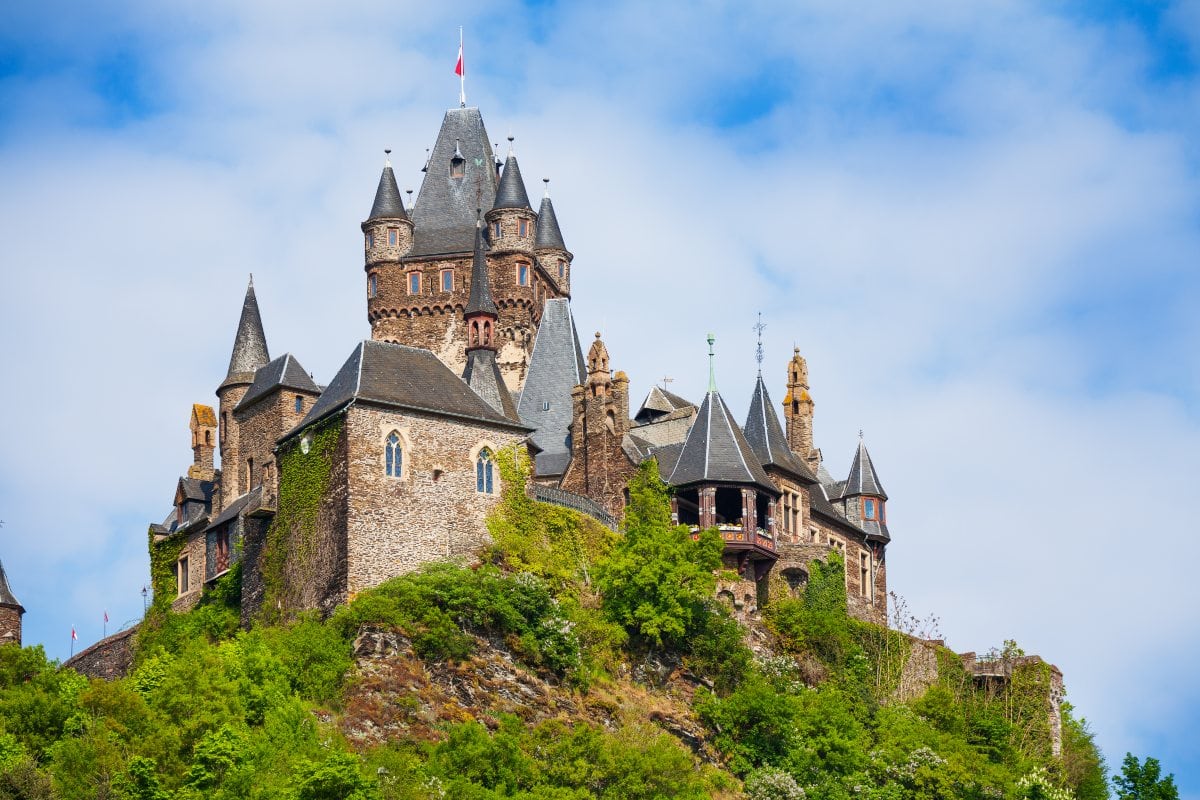 Cochem Imperial Castle (Reichsburg Cochem Castle)
The Cochem Imperial Castle (also known as the Reichsburg Cochem Castle) is a popular tourist destination and for good reason! First of all, this fairytale castle has a stunning location since it's perched atop a hill overlooking the city and the Moselle River. The views from the castle are stunning.
The castle grounds are just as beautiful with architectural features from a variety of different styles. This is because the Reichsburg Castle has a long history of being rebuilt over several decades beginning from its construction in the 11th century.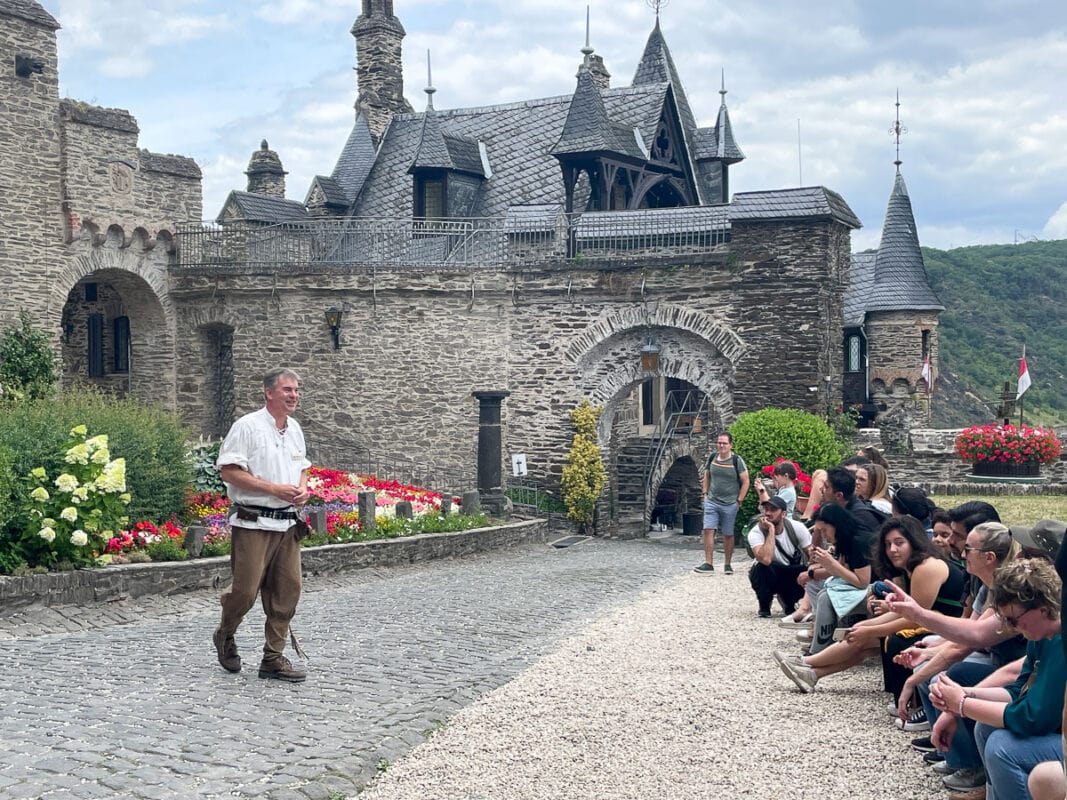 A guided tour of the castle brings visitors to all of the castle's highlights including the fascinating Knight's Hall with its collection of armory and weapons as well as the luxurious Dining Halls. Aside from guided tours, the castle also hosts fun events like the Knights' Feast, a medieval-themed evening meal with performances and good food and wine.
We highly recommend visiting this castle! The last time we were in Cochem, we had Bos as our tour guide and he made the English tour interesting and a lot of fun. He showed us secret doors and rooms and shared details about life in the castle…like how residents ensured they'd be able to fit their key into the keyhole when they were very tired…or very drunk.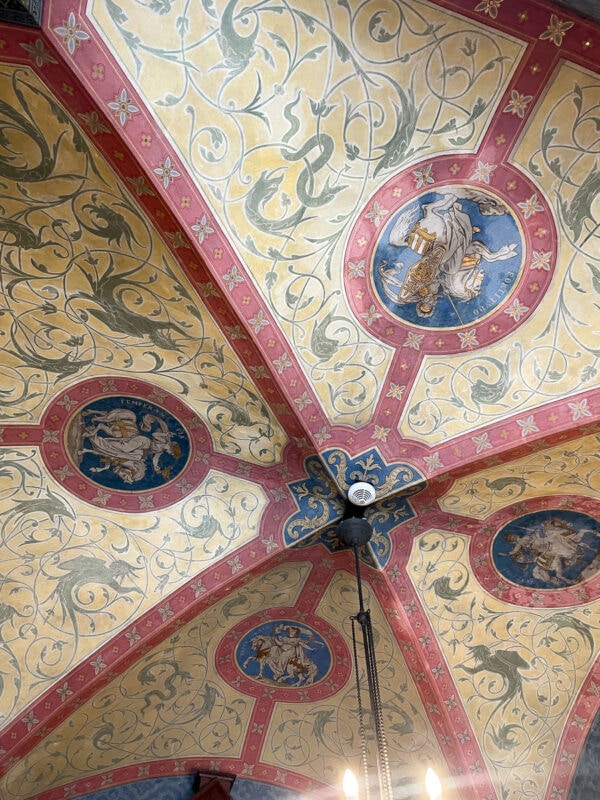 The view from the castle is stunning so be sure to plan time for photos and just enjoying the scenery. You can walk up to the castle (recommended!) or take the shuttle bus. You can also buy tickets at the castle for frequent tours in German or English.
Thanks to Alex at the Reichsburg Cochem Castle for inviting us on a tour on our recent visit!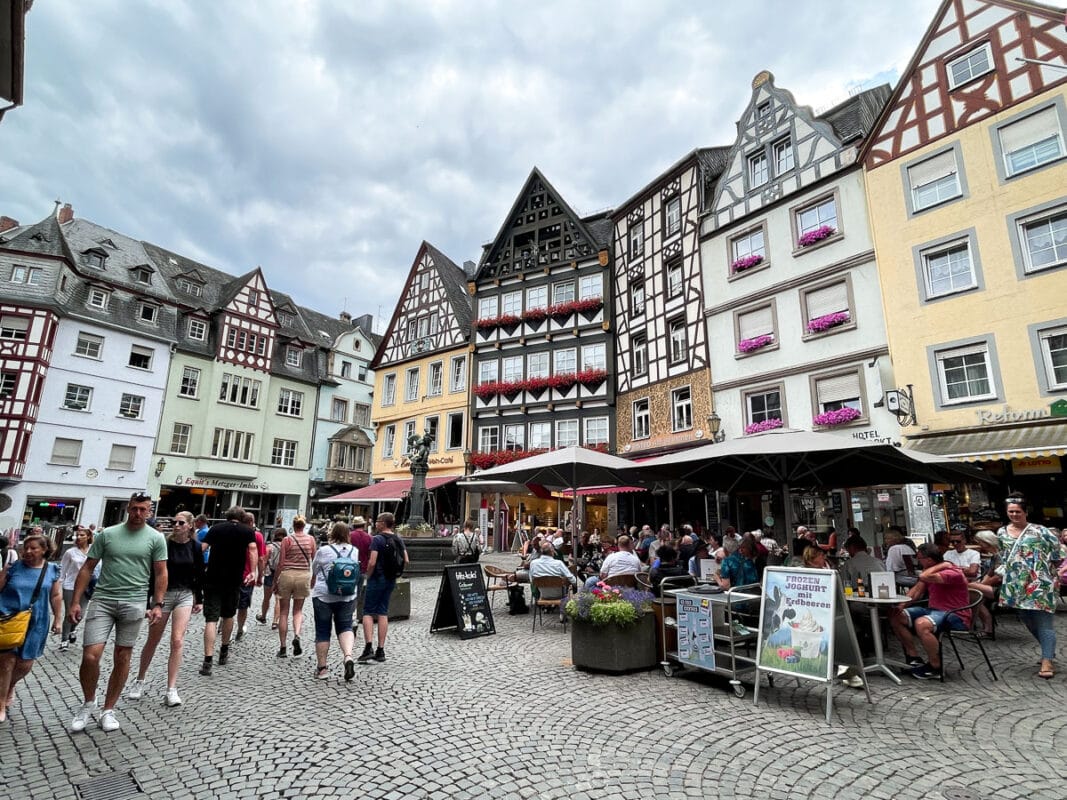 Old Town (Altstadt)
The Old Town of Cochem is a charming and picturesque area filled with winding cobblestone streets, half-timbered houses, and important historical landmarks. A must-visit spot is the market square, where you can find the Cochem town hall and Saint Martin's fountain at the center.
Another historic sight is a town wall that displays a mosaic of Cochem's lineage and history.
Aside from learning about the city's history, one of the best things to do is to simply roam the streets of Cochem and take in the medieval architecture and atmosphere of the city! As you walk the narrow streets of Old Town, you'll be sure to discover lots of different local restaurants, bars, and unique small shops.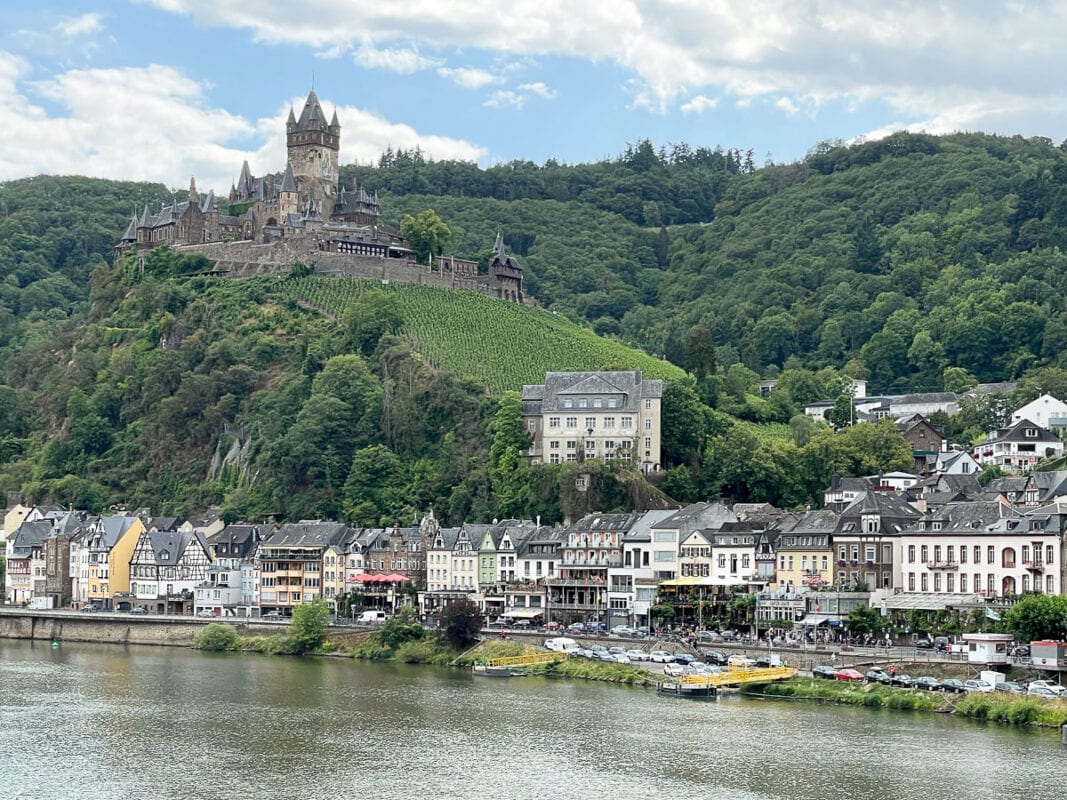 Moselle Promenade
The Moselle Promenade (or Mosel Promenade) is a scenic walkway that runs along the banks of the Moselle River. It's a great place for both locals and tourists to go on a leisurely stroll amidst the quaint facades of Old Town and the surrounding hills. The promenade is also lined with trees, lawns, and a wide variety of restaurants and bars.
Another great way to explore the Mosel Promenade is by booking a city river cruise on the River Moselle. This tour gives you the option between a 1-hour panoramic boat ride or a 2-hour evening tour. As you cruise your way down the river, you'll have an audio guide explaining all the sights you'll be passing by including the castle and the scenic valley.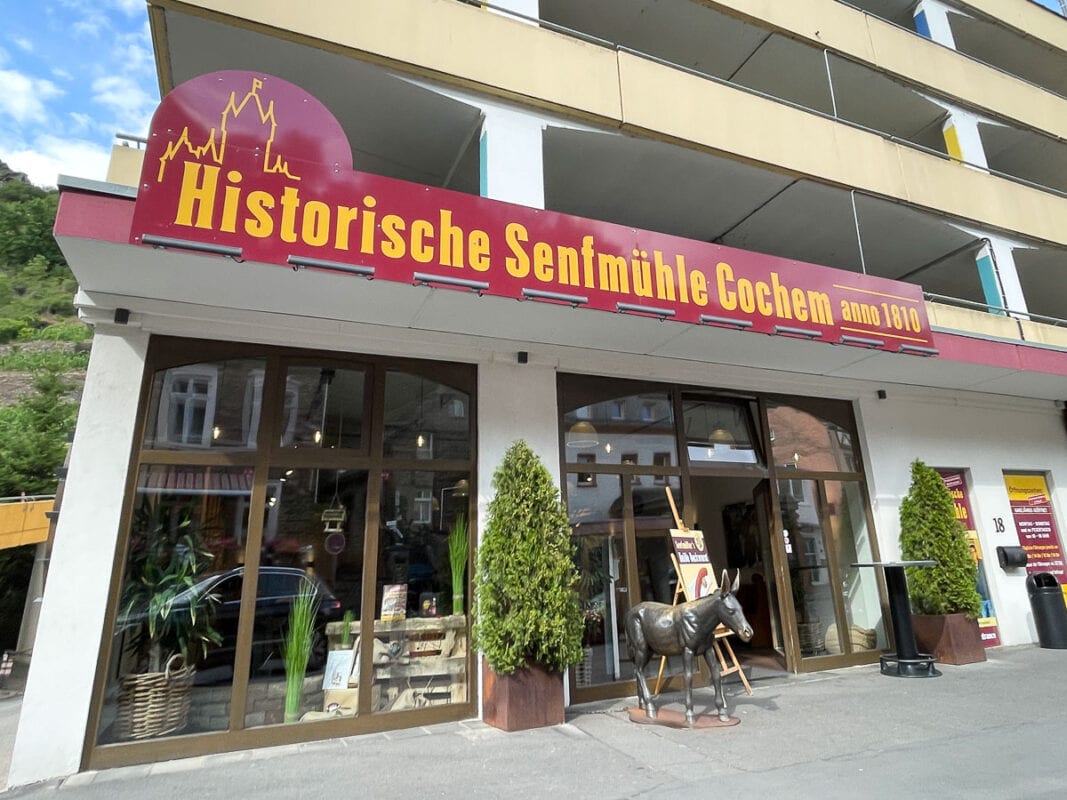 Enderttor
Enderttor is a historic landmark that once served as the town's city gate. The gate was part of Cochem's old town fortifications and has an attached guard house to it. It's located at the end of Endertstrasse, a main street that leads directly to the city center.
This distinctive medieval structure is a popular spot you can't miss while exploring the Old Town. Nearby, you can also find several bars and restaurants with outdoor seating to enjoy a break in between sightseeing.
Historische Senfmühle
The Historische Senfmühle is one of the oldest mustard mills in Germany, dating back to the early 19th century. This family-owned enterprise has a long tradition of producing mustard. Visitors can see how it all began through a guided tour where they'll see the original water-powered wheel.
Now, the mill sells a wide range of 18 mustard varieties, all made with different grains and spices. You can also buy different regional specialties to enjoy with your condiment like ham, sausages, specialty spirits, homemade jams, and more.
Pinnerkreuz Lookout Point
Pinnerkreuz Lookout Point is the perfect place to catch spectacular views of Cochem and the surrounding Moselle Valley. This observation deck is located on Pinnerberg, a hill north of Cochem.
The top of the hill can be easily reached with the Cochemer Sesselbahn (Cochem cable car). Once you reach the top, you can stop by the small terrace restaurant and grab some beers and snacks while taking in the beautiful scenery.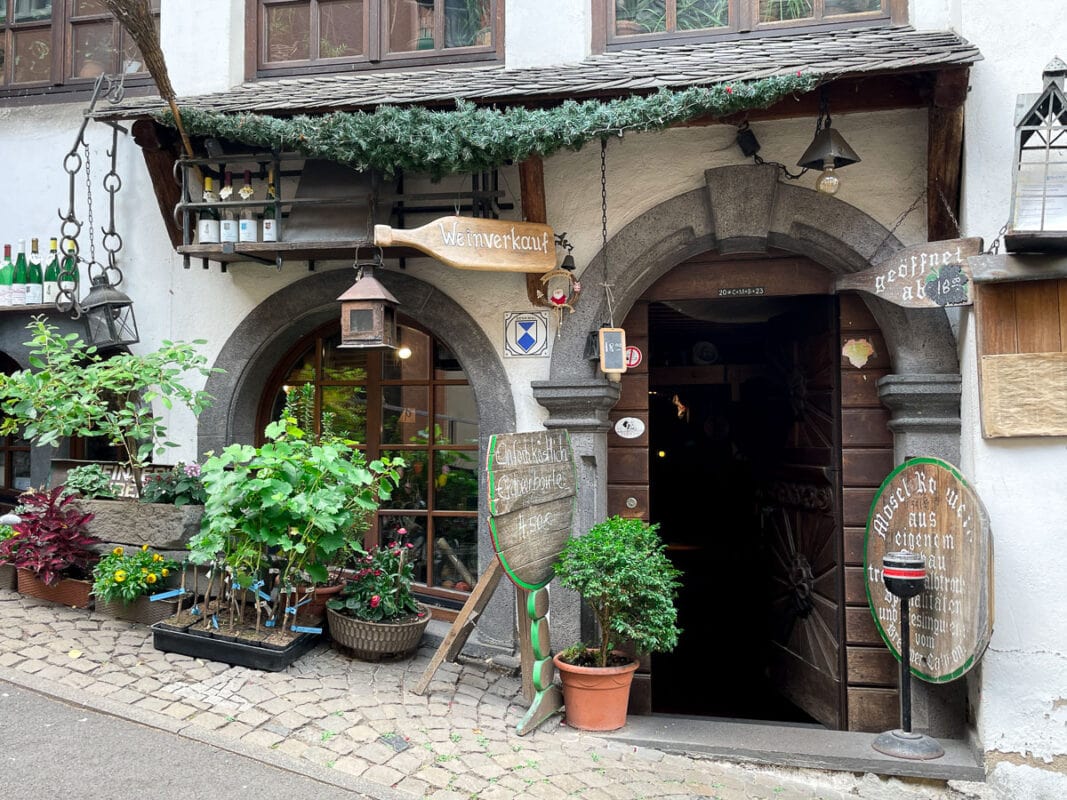 Wine Tasting in Moselle Valley
The Moselle Valley is known for being one of Germany's best places for winegrowing. This region in particular is renowned for the Riesling grapes. The steep slate slopes in Cochem provide the ideal cultivation conditions and produce excellent wines with a delicately fruity and mineral flavor profile.
Take advantage of the wine stores and restaurants in Cochem to try some delicious local wines. But for all wine lovers out there, the best way to experience this is to book a guided vineyard tour of the Moselle Valley with wine tasting!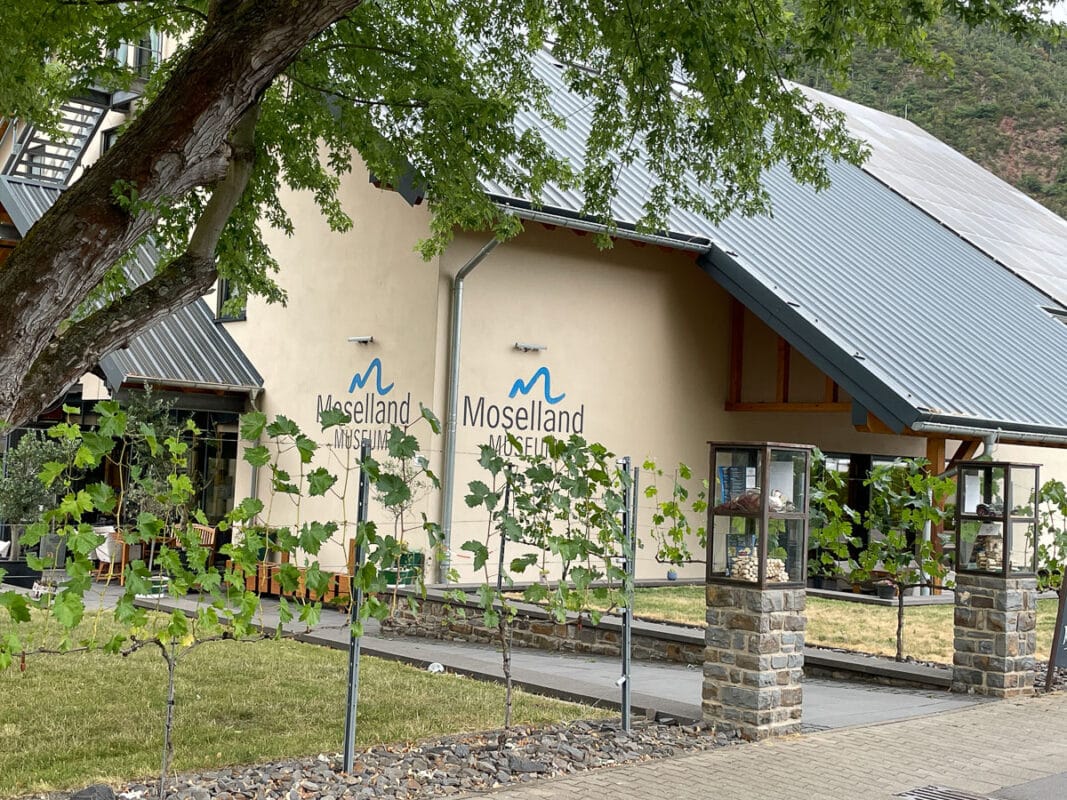 Moselland Museum
The Moselland Museum is a fairly new and interesting museum located in Ernst, a small winegrowing municipality along the Mosel River, around 2.5 miles from Cochem. It was established in 2017 and is set in an old-school hotel from 1959.
The exhibit covers four floors and provides visitors with a nostalgic glimpse of rural life and culture in the Mosel Valley during the 1950s and 1960s. The exhibition features everything from a reconstructed blacksmith forge, a traditional winery complete with old wine presses, and authentic furnishings and farming equipment from that period.
We got here too late to tour the museum and were bummed we didn't arriver a bit earlier! Ernst is a lovely, peaceful village and would be a great place to spend a few relaxing days, especially if you're a wine lover. They even have a wine vending machine!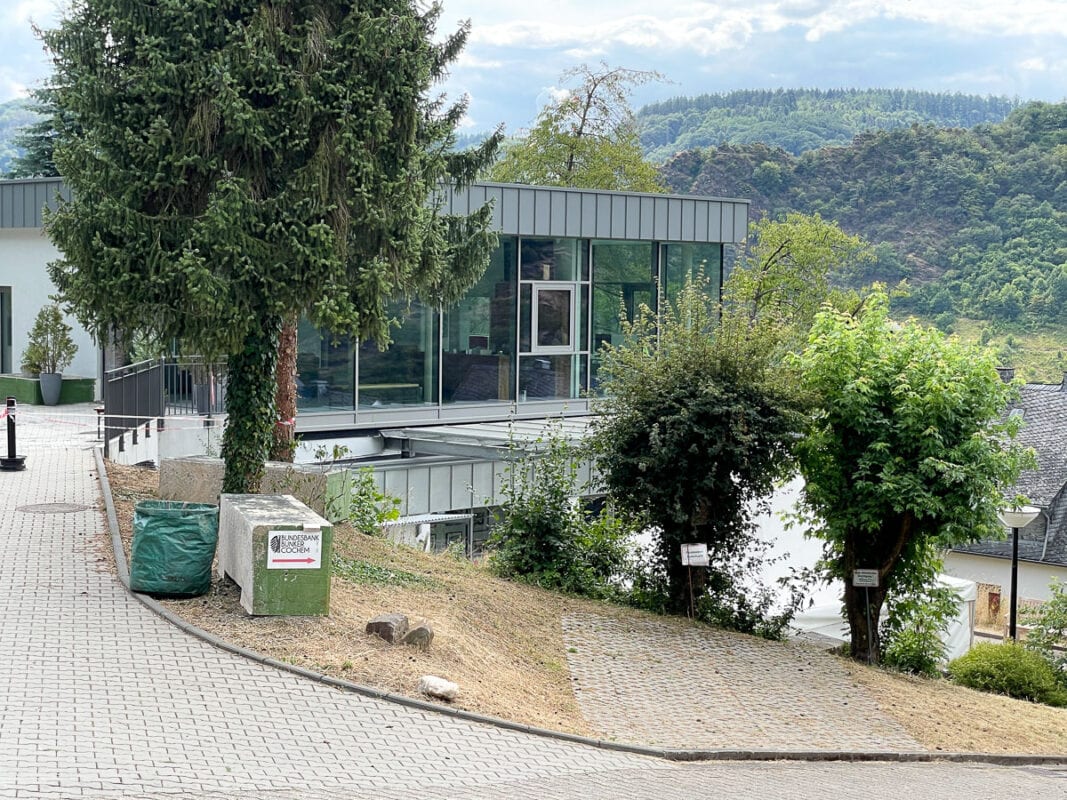 Bundesbank-Bunker Cochem
The Bundesbank-Bunker is a former secret bunker built during the Cold War. Its original purpose was to provide a secret safe place for emergency currency reserves in case of a nuclear war and hyperinflation. At one point, it stored billions of Deutsche Marks!
Now, they are open to the public as a museum. A cool thing about the bunkers is that they are hidden in plain sight since the entrance just looks like residential houses. Inside, visitors can explore the subterranean complex and all its unique features while learning years of history of the Cold War.
​​Burgruine Winneburg
Burgruine Winneburg is another one of Cochem's important historic sites. The castle ruins are located in the Endertbach Valley, just 2 miles away from the Old Town. The original castle was built in the 13th century before being destroyed in the 17th century during the Nine Years' War by the French Forces.
Since then, it's never been restored but some of the structures of the castle complex are still standing like the tower, gate hall and the courtyard. It's perfect for those looking for an immersive hike with great views and that's a bit off the beaten path.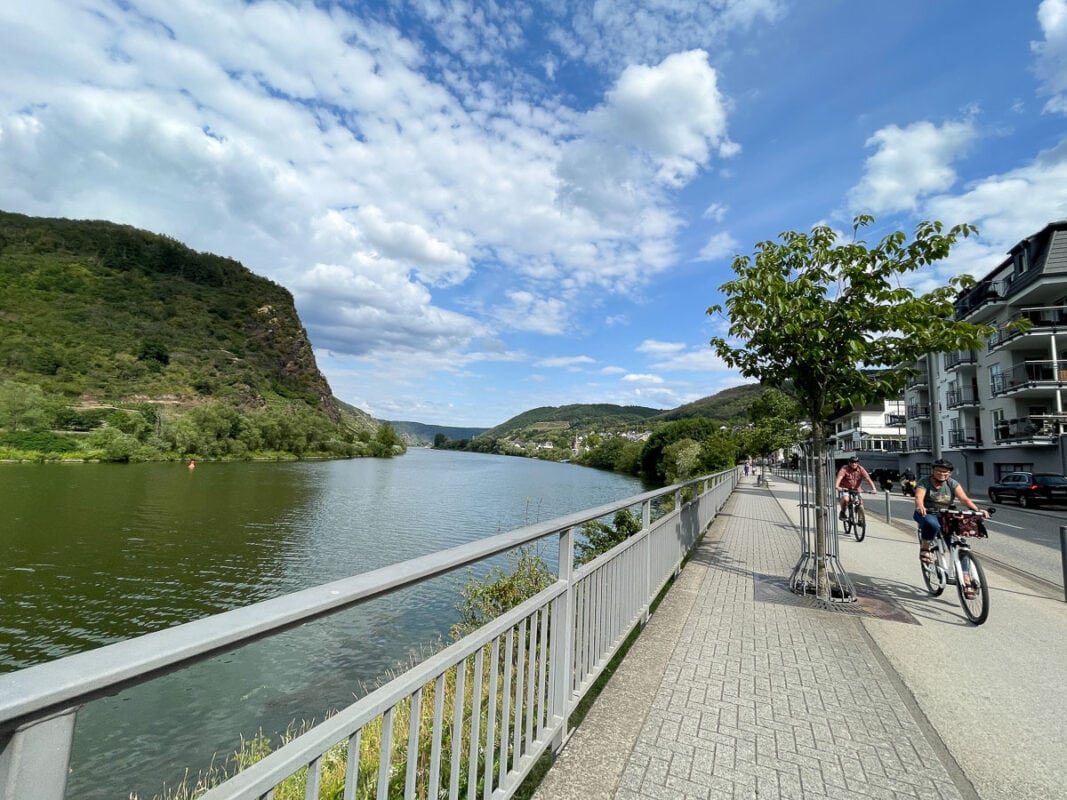 Day Trips From Cochem
Cochem makes a great base for day trips to surrounding towns and small villages in the area. The best way to get around is by car but some places are also easily reached by public transit.
One of the most popular day trips is to Burg Eltz (Eltz Castle), one of the best castles in Germany known for never having been destroyed by war. The castle is towards the north of the Mosel and is perched atop a mountainous forest that overlooks the Elzbach River. Highly recommended!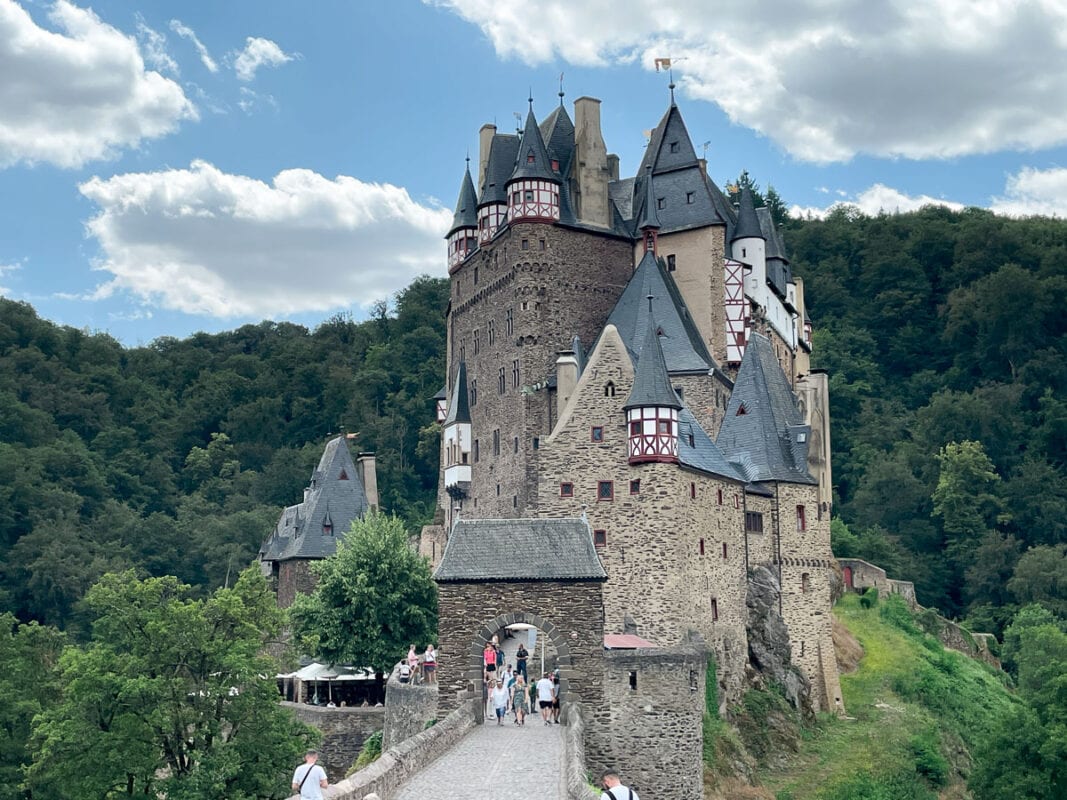 If you're looking for charming and picturesque towns, Zell, Beilstein, and Bernkastel-Keus are well-known options, all of which are around a 30 to 50 minute drive away from Cochem. The Moselle Valley is, however, filled with beautiful towns and villages so just hop in the car and go exploring!
Trier (around 1.5 hour drive away) is also perfect for history buffs, since it's recognized as the oldest city in Germany and is an important site for ancient Roman ruins and architecture.
You can also head over to the Rhine River area for a boat cruise, tour more castles, stay in a castle hotel and visit picturesque towns like Bacharach, St. Goar, Boppard, Oberwesel, and more.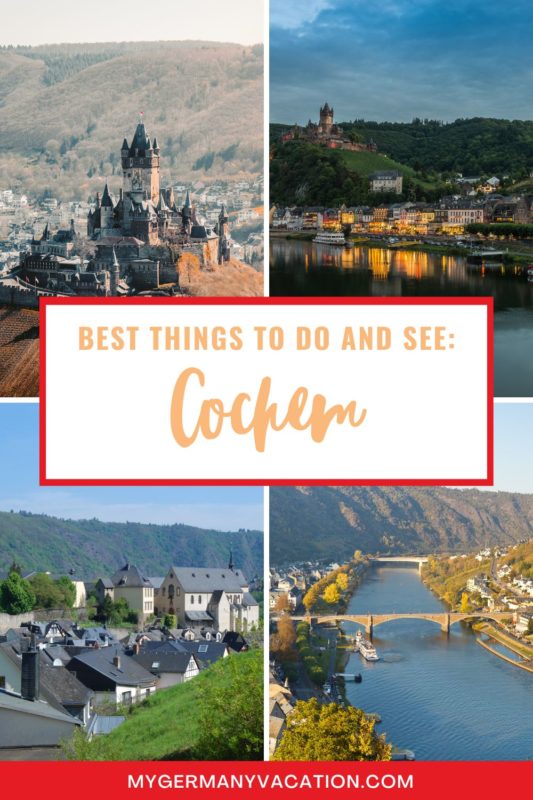 Next Steps For Planning Your Trip: