The Best Germany Souvenirs And Gift Ideas
This post may contain affiliate links. Read my disclaimer policy.
If you're planning to visit Germany you might be wondering how you can take a piece of Germany home with you. Or maybe you're looking for fun things to bring home for family and friends. Or perhaps you're looking for a Germany-inspired gift to buy before or after your trip to Germany.
We've got you covered. In this guide we share a list of great German gift ideas and souvenirs to give to your loved ones…or yourself.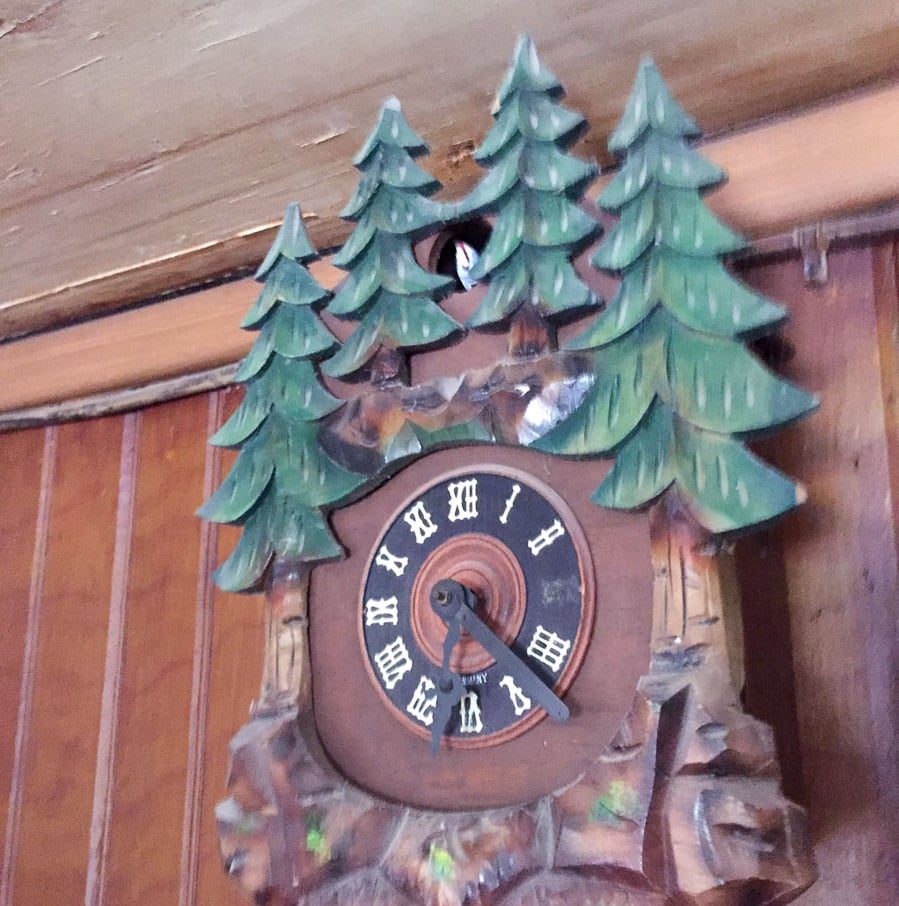 Best German Souvenirs and Gift Ideas
In this list we cover everything from traditional German gifts like beer, cuckoo clocks and Bratwurst, to more unique items you might not have thought of like heart-shaped Lebkuchen, wooden toys and decorations, German wine, and much more. We also include a few kitty ideas and everyday items you can use in your everyday life.
By the way…if you ever see the word "Gift" in German, remember that it does not mean gift in English! The word "Gift" in German actually means poison. The German word for gift/present is "Geschenk."
Cuckoo Clocks
If you're looking for a popular yet uniquely German gift, you can't go wrong with a classic cuckoo clock. These German clocks originate from the Black Forest, a beautiful densely forested area in the southwest of Germany.
Each timepiece is typically made from wood and carved with intricate details and ornaments. There's a lot of tradition and cultural heritage that goes behind making a mechanical cuckoo clock. A high quality, authentic clock will make for a special gift that will last a lifetime. You can find cuckoo clocks in all sizes and in lots of different designs.
Looking for a German cuckoo clock to buy now or give as a gift? Check out this one.
Journals, Planners, Notebooks & Pens
These are my favorite souvenirs because Germany is the land of awesome paper and pens! So many of my journals, notebooks, and pens are from Germany. If you like paper products, definitely browse bookstores, boutiques, and department stores.
You'll find lovely journals, paper planners (in German!), notebooks with luxurious lined, graph and blank paper, and all kinds of pens – ball point, fountain pens, ink, and more. A fountain pen with ink cartridges in various colors makes a lovely souvenir or gift that's also easy to pack.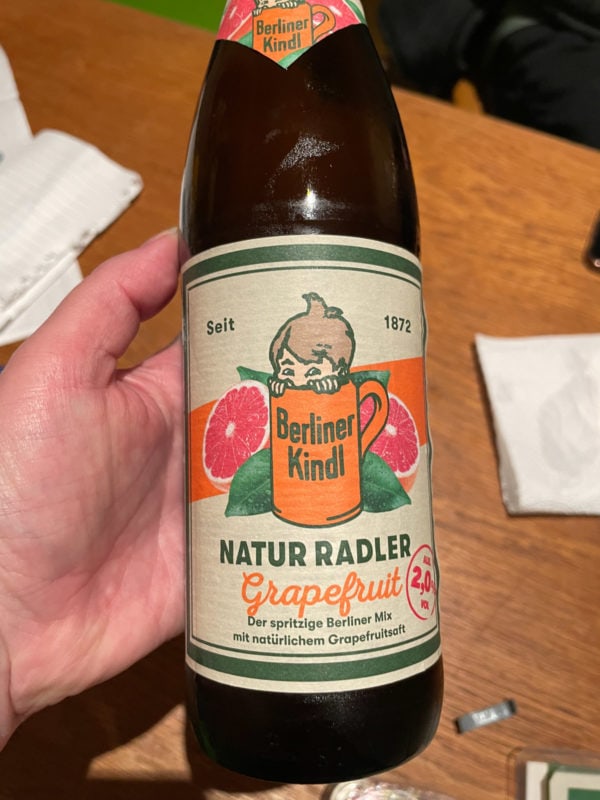 German Beer
Beer is easily the most iconic German product you can purchase as a gift or to bring home as a delicious souvenir. After all, it's usually the first thing that comes to mind when people think about Germany!
Germany is responsible for making some of the best and most delicious beer in the world. There's a wide selection of brands and variations you can choose from. Why not find the specific regional beer from where you'll be staying in Germany and bring a bottle or two of that home?
For example, if you're visiting Cologne, Kölsch would be the a popular type of beer originating from there. If you're spending a lot of time in Bavaria, Märzen would be a good choice since it's also known as Oktoberfest beer.
From Altbirer to Maibock to Pilsner, there are so many beer styles to choose from. There's also Radler, which is beer mixed with Limonade (a type of lemon or orange soda). Bottles and cans of beer are very easy to find at grocery stores or specialty breweries in Germany, so finding something good to bring some home won't be a problem.
I've brought German beer home with me in the past and it traveled well. The key is to pack beer in your checked luggage and cushion each bottle. To do so you could use these reusable sleeves and then put them in these protective and reusable bottle bags.
For more information about German beer, read our guide on the best beer to try in Germany.
Beer Steins
A great addition to German beer is a traditional beer stein. Beer steins are a symbol of Bavaria's rich culture and beer brewing history. It's said that beer steins date back to the 14th century during the bubonic plague. It was a way to help protect people from the spread of disease by having food and drink containers be covered.
Beer steins are usually made from glass, stoneware, porcelain, ceramic, or even silver. They're decorated with eye-catching renaissance designs and motifs or depictions of different cities in Germany. They're the perfect gift for beer lovers and collectors who appreciate decorative pieces.
In Germany, you can look for them in beer halls and breweries but they're also sold in any gift shop in Germany. You can also find them online here and here.
German Wine
Speaking of alternatives, German wine is something that's often overlooked in favor of beer but wine makes for a great German gift idea. After all, there are some regions in Germany like the Moselle Valley, Rhine-Hesse, Franken, Baden, and Saxony that are known for their exquisite wine production.
The most common grape variety is Riesling. Riesling wines from Germany are known for their balance between sweetness and acidity as well as the wide range of flavors, ranging from citrus fruits to peach and honey.
To bring wine home with you, pack it in your checked luggage and keep your other items safe by storing wind bottles in reusable bottle bags.
Egg Liqueur
This is something you might not have thought of! Egg liqueur (Eierliköer in German) is a rich and creamy traditional drink often enjoyed during the holiday season . It's made from a blend of egg yolks, sugar, vanilla, and liquor, usually such as rum or brandy. It can be enjoyed chilled or over ice.
Aside from drinking it straight, it can also be used as an ingredient for different desserts like as a glaze for cakes and pastries. It's often compared to egg nog, and while it's similar, it's not the same. This is a good alternative for those looking for something a little bit more unique and different than German beer.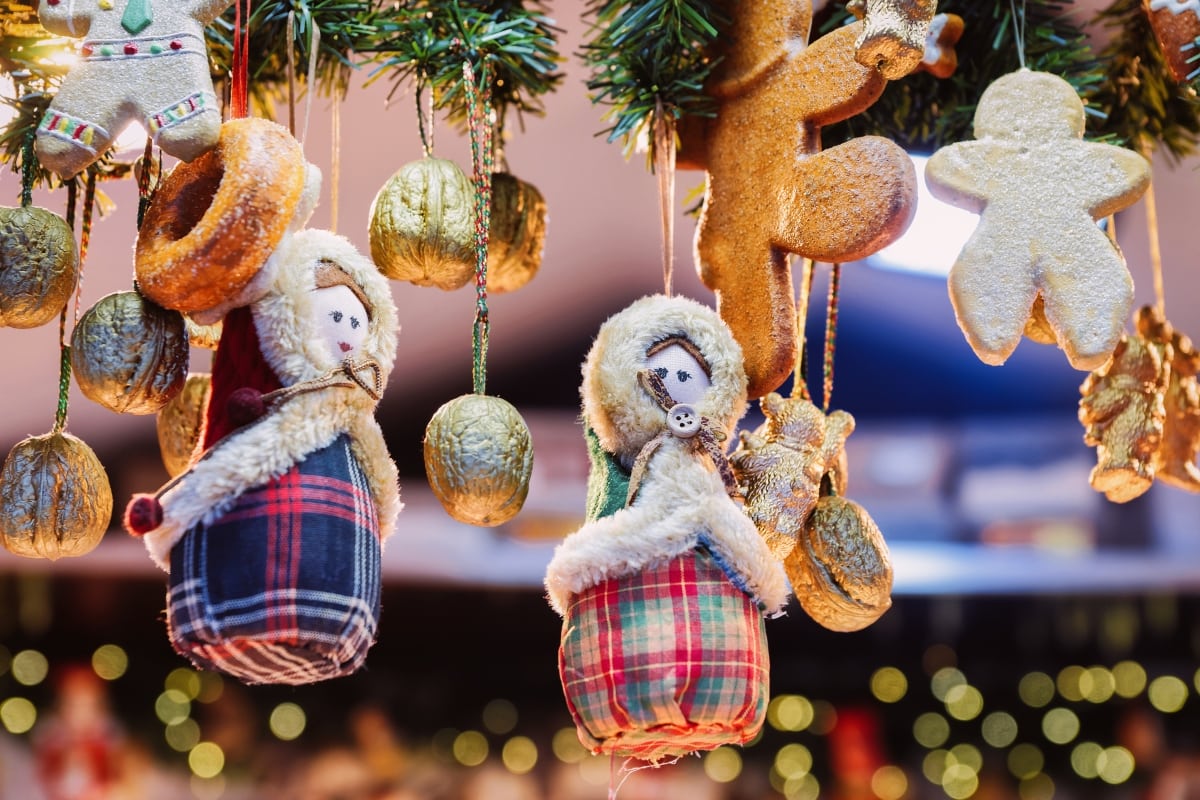 Christmas Decorations
Another thing people associate Germany with is Christmas. A lot of holiday season traditions and decorations that are cherished by people all over the world – like Christmas trees, advent calendars, and Christmas angels – actually have German roots.
If you're visiting Germany during December, there's no better place to get Christmas decorations than at one of the magical Christmas markets held all over the country.
Christmas decorations are a big part of the celebration. A good gift or souvenir to bring home is a unique Christmas ornament featuring classic German things like cuckoo clocks, beer steins, or famous German castles and landmarks.
There are also a lot of beautiful wooden ornaments of festive things like snowmen and Christmas angels. Almost all of our Christmas tree decorations are items I've schlepped home from Germany over the years or we've bought somewhere in the world while traveling. It's a fun way to take a trip down travel memory lane each December.
Another traditional German Christmas decoration is the Christmas pyramid, which is a wooden pyramid with different levels that hold candles and are decorated with miniature figurines or nativity scenes. (Note – even though this pyramid has our last name on it, we're not associated with it!)

Reusable advent wreaths and rings are other good options if you have space in your luggage. You can also buy them online (like this one or this one) and custom decorate them at home. That's what we do when we celebrate Christmas at home in the US.
Advent Calendars
Advent calendars are widely used now all over the world but they actually originated in Germany. There's all sorts of different calendars you can buy in the weeks leading up to Christmas.
Some of our favorite ones include those with little sweet treats like chocolate as you count down the days. Click here for our advent calendar guide for kids and adults if you'd like to order one from home.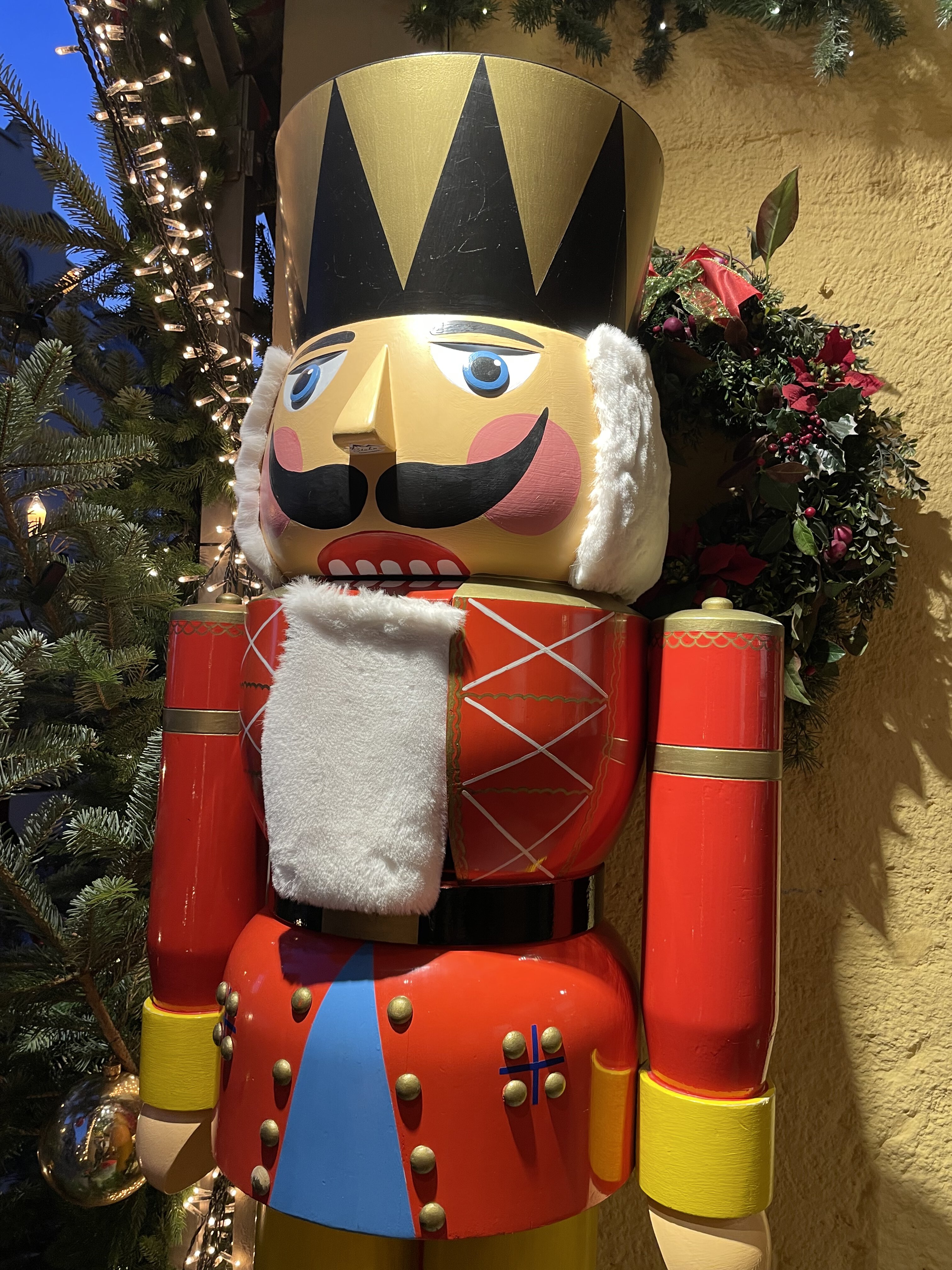 German Nutcracker
The German nutcracker is a wooden figurine that's also closely associated with Christmas. Though they were originally used to crack open nuts, they're now mostly decorative pieces and highly sought-after collectible items.
Nutcrackers are typically carved from wood and take the form of a soldier, king, or other characters. The figurines are also often handcrafted with intricate details and vibrant colors. If you'd like to order one from home, take a look at this one and this one.
German Incense Smokers
Originating from the Ore Mountains, German incense smokers are decorative wooden figurines that can hold a cone-shaped incense inside their bodies. When lit, the scent is slowly released through a small opening in their mouths.
Smokers are typically crafted from wood and designed to resemble different characters. You can find them at Christmas markets and Christmas stores all over Germany.
German Weather House
German weather houses are another invention originating from the Black Forest region. These charming little wooden houses with figurines predict the weather based on changes in humidity. As a general rule, the woman figurine indicates that the weather is dry and the man figurine indicates that it's more humid.
Gummy Bears
For those who love sweets, gummy bears make great inexpensive and easy to pack souvenirs. These little fruit-flavored gummy candies famously originated in Germany so there's no better place to buy them. In fact, the famous brand Haribo was founded by a confectioner in Bonn, Germany in the 1920s.
Haribo gummy bears are beloved worldwide for their soft, chewy texture and their delicious blend of fruity flavors. In addition to traditional gummy bears, you'll find a wide variety of Haribo gummy candy to choose from. You can find them in every grocery store or order them online here.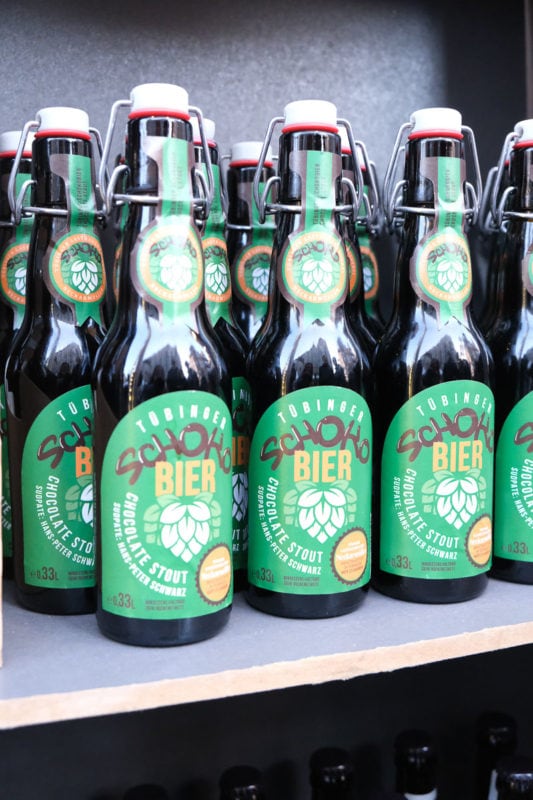 German Chocolate
Germany is the land of delicious chocolate! Chocolate bars make a great gift for anyone with a sweet tooth. I always bring a stack of chocolate bars home with me. When Aaron and I got married, I returned home from Germany 1 week before our wedding with a huge bag full of chocolate to give to our wedding guests!
Many popular brands known worldwide are from Germany, and you'll usually find a wider range of flavors in rather than outside of Germany, so what better place to buy them?
One of the most beloved brands is Ritter Sport, known for their distinct square packaging. This brand offers a variety of flavors, ranging from classic milk chocolate to more unique ones like marzipan, cornflakes (my favorite) or yogurt (also delicious). During the holiday season they offer tasty seasonal flavors. They even have vegan chocolate options.
Milka is also a popular brand. Known for their creamy and milky texture, Milka also makes a wide range of flavors and other chocolate-related products like cookies, cupcakes, and biscuits that might be harder to find in the US.
Schogetten is another brand that you can find all over Germany. It's inexpensive but tasty and I've always liked that it comes in bite-sized pieces, so it's perfect for sharing. They have both standard and seasonal flavors to choose from…like pumpkin spice (I didn't try it).
In addition to those 3 well-known chocolate brands you'll find a bunch more to choose from. Go to the chocolate section of any grocery or department store in Germany and simply pick out what looks good. Chocolate is easy to take home with you in your checked or carry on luggage.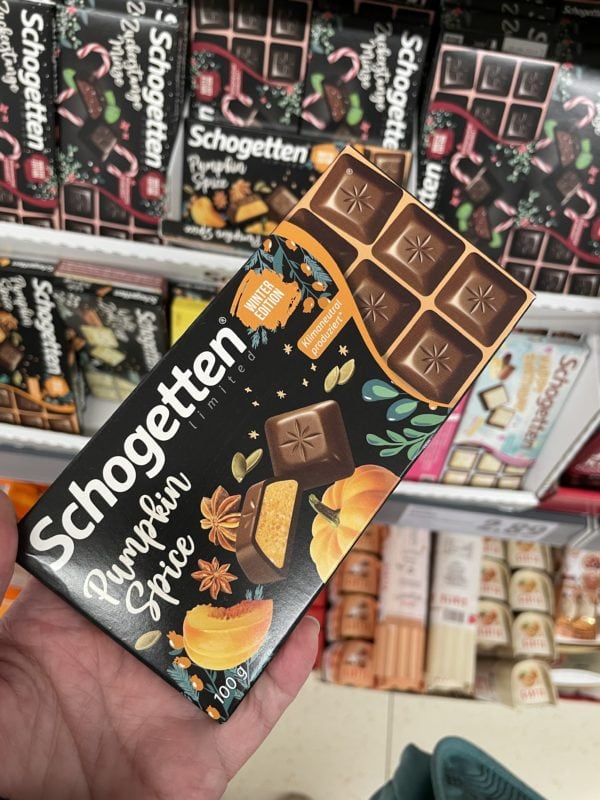 Coffee Mugs
Coffee mugs are classic souvenir gifts you can't go wrong with. You can buy some with German motifs at places like Starbucks or souvenir shops. But you can also keep your eye out for more unique, handcrafted coffee mugs at local markets, boutique shops, and specialty home goods stores during your vacation. It's the perfect way to remember your travels every morning!
German Sausages
This idea is only for those of you who are driving a short distance to return home! If you're flying home you don't want to transport fresh sausages and you likely won't be able to bring meat into your home country.
Another of the many food products associated with Germany are German sausages. This is one of the best German gifts for any foodie in your life who wants a taste of authentic German food.
There are so many different types of sausages! Bratwurst, a pork-based sausage with a blend of spices, is probably the first one to come to mind. But even Bratwurst has tons of different regional varieties like Rostbratwurst, a smaller version from Nuremberg (Nürnberg).
Other kinds of sausages include Weisswurst (a tasty Bavarian food specialty made from minced veal and pork bacon), Leberwurst (made with pigs' or calves' livers), Currywurst, and many more.
German Mustard, German Curry Ketchup & German Spices
Condiments and spices are some of the best souvenirs since you can use them in your everyday life for cooking and baking.
German mustard is a flavorful and tangy condiment that adds a delicious kick to many dishes and is the perfect accompaniment to Bratwurst and other sausages. There are several varieties so you can choose, for example, a tangy and mildly spicy flavor profile or something spicier.
German curry ketchup is another fun gift or souvenir. If you've tried Currywurst and liked it, why not bring curry ketchup home with you?
Another easy gift or souvenir are savory spice mixes or holiday spice mixes like what you'd use to make homemade Lebkuchen. Delicious!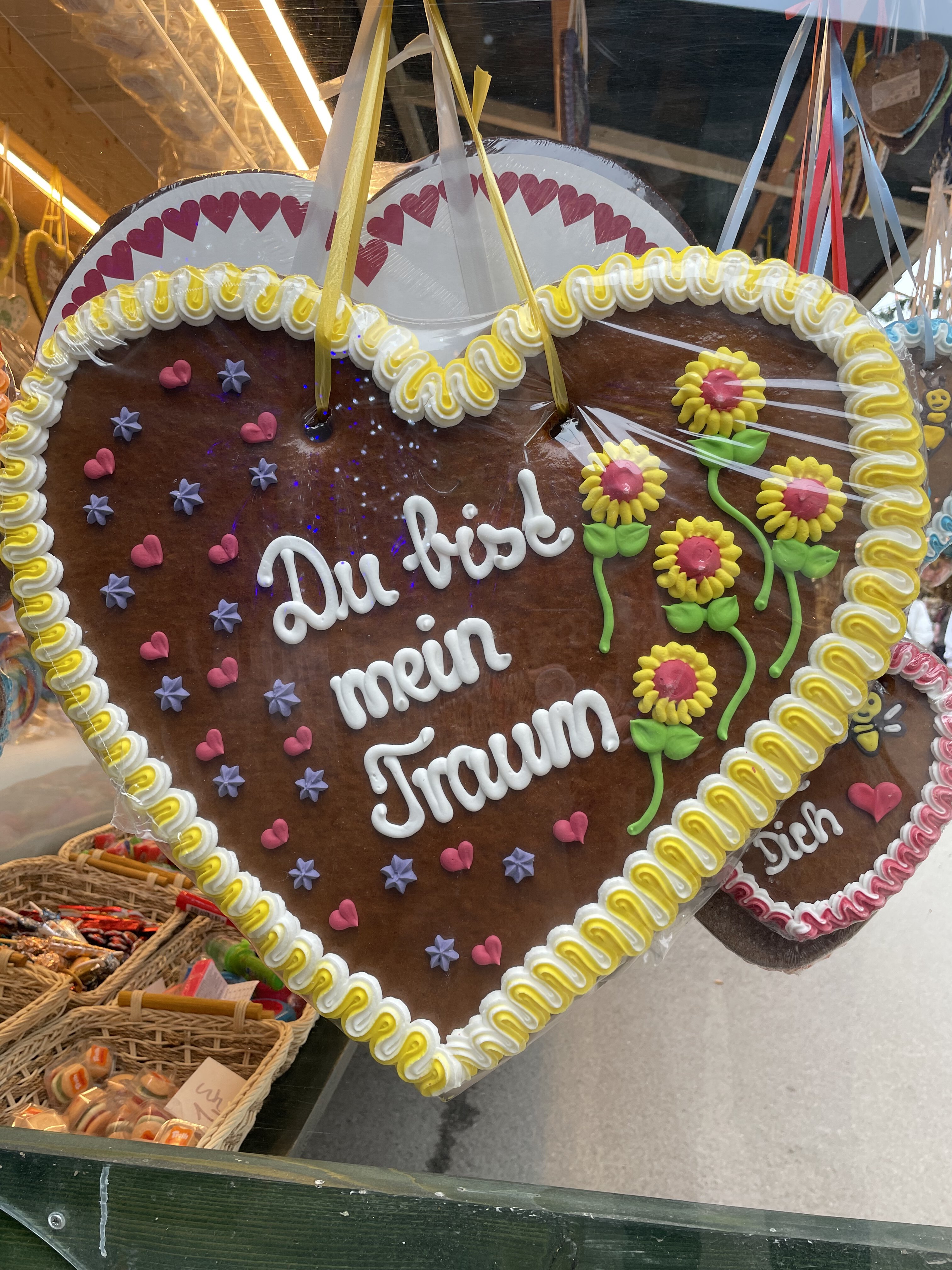 Lebkuchen
Lebkuchen is another beloved Christmas staple! Lebkuchen cookies are similar to soft gingerbread cookies in the United States but not the same. They're made with festive spices like cinnamon, cloves, anise, cardamom and are covered in chocolate, glazed with sugar, or topped with almonds.
Nothing beats getting them fresh from the Christmas markets, especially in Nürnberg, but they're also very easy to make at home. Follow our recipe on our international desserts site here.
Lebkuchenherzen
If you go to a festival like Oktoberfest or a Christmas market you'll find lots of decorated Lebkuchenherzen – gingerbread hearts hanging from food carts and food stalls. These Lebkuchen are thick, crunchy, gingerbread cookies decorated with various sayings on them like ich liebe dich (I love you) and more. I was given one of these hearts when I was a teen living in Germany and after being required to wear it around my neck at the festival I had that thing hanging on my wall for years after that. They last a long time!
Cake Mixes
What a great souvenir or gift for those who like to bake! Go to any grocery store and you'll find lots of boxed mixes for German cakes and other baked goods. Alternatively, you could bring home baking pans, a scale or fun items like to decorate cakes or cookies with.
German Kitchen Tools
German kitchen tools are known for their high quality and craftsmanship. They make the best German souvenirs and gifts since you can get a lot of use out of them after your trip. Some good tools to invest in are a chef's knife and paring knife. I've had some of my favorite German kitchen knives for 25+ years!
Small cutting boards, glass jars, and baking pans are other good ideas. Just be sure to save room in your checked luggage to bring everything home. I've brought a lot of these items home with me over the years and I love using them in my home kitchen.
Tablecloths, Napkins and Tea Towels
Kitchen and home goods like tablecloths, napkins, and tea towels make for nice and practical gifts and souvenirs that are super easy to pack. Seasonal tablecloths and table linens are especially worth looking into, since you'll be able to find many Christmas themed or patterned ones. You'll find lots of options at boutiques, department stores, and markets all over Germany. It's a great way to remember your travels for years to come when you're back home.
German Cookbooks
If you know someone who enjoys cooking and baking, consider a German cookbook. This would be a fun gift for someone who likes to create in the kitchen and speaks or is leaning German.
Children's Books
Books from Germany make great souvenirs and gifts for young kids. While in Germany, pop into any bookstore and you're sure to find the perfect picture book. Even if the kid(s) in your life don't speak German you can find a book that will still be understandable and enjoyable to peruse. Or buy a book that explicitly helps young readers pick up a few words in a new language.
Wooden Toys
Germany is known for handcrafting beautiful and practical wooden toys for children. These toys are timeless in their design and are made using the best workmanship, so they make for a very thoughtful gift for the kids in your life. Not only are they durable and of high quality material, they also encourage creativity and interactive play.
HABA is a popular brand and they make all sorts of toys like building blocks, puzzles, dollhouses, vehicles, rattles, and more! You can check out their toys here, here, and here.
Teddy Bears
For other kid-friendly ideas, classic teddy bears are another great option. Much like the wooden toys, teddy bears are also made with attention to craftsmanship and quality. They're great for cuddling but some are also valuable collector's items.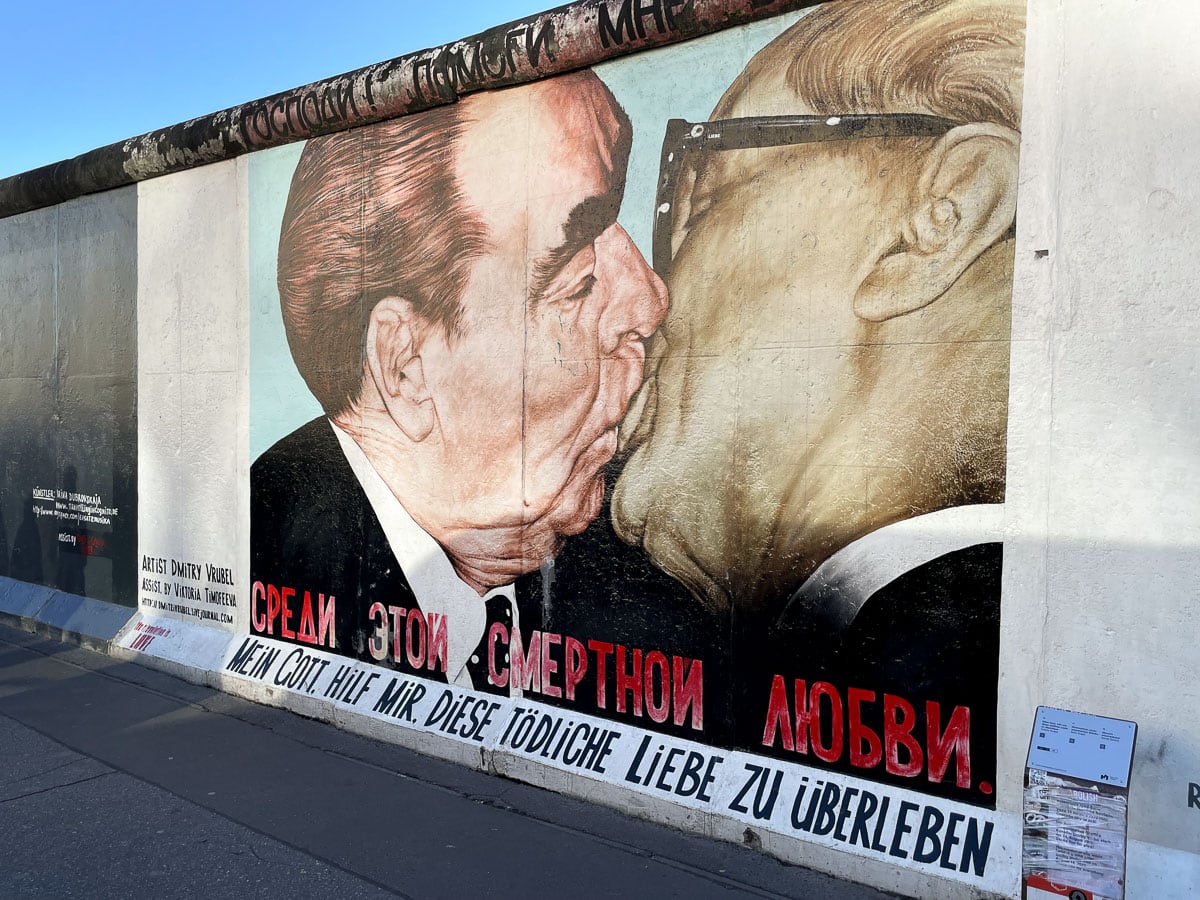 Piece of the Berlin Wall (Sort Of)
When I was a teen in Germany I tried to hack off a chunk of the Wall (back when you could do that) but couldn't get more than a few flecks, so I ended up buying a piece from the many vendors that informally sold them around the Brandenburg Gate.
These days you can't just go try to hack off a piece of what remains of the Wall but you can buy pieces of the at shops and online.
Are they real? Maybe..but probably not. Some pieces come with a certificate of authenticity…which may or may not be authentic.
To be honest, I have no idea if my piece of the Wall is authentic or not. Since I bought it in early 1991 it might be. But it's likely not. And the spray painting on the chunk I have was certainly added and not original. I bought it knowing it might not be real.
But does it matter? I've had my piece on my bookshelf for over 30 years. It reminds me of growing up during the Cold War, my first year in Germany, my experience with the fall of the Berlin Wall and experiencing Germany's Reunification. So it doesn't matter to me whether my piece is authentic or not.
If you'd like a piece of history, you can buy a chunk of the Berlin Wall while in Germany (or online). Just be aware that it's probably not authentic.
Ampelmännchen
You'll see Ampelmännchen souvenirs all over Berlin. The Ampelmännchen are the old East German walk/don't walk symbols. You'll find tons of items featuring the Ampelmännchen – keychains, magnets, t-shirts, hoodies, and much more.
Dirndl
The Dirndl is a traditional Bavarian dress typically made up of a white blouse, a skirt or dress, and an apron. Dirndl can be bought in complete sets or separately. If you want a more personalized gift, you can also look for a custom-made dress.
These are perfect gifts for those going to Oktoberfest or for those simply interested in German culture and traditional fashion. You can buy a traditional Dirndl in Germany or online – check out this affordable blue Dirndl, this pretty flowered Dirndl and this bold red Dirndl.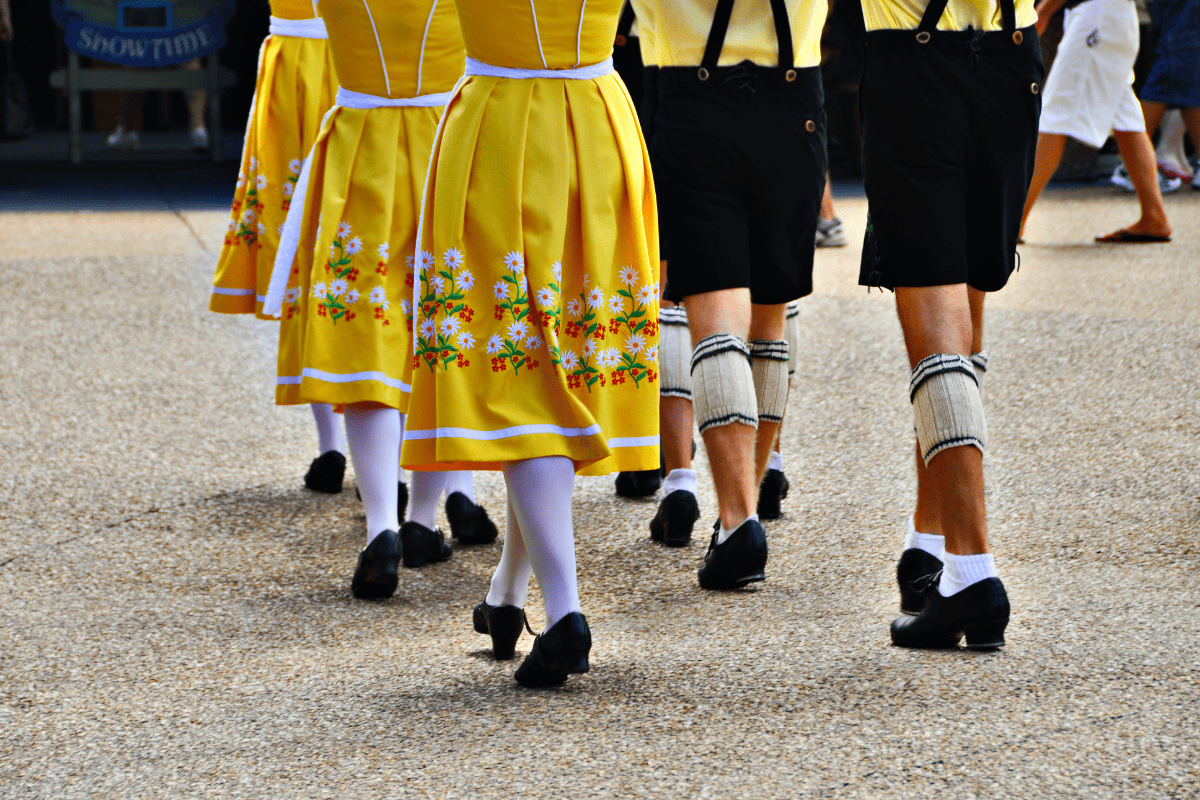 Lederhosen
The equivalent traditional outfit for men is Lederhosen ("leather pants" in English). These are a pair of knee-length leather shorts with suspenders. They often have beautiful designs on the front and on the suspenders. Lederhosen are typically worn with an undershirt such as a plain white button-down or checkered shirts. You can buy traditional Lederhosen in Germany or online – check out this pair, this pair or this pair.
Haferl Shoes
To complete the look for Oktoberfest, Haferl shoes are the traditional leather shoes that men wear with Lederhosen. These are shoes with a flat, stable sole designed for comfort. Because of their simple leather look, you could buy a pair in Germany and get away with wearing them for special occasions at home.
Bollenhut (Black Forest Hat)
The Bollenhut is a unique item from the Black Forest. It's part of the traditional Black Forest costume for women. It's essentially a formal headdress with a white brim and large, red woolen pom-poms on top. It's also said to be the inspiration behind the way the Black Forest cake is decorated. You can also get humorous versions of this hat complete with (fake) braids!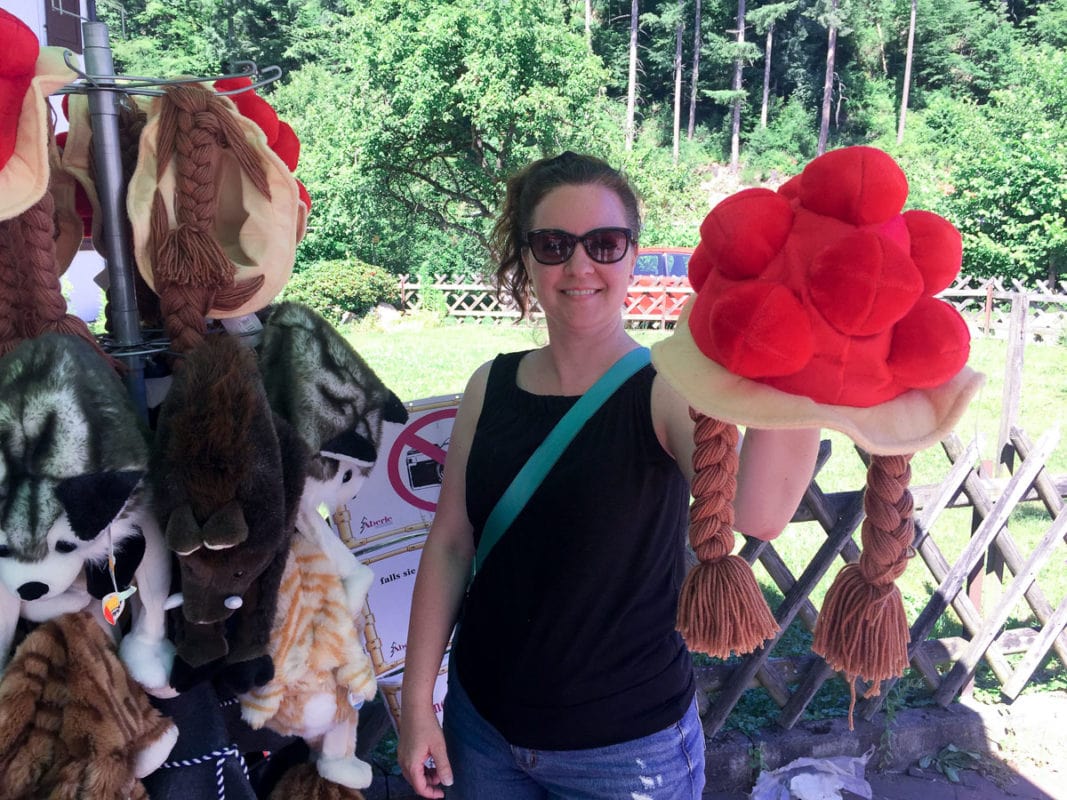 German Flag
There's no more powerful symbol of a country's identity than a flag…even though you won't see a whole lot of German flags flying in Germany. You don't have buy a full-size flag – you can also opt for small gifts like pins, patches, or stickers with the flag.
Museum Souvenirs
Germany is home to world-renowned museums of art, history, science, anthropology, and technology. You can bring home a piece of any museum you visit through the small gifts in the museum gift shops. This can be anything from art prints, postcards, medieval replicas, notebooks or journals, fountain pens, tote bags, jewelry, and many other accessories.
While there's nothing wrong with buying these from your more typical touristy gift shops, buying these small things from museums will give you access to more thoughtful, unique and curated options.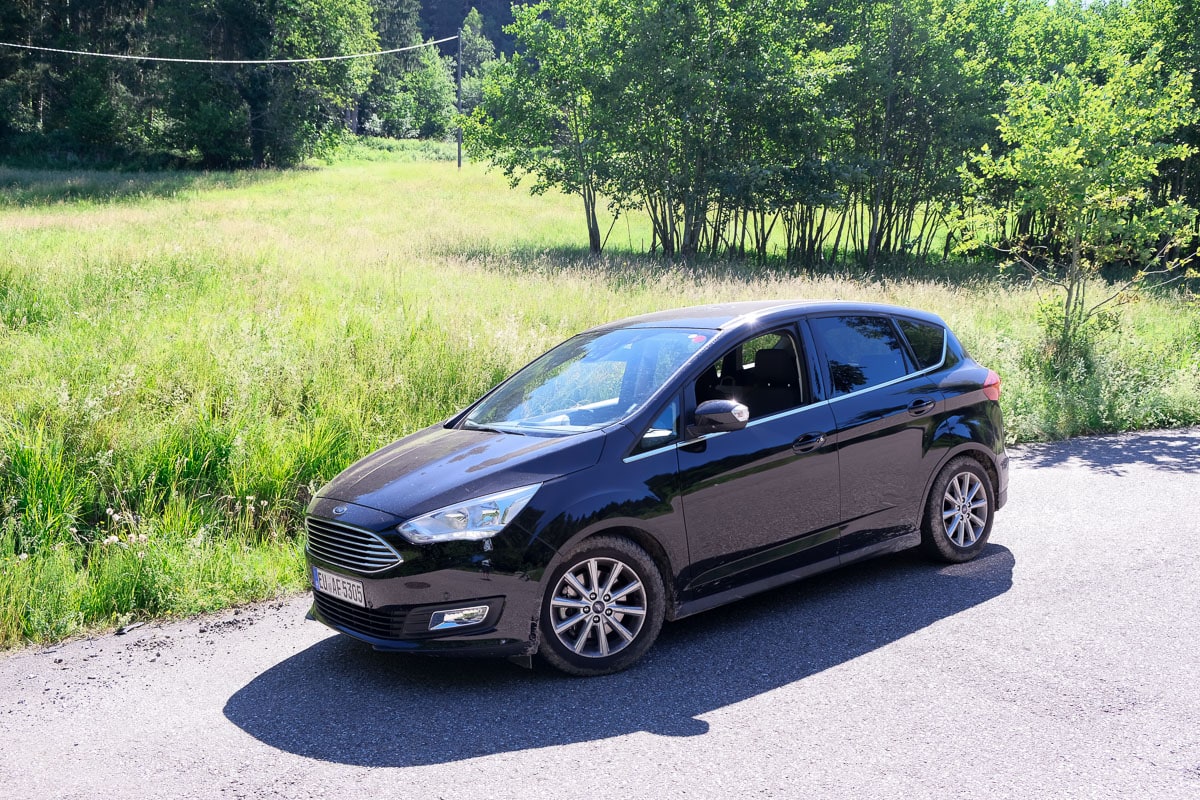 If you're looking for something for car lovers, then you can also find amazing gifts at museums and exhibits dedicated to cars. There are several all over Germany like the Mercedes-Benz Museum and the Porsche Museum in Stuttgart and the BMW Museum in Munich. Here you can buy anything from keychains, lanyards, model cars, clothing, books, and car accessories.
Wool Scarf and Mittens
High quality scarves and mittens are functional gifts to help you stay cozy and stylish during chilly weather. Since Germany has its fair share of cold winters, wool scarves, gloves and any winter accessories are great souvenirs. Wearing a scarf you bought in Germany is sure to put a smile on your face long after your return.
Birkenstocks
If you're a fan of Birkenstocks, why not pick up a pair in Germany? You can find them all over the country and you might even encounter different styles or colors.
Football Memorabilia
Football (soccer) is big in Europe and especially Germany! Any football-related items or official merchandise from the national team or German clubs would make for amazing gifts for anyone who loves the sport of football. This could be shirts or jerseys, scarves and caps, flags, signed memorabilia and even equipment like football balls or cleats.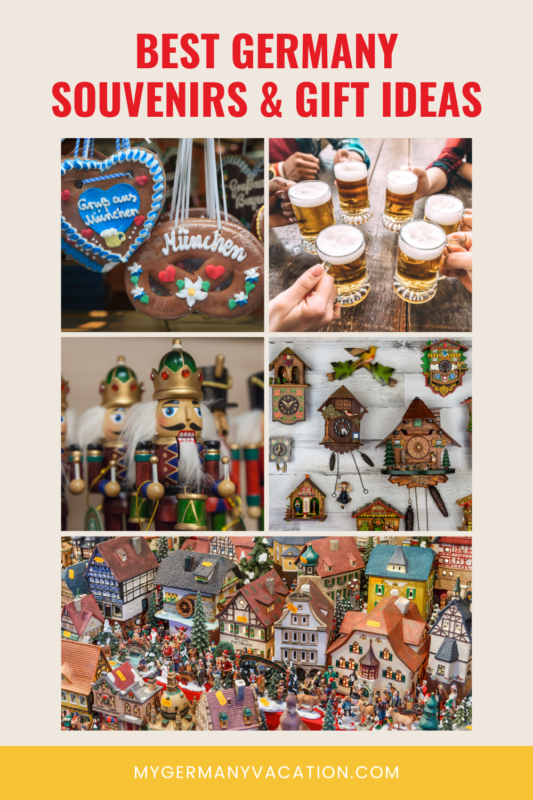 Next Steps For Planning Your Trip: